Aussie Millions Highlights
Dias: 3
Aussie Millions Highlights
Dia 3 Iniciado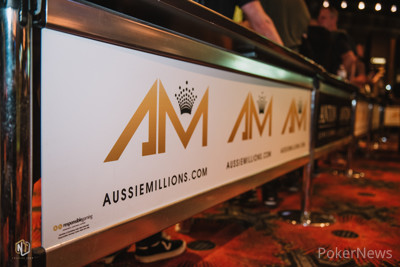 Welcome back to today's coverage of the 2020 Aussie Millions from the Crown Casino in Melbourne. Three days in and the festival will see its first champion crowned today, in what will be the biggest day of the festival so far.
Eight players remain in the H.O.R.S.E., with two flights of the Opening Event scheduled to take place.
Here's the plan for the day:
| Day | Event | Time | Buy-in |
| --- | --- | --- | --- |
| 6th January | Opening Event Flight 3 | 12:10pm | A$1,150 |
| | H.O.R.S.E. | 1:00pm | Final Day |
| | Opening Event Flight 4 | 6:10pm | A$1,150 |
Suchanek Leads Aussie Millions Event #2: $2,500 H.O.R.S.E. Final Table
Jan Suchanek will be looking to win his first Aussie Millions ring for eight years when the final table of the H.O.R.S.E. gets underway at 1 pm, with the New Zealander sitting pretty at the top of the chip counts.
However, he won't have it all his own way with former Aussie Millions Main Event winner Ari Engel sitting in second place. Also featuring is 2017 H.O.R.S.E. runner-up Rainer Quel and a whole host of other notable players from Australia and around the world.
Final Table Draw
| Seat | Player | Country | Chip Count |
| --- | --- | --- | --- |
| 1 | Julien Sitbon | France | 81,200 |
| 2 | Rainer Quel | Australia | 72,500 |
| 3 | Alan Wilson | Australia | 34,800 |
| 4 | Ari Engel | Canada | 88,100 |
| 5 | Dzmitry Urbanovich | Poland | 76,000 |
| 6 | Simon Chahine | Australia | 74,200 |
| 7 | Vasco Zapantzis | Australia | 83,900 |
| 8 | Jan Suchanek | New Zealand | 119,300 |
The remaining eight players are not yet in the money, with only the top six guaranteed a payout of A$6,615.
Remaining Payouts
| Place | Payout (AUD) | Payout (AUD) |
| --- | --- | --- |
| 1 | $34,020 | $23,474 |
| 2 | $21,735 | $14,997 |
| 3 | $14,175 | $9,781 |
| 4 | $10,395 | $7,173 |
| 5 | $7,560 | $5,216 |
| 6 | $6,615 | $4,564 |
Flights 3 and 4 of the Opening Event Take Place Today
Two more flights of the $1,000,000 guaranteed Opening Event take place today, with players no doubt hoping to join the 66 who have guaranteed their place in Day 2.
A stack over 100,000 will do you good, but you will have to top 200,000 to replace Zack Lowrie at the top of the chip counts.
Opening Event Chip Leaders
| Flight | Player | Chip Count |
| --- | --- | --- |
| 1 | Zack Lowrie | 213,800 |
| 1 | Julien Sitbon | 200,000 |
| 1 | Martin Jacobson | 169,900 |
| 2 | Izuchukwu Oparaocha | 169,400 |
| 2 | Amir Minagar | 139,600 |
| 2 | Egor Bulychev | 122,100 |
Players will receive 10,000 in starting chips and play twelve 40-minute levels before bagging.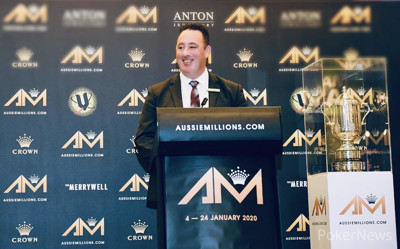 With the 2020 Aussie Millions now in full swing, we finally caught up with Tournament Director Joel Williams who gave us his thoughts on how this year's tournament is shaping up and what the High Roller fields will be like later in the month.
After last year's tournament saw over 8,000 players from 45 countries across the world participate, Williams said that he would give the 2019 edition an 8 out of 10 rating.
"We had a record number of satellite qualifiers into the Main Event, which was a huge thing for us," Williams told PokerNews. "We know that's a big draw to people. If we can fill the Main Event with players whose only avenue to play a 10k event is through a satellite, then it's win-win. It gets those players in, and it also attracts players."
A total of 490 satellite entries helped the Main Event reach 822 players after the tournament had reached 800 the previous year, and Williams says that he hopes the tournament will never dip below 800 ever again.
This year, the tournament schedule has been "squashed" according to Williams. The immovable calendar items of Christmas and New Year, as well as the Lunar New Year towards the end of January, have meant the schedule has needed a few tweaks, but Williams says that he doesn't think it will affect the overall player experience.
"We've cut a few events, but from a player's perspective, I believe there's still the option to play what you want even if you're still in another event. It's harder from an operator perspective. There's always been an element of predictability about the schedule that we draw up, but this year it's a bit like a jigsaw puzzle that's been mixed up
"Fitting the schedule around Chinese New Year and the festive season was a little bit challenging. once we got through that and found our parameters it's been relatively smooth."
One thing that remains in the schedule is an extensive High Roller offering $25,000, $50,000 and $100,000 events later in the schedule, something Williams is bullish about as the festival gets underway.
"I can't see any reason why the High Rollers won't exceed anything seen in recent years. We've got people who didn't come last year, or haven't come for four or five years.
"Obviously no PCA means a lot of people who were on the fence are now back on our side of the court, and the Brisbane High Roller series is obviously the cherry on the top for players making that decision."
Williams believes that the continued success of the Aussie Millions will be done to the event playing to its strengths.
"We know that location isn't a strength. Melbourne may be a great city, and it may be a great time of year, but it's still a long way away from the rest of the world, and we can't control that.
"All we can control is guaranteeing our commitment to filling the Main Event with satellite qualifiers and hopefully providing the perception that this may well be the softest 10k Main Event on the planet. We're almost at the point where there's a 12-month rolling satellite offering, and even though we're starting almost two weeks earlier this year, we're already on track to exceed our satellite qualifiers.
"We can't control the price of hotels, the length of the flight, or the strength of the Australian dollar, but we can control the offering while players are here and that's the main thing we concern ourselves with."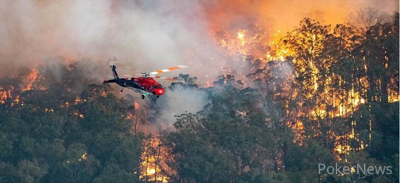 The entire world has been shocked and stunned at the images of vast swathes of Australia on fire as the country battles some of the worst bushfires in its history.
Crown Resorts have been helping to raise money for those affected, promising to match any staff donations to bushfire relief funds. They have also been donating a bottle of water for every bottle of water sold on its premises.
In addition to these fundraising efforts, last weekend Crown Casino offered 200 rooms to evacuees from the fire-ravaged town of Mallacoota who had been evacuated to Melbourne on Australian naval vessels.
Founder of Crown Resorts James Packer said that Australians are digging deep to support each other in these tough times.
"My family and Crown are eager to do more and the best way we can help, is to significantly increase our donation.
"We hope these funds play a small part in helping our firefighters, and easing the suffering of people who have lost their homes and the poor wildlife caught up in the blaze. We just want to do our bit."
Back in November, the Packer Family Foundation pledged A$1 million (~US$695,500) to the Rural Fire Service of New South Wales following the fire's outbreaks.
Now, an additional A$4 million (~US$2,700,000) will be spent to support volunteer services in New South Wales, Victoria and Western Australia, all of which Crown operates resorts in, and to charitable organisations providing relief to affected people and wildlife nationally.
Chair of the Crown Resorts Foundation The Hon Helen Coonan said in a statement that the bushfires have been and continue to be a tragic event.
"We are incredibly thankful for the hard work and sacrifice of our nation's firefighters, emergency services and charitable organisations.
"We encourage all Australians to give generously to assist those that have lost their homes and livelihoods, and to support our wildlife and firefighters risking their lives in the field."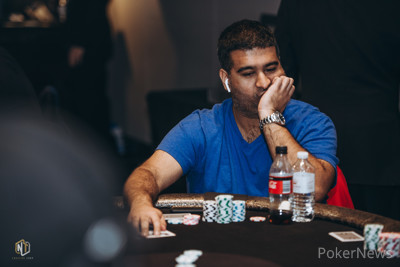 It was another busy flight of the Opening Event today, with Flight 3 the biggest so far attracting 307 entries.
The Exhibition Hall here at Crown Resorts Melbourne was full of several well-known Australian and international players such as former Aussie Millions Main Event winners Ami Barer and Leo Boxell, WSOP Main Event champion Joe Hachem as well as the likes of Harry Lodge, Joey Weissman, Fabien Quoss, Martin Finger, Tobias Peters, and Stefan Hubert.
From the 307 that started the day, just 40 made it through to Day 2, and the leader is David Tang whose stack of 277,300 is not only enough for the Flight 3 chip lead, but the overall chip lead so far with three of the five Opening Event starting flights complete.
Opening Event Flight 3 Chip Counts
| Player | Chip Count |
| --- | --- |
| David Tang | 277,300 |
| Gautam Dhingra | 170,900 |
| Vikrani Gupia | 161,700 |
| Jo Snell | 161,000 |
| Jordan Tehtodt | 149,200 |
| Lu Yunye | 144,400 |
| Anthony Soinella | 139,400 |
| Christian Nolte | 120,000 |
| Ehsan Amiri | 102,800 |
| Tristan Bain | 91,000 |
| Thomas Gleeson | 85,600 |
| Paul Hockin | 84,500 |
| Zhankamui Chen | 81,300 |
| Corentin Ropert | 78,800 |
| Arif Mustafa | 75,800 |
| Hun Wei Lee | 73,400 |
| Amanda Onions | 70,000 |
| Daniel Wojcik | 67,200 |
| Bjorn Ostby | 65,100 |
| Derek Danor | 60,400 |
| Rayner Loi | 59,000 |
| Kuo Chen Hung | 56,300 |
| Nipun Java | 55,700 |
| Paul Mischefski | 54,400 |
| Niko Koop | 53,900 |
| David Bodwelk | 47,900 |
| Florian Fuchs | 47,300 |
| Florian Ferroni | 44,900 |
| Costa Malerynakis | 41,600 |
| Sean Dorgan | 37,800 |
| Ivan Sergeyev | 37,100 |
| John Thomas | 36,300 |
| Kohei Miura | 35,100 |
| Yang Lei | 32,900 |
| Gyeong Byeong Lee | 32,800 |
| Max Gideon | 31,200 |
| Robert Sanchezcallol | 28,900 |
| Wo Wei Dai | 27,800 |
| Mck Kaselias | 23,200 |
| Quoc V Le | NA |
Behind Tang comes Gautam Dhingra (170,900) who will be hoping for more Aussie Millions success, after an incredible set of performances at the 2019 festival.
Dhingra notched up two fifth-place finishes at the in the A$25,000 Challenge and the A$1,150 Six Max. These cashes, coupled with a cash in the Opening Event saw him walk away with almost A$250,000 in cashes.
In fact, of Dhingra's seven Aussie Millions cashes, all but two of them have seen him make it to the final table.
Other well-known players through to Day 2 include Corentin Ropert (78,800), Nipun Java (55,700), and 2019 Main Event final tablist Gyeong Byeong Lee (32,800).
There are still two more flights remaining in this year's Opening Event before Day 2 takes place on Wednesday. At time of writing you can still enter Flight 4, with the final flight getting underway on January 7 at 12:10 pm.
Stay tuned to PokerNews for more live updates from the Crown as the 2020 Aussie Millions continues.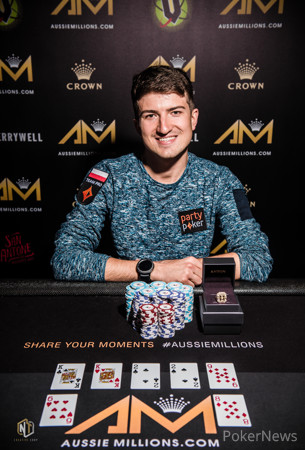 After four-and-a-half hours of heads-up play, Dzmitry Urbanovich has emerged as the first winner of an ANTON Championship Ring at the 2020 Aussie Millions. He defeated Julien Sitbon heads-up to take down Event #2: $2,500 H.O.R.S.E. for A$28,755 (US$19,964) after a heads-up deal.
This was yet another deep run for the Polish player at the Aussie Millions, but he finally takes home a ring to call his own. After a third-place in the 2017 $5,000 Pot Limit Omaha and a second-place two years ago in the $1,150 Turbo Shot Clock, Urbanovich took down the tournament shortly before midnight local time to close in on US$6 million in lifetime earnings.
Meanwhile, runner-up Sitbon followed up a third-place finish in the $2,500 No Limit Hold'em last year with a second-place in this event, in only his second year attending the Aussie Millions.
Aussie Millions Event #2: $2,500 H.O.R.S.E. Results
| Place | Player | Country | Payout (AUD) | Payout (USD) |
| --- | --- | --- | --- | --- |
| 1 | Dzmitry Urbanovich | Poland | $28,755* | $19,964* |
| 2 | Julien Sitbon | France | $27,000* | $18,746* |
| 3 | Vasco Zapantzis | Australia | $14,175 | $9,781 |
| 4 | Jan Suchanek | New Zealand | $10,395 | $7,173 |
| 5 | Rainer Quel | Australia | $7,560 | $5,216 |
| 6 | Alan Wilson | Australia | $6,615 | $4,564 |
*denotes heads-up deal
Winner's Reaction
"Melbourne is my favourite place to play," Urbanovich told PokerNews. "I've never had a ring, never won a tournament in Australia. It's perfect. I've actually never even cashed a mixed tournament here every year I've come, so nice to get first cash in first place!
"I liked the field, it was pretty good. I'm going to carry on from here and play as many Aussie Millions events as I can while I'm here."
Aussie Millions H.O.R.S.E.
| Year | Field | Winner | Payout (AUD) |
| --- | --- | --- | --- |
| 2019 | 54 | Daniel Mayoh | $29,120 |
| 2018 | 49 | Salvatore Ribbera | $39,700 |
| 2017 | 49 | James Chen | $39,700 |
| 2016 | 39 | James Obst | $35,100 |
| 2015 | 37 | Jonas Mackoff | $31,200 |
| 2014 | 47 | Jeff Lisandro | $40,000 |
The Aussie Millions H.O.R.S.E. event has a long list of well-known winners and continuously attracts some of the world's best Mixed Game players, with this year being no exception. Despite this year's field falling short of the 2019 figure, there were still plenty of big names in attendance including Rob Campbell, Phil Hui, Joe Hachem, Bryce Yockey, Benny Glaser, Billy 'The Croc' Argyros, and Oliver Gill.
The tournament played down to a final table of eight yesterday, with just six players guaranteed to cash.
Final Table Action
At the start of the final table, it was Alan Wilson who was the short stack, but former Main Event champion Ari Engel became the first elimination, bringing the tournament to the money bubble a little over an hour into the day.
Vasco Zapantzis had moved into the chip lead by this point, with start-of-day chip leader Jan Suchanek and Urbanovich not far behind them.
Eventually, it was Simon Chahine who would bubble in seventh, guaranteeing the remaining players A$6,615. Start-of-day short stack Wilson was next to go, working his short stack into the money.
Urbanovich had chipped up to around 200,000, and was almost level with Zapantzis with five players remaining. Rainer Quel was looking to go one better than his 2017 runner-up finish in this event, but would have to settle for fifth place and A$7,560.
Start-of-day chip leader Jan Suchanek went next, becoming the first recipient of a five-figure score, and a quick evening looked in the offing as Zapantzis exited in third.
Heads-up Action
Sitbon came into heads-up with just over 516,500 chips compared to Urbanovich's 113,500, but any prospect of a quick victory for the Frenchman was thwarted by the Pole who battled to stay in the tournament.
Twice in quick succession, Sitbon rivered meaningful pots in Omaha Hi-Lo, rivering a low to scoop with just a pair of nines, and then three-quartering his opponents after both rivered the nut straight which served as a low, with Sitbon having turned a full house.
However, Urbanovich battled back and as the blinds and limits steadily increased, he would jump back into the chip lead after flopping a straight in Limit Hold'em. It was a topsy-turvy affair which had just 15 big blinds in play by the end.
The final hand was in Seven Card Stud, as Sitbon got it in with short-stacked with Jacks on third street. Urbanovich had made kings up on sixth street, and despite peeling his final card, Sitbon couldn't find a miracle card and the Pole secured victory.
Aussie Millions Highlights
Dia 3 Concluído