Aussie Millions Highlights
Dias: 13
Aussie Millions Highlights
Dia 13 Iniciado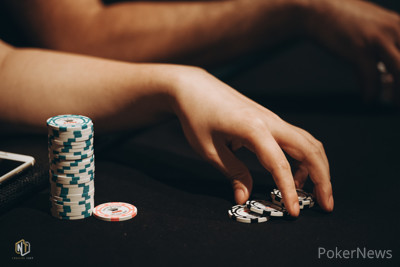 Another two 2020 Aussie Millions champions will be crowned today at the Aussie Millions, with the conclusion of both the Accumulator and A$25,000 Challenge events.
Also on the schedule is the start of the A$2,000 Bounty Tournament.
| Day | Event | Time | Buy-in | Location |
| --- | --- | --- | --- | --- |
| 16th January | Accumulator Day 2 | 12:10 pm | Registration Closed | Poker Room |
| | No Limit Hold'em Bounty Tournament | 2:10 pm | A$2,000 | Exhibition Hall & Poker Room |
| | A$25,000 Challenge | 2:30 pm | Registration Closed | Poker Room |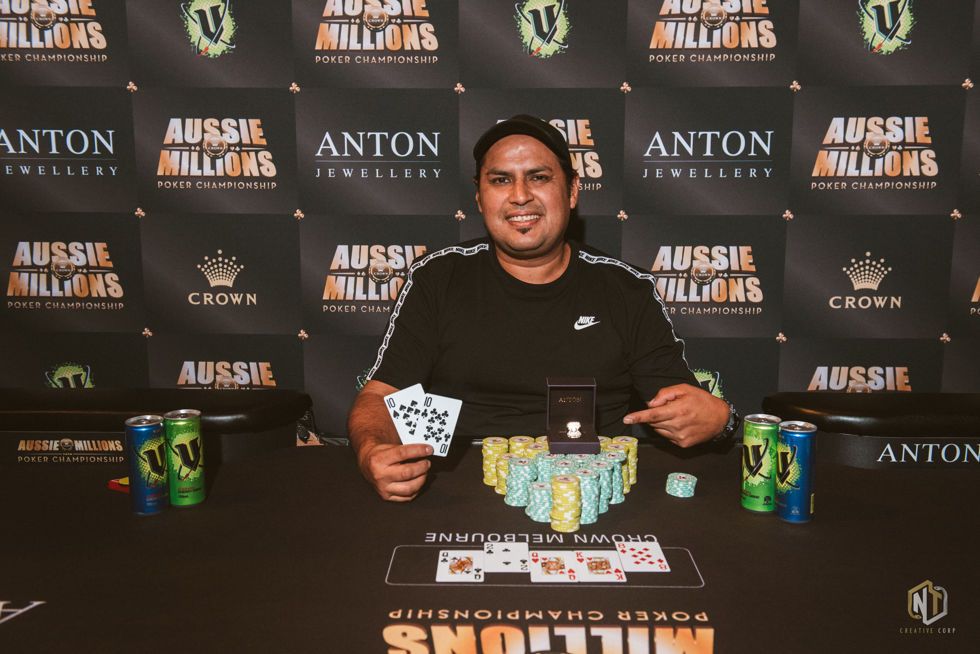 Last year Luis Arrilucea secured the biggest win of his career in winning the 2019 Aussie Millions Event #10: AU$2,000 Bounty event for AU$137,575.
He denied Dutch player Bas de Laat a second Aussie Millions ring in two years after winning the 2018 Mix Max event. Here WEre the final table results:
| Place | Name | Country | Payout (AUD) | Payout (USD) |
| --- | --- | --- | --- | --- |
| 1 | Luis Arrilucea | Australia | $137,575 | $99,054 |
| 2 | Bas de Laat | Netherlands | $93,665 | $67,439 |
| 3 | Ryan Bownds | Australia | $58,540 | $42,149 |
| 4 | Craig McCorkell | United Kingdom | $46,830 | $33,718 |
| 5 | Danny Tang | Hong Kong | $35,125 | $25,290 |
| 6 | Ryan Otto | New Zealand | $29,270 | $21,074 |
| 7 | Joel Cohen | Australia | $23,125 | $16,650 |
| 8 | Frank Pezzaniti | Australia | $17,270 | $12,434 |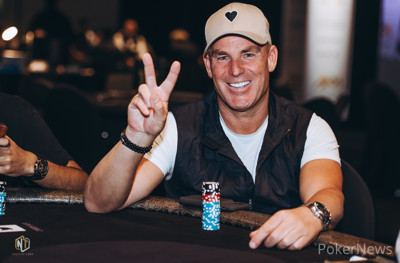 Over the last two weeks, the poker world has come together to help raise money for those affected by the devastating Australian bush fires, and Australian international cricket legend Shane Warne, a regular at the Aussie Millions here in Melbourne is no exception.
Warne told PokerNews that the idea to raise money to help those affected came about after speaking with his children.
"I was talking to my children and they said 'Dad, you should do something, maybe put on a game.'" said Warne. "Y'know something like that.
"I was like that's good, but they need something now. All these people, people who've lost their homes, lives and livelihoods. Over 500 million animals...I've got to do something right now."
While most poker players would be more familiar with baggy pants, Warne auctioned off his "baggy green" for charity, raising A$1,007,500 (~US$700,000) in the process.
Thankyou so much to everyone that placed a bid & a huge Thankyou / congrats to the successful bidder - you have blo… https://t.co/vlgKJIZIcX

— Shane Warne (@ShaneWarne)
The baggy green is a green cap awarded to all Australian Test cricketers on a player's first appearance for the national team. Traditionally, these caps were worn during the first session in the field of a Test match, and crucially players were only given one.
"The fires have touched all of us," said Warne. "We've all seen the images and everyone's trying to do their bit. So to show how much it means to me personally, I thought, well what's something that I cherish? And it's that cap that I had in my hand for 20 years of my career that we all wore a lot."
Warne was well-known for wearing a white floppy sun hat but had the utmost of respect for each player's baggy green.
"It meant so much to us as players, because it means you've played for Australia. No one can ever take that off of you. So it's something you cherish because it's something really really special to you.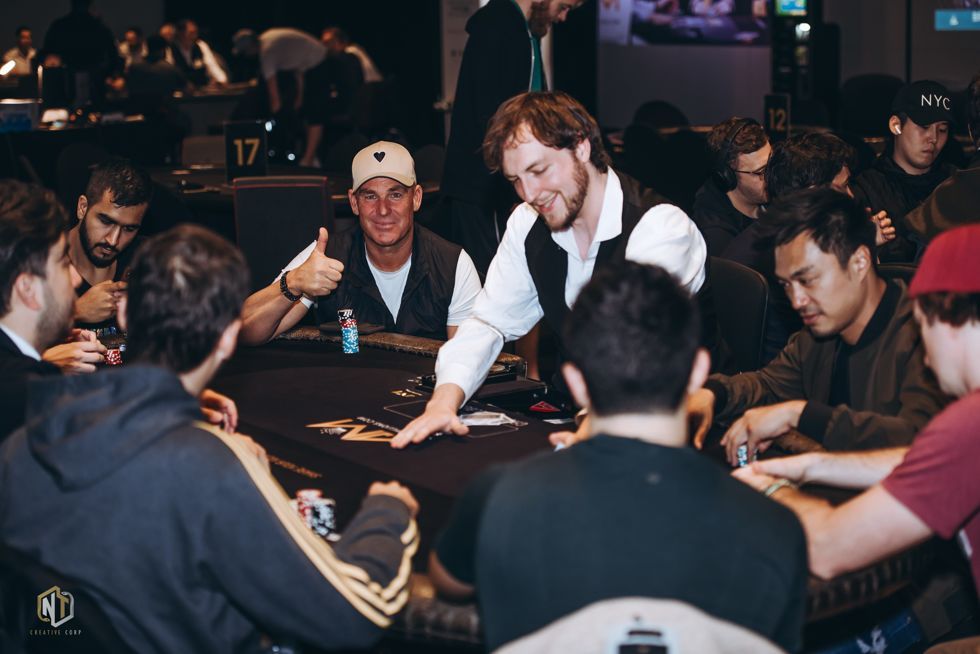 "I thought that if I gave that up, then hopefully it will raise a significant amount of money, and it's just extraordinary to raise over a million dollars. I've been blown away by the support and the messages and all that. It's unbelievable. I mean it was sad to say goodbye, but at least I've still got the memories. The money that has been raised is going to make a significant difference so I'm pretty proud."
The cap will be taken on a national tour, and subsequently donated to the International Cricket Hall of Fame in Bowral, New South Wales.
Meanwhile, at the poker tables, Warne is one of 101 players through to Day 2 of the Accumulator and says that he still enjoys the game.
"I love it mate," he said, smiling. "I absolutely love it. I've run pretty well in a few events over the last ten year, or whatever it's been. Probably more! I think the guys here, Joel and his whole team do a great job. I'm proud to be a part of it all.
"There are so many good players here this year, from all over the world, so there are no easy tournaments but hopefully I'll do alright in the ones I play in."
Day 1 of my assault on the poker felt @CrownPoker in the awesome @AussieMillions ! Lots of high quality players in… https://t.co/xaQGIgerWC

— Shane Warne (@ShaneWarne)
Warne's son Jackson cashed in this year's Aussie Millions Opening Event, finishing 132nd for A$3,070, but Warne Sr insists there is no handing over of the torch just yet.
"It's gonna be a ding-dong battle between the two of us, don't worry about that! We play heads-up tournaments together, and I mean last night we played Monopoly and he got me, so I had better get him back."
Aussie Millions Highlights
Dia 13 Concluído