Aussie Millions Highlights
Dias: 9
Aussie Millions Highlights
Dia 9 Iniciado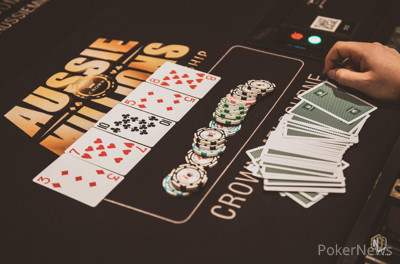 One new event will kick off on January 12th at the 2020 Aussie Millions as the A$2,500 Shot Clock NLHE Six Max gets underway at 12.10 p.m. local time. As of 1 p.m., the four-card aficionados will determine a champion in Event #6 A$2,500 Pot-Limit Omaha and Day 2 of the A$1,500 Deep Freeze will see all survivors of the previous night return to their seats in the poker room of the massive Crown Casino complex.
| Day | Event | Time | Buy-in |
| --- | --- | --- | --- |
| 12th January | Shot Clock Six Max | 12:10pm | A$2,500 |
| | Pot Limit Omaha | 1:00pm | Final Day |
| | Deep Freeze Day 2 | 2:10pm | Registration Closed |
Event #8 $2,500 Shot Clock NLHE Six-Max drew a field of 306 entries in 2019 and Canada's Guillaume Nolet took home the ANTON Jewellery Championship ring along with a top prize of A$143,029. It was the second final table of the series for Nolet back then as he also finished 4th in the A$25,000 Challenge for an additional A$ 308,040 prior to his victory.
All participants receive 15,000 in chips and the levels last 40 minutes each until the final table is reached. A single re-entry is allowed and the late registration is open for the first six levels. For the entire duration of the event, a 30-second shot clock is in play and Day 1 will conclude after the end of level 18 or when the final table is reached, whichever of the two comes first.
Huge Field in the A$1,500 Deep Freeze
It took just a few hours for staff to announce to all players that the field size of the previous year in the $1,500 Deep Freeze was surpassed. Back then, Switzerland's Stefan Huber topped a field of 415 entries and that number was smashed. More than 220 alternates were seated in the poker room and Exhibition Hall, ultimately a field of 646 entries emerged and the top 81 spots will get paid.
Defending champion Huber will be back at 2.10 p.m. local time as one of 156 survivors and returns with an above-average stack of 169,900. Many other notables made it through such as fellow Aussie Millions Main Event finalist Mike Del Vecchio (194,500), Andrew Hinrichsen (179,000), Jiachen Gong (256,900), Pascal Hartmann (114,400), Harry Lodge (95,200), Tobias Peters (94,000), Connie Graham (59,000), 2019 WSOP Ladies Event champion Jiyoung Kim (41,900), and Jesse Sylvia (32,300) are just some big names that remain in contention.
They will recommence with blinds of 1,000-2,000 and a big blind ante of 2,000, Day 2 is scheduled to play down to the final table.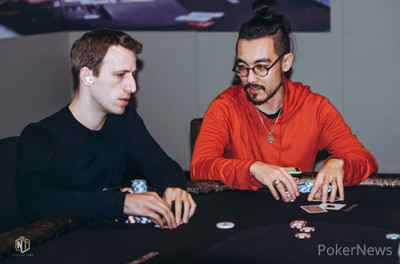 Another event at the 2020 Aussie Millions that has surpassed the field size of the previous year is Event #6 A$2,500 Pot-Limit Omaha. Back in 2019, Steve Moreschi topped a field of 145 entries to take home A$82,825 for his efforts and the 2020 edition drew a total of 170 entries, creating a prize pool of A$382,500.
The top 18 spots were paid at least A$4,780 and Day 1 concluded with 35 minutes remaining in level 17 as the final table of the last nine was reached. Several mixed game aficionados showcased their talents and reached the final nine including the WSOP bracelet winners Jeff Madsen (318,000), Benny Glaser (241,000), and Martin Kozlov (111,000). Germany's Maxi Lehmanski is also in the mix with a stack of 169,000 while a trio from Australia tops the leader board.
Richard Johnston leads the finalists by some margin with a stack of 668,000 followed by local regular Sherif Derias (456,000) and Wei Jin (327,000). Furthermore, Alexander Everitt (156,000) and PLO specialist James Gilbert (106,000) complete the final table line-up. For Gilbert it is the first trip to the Aussie Millions and he has enjoyed the experience in the city so far.
Event #6 A$2,500 PLO Final Table Assignments
| Seat | Player | Country | Chip Count | Big Blinds |
| --- | --- | --- | --- | --- |
| 1 | Sherif Derias | Australia | 456,000 | 57 |
| 2 | Maxi Lehmanski | Germany | 169,000 | 21 |
| 3 | Alexander Everitt | Australia | 156,000 | 20 |
| 4 | Benny Glaser | United Kingdom | 241,000 | 30 |
| 5 | Martin Kozlov | Australia | 111,000 | 14 |
| 6 | Richard Johnston | Australia | 668,000 | 84 |
| 7 | Wei Jin | Australia | 327,000 | 41 |
| 8 | James Gilbert | United States | 106,000 | 13 |
| 9 | Jeff Madsen | United States | 318,000 | 40 |
For Madsen, it is not the first trip to Australia as he already has a third place finish in the 2009 Aussie Millions A$10,200 H.O.R.S.E Event to his name and he also cashed in Melbourne during the 2014 World Series of Poker Asia-Pacific. Lehmanski and Glaser have also previously visited Down Under in their poker exploits and aim to bring the ANTON Jewellery Championship ring home this time around.
Event Payouts
| Place | Payout (in AUD) | Payout (in USD) |
| --- | --- | --- |
| 1 | $97,525 | $67,310 |
| 2 | $65,025 | $44,879 |
| 3 | $42,075 | $29,040 |
| 4 | $32,515 | $22,441 |
| 5 | $26,775 | $18,480 |
| 6 | $21,995 | $15,181 |
| 7 | $18,170 | $12,541 |
| 8 | $14,345 | $9,901 |
| 9 | $10,520 | $7,261 |
| 10 | $8,605 | $5,939 |
| 11-12 | $6,695 | $4,621 |
| 13-15 | $5,740 | $3,962 |
| 16-18 | $4,780 | $3,299 |
The action recommended at 1 p.m. local time with blinds of 4,000-8,000 and the event will play down to a winner today.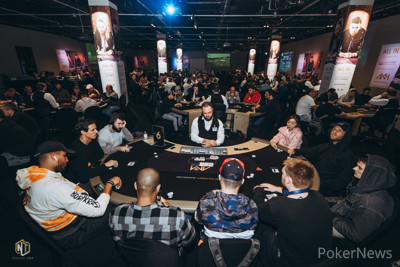 The numbers for all events of the Aussie Millions have been growing in the last few years and especially the Main Event has caught the attention of the international poker circuit. In 2019, a new record was set with 822 entries and Bryn Kenney claimed the title after a three-handed deal. Expectations are high for yet another excellent turnout as the satellites deliver big numbers once more.
While Kenney has been visiting the biggest casino complex of the Southern hemisphere several times already, new familiar faces appear every year that make their way to Melbourne for the first time. The latest batch in 2020 includes the likes of Phil Hui and Loni Harwood, Kristy Arnett, Bryce Yockey, and several European regulars. Many of them are immediately struck by the friendly atmosphere at and away from the tables, and word of mouth keeps spreading to continue the trend of new visitors.
"It is my first time here in Melbourne, I decided to come for a new experience," Pasquale Braco admitted and shortly after won Event #5 Six-Max for his first ANTON Jewellery Championship ring.
James Gilbert reached the final table in Event #6 A$2,500 Pot-Limit Omaha and was as impressed by the atmosphere. Anthony Spinella was another American pro that made his way Down Under the very first time and entered the poker room with a big smile on the face. "This is great. Awesome weather, amazing food, and atmosphere, it is really cool here."
For Florida's Sam Cohen, another particular aspect caught her attention during the 10 previous visits to Melbourne, which she confirmed with a smirk on the face.
"The men have short shorts … and the action is really good."
Another player that tasted success in the past and happily returned the years after is Stefan Huber. Runner-up to Toby Lewis in the 2018 Aussie Millions Main Event, the Swiss claimed an ANTON Jewellery Championship ring the year after and took down the A$1,500 Deep Freeze.
"I have been here the first time three years ago and like the people. It is a relaxed city, there are a lot of alternative things available and good drinks. They also have some of the best Hold'em cash games here in Australia."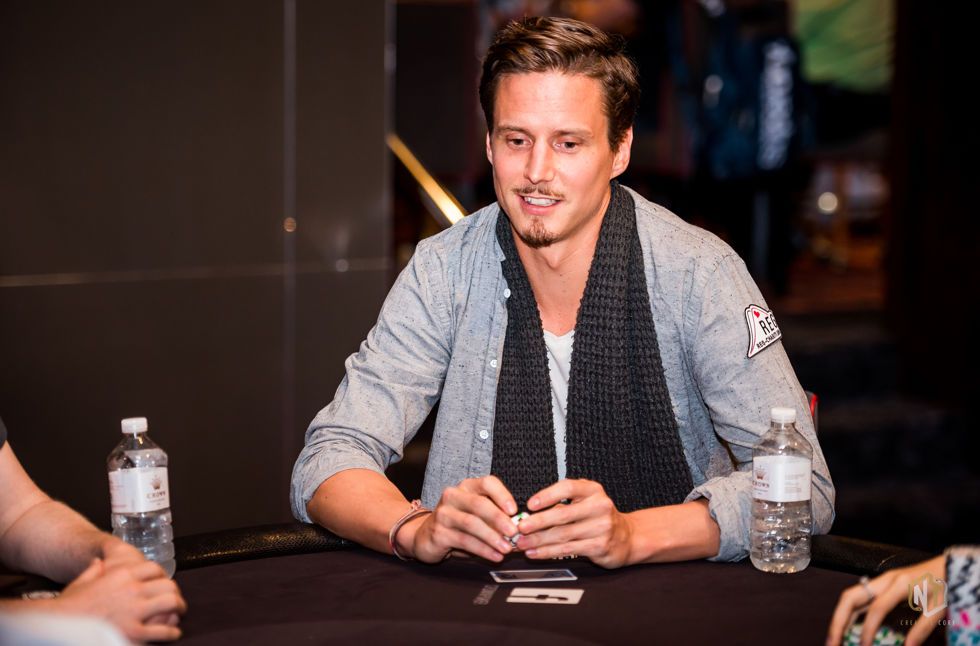 Fellow German-speaking poker pro Maxi Lehmanski caught the Melbourne bug five years ago and returned as many times, chiming in with the exact same vibes and complimenting the atmosphere in general. Lehmanski reached the final table of Event #6 A$2,500 PLO in which he finished in fifth place.
For Benny Glaser it was the fourth time in Melbourne.
"I don't really recall exactly what it was but I have always heard how good it is from everyone, both the place and the poker, and I always wanted to go to Australia. It pretty became probably my favorite stop."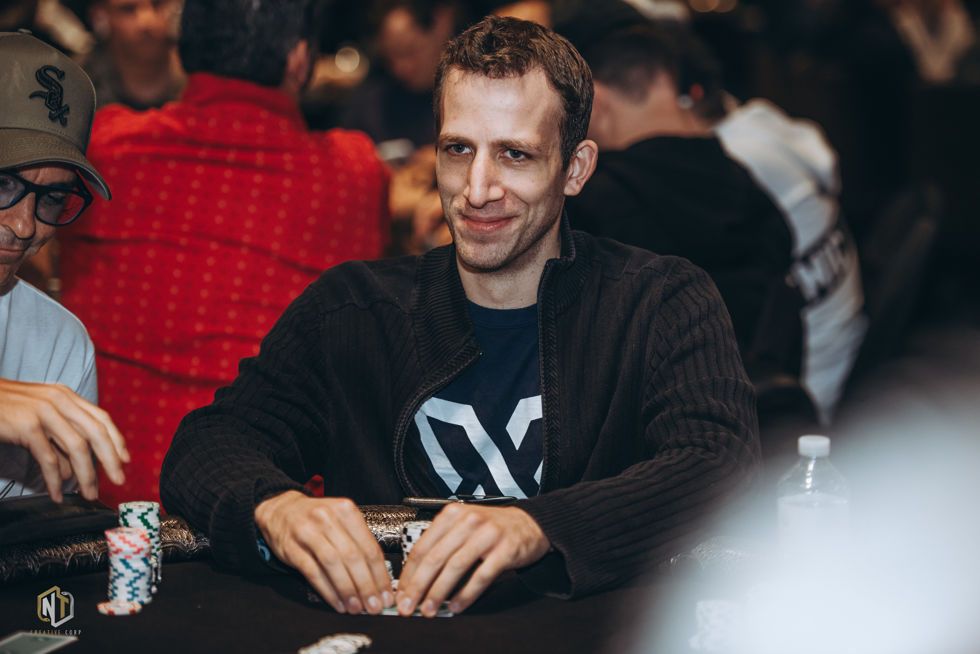 On previous trips, Glaser explored nearby New Zealand and the Brit plans on seeing more of Australia in the future. Fellow countryman Harry Lodge, who was about to secure a cash prize in the A$1,500 Deep Freeze, joked two spots off the money bubble.
"I didn't cash in any of the tournaments last year but was up in money as I won several satellites. But I don't have an Australian flag yet."
At the same time, Ben Lamb walked into the poker room, having just arrived earlier in the morning and trying to stay awake for another few hours to avoid any Jetlag in preparation for the upcoming High Roller tournaments. Two years ago the American pro made it to Melbourne the first time and immediately won the A$25,000 Challenge after steamrolling through the final table.
"I forgot how much I liked this city," he admitted.
With all the praise by the visitors from oversea, there obviously also has to be a special vibe by the local players and staff to make sure that everyone has a good time at the poker tables.
Local pro Hari Varma was kind enough to give an insight about the local poker scene in Australia.
"I have played a lot here. In Melbourne, I'd say they play a bit more passive. In Sydney they tend to go crazy a bit, Brisbane I have only played a few years ago and can't say too much. I think it is just the time of the year as well. It is a great time to be in Australia, the Australian Open is around this time and the weather is generally quite good and Melbourne is a great location. Great food, there are a lot of restaurants and bars. I think it is a really good series to come to if you are from oversea."
Varma admitted that the Main Event is certainly the highlight of the schedule, and will be for many of the locals that take a shot at glory thanks to the intensive satellite schedule of the Crown Casino.
"It's almost two million up top and I know they run satellites all year. There's a people who have been waiting for the Main Event for six months and I think it's gonna be a big one. And some stories from satellite winners that score big influence players to try their luck. There is a lot of pub poker going on and satellites taking place all year around that promote this, where you can direct satellite into a 10k tournament for almost nothing."
Varma is hoping for a mix between some locals and poker pros from overseas to reach the final table, and the past few years have shown that many Aussies can hold their own when facing big names such as Bryn Kenney, Ben Heath, Fedor Holz and Toby Lewis.
"There's always some pros from overseas that make it, at least one or two, but am also hoping for some locals. I am always rooting for the underdog."
High stakes player Sam Higgs, who won his maiden WSOP bracelet during the 2014 WSOP APAC right here at the Crown Casino in Melbourne, provided further insight on the Aussie way of life and poker.
"I think it is probably the environment. Everyone at the table is friendly and the nature of the Aussies, we are very welcoming. The cash games and staff run good, and the weather is nice. Everyone hates losing but we are probably better losers than anywhere else on the world. Gambling in general for the Aussies is second nature. We are good winners and good losers, most of the time we just want to have a bit of fun."
That nature shows a lot when local players that know each other well are seated on the same table. They are not trying to hide behind hoodies, shades or earphones and rather actively try to strike up a conversation. It doesn't take long to include others and the riffling of chips is no longer the loudest sound you will notice.
"There is a lot more chatter and shit-stirring at the tables, bantering, and that makes it a little bit easier to play. When I speak to people from overseas, they say they come here to have a good time. And that's the draw card for them to come back. The main draw card for them to come in the first place is to get away from their winter. But once they are here, they see we are all down to earth. Here in Australia you can sit down and talk to anybody at any time, and have a beer with them or whatever."
Higgs will take a shot at the upcoming High Rollers and looks forward to the action as well as the option to have several friends on the rail in case of a deep run. He also expects some bigger names to join the action as they make their way to Australia prior to the Super High Roller Bowl Australia and the Australian Poker Open at The Star Gold Coast in Broadbeach, Queensland right after the series in Melbourne has wrapped up.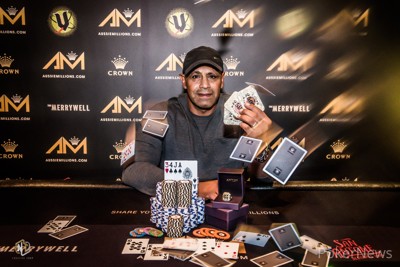 While many big names made it to the final table of the 2020 Aussie Millions Event #6 A$2,500 Pot-Limit Omaha, it was an all Aussie affair on the top four spots and local cash game player Sherif Derias defeated Wei "Jimmy" Jin to claim the ANTON Jewellery Championship ring. A field of 170 entries created a prize pool of A$382,500, surpassing the 145 entries of the previous year, and the top 18 spots were paid.
It was the second-biggest live cash for the Melbournian as he took home A$97,525 for his efforts, while Jin had to settle for a payday of A$65,025. On the road to victory, Derias had to defeat several well-known names of the international poker circuit including the WSOP bracelet winners Jeff Madsen, Benny Glaser and Martin Kozlov came up short. James Gilbert was the first casualty of the final table and with the elimination of Maxi Lehmanski in fifth place, it was certain that an Aussie would be posing for the winner shot.
Two years ago, Derias finished 30th in the Aussie Millions Main Event for A$40,000. One year later in 2019, he narrowly missed out on the ring and finished second in a A$2,500 NLHE Event for his career-best score of A$102,940. This time the fortune was on his side when he needed it, and throughout the entire duration of the final table, the biggest part of the rail was right behind him.
Final Result Event #6 A$2,500 Pot-Limit Omaha
| Place | Winner | Country | Payout (in AUD) | Payout (in USD) |
| --- | --- | --- | --- | --- |
| 1 | Sherif Derias | Australia | A$97,525 | $67,310 |
| 2 | Wei Jin | Australia | A$65,025 | $44,879 |
| 3 | Richard Johnston | Australia | A$42,075 | $29,040 |
| 4 | Alexander Everitt | Australia | A$32,515 | $22,441 |
| 5 | Maxi Lehmanski | Germany | A$26,775 | $18,480 |
| 6 | Martin Kozlov | Australia | A$21,995 | $15,181 |
| 7 | Benny Glaser | United Kingdom | A$18,170 | $12,541 |
| 8 | Jeff Madsen | United States | A$14,345 | $9,901 |
| 9 | James Gilbert | United States | A$10,520 | $7,261 |
The early stages of the final table turned out to be a tight affair as all the short stacks at risk doubled. Martin Kozlov cracked aces and hit a gutshot, then Maxi Lehmanski doubled. Wei Jin lost as second all-in showdown in a three-way all-in with James Gilbert and Sherif Derias, the former having flopped bottom set while Derias had middle set and faced the top and bottom pair of Jin. Gilbert needed running kings as his one out to quads was blocked and the miracle never happened.
Jin was at risk next and turned a straight to crack the aces of Alexander Everett. Suddenly, there were five players out of the last eight contenders well below the average. A rush of all-in showdowns seemed inevitable and Benny Glaser saw his hopes all but vanish when his second nut full house lost to the nut full house of Richard Johnston to leave him with one-sixth of a big blind. Yet, it was Jeff Madsen that fell next when Jin turned a flush. Glaser doubled twice with a chip and a chair, but Alexander Everitt's flopped straight sent him to the payout desk in seventh place.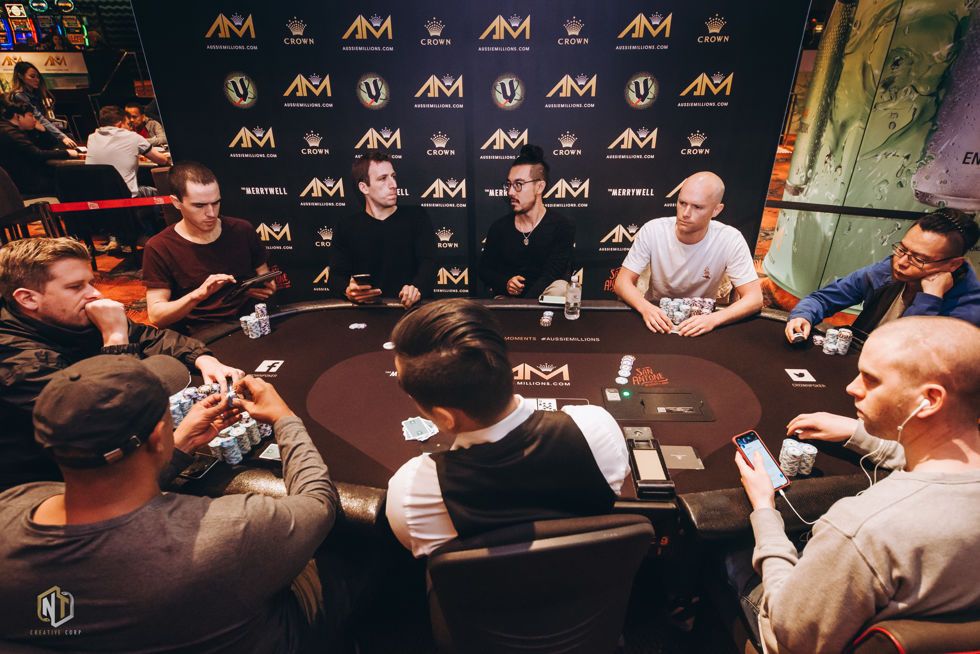 Glaser had to settle for sixth place and the last non-Australian player, Germany's Maxi Lehmanski then departed in fifth place. Lehmanski flopped top pair and a queen-high flush draw in a battle of the medium stacks against Jin, who had top pair and the nut flush draw. Another spade on the turn immediately settled things and reduced the field to the final four.
Two local PLO cash game players clashed when Everitt was at risk against Johnston with a wrap and a flush draw. Johnston had top pair and a gutshot, and the river paired to reduce the field to the final three. That's when Derias took over control as he won a big pot off Johnston with bottom two pair and a flush draw that improved to a full house on the river.
The action slowed down significantly after that and just one big clash happened when the two chip leaders Derias and Johnston got it in with top two pair each. More than two hours later, Derias was well ahead of his two opponents and had Johnston on the brink of elimination but both rivered a straight to chop it up.
Johnston fell behind even further and was then at risk with a pair of sevens and a backdoor flush draw. Derias had the bets of it with kings for top set, and covered the hearts as well. A brick on the turn sealed the fate of Johnston and the local cash game pro departed in third place.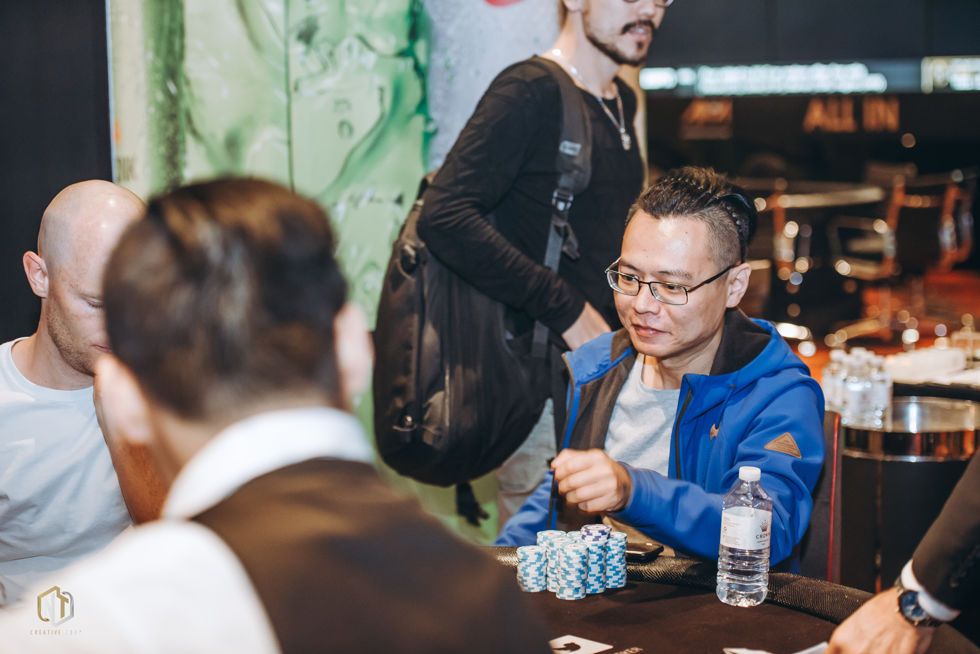 Derias started the heads-up with a comfortable 2-1 lead over Jin but things were almost even when Derias bluffed into quads. Relentless aggression soon restored a big lead for Deries and both then got it in thanks to a typical Omaha flop. Jin was at risk with top pair and the second nut flush draw while Derias held the nut flush draw and a gutshot straight draw. A spade on the turn instantly locked up the victory for Derias and his rail started celebrating.
This concludes the A$2,500 Pot-Limit Omaha Event but the four-card aficionados only have to wait one night before they get involved in the tournament action again. The two-day A$25,000 PLO High Roller awaits on Monday, January 13th, and a satellite has already kicked off with more than 30 entries.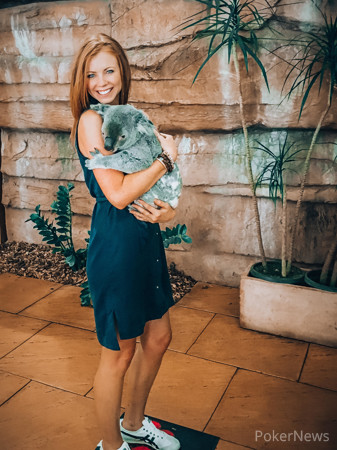 There have been big fires in the past but the enormous tragedy that has unfolded for several months in 2019 already has taken on a proportions never seen before in Australia . The fires are still ongoing and the consequences for the country and the unique wildlife have been absolutely devastating. Thousands of homes lost, at least 26 people have died and an estimated billion animals killed.
Due to the most outrageous fire disaster the nation has ever had, one-third of the entire koala population in the state of New South Wales alone has vanished. Koalas were already an at-risk species, which makes the current situation even worse.
To put things into perspective: Most sports fields are about one hectare in size. Imagine a football field on fire. What is happening in Australia is in fact the size of 10 MILLION football fields on fire. The fires have been raging across the nation for months and continue to worsen and the headlines have been mortifying.
Cricket legend Shane Warne has raised more than one million Australian Dollars himself, and many other well-known stars in Australia have started fundraisers to try and support a cause that will take years to recover all the damage that has been caused.
Crown Resorts, hosts of the annual Aussie Millions poker festival in Melbourne, have pledged A$5 Million to Support Australian Bushfire Relief.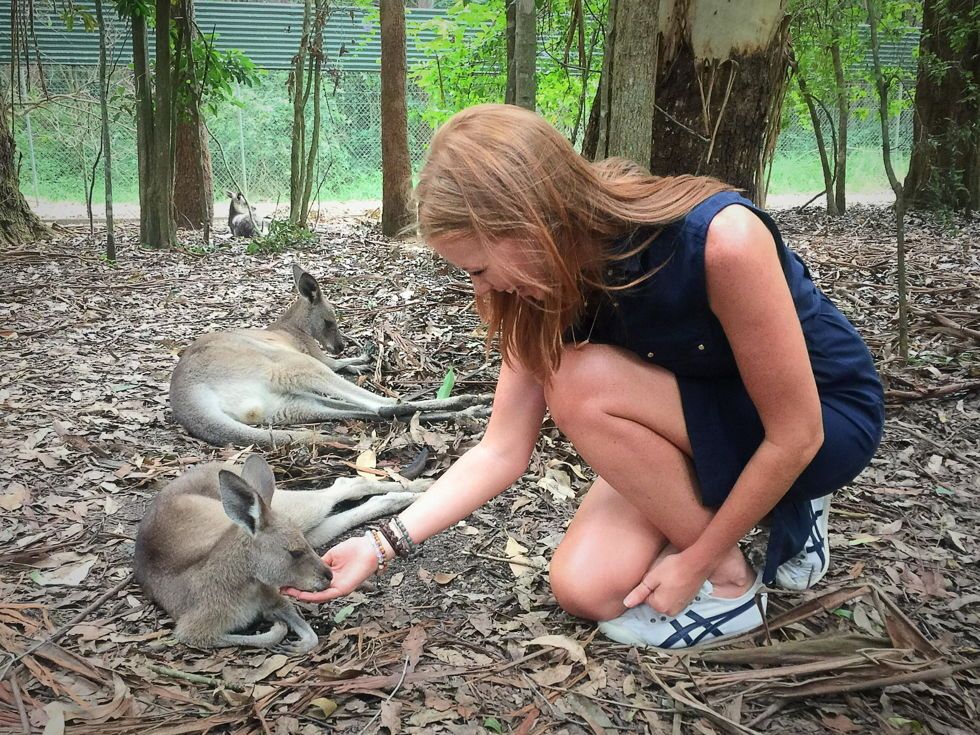 Lynn Gilmartin, well-known as a presenter in the world of poker for many years and anchor for the World Poker Tour, was equally stunned as all Australians and thought about ways how she could support the cause.
"I have supported the Australia Zoo Wildlife Warriors for many years and I am an ambassador for them. They recently treated their 90,000th patient in the Australia Zoo Wildlife Hospital since Steve and Terri Irwin opened its doors in 2002. Continuing Steve Irwin's legacy in animal conservation, the Irwin family, along with a team of amazing veterinarians and wildlife warriors, their work year-round to help our most vulnerable creatures is priceless. They have loads of victims from the fires in treatment right now and have been able to offer support to other wildlife centers in the state of New South Wales where the fires have been the heaviest. "
Not only the "cute and cuddly" Koalas and Kangaroos that everybody knows but also snakes, reptiles, bats, turtles and all animals that are impacted by the human influence are being treated in these hospitals. The next months and years will remain very busy and every little help is appreciated.
Gilmartin already hosted a fundraiser on social media for the earthquakes in Mexico City in 2017 previously, in which she was supported by Angel Guillen, JC Alvarado, and other poker players. She was able to share pictures of what the money was used for. And it seemed logical to try something again.
The fundraiser "Poker Players for Australian Wildlife" was created on January 6th, 2020 on Facebook.
"When I first set it up, I was thinking I gotta do something. The poker community is very generous in times of need and already showed that back in 2017, the outpour of love was amazing. Even though I am not there in the thick of the fires, I just gonna put it out there and share what I can. So I put the goal at A$10,000 and I thought that was a little adventurous but I thought I'd give it a shot."
It took one hour to raise A$1,000 and the initial goal of the fundraiser was reached within half a day. Gilmartin bumped up the goal to five times of that, and by the fifth day, again, the goal was reached. The goal was increased for the second time to A$100,000 and is already reached by more than 60%.
Gilmartin also pointed out how vital it is to put in the initial effort and spread the word, as very often it is all that's needed to get the ball rolling.
"I think when you have an audience that pays attention to you in any way through entertainment or sports, it's a responsibility to share what is important to you and give back in any way you can. We are influenced by those around us and when you see someone is doing that, you think I can do that, too."
And that's exactly what other poker players did. Fellow Australian Kahle Burns was among the most vocal ones to push the fundraiser and offered coaching to other players that would donate at least $500. Kitty Kuo pledged 5% of her Aussie Millions Main Event cash, Alexandru Papazian offered a share of his Sunday session whether he wins or loses, and many others joined in to offer their support:
Plenty of poker players replied to the tweet of Burns and Rob Yong in particular went out of his way and offered to donate $10,000 while suggesting that the coaching should go to Phil Hellmuth instead.
"Reaching the $A50k was such an accomplishment and I did feel it would all calm down a bit and me too, as it was so intense for the first five days. But it hasn't slowed down and there's still many donations coming in. I actually have two phones, a laptop and a spare battery with me, because the notifications haven't stopped."
Hundreds of poker players went on to donate through the Facebook page, one of them was UK's Benny Glaser who PokerNews spoke with briefly during the Aussie Millions.
"It is obviously a very good cause and poker can be a quite selfish and self-serving thing, it is a good thing for the community to try and help out others in need, to try and give back in a way and encourage others."
Other high profile players such as Orpen Kisacikoglu and Patrick Leonard were equally vocal on Twitter, the former promising a share of his live poker exploits during the ongoing Aussie Millions while Leonard will pledge a portion of his online sessions.
While it may be on the other side of the planet for many people, it is just one planet and this is such a disaster that will have an impact on the whole planet. It has brought out important conversations that needed to be had from the government perspective and hopefully some very positive changes will come out of it.
Aussie Millions Highlights
Dia 9 Concluído