Aussie Millions Highlights
Dias: 1
Aussie Millions Highlights
Dia 1 Iniciado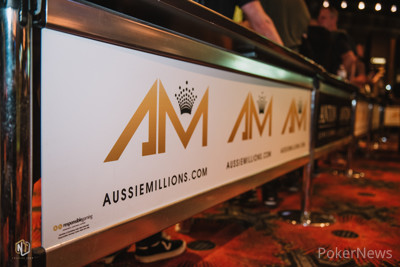 Welcome to PokerNews's coverage of the 2020 Aussie Millions Poker Championship from the Crown Casino in Melbourne.
Over the next three weeks, hundreds of poker players will gather for this, the largest poker festival in the southern hemisphere, all hoping for a chance of poker glory at one of the most prestigious tournaments on the planet.
Later this month, PokerNews will be bringing you live updates of the A$25,000 Pot Limit Omaha, the A$25,000 Challenge, the A$50,000 Challenge, the A$100,000 Challenge and of course the A$10,600 Main Event.
Until then, there will be daily highlights, interviews, final table previews and winner's recaps from a packed tournament schedule.
Here's what's in store on the very first day of the festival:
| Day | Event | Time | Buy-in |
| --- | --- | --- | --- |
| 4th January | Opening Event Flight 1 | 12:10pm | A$1,150 |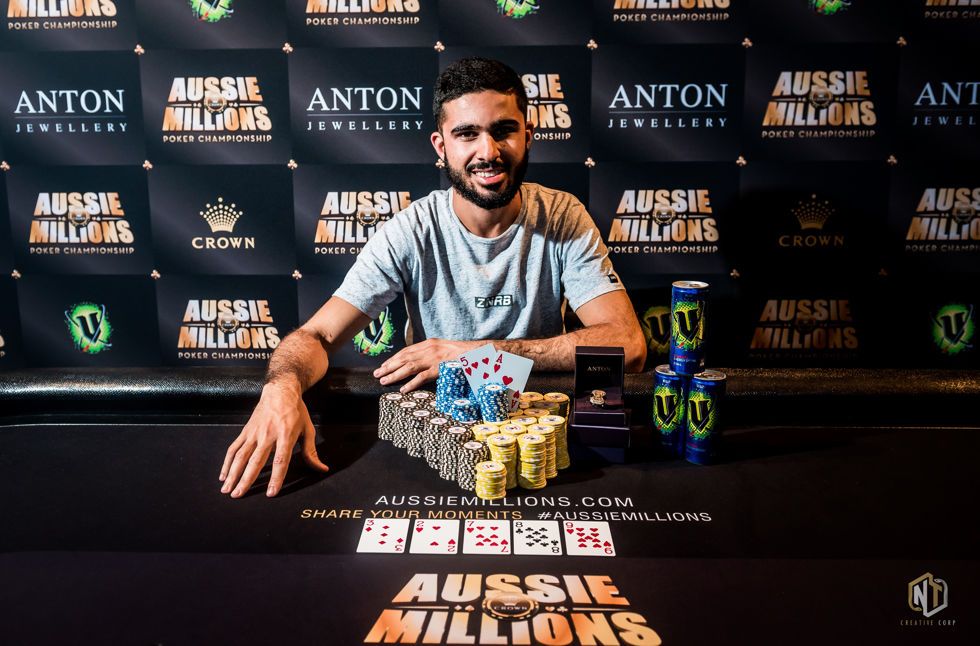 The very first event is the A$1,000,000 guaranteed Opening Event, and today sees the first of five starting flights.
Last year it was Muhammad Asad who took down the tournament, taking home A$219,908 after a three-way deal. The tournament attracted 1,752 entries, smashing the guarantee with a total prize pool of A$1,795,800.
| Place | Name | Country | Payout (AUD) | Payout (USD) |
| --- | --- | --- | --- | --- |
| 1 | Muhammad Asad | Australia | $219,908* | $158,334* |
| 2 | Jason Pritchard | Australia | $285,000* | $205,200* |
| 3 | Matt Edwards | United Kingdom | $195,000* | $140,400* |
| 4 | Didrik Mantok | Norway | $93,920 | $67,622 |
| 5 | Pierce McKellar | United States | $62,493 | $44,995 |
| 6 | Kim Macnaught | Australia | $44,535 | $32,065 |
| 7 | Ning Zhang | Australia | $37,173 | $26,765 |
| 8 | Justin Bernstein | Australia | $31,785 | $22,885 |
| 9 | Tou Ta Wei | Taiwan | $26,398 | $19,007 |
Stay tuned to PokerNews for continued coverage of the 2020 Aussie Millions Poker Championship!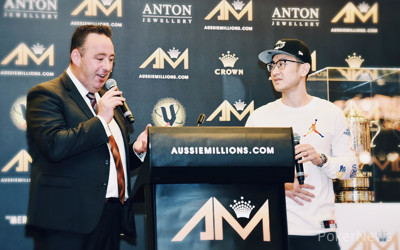 Before cards got in the air on the first day's play at the 2020 Aussie Millions, tournament director Joel Wiliams was on hand to deliver the ceremonial shuffle up and deal.
He was first joined by the head of Crown Melbourne's Indigenous Program Lee-Ann Emzin who acknowledged the traditional owners of the land on which the Aussie Millions is held, and paid respects to elders both past and present.
Williams then welcomed both players and staff to this year's tournament.
"It's an early start and a packed tournament schedule," said Williams. "We remain committed to providing one of the world's top poker offerings, and we're confident that we'll deliver a world-class series that all Australians can be particularly proud of.
"To our players, your continued support is vital to Australian poker, and of course greatly appreciated by all of us here at Crown Melbourne. From locals, who started playing satellites as early as March last year, to international players that arrive earlier and earlier each year.
"To the staff, who help execute the Aussie Millions each and every day, from the back of house staff to dealers, I wish you all a successful and enjoyable Aussie Millions championship."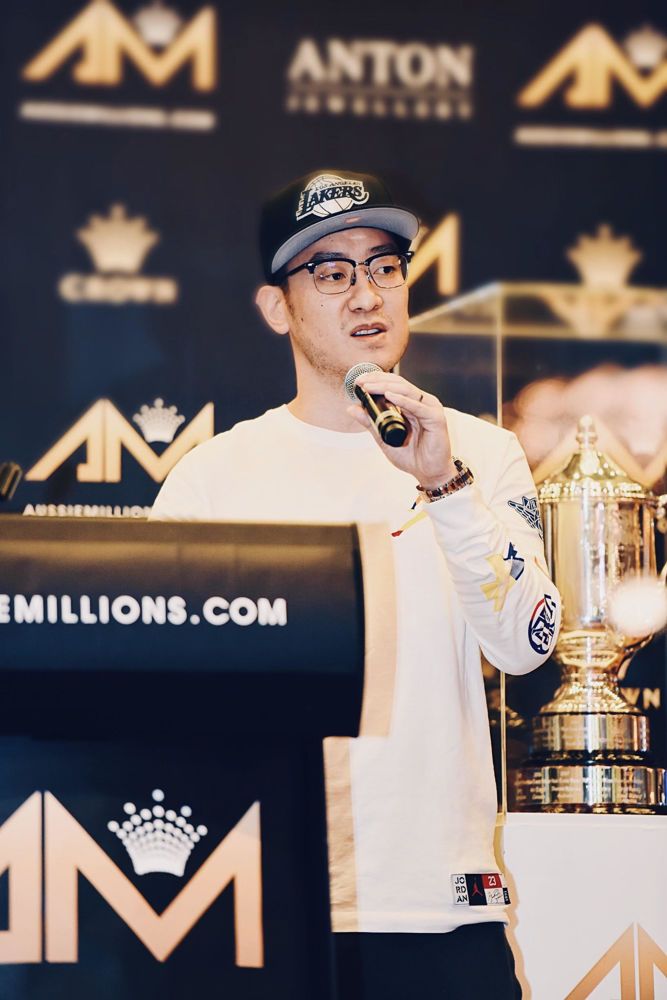 Williams then welcomed to the stage a familiar face from last year's Aussie Millions in the shape of 2019 $5,000 Six Max champion Jamie Lee.
A first time visitor in 2019, Lee was a former cash game player whose first foray into live tournaments saw him pick up a coveted Aussie Millions championship ring.
"Before the Aussie Millions started last year," said Lee. "I proposed to my wife. We made a conscious decision to give poker tournaments a shot, and I told myself before that as long as she said yes that would regardless of what I did in the poker tournaments I'd leave Australia as a winner.
"I was playing quite badly for the first couple of weeks last year, and the $5,000 Six-Max was the last event on the schedule I was planning to play.
"The day before the event started, I had said to my wife I'm thinking of skipping this event and she talked me out of it. She said 'You came here to play, so stick to the plan.' I played that event and ended up winning. If she hadn't have talked me out of it, I would have left Australia down. I think I would have given up playing poker tournaments and switched to cash games. So thank you for talking me out of it and that's the reason why I'm standing here now."
Lee said that his plans for the 2020 Aussie Millions is to "level up" his poker game.
"I'm going to be playing [the Opening Event] and the Main Event, but then also the High Rollers. I'm going to have a crack at the $25,000, $50,000 and $100,000.
"So without any further ado – dealers shuffle up and deal!"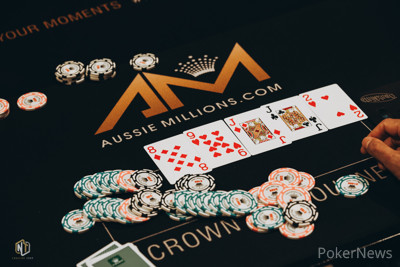 With cards now in the air in the first of five starting flights in the Opening Event, the 2020 Aussie Millions is underway. We've also got our fast glimpse of the players who have come from far and wide to join the most prestigious tournament series in the southern hemisphere.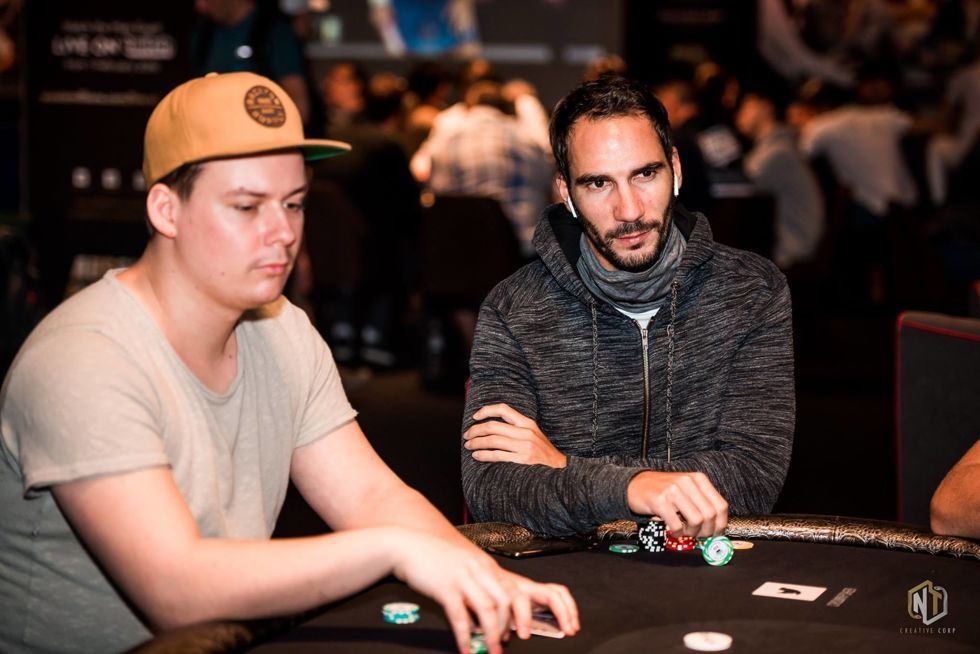 Julien Sitbon
With three cashes at last year's Aussie Millions, Frenchman Julien Sitbon will be full of confidence ahead of this year's festival.
At his first Aussie Millions, and having cashed in the 2019 Opening Event, Sitbon followed that up with a min-cash in the Mix Max and narrowly missed out on a championship ring with a third place finish in the $2,500 No-Limit Hold'em event.
| Event | Place | Prize (AUD) |
| --- | --- | --- |
| $1,150 Opening Event | 24th | $8,799 |
| $1,150 Mix Max | 35th | $2,330 |
| $2,500 No Limit Hold'em | 3rd | $65,815 |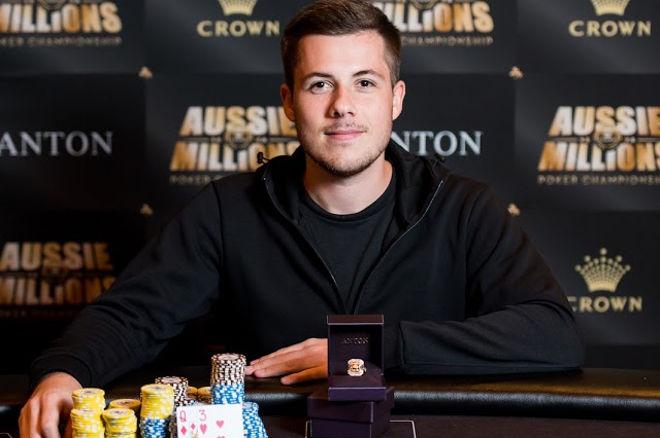 Benedikt Eberle
2018 Opening Event champion Benedikt Eberle was also spotted in the field. Eberle won A$315,295 after defeating the 1,538-player field two years ago.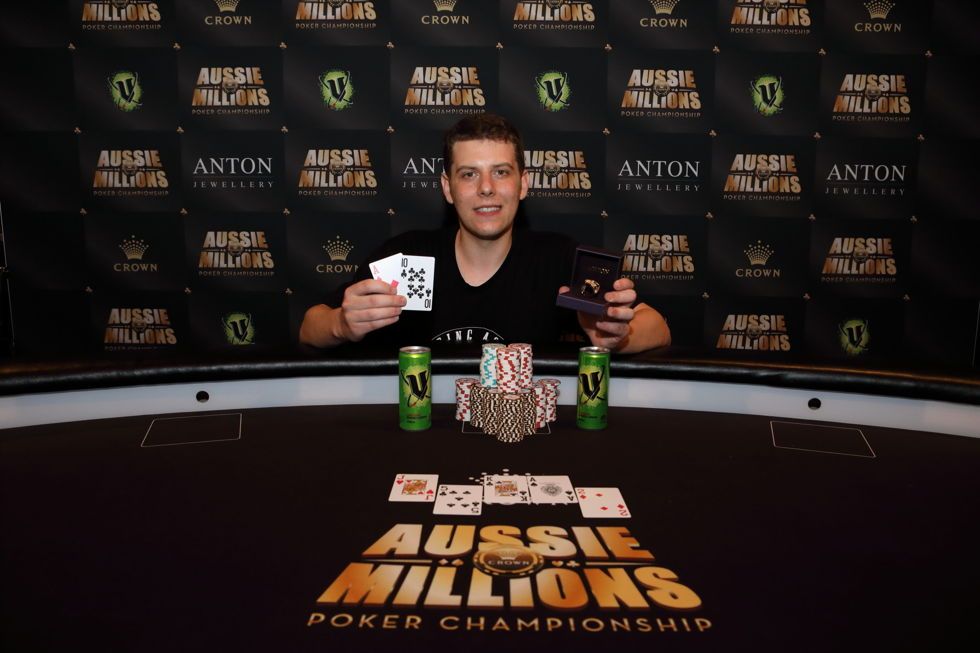 Ari Engel
In 2019, Ari Engel picked up an ANTON Championship ring to go with his Main Event bracelet, winning the A$1,150 Mix Max for A$71,900. Engel famously defeated Tony Dunst heads-up back in 2016 to win A$1,600,000.
After winning the Mix Max event last year, Engel told us that the Crown Melbourne is "by far his most profitable venue in the world to play."
"I mean obviously it's just because of one tournament, but why would I not come back?" he told PokerNews. "Just being at the Crown there's automatically a sense of deja vu. It feels good, but I'm too tired to feel much."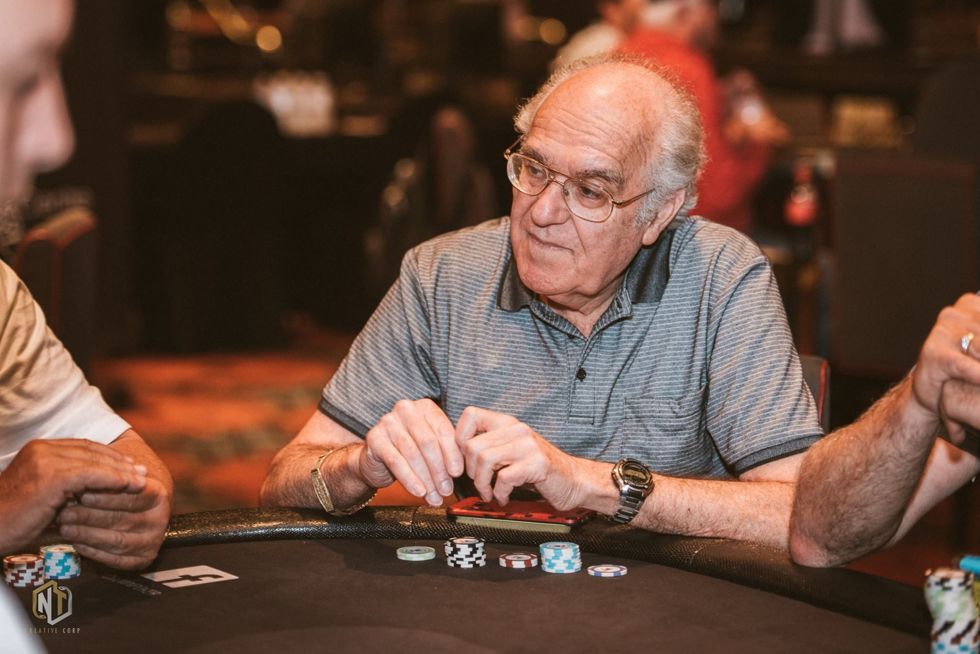 David Gorr
2011 Aussie Millions Main Event champion David Gorr won $2,000,000 for taking down the 2011 championship and is a regular every time the series rolls around.
A member of the Australian poker hall of fame, Gorr is another player who is seated early on Day 1 of the 2020 Aussie Millions festival.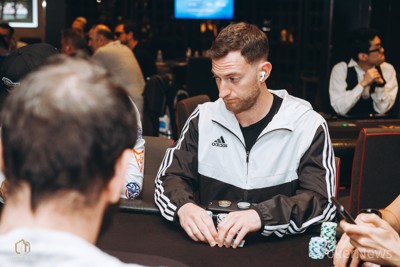 Joey Weissman admits that his first trip to the Aussie Millions has been a long time coming. After receiving recommendations from the likes of fellow Americans Jesse Sylvia, James Romero and David Peters, Weissman told us that he's been meaning to come for years, and 2020 marks the first time he's made the trip down under for what he says is one of the greatest poker stops in the world.
"The poker community just love it here," Weissman told PokerNews on break in the Opening Event. "Melbourne is so well-known for its food and the people here, but also for the quality of dealers and tournament staff here at the Aussie Millions. I've been hearing about it for a long time and had always said to myself 'Maybe one day!'"
However, with the absence of the PCA on the January poker calendar, Weissman along with his girlfriend decided in late 2019 to make the journey, extending their trip with a holiday to New Zealand and Asia.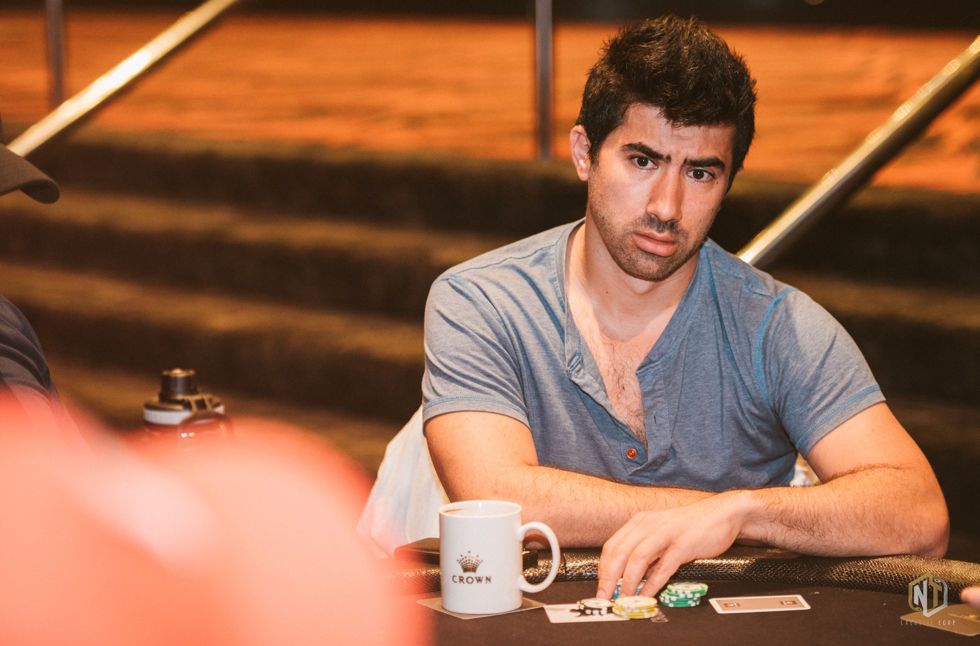 "We're just taking the opportunity to travel and taking advantage of being on this side of the world. It's been something that my girlfriend and I have been talking about for the last couple of years, and wanting to do, but never pulling the trigger. We decided we wanted to do it sooner rather than later, before settling down and having a family one day.
"We've got a few days after the series is done to really enjoy the city, and I'm sure I'll take some days off. I'm sure things will work out organically to really enjoy our time here, but you can't beat being here in the summertime, right?"
Now with the long flight behind him, Weissman has thrown himself into a full poker schedule here at the 2020 Aussie Millions, but a unique situation has come up that he says will change his approach to the trip as a whole.
"I'm here for the whole thing and planning on playing most days. It's an interesting situation because most tournaments like this $1,000 don't allow you to re-enter on the same day, so [if you bust] you just have the rest of the day to enjoy!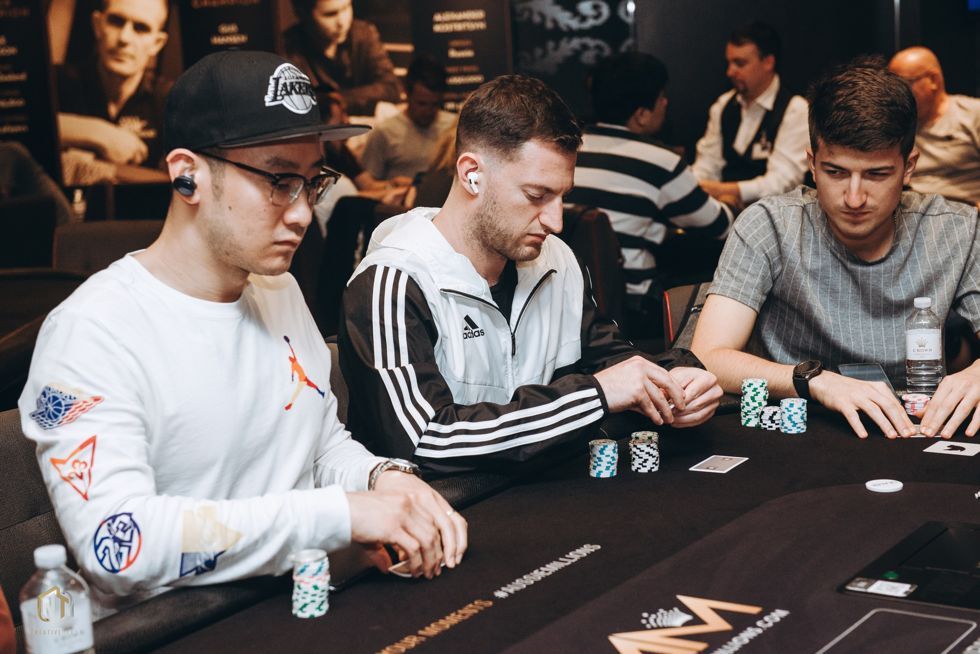 "Considering the structures, there are going to be early casualties, and some of those days I'm going to be one of them. Sort of forces you to play every day because it's not like you're going to be re-entering until 8pm in each flight. You don't have that excuse, you could be done by 2pm so you're going to be able to play the next day. "
Looking ahead, Weissman admits that his priorities for 2020, at least in the short term, are away from poker.
"I think it would be pretty safe to say that after the Aussie Millions we're going to be taking some time to enjoy being in places like New Zealand and Asia, and who knows how much poker there will be! Probably very little.
"You do see these little tours in the Philippines or Thailand, but I'll definitely be back in Vegas for the full WSOP and after that, who knows!"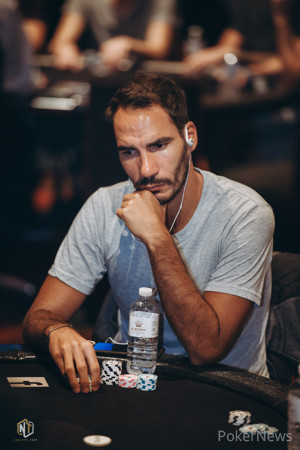 A total of 242 players jumped into the 2020 Aussie Millions Opening Event on the first of five flights, and after twelve 40-minute levels just 28 advanced to Day 2.
Such is befitting of the historic and prestigious tournament, a whole host of big names joined the field including former Main Event winners David Gorr, Ami Barer and Ari Engel along with Joey Weissman, Dzmitry Urbanovich and Kenny Hallaert.
However, these players will all have to try again on subsequent flights after busting today. Big names who have bagged already up include former WSOP Main Event final tablist Martin Jacobson (169,900) who sits third in chips.
"My first Aussie Millions was in 2013," Jacobson told PokerNews shortly after bagging. "I've been to every one since, except for last year! I just love Melbourne overall as a city. The brunch, the people...I'm a big coffee fan so I like that part!
"It's a great time of the year to be here as well, with the tennis, and the tournaments are just great and very well organised."
Other notables include Julien Sitbon (200,000) who is second in chips behind Zack Lowrie (213,800) along with 2019 $1,150 Six Max runner-up Travis Endersby (74,700), 2019 $5,000 Six Max champion Jamie Lee (68,700) and David Yan (30,800).
Lee was also responsible for today's 'Shuffle Up and Deal' and you can read more about what he said, including how his wife's advice helped to his maiden ANTON Championship ring here.
Tomorrow the second flight gets underway at 12:10pm, with another group of players joining the 2020 Aussie Millions as well as others who opt to re-enter.
End of Flight 1 Chip Counts
| Player | Chip Count |
| --- | --- |
| Zack Lowrie | 213,800 |
| Julien Sitbon | 200,000 |
| Martin Jacobson | 169,900 |
| Michael Egan | 165,000 |
| Michael Faulkner | 135,000 |
| Dejan Boskovic | 123,400 |
| Paul Altis | 121,500 |
| Giang Fu | 119,800 |
| Andrew Shanahan | 108,200 |
| Javad Etaat | 102,900 |
| Rob Raymond | 93,900 |
| Jason Luttgens | 74,800 |
| Travis Endersby | 74,700 |
| Richard Balkan | 72,200 |
| Jamie Lee | 68,700 |
| Luc Meritan | 63,100 |
| Alboozar Azarnoush | 58,800 |
| Tanya Hill | 57,800 |
| Liu Yu Cheng | 55,000 |
| Jacob Howes | 52,400 |
| Scott Wilson | 49,200 |
| Lucas Morrift | 46,000 |
| Brett Murtagh | 42,600 |
| Alex Palantinis | 37,100 |
| Daniel O'Shea | 36,600 |
| Darryl Gassali | 33,100 |
| David Yan | 30,800 |
| Shoshiro Karita | 24,900 |
Aussie Millions Highlights
Dia 1 Concluído