Event #7: €10,400 Main Event Championship
Dias: 4
Event #7: €10,400 Main Event Championship
Dia 4 Concluído
Jogador
Fichas
Oscilação

Elio Fox

3,990,000

90,000

Jake Cody

2,685,000

-60,000

Dermot Blain

2,405,000

-45,000

Chris Moorman

2,230,000

300,000

Brian Roberts

2,000,000

-25,000

Max Silver

1,825,000

25,000

Moritz Kranich

1,660,000

-215,000

Shawn Buchanan

1,015,000

-180,000
Nível 24 : 15,000/30,000, 5,000 ante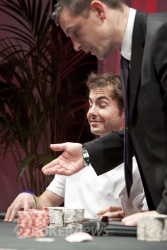 It was the penultimate day of the World Series of Poker Europe €10,400 Main Event, deep in the heart of the Hotel Majestic Barriere. The day started with 25 players and needed to establish the eight stars for the final table. It started slow, but ended in a jet-powered haze of madness in a flurry of hands in Level 24.
Tony G (24th), Erik Seidel (21st), John Eames (20th) and John Duthie (18th) were a group of stars who faded in the early part of the day and once 16 players remained, the tournament moved locations. Majestic Room #3 is a place any poker player in the world would want to play. The main feature table where the final will be played looks like it has been lifted from a James Bond movie -- a simply stunning setting.
Two tables of eight were set up and the players went about their business, clashing with one another like battering rams. After a series of short-stack double ups, the first elimination occurred. Brian Roberts ended the hopes of Michael Drummond in 16th place. Drummond moved all in on the river with the board reading
holding the
. Roberts picked him off with the
for top two pair to end his tournament.
Amir Lehavot, Steven Moreau and Andrew Moseley followed Drummond out of the competition and then a 20-minute break came about before an insane 15-minute spell of action was experienced on both tables.
First, Thibaud Guenegou was all in preflop with the
against Elio Fox's
. After a board of
fell, Guenegou headed out the door in 12th place.
Then, Fox, Alex Dovzhenko and Arnaud Mattern were all in preflop in a pot worth three million chips.
"I have them," said Mattern, and we all knew what that meant. When the cards were turned, Mattern had aces. Fox had pocket tens and Dovzhenko had ace-king. The flop was
to give Fox took an unlikely lead. It stayed that way after the
turn and
river to ship Fox's two opponents out the door.
With his finish in 10th place, Mattern earned his best-ever run in the WSOP Europe Main Event. In a feat that shouldn't go unnoticed, Mattern has cashed three years in a row in this elite event. In 2009, Mattern came 23rd for £25,918. In 2010, he placed 12th for £54,114. Clearly, the WSOP Europe Main Event is the French pro's home playoff game.
Meanwhile, over at the feature table someone else was about to get lucky. Moorman four-bet his entire stack (940,000) in reaction to a Patrik Antonius three-bet. Antonius called and Moorman saw the bad news as he was dominated. Moorman showed the
and Antonius the
. The flop was
, but then an
on the turn created a split pot. At this point, Antonius looked visibly annoyed, but that was nothing compared to his face when the
hit the river to hand Moorman a miracle and put Antonius on life support. That beat left Antonius with 80,000 in chips and Moorman put him out of his misery a few hands later to set the final table.
The final table will commence at 13:45 (CET) Thursday so make sure you join us at Pokernews for all of the action.
Nível 24 : 15,000/30,000, 5,000 ante
Patrik Antonius was all in preflop against Shawn Buchanan and Chris Moorman. The flop came down
and Buchanan checked. Moorman bet 100,000 and Buchanan called. All Antonius could do now was sit patiently and await his fate.
The turn brought the
and Buchanan checked again. Moorman fired a bet of 225,000 and that sent Buchanan into the tank for a little bit. After a minute or two, Buchanan eventually folded and Moorman was left to battle with Antonius.
Antonius turned up the
for ace high, but a gutshot straight draw to Broadway. Moorman tabled the
for a pair of aces and that left Antonius looking for a king and a king only to hit his straight.
The river completed the board with the
and ended Antonius' tournament in ninth place. For his finish, Antonius earned €90,000, but didn't look happy at all about the ending to his night.
We can't blame him.
We've just had our second double elimination in the last few hours, and this one has taken the tournament life of the final Frenchman left standing.
It began with Arnaud Mattern opening to 60,000, and Alex Dovzhenko three-bet shoved for 455,000. When the table folded around to Elio Fox, he announced a cold four-bet -- all in with his big stack. That brought it back to Mattern, and he quickly announced, "I'm all in," as well! That closed that closed the action, and it put he and Fox at risk.
As the cameras established their shots, the cards had to be held, but Mattern didn't want to slowroll. "I have them," he said. Fox asked again to make sure, and Mattern nodded. "I have them."
Showdown
Mattern:

Dovzhenko:

Fox:
Mattern was smiling at the situation in front of him, poised to drag what was possibly the largest pot of the tournament. He was at risk for 1.455 million, but the news would soon turn sour. The dealer rolled out a devil of a
flop, and just like that, Fox sprang into a huge lead with two to come. The turn
was a big sweat for Mattern, and now the smirk returned -- although this smirk was a bit different than the showdown smirk. A more nervous smirk.
Dovzhenko was drawing dead, and he wasn't too happy about it.
Mattern needed to find the case ace or any diamond to drag the pot.
River:
.
That's as blank as it gets, and Fox is going to spend the next few minutes stacking chips. Dovzhenko falls in 11th place, Mattern in 10th, and it's now Fox in front of the pack. He was fifth from the bottom when we had 16 players, but he now finds himself sitting behind about 3.9 million chips.
It's worth noting that this is Mattern's third consecutive cash in this WSOPE Main Event. In 2009, he ran top 23rd place (£25,918), and last year, he topped that with a 12th-place showing, good for £54,114. He's done even better this time around, but it's likely not going to feel good. He'll have to settle for €90,000 and a one-year delay on his final table appearance.
We're down to nine players, and we need to combine, but there's a hand in progress at the main table as we speak...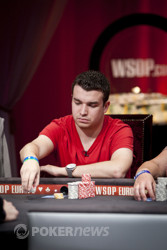 Imagine being as good at poker as Chris Moorman! Then imagine being as lucky as Rihanna's boyfriend! Yes that is a pretty powerful combination!
Moorman raised to 65,000 on the button and Patrik Antonius three-bet from the small blind; making it around 165,000. Back to Moorman and he moved all-in for 940,000 and Antonius snap-called. The look on Moorman's face said it all - he was at it! When the card turned over Antonius was well-ahead.
Showdown

Flop:
Still Antonius in the lead.
Turn:
Split pot! Antonius was fuming!
River:
The seven of diamonds! Antonius looked distraught and Moorman looked dumb-struck.
Jogador
Fichas
Oscilação

Chris Moorman

1,930,000

930,000

Patrik Antonius

80,000

-945,000
Dermot Blain won the last hand of the break and he has just won the first hand of the break. He raised to 70,000 on the button and Patrik Antonius defended his big blind. The flop was
and Antonius check-called a 90,000 Blain c-bet. A bit of pot controlling was warranted on the
turn and then we saw the
on the river. Antonius bet 125,000, Blain raised to 430,000 and Antonius folded.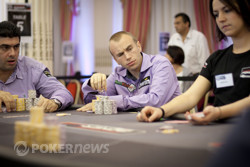 The outer table folded around to the blinds where Thibaud Guenegou shoved in for 425,000 from the small. In the big, Elio Fox looked down at
and quickly made the call, and Guenegou's
was in a bad way.
The
flop was a miss for the at-risk player, but the turn
gave him nine outs to the flush. He seemed to know it wasn't coming, though, and the river
is the last card he'll see today.
So, then, it's Guenegou falling out in 12th place, and that's good for €67,500. It's not what he hoped to accomplish here today, but it should prove to be some consolation in the morning.
The host nation now rests its hopes in Arnaud Mattern.
Nível: 24
Blinds: 15,000/30,000
Ante: 5,000
Jogador
Fichas
Oscilação

Jake Cody

2,745,000

-115,000

Dermot Blain

2,110,000

510,000

Brian Roberts

2,025,000

225,000

Moritz Kranich

1,875,000

-465,000

Max Silver

1,800,000

-300,000

Arnaud Mattern

1,550,000

153,000

Elio Fox

1,370,000

120,000

Patrik Antonius

1,305,000

5,000

Shawn Buchanan

1,195,000

-206,000

Chris Moorman

1,000,000

35,000

Thibaud Guenegou

435,000

35,000

Alex Dovzhenko

405,000

-95,000