Event #7: €10,400 Main Event Championship
Dias: 2
Event #7: €10,400 Main Event Championship
Dia 2 Concluído
Jogador
Fichas
Oscilação

Constant Rijkenberg

462,800

Hoyt Corkins

429,900

-4,100

Rifat Palevic

353,500

33,500

Jake Cody

323,200

-56,800

Giuseppe Sammartino

305,900

75,900

Tom Bedell

301,900

11,900

Andy Moseley

301,400

41,400

Hyacinthe Bonnin

296,000

213,800

Erik Seidel

291,900

193,900

Shawn Buchanan

291,400

-8,600

Chris McClung

285,500

202,500

Thibaud Guenegou

279,000

211,800

Joel Dodds

270,400

-104,600

Mathew Frankland

259,800

88,800

Hans Winzeler

259,500

197,000

Ricardo Tavares

249,500

154,500

Ilan Boujenah

241,400

36,400

Philippe Ktorza

238,000

180,700

Arnaud Mattern

237,300

135,300

Brian Roberts

233,100

8,100

James Dempsey

231,100

146,100

Emin Aghayev

229,300

229,300

Patrik Antonius

228,100

-36,900

Joao Barbosa

219,200

177,425

Jeremy Kottler

212,300

37,300
Nível 12 : 1,000/2,000, 300 ante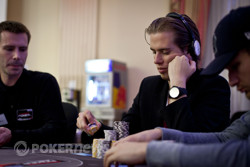 They're pumping Coldplay through the speakers, and that's our cue to get out of here.
Day 2 is done and dusted here at the WSOPE Main Event, and our starting field has been dashed to bits. The remaining 328 (of the 539 starters) walked back into the tournament room today, but more than 200 of the walked right back out with a frown over the course of six testing levels. Including the start-of-day chip leader, Jamie Rosen. And the third-place stack of Tommy Vedes. It was Vedes' birthday today, but he was the one doing the giving, quickly passing his chips out to his table mates and heading off to (hopefully) celebrate.
With the bags out on the tables, it looks like Constant Rijkenberg has done the most work today, and his stack of 462,800 puts him atop the pack heading for the run to the money tomorrow.
Rijkenberg's finishing stack is still less than Rifat Palevic's high point on the day. Palevic was the first player to amass a big stack today, working his count up over the half-million mark at one point. The aggression that gave him the chips took a chunk of them away, however, and Palevic had to settle for a finishing count of 353,500 -- still quite healthy. Others who are still in the hunt for this title include Erik Seidel, Barry Greenstein, Robert Mizrachi, Victor Ramdin, Patrik Antonius, Tony G, and the defending champion, James Bord. And don't look now, but last year's 13th-place finisher, Hoyt Corkins, finds himself in second place overall with 429,900 at night's end.
Everyone's chasing Rijkenberg, though, and the Dutchman certainly knows what it takes to win a big tournament. Rijkenberg is the EPT San Remo champion from a couple years back, and his game seems to have grown even a bit more mature in the time since then. He'll bring almost a half-million chips back with him tomorrow.
Play is set to resume at noon tomorrow, and we'll play eight-handed from here on out.
Until then, all that's left is goodnight!
Nível 12 : 1,000/2,000, 300 ante
The day is done and all the players have bagged up. We'll be back with a recap shortly.
Nível 12 : 1,000/2,000, 300 ante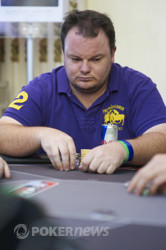 On the last hand at his table, Joel Dodds scored a big double up through Mustapha Kanit, but he had to come from behind to do so.
Dodds was all in preflop with the
versus
for Kanit. The window card was the
to give Dodds the lead, but it was followed by the
and
to give Kanit a Broadway straight. The turn paired the board with the
and then the river put another ten out there with the
and gave Dodds a straight.
Dodds was all in for 135,000 and doubled up big just before bagging up for the night.
There were about three dozen people encircling one of the far tables, and that's usually our cue that something big is going on. When we walked over, there was a board of
out on the table and a big pot piled in the center. Shawn Buchanan had bet 73,000, and Carlos Mortensen was deep in the tank. He only had about 100,000 chips left, so the call was for nearly all of it. After several minutes, he talked himself into the call.
Buchanan showed up
for top set, drawing a "Wow," from a couple players at the table. Mortensen was not one of them, however. He quietly mucked, left now with just barely what he began with two days ago.
Jogador
Fichas
Oscilação

Shawn Buchanan

300,000

110,000

Carlos Mortensen

32,000

-98,000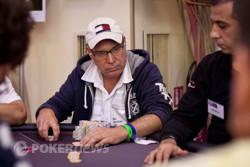 We have been saying it all day, but the magical table eight seems to be where it is all happening. It will be surprising if the chip leader does not rise out of the mayhem that is table eight. With fifteen-minutes of the level remaining we watched a few hands so see who was favourite to come out of the pack.

Hand 1
Rifat Palevic raised to 5,100 in early position and Anthony Lellouche raised to 13,700 a few seats to his left. Action on Tom Bedell in the big blind whio started to think.
"zzzzzzzzzzzzzzzzzzzzzzzzzzzzzzzzzz," snored Palevic at the top of his voice.
"Alright I call," said Bedell.
The flop was
and the action checked to Lellouche who bet 16,400. Bedell folded but Palevic check-raised to 34,300 and Lellouche folded his hand after Palevic told him he had nothing but knew he had nothing either.

Hand 2
Ifergan raised to 4,200 under the gun and folded to a 10,250 Cody three-bet from the button.

Hand 3
Robert Mizrachi raised to 5,000 in early position and Hoyt Corkins called. The flop was
and Mizrachi bet 5,300 before folding to a 20,000 Corkins raise.

Hand 4
Cody raised to 4,500 from the hijack and three players called. The flop was
and Cody won the pot with a 12,500 c-bet and flashed the
.

End Result
| Seat | Name | Chipcount |
| --- | --- | --- |
| 1 | Jake Cody | 380,000 |
| 2 | Tom Bedell | 290,000 |
| 3 | Ben Kessas | 40,500 |
| 4 | Rifat Palevic | 320,000 |
| 5 | Vadim Ifergan | 200,000 |
| 6 | Anthony Lellouche | 180,000 |
| 7 | Robert Mizrachi | 140,000 |
| 8 | Pretty Vacant | |
| 9 | Hoyt Corkins | 395,000 |
Jogador
Fichas
Oscilação

Hoyt Corkins

395,000

Jake Cody

380,000

134,000

Rifat Palevic

320,000

-75,000

Tom Bedell

290,000

132,000

Vadim Ifergan

200,000

30,000

Antony Lellouche

180,000

39,000

Robert Mizrachi

140,000

-6,000

Benjamin Kessas

40,500

7,475
Nível 12 : 1,000/2,000, 300 ante
The clock has been paused with ten minutes to go in the day, and we'll play another five hands at each table before calling it a night.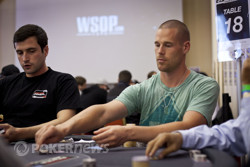 From the hijack seat, Lari Sihvo raised to 4,000. Patrik Antonius called from the big blind and the flop came down
. Antonius checked and Sihvo bet 5,200. Antonius put in a check-raise to 13,000 and Sihvo made the call.
The turn card was the
and Antonius fired 22,000. Sihvo didn't take too long to make the call and see the
land on the river. Antonius took some time to himself. He eventually fired a bet worth 27,000. Sihvo called.
Antonius tabled the
and Sihvo slammed his hand on the table in disgust. "You're so lucky!" he said to Antonius. Sihvo then mucked his hand and Antonius scooped the pot.