Event #19: THE GIANT - $365 No-Limit Hold'em
Dias: 1b
Event #19: THE GIANT - $365 No-Limit Hold'em
Dia 1b Concluído

Nível 18 : 6,000-12,000, 2,000 ante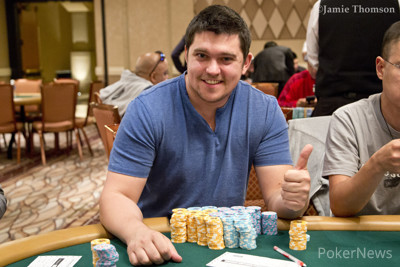 Day 1b of the Event #19: THE GIANT - $365 No-Limit Hold'em attracted 1,230 entrants who created a $369,000 prize pool. The top 185 players reached the money in Level 17 and the remaining play brought many casualties to reduce the surviving field to just over 100 players.
WSOP Circuit legend Valentin Vornicu has been crushing the whole day, running over his table. Vornicu's fantastic ride continued even after his relocation to a new table, and the nine-time ring winner eventually finished with 869,500, putting his name atop of the Day 1b leaderboard.
"Last week I fired three entries, and I played three hands total," Vornicu revealed his unique performance from Day 1a. Today was a completely different story for the former International Mathematics Olympiad bronze medalist. Originally from Bucharest, Romania, the 34-year-old professional poker player now lives in San Diego.
"I always bag big in the $365 tournaments," said Vornicu, whose results in these events have been stellar through his career.
Vornicu is yet to win a bracelet but he's already notched a respectable result on the WSOP main series, too. Last year, Vornicu went deep in the Main Event, finishing in 23rd place for a career-best $269,430.
Other notable player who thrived on Day 1b was Eric Baldwin, who has 547,500. Baldwin has already been decorated with a WSOP bracelet. He has amassed more than $5.2 million in live tournament cashes.
Among those who will be back for Day 2 on July 8 are also Dinn Nguyen (494,000), Danny Goncalves (472,000), Louis Russo (468,000), Aditya Agarwal (260,000), "Captain" Tom Franklin and Jan Nakladal (144,000).
Todd Brunson, Kathy Liebert, Alex Keating and Roland Israelashvili might have another shot in the remaining flights as they all fell during the last few hands of today's play.
Three more starting flights are scheduled for THE GIANT, across the next three Fridays as Day 1c takes place on June 23 and Day 1d on June 30 while the last chance to make it through will be on Day 1e (July 7).

Nível 18 : 6,000-12,000, 2,000 ante
Jogador
Fichas
Oscilação

Valentin Vornicu

869,500

694,500

Viktor Lavi

603,500

603,500

Eric Baldwin

547,500

238,500

Dinh Nguyen

494,000

494,000

John Chong

479,000

479,000

Danny Gonzales

472,000

472,000

Louis Russo

468,500

-11,500

Scott Montgomery

452,000

452,000

Shawn Pilot

438,000

438,000

Shawn Silber

424,500

292,500

Eric Pfeffer

411,000

411,000

Zal Irani

410,000

390,000

Sebastien Grax

385,500

385,500

Marc Rehnert

370,000

370,000

Susan Strohbach

358,500

358,500

Aaron Ellis

358,500

358,500

Allen Oh

344,500

344,500

Mohsin Virani

338,000

338,000

Aileen Shin

325,000

325,000

Nazier Muslimani

318,500

318,500

Dan Stark

316,000

316,000

Jose Montes

310,000

310,000

Stephen Ma

309,000

309,000

Ravi Shanmugam

293,000

293,000

James McKinnon

293,000

293,000

Nível 18 : 6,000-12,000, 2,000 ante
One of the last hands of the days saw Kathy Liebert lose her tournament life. Liebert was all in with
against
and short stack's
.
The board
caused a double elimination as Liebert's jacks couldn't hold.

Nível 18 : 6,000-12,000, 2,000 ante
The clock has been paused and five more hands have been announced. After that, the remaining players will seal their advancing stacks in the bags.

Nível 18 : 6,000-12,000, 2,000 ante
Todd Brunson was eliminated during the last level and it was in a cruel fashion, too.
Brunson ended up in a three-way all in on the flop
, holding pocket tens. His first opponent rolled over
but the other showed
for flopped trips.
"Are you kidding me?" said Brunson in disbelief. The turn was a blank and the river a seven, improving Brunson's nemesis' hand to a full house.
Jogador
Fichas
Oscilação

Todd Brunson

Eliminado
Nível 18 : 6,000-12,000, 2,000 ante
There are now 140 players left in the field with just 20 minutes left to play.
Nível: 18
Blinds: 6,000/12,000
Ante: 2,000

Nível 17 : 5,000-10,000, 1,000 ante
What a relief it was for Ian Finch when the tournament staff announced that players are finally in the money.
"I was down to two big blinds," he said. Finch was the unlucky player who held ace-king in the earlier mentioned hand that saw his opponent double up with jacks thanks to a jack on the river.
But it's not over for Finch, who's now back up to 80,000. "We have a chance," he said, encouraged to fight for the bracelet.
Jogador
Fichas
Oscilação

Ian Finch

80,000
Nível 17 : 5,000-10,000, 1,000 ante
Adrian Buckley had more reason than most to sweat the bubble. It wasn't just that he had around two big blinds and he was getting closer and closer to being in the blinds.
The min-cash didn't mean a great deal to Buckley, he won the Millionaire Maker in 2015 for $1,277,193 so he wasn't too worried about a min=cash.
Buckley had however cross-booked for $5,000 is he managed to cash in the Giant.
If he failed to cash then he would be wearing a duck suit and blowing bubbles in the next event.
The bubble burst, Buckley cashed and he high-fived his table. Some things in this world are worth more than money.