Nível 17 : 100,000/200,000, 25,000 ante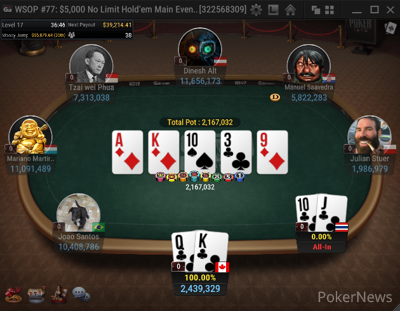 Ricky Tang opened to 412,000 from early position and was called by Evgeny Galakhov in the big blind. The flop brought
and Galakhov opted to check, then moved all in for 521,526 total when he faced a continuation bet of 230,000. Tang wasted no time in calling and the cards were turned over.
Evgeny Galakhov:

Ricky Tang:
Both players had flopped a pair and straight draw, and Tang's hand remained supreme on the
turn and
river. Galakhov has become the first elimination on the final day.
Jogador
Fichas
Oscilação

Dinesh Alt

11,656,173

-25,000

Mariano Martiradonna

11,091,489

-25,000

Joao Santos

10,408,786

-25,000

Tzai Wei Phua

7,313,038

-25,000

Manuel Saavedra

5,822,283

-25,000

Ricky Tang

4,606,361

1,208,516

Julian Stuer

1,986,979

-125,000

Evgeny Galakhov

Eliminado