Event #77: $5,000 No Limit Hold'em Main Event, $25M GTD
Dia 1a Concluído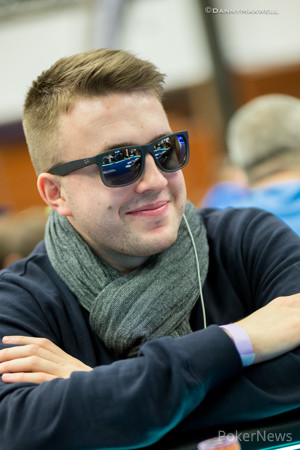 The first of 22 starting flights in Event $77: $5,000 No Limit Hold'em Main Event with a guarantee of $25,000,000 has concluded. 464 players signed up for the first flight on Sunday night and after 15 levels of 30 minutes each, 99 of them advanced to Day 2 on Sunday, August 30, two weeks from now.
Topping the first flight is Samuel Vousden with 717,497 in chips. The Finn has already racked up seven cashes in the GGPoker portion of the WSOP schedule, including a Round of 16 finish in the $10k heads-up.
Following Vousden are Christian "CharlieD23" Jeppsson (602,774) and bracelet winner Julien Martini (576,965). Grayson "TurdFerguson" Ramage (441,567), Dmitry "Altbbb" Yurasov (400,263), Joshua "slayerv1fan" Hoesel (392,596), Rui Ferrera (385,142) and Alexandros Kolonias (381,459) also bagged some of the biggest stacks.
Jans Arends, Chris Hunichen, Darren Elias, Ludovic "Gr4vyB04t" Geilich, and Ben Farrell are among those that ran out of chips on Day 1A and they'll have two more attempts left, as players can only fire a max of three bullets into the event.
The Main Event will continue with flight 1B on Monday, August 17 at 7 p.m. GMT.
| | | | | | |
| --- | --- | --- | --- | --- | --- |
| Samuel Vousden | | | | 717,497 | 717,497 |
| Christian "CharlieD23" Jeppsson | | | | 602,774 | 602,774 |
| Julien Martini | | | | 576,965 | 576,965 |
| Drew "BigPavelski" Soik | | | | 547,536 | 547,536 |
| Fernando "waransan" Garcia | | | | 498,741 | 498,741 |
| PJGecko | | | | 472,434 | 472,434 |
| Grayson "TurdFerguson" Ramage | | | | 441,567 | 441,567 |
| Dmitry "Altbbb" Yurasov | | | | 400,263 | 400,263 |
| Joshua "slayerv1fan" Hoesel | | | | 392,596 | 392,596 |
| Daan "DaanOss" Mulders | | | | 385,661 | 385,661 |
| Rui Ferreira | | | | 385,142 | 385,142 |
| Alexandros Kolonias | | | | 381,459 | 381,459 |
| 84562 | | | | 373,191 | 373,191 |
| ILOVECATS | | | | 372,782 | 372,782 |
| Transurfing | | | | 368,791 | 368,791 |
| SlamCityJam | | | | 368,661 | 368,661 |
| CallMuckOk | | | | 332,195 | 332,195 |
| poopypie | | | | 332,070 | 332,070 |
| Bruno Volkmann | | | | 330,641 | 330,641 |
| MangoTrader | | | | 330,009 | 330,009 |
| Magicpsilo | | | | 328,351 | 328,351 |
| COVFEFE-19 | | | | 327,776 | 327,776 |
| Land on it! | | | | 325,958 | 325,958 |
| juStic3 | | | | 322,199 | 322,199 |
| Jurgen FLOP | | | | 316,208 | 316,208 |
Event #77: $5,000 No Limit Hold'em Main Event, $25M GTD
Dia 1a Iniciado