Nível 43 : 2,000,000/4,000,000, 4,000,000 ante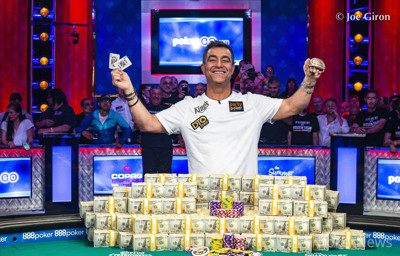 His railbirds' shirts, black with conjoining colors of German and Iranian flags, called Hossein Ensan a "sure bet."
For most of the 2019 World Series of Poker Main Event final table, he looked like just that. Ensan entered with a massive lead and only strengthened his grip on things over the course of the first two days, toting 63 percent of the chips into three-handed play.
It took him about nine hours and things got a little rocky at times, but Ensan closed the deal. He eliminated both Alex Livingston and then Dario Sammartino across a little under 200 hands of play, securing the historic bracelet for the 50th running of the WSOP, as well as $10 million and poker immortality as the next world champion.
He called the moment, the culmination of getting through a field of 8,569, "unbelievable."
"It is the best feeling I have in all my life," he said, grinning the smile that seems eternally etched on his features.
Final Result: 2019 WSOP Main Event
| Place | Winner | Country | Prize (USD) |
| --- | --- | --- | --- |
| 1 | Hossein Ensan | Germany | $10,000,000 |
| 2 | Dario Sammartino | Italy | $6,000,000 |
| 3 | Alex Livingston | Canada | $4,000,000 |
| 4 | Garry Gates | United States | $3,000,000 |
| 5 | Kevin Maahs | United States | $2,200,000 |
| 6 | Zhen Cai | United States | $1,850,000 |
| 7 | Nick Marchington | United Kingdom | $1,525,000 |
| 8 | Timothy Su | United States | $1,250,000 |
| 9 | Milos Skrbic | Serbia | $1,000,000 |
Ensan said his plan for the tournament was just to bag up every day and get to the money. When he got a big stack starting on Day 4, he began to dream bigger and the cards kept cooperating.
Still, despite Ensan's stack and credentials that included numerous excellent results, including a European Poker Tour title and over $2.6 million in tournament cashes, many observers tabbed Sammartino as the man to beat at the final table.
Ensan had a chance to make short work of him and take an overwhelming lead against Livingston as the two Europeans flipped for Sammartino's stack early on the final day. The board ran out a straight for the Italian and it was game on with everyone having a very playable stack over 50 big blinds.
In what would be a theme throughout the final table, the railbirds for Sammartino went absolutely bananas. Fans of each player seemed determined to outdo the others, chanting louder and stomping harder, creating a raucous atmosphere that never really slowed down.
The slide continued for Ensan as he ceded the lead to Livingston for one hand before Sammartino doubled through the Canadian, turning two pair against pocket kings.
Sammartino and Ensan then traded the lead for a bit before Ensan woke up with ace-queen against Livingston, who shoved with ace-jack on the button.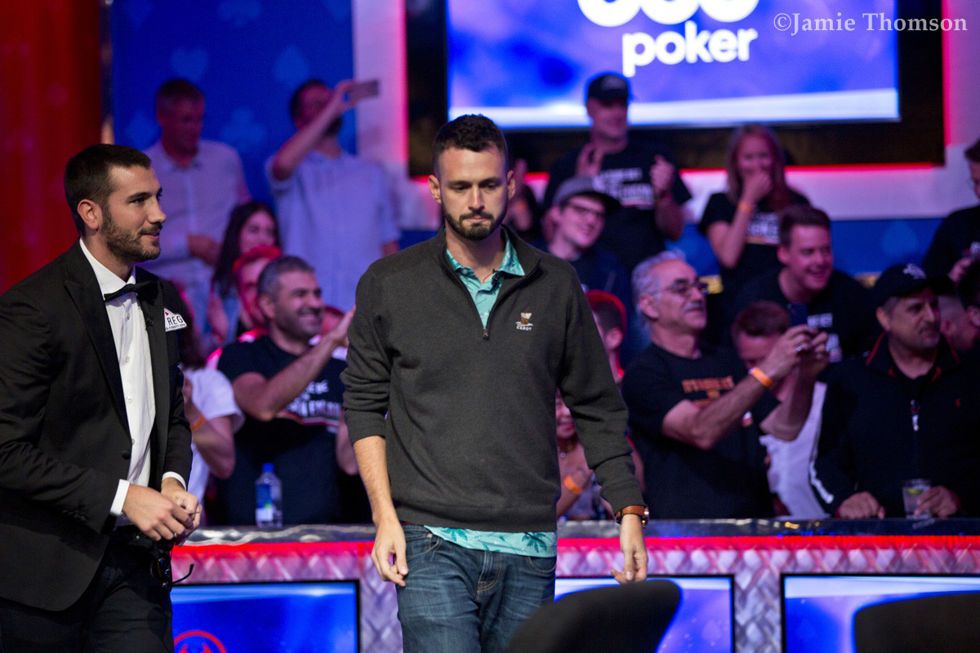 Sammartino grabbed an early lead heads up when he hit a three-outer after calling a check-raise on the turn then got big value on a river bet with aces up against jacks up.
No longer did Ensan seem a sure bet. The Italian, widely considered the best player at the final table and certainly the most accomplished with millions in cashes against no-limit hold'em's most elite, had the chips and the chops. It seemed his title to lose.
His rail knew it too, as the chants only grew in force, drowning out Ensan's rail's responses.
"He's a super Dario! He's a super Dario! He's a super Dario!"
Ensan turned things around, though. Over the course of the next roughly 100 hands, he methodically reduced Sammartino to about 40 big blinds and a 2-to-1 deficit. Sammartino tried slowing the slide by limping some buttons, but the big pots all seemed to go Ensan's way.
"He's a big name and he's a very good player," Ensan said. "But, short-handed you need cards. You need hands and for sure luck. Luck and hands [were] on my side."
Finally, things ended in a hand eerily similar to Sammartino's double against Livingston. The Italian again check-raised all in on the turn and again was up against two kings. This time, however, he only had a combo draw and needed to improve on the river. A brick river fell and Sammartino had to console himself with $6 million and another close call in a marquee bracelet event — he previously finished third in the $100K High Roller for One Drop in 2017.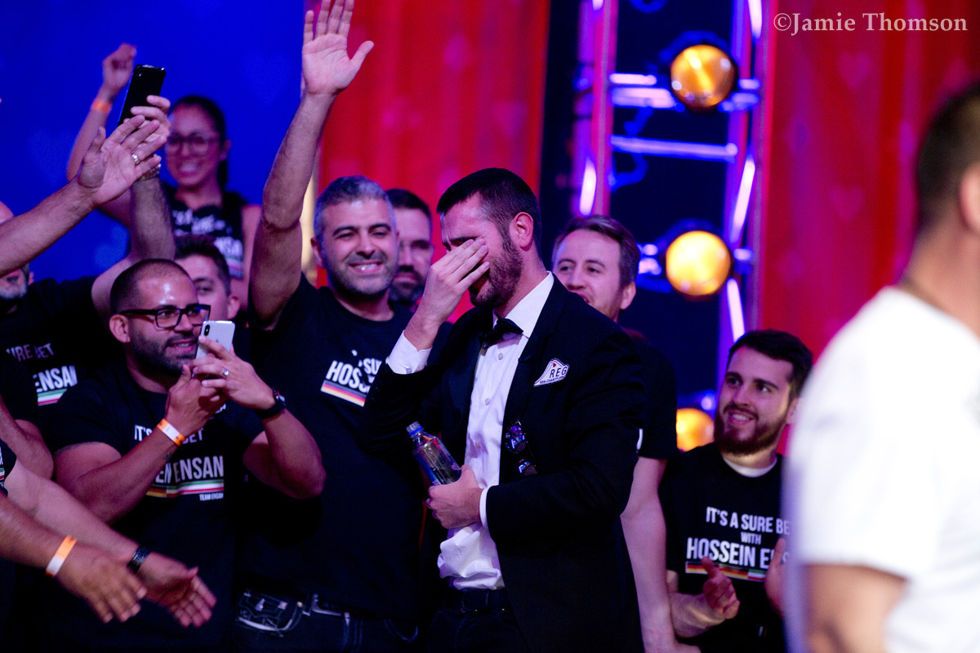 Ensan, meanwhile, drank it in. He raised the bejeweled bracelet to the heavens, kissed it, and spread his arms to soak in the adulation of his supporters. He said he'd have to go to sleep and wake up to make sure it wasn't a dream.
"I am so happy I am here with bracelet in hand," he said. "What can I say?"
While he may not have had much to say, his railbirds somehow still had voice.
"Ensan! Ensan! Hosseiiiin Ensan!"
This time, the chants rang alone in the quickly emptying Amazon Room as media filtered out to write their final words and production crews broke down the set. Nobody could respond. Ensan had all of the chips and the $10 million, and the next banner to drop from the ceiling at the WSOP will bear his face.