Nível 31 : 125,000/250,000, 250,000 ante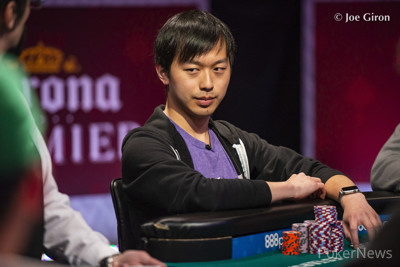 Timothy Su said, to be honest, there wasn't much thought behind the pot of the tournament thus far at the 2019 World Series of Poker Main Event.
When big blind Sam Greenwood three-bet his cutoff open, Su made a reasonable call with ten-nine suited — that much everyone would understand. After flopping an open-ended straight draw, Su continued to play it standard with a call. When the board paired on the turn, though, he went off-script, shoving over Greenwood's bet.
After the high-stakes legend called it off with aces up, it created the pot that would swing the tournament one way or the other. More than 80 percent of the time, one of the world's finest no-limit players would have the chip lead and north of 100 big blinds in the biggest tournament on the planet. The other 20 percent or so, a little-known software developer with just a few thousand in cashes would rocket above the rest of the competitors and eliminate arguably the most skilled player remaining.
As fate would have it, the latter scenario unfolded. Su made his straight on the river, leaving shocked onlookers both live and online abuzz about the massive inflection point in the tournament.
Su said he was just trying to take advantage of a pay jump and put some pressure on Greenwood, since he thought Greenwood had plenty of bet-folds in his range.
"He had one of the best hands to call it off with," Su said. "The cards determined where the money went."
After they went to Su, he looked to be in the driver's seat to repeat his status as chip leader to end the night. However, by the time the players put chips in bags at 2 a.m. on Friday, his 34,350,000 was only third-best after Nicholas Marchington (39,800,000) and European Poker Tour standout Hossein Ensan (34,500,000).
Like Su, Marchington is a first-timer in the Main Event. An online cash player by trade, Marchington described the atmosphere in the Main Event as "awesome."
"I'm at a loss for words," he said when asked what it means to be leading at this juncture. "I could never have imagined it but here I am.
"The support from home has been great. Obviously at first, a lot of my family wasn't sure about me playing poker for a living. But not only with this score, just the result kind of shows that I made the right decision."
If Marchington can make it through 34 more opponents, he'll have 10 million pieces of evidence. However, much work still remains as his lead is far from safe. The counts have tightened and around 10 players could double through him and immediately assume the lead.
Furthermore, despite the eliminations of Greenwood and the likes of Antonio Esfandiari, Jake Schindler and Alex Foxen on Day 6, some seasoned competitors still remain. Dario Sammartino, Preben Stokkan and Yuri Dzivielevski are some of the most recognizable grinders remaining, and few would blink an eye if any of them became world champion.
Thirty-five remain and only nine will advance to the final table. Day 7 play begins at noon on Friday and promises to be the lengthiest stretch of poker played yet in this most marathon of tournaments. Come back to PokerNews to see who will remain in contention for $10 million.