Event #75: $1,000+111 Little One for One Drop No-Limit Hold'em
Dias: 1c
Event #75: $1,000+111 Little One for One Drop No-Limit Hold'em
Dia 1c Concluído
Nível 10 : 600-1,200, 1,200 ante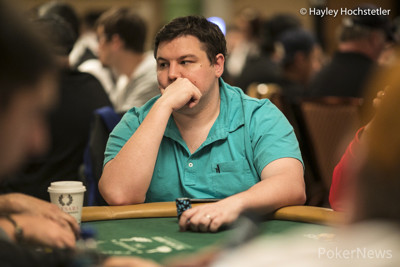 Day 1c of Event #75: $1,111 Little One for One Drop is done, and all of the three Day 1 flights are now complete. More than 3,200 entries were registered for Monday's flight, bringing the total number of entries for the event to more than 5,000 total.
Some of the chip leaders coming out of the Day 1c group include Nikolay Fal, who ended the night with 437,000 chips and sat on one of the biggest stacks in the Brasilia Room for much of the latter half of the day's play.
Other impressive stacks at the end of the night included Darren Attebery (368,000), Brett Mueller (344,000), Tim Sheehan (340,000), Gerald Riley (315,000), Jonathan [Removed:250] (304,000) and Jesus Maldonado (300,000).
Other notables bagging at the end of the flight include 2018 WSOP Player of the Year Shaun Deeb (222,100), 2019 $1,000 Seniors No-Limit Hold'em Championship winner Howard Mash (154,700), and a pair of WSOP Main Event champions in Jamie Gold (147,000) and Greg Raymer (120,000).
Leandry Ainonkpo, after bagging 726,600 on Day 1a comes away from the three Day 1 flights as the overall chip leader going into Day 2.
Day 2 will commence on Tuesday, with the restart scheduled for 1 p.m. The remaining field will play 10 hour-long levels, with 15-minute breaks after every two levels and a 60-minute dinner break after the sixth level. Play will resume with Level 11, and the blinds will be 800/1600.
Follow along with the PokerNews live reporting team as the remaining players from the three Day 1 flights all come together in Day 2's seat draw for Tuesday and the field starts to narrow down toward the money and the eventual WSOP bracelet champion.
Nível 10 : 600-1,200, 1,200 ante
Jogador
Fichas
Oscilação

Nikolay Fal

437,000

DID NOT REPORT 12

368,000

Darren Attebery

368,000

-14,000

Kenneth Golden

359,600

Bruno Desimoni

358,000

Richard Murnick

346,200

86,200

Brett Mueller

343,700

3,700

Dragos Trofimov

340,300

Timothy Sheehan

340,100

Wayne Keller

338,500

235,500

Alice Sicconi

338,400

Ryan D'Angelo

335,800

Raymond Rice

328,300

Robert James

325,000

Tiahang Zhang

320,600

Gerald Riley

315,600

20,600

Adrien Isaac Cohen Oliver

313,500

Richard Dixon

312,000

Farhad Jamasi

309,000

Daling Li

307,000

David Rudolf

307,000

Cesar Claudio

306,200

Jonathan Azoulay

304,900

-5,100

Andros Ioakimides

303,200

Jesus Maldonado

300,700

300,700
Nível 10 : 600-1,200, 1,200 ante
Play has ended for Day 1c, assorted chip counts and a recap will follow shortly.
Nível 10 : 600-1,200, 1,200 ante
The clock has been paused at the 10-minute-to-go mark. The remaining players will play eight more hands and then bag their chips for day 2.
Nível 10 : 600-1,200, 1,200 ante
Facing a 3,300 open, Yusuf Muhammad went as big as one can possibly go, putting in the all-in three-bet to 110,200.
His opponent commented that Muhammad had already raised him too many times before, with this particular raise being the fourth time according to the opponent. After thinking for a couple of minutes, the opponent folded, showing the
before he mucked.
Muhammad claimed to have held pocket fives.
Nível 10 : 600-1,200, 1,200 ante
Alex Barill open raised to 3,000 from the hijack and got three bet by the small blind to 13,000. Barill made the call and the players went heads up to a flop of
. The pre flop aggressor checked it over to Barill who went all in for effectively 45,000. The small blind slid his stack into the middle and both players turned their cards over.
Barill:

Opponent:
Barill was ahead but needed to fade some outs on the turn and river; that was until the
fell on the turn which had his opponent drawing dead. The meaningless
came on the river and Barill scooped up a nice pot.
Nível 10 : 600-1,200, 1,200 ante
Jogador
Fichas
Oscilação

Brett Mueller

340,000

-34,900

Jonathan Azoulay

310,000

310,000

Joey Vegliacich

300,000

50,000

Gerald Riley

295,000

Adrian Almagro

280,000

280,000

Richard Murnick

260,000

86,000

Steve Saklad

221,000

29,000

John Allan Hinds

200,000

200,000

Howard Mash

183,000

-112,000

Vanessa Kade

90,500

-47,500

Kami Hudson

43,000

43,000
Nível: 10
Blinds: 600/1,200
Ante: 1,200
Nível 9 : 500-1,000, 1,000 ante
With 11,000 already in the pot five players put in 6,300 each on a flop of
.
The turn brought another six
. Action checked to a player in middle potion who fired 25,000 and got called by the player directly to his left. When it was Gerald Riley's turn to act in the big blind he went all in for 137,000. The original turn bettor folded and the other player called off for his remaining 65,000.
Riley:

Opponent:
Riley had quads and was already counting the pot before the
river was dealt.