Event #75: $1,000+111 Little One for One Drop No-Limit Hold'em
Dias: 1a
Event #75: $1,000+111 Little One for One Drop No-Limit Hold'em
Dia 1a Concluído

Nível 10 : 600-1,200, 1,200 ante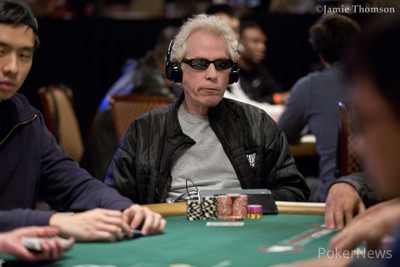 The opening flight of the $1,111 Little One for One Drop drew 702 entries and just over third of them bagged advancing stacks. With unlimited re-entries allowed not only through the starting flights but also during the first two levels on Day 2, the field can be expected to rise and rise as has been the trend in the low-stake events at 2019 WSOP.
Terry Fleischer was among those players who arrived for the first set of hands, waking up early to be in his seat when the clock hit 12 p.m. for the start.
Fleischer spent a nearly ideal day at the table, with his stack continuously trending up. Fleischer was among the leaders through a significant portion of the day, and his reported stack of 319,300 ranks him among the top chip counts on the leaderboard.
Valentin Vornicu chose a slightly different path as he skipped a couple of first levels. But he quickly caught up and established himself among the driving forces of Day 1a. While he was seen to slip a little bit during the penultimate level, he managed to bounce back near the top as he vaulted to 354,800.
It appeared to be Mark Eddleman who seized the pole position when the last hands were completed, filling his bag with 464,400. Another player who increased their initial stack tenfold was Mark Agarunov who has 403,600.
Other notable players who are already guaranteed to come back on July 9 for Day 2 are Victor Ramdin, Mike Leah, John Hesp, Marc-Andre Ladouceur, Linglin Zeng, David "ODB" Baker, and Andrew Kelsall.
While some stars can take a break for a couple of days, there are plenty of those who will be in action in the subsequent flights. Day 1b starts on Sunday, July 7, at 12 noon PDT and PokerNews will once again provide live updates from start to finish.

Nível 10 : 600-1,200, 1,200 ante
Jogador
Fichas
Oscilação

Leandry Ainonkpo

726,600

726,600

Mark Eddleman

464,600

464,600

Schahin Ghiai

409,500

409,500

Mark Agarunov

403,600

403,600

Duane Mitchell

362,900

362,900

Valentin Vornicu

354,800

9,800

Jason Summers

342,900

342,900

Terry Fleischer

319,300

John Utley

313,200

313,200

Mathieu Gomez

307,800

167,800

Jeremey Frost

298,600

298,600

Jonathan Sherfy

288,200

288,200

Yi Ma

279,200

279,200

Linglin Zeng

273,200

23,200

Victor Ramdin

267,100

72,100

Einav Shalom

258,000

-2,000

Nikolaus Teichert

257,600

2,600

Jonathan Therme

254,800

254,800

Paulo Joanello

254,200

254,200

Daryl Hoelscher

245,600

245,600

Sean Lannon

230,500

230,500

Alexandre Moreau

229,200

229,200

Farid Labib-Kiyarash

228,400

228,400

Kyle Chang

226,300

226,300

William Richmond

224,300

224,300

Nível 10 : 600-1,200, 1,200 ante
The tournament clock has been paused and the remaining players will play three more hands before bagging their advancing stack.

Nível 10 : 600-1,200, 1,200 ante
On a turn reading
, Marc-Andre Ladouceur bet 8,000 in position when a player in the big blind checked to him. Ladouceur got check-raised to 18,000 and he contemplated his decision for a while. Then he moved all in for 54,500 and the other player called right away.
Both players had huge draws but neither of them had connected with the board yet. Ladouceur tabled
while his opponent hoped to fill the other flush draw with
.
The
river was a brick for both and Ladouceur scooped a double with ace-high.

Nível 10 : 600-1,200, 1,200 ante
Craig Varnell made it 3,000 in the hijack and he got called by a player on the button before the big blind squeeze-shoved his 40,800. Varnell accepted the price and the flatter folded.
Varnell had
and needed a low board against
. While the
flop was one of the better ones for Varnell, the
turn rapidly shifted the odds. The
river left the king-jack ahead and Varnell had to concede nearly a third of his stack.

Nível 10 : 600-1,200, 1,200 ante
Three players made it to the
turn and the small blind checked. The player in the big blind bet 6,500, Oliver Classen called in the cutoff, and the small blind folded.
The
completed the board and Classen faced a bet of 15,000. He didn't like his hand enough to invest the calling chips and let it go.

Nível 10 : 600-1,200, 1,200 ante
Jogador
Fichas
Oscilação

Valentin Vornicu

345,000

190,000

Terry Fleischer

280,000

5,000

Einav Shalom

260,000

27,000

Mike Leah

250,000

-10,000

Victor Ramdin

195,000

121,900

David "ODB" Baker

145,000

90,000

Andrew Kelsall

142,000

7,000

Leo Margets

120,000

5,000

Lexy Gavin

117,000

33,000

Everett Carlton

65,000

-41,000

Peter Neff

61,000

16,000

Florencio Bunal

55,000

8,300

Chris Ferguson

Eliminado
Nível: 10
Blinds: 600/1,200
Ante: 1,200

Nível 9 : 500-1,000, 1,000 ante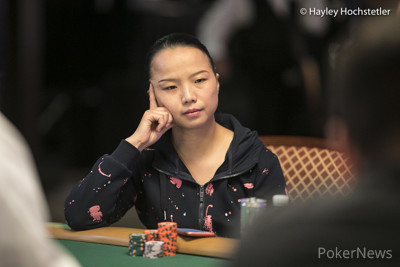 Linglin Zeng was under the gun and she faced off against a player directly to her left.
They had made it to the
river by the time the action was picked up and the pot had grown to around 50,000.
Zeng checked and her opponent shoved for 29,600. Zeng tanked for quite some time and then threw in one chip, calling.
She found that the other player was bluffing with
and Zeng tabled
to claim the big pot and vault to the neighborhood of 250,000.