Event #39: $1,500 No-Limit Hold'em Shootout
Dias: 2
Event #39: $1,500 No-Limit Hold'em Shootout
Dia 2 Iniciado

| Room | Table | Seat | Player | Chip Count | Country | Big Blinds |
| --- | --- | --- | --- | --- | --- | --- |
| Amazon | 401 | 1 | Norbert Szecsi | 66,200 | Hungary | 110 |
| Amazon | 401 | 2 | Scott Blumstein | 66,300 | United States | 111 |
| Amazon | 401 | 3 | Royce Matheson | 66,000 | United States | 110 |
| Amazon | 401 | 4 | Jonathan Cohen | 66,700 | United States | 111 |
| Amazon | 401 | 5 | Dillon Ott | 66,100 | United States | 110 |
| Amazon | 401 | 6 | Christopher Audrain | 66,000 | United States | 110 |
| Amazon | 401 | 7 | Artur Rudziankov | 65,900 | Czech Republic | 110 |
| Amazon | 401 | 8 | Guillaume Diaz | 66,400 | France | 111 |
| Amazon | 401 | 9 | Casey Carroll | 66,500 | United States | 111 |
| Amazon | 401 | 10 | Steven Wolansky | 71,900 | United States | 120 |
| | | | | | | |
| Amazon | 402 | 1 | Ayman Jalloul | 65,900 | United States | 110 |
| Amazon | 402 | 2 | Georgios Sotiropoulos | 66,000 | Greece | 110 |
| Amazon | 402 | 3 | William Kakon | 63,200 | Morocco | 105 |
| Amazon | 402 | 4 | James Glick | 65,500 | United States | 109 |
| Amazon | 402 | 5 | Michael Horchoff | 66,300 | United States | 111 |
| Amazon | 402 | 6 | Caleb Clarke | 66,100 | United States | 110 |
| Amazon | 402 | 7 | Fabian Gumz | 65,600 | Germany | 109 |
| Amazon | 402 | 8 | Daniel Santoro | 65,900 | United States | 110 |
| Amazon | 402 | 9 | Preston Lee | 65,800 | United States | 110 |
| Amazon | 402 | 10 | Daniel Wilson | 66,900 | Ireland | 112 |
| | | | | | | |
| Amazon | 403 | 1 | Alfredo Pacheco | 71,700 | United States | 120 |
| Amazon | 403 | 2 | Young Phan | 65,900 | United States | 110 |
| Amazon | 403 | 3 | Jan Bednar | 65,500 | Czech Republic | 109 |
| Amazon | 403 | 4 | Demosthenes Kiriopoulos | 64,400 | Canada | 107 |
| Amazon | 403 | 5 | Justin Newton | 66,800 | United States | 111 |
| Amazon | 403 | 6 | John Gravagna | 63,800 | United States | 106 |
| Amazon | 403 | 7 | Joseph Sabe | 66,400 | Lebanon | 111 |
| Amazon | 403 | 8 | Andrew Thompson | 72,600 | United States | 121 |
| Amazon | 403 | 9 | Jesse Sylvia | 66,600 | United States | 111 |
| Amazon | 403 | 10 | Matthew Waxman | 66,200 | United States | 110 |
| | | | | | | |
| Amazon | 404 | 1 | Raghav Bansal | 66,400 | India | 111 |
| Amazon | 404 | 2 | Arthur Morris | 65,200 | United States | 109 |
| Amazon | 404 | 3 | Isaac Hagerling | 66,600 | United States | 111 |
| Amazon | 404 | 4 | Mark McGovern | 66,500 | United Kingdom | 111 |
| Amazon | 404 | 5 | Josh Sullivan | 66,100 | United States | 110 |
| Amazon | 404 | 6 | Jesse Kertland | 66,500 | United States | 111 |
| Amazon | 404 | 7 | Dennis Owen | 66,300 | United States | 111 |
| Amazon | 404 | 8 | Mark Darner | 66,500 | United States | 111 |
| Amazon | 404 | 9 | Tom Hall | 66,300 | United Kingdom | 111 |
| Amazon | 404 | 10 | Alex Barill | 65,900 | United States | 110 |
| | | | | | | |
| Amazon | 409 | 1 | Bas de Laat | 66,300 | Netherlands | 111 |
| Amazon | 409 | 2 | Philip Tom | 64,800 | United States | 108 |
| Amazon | 409 | 3 | Martin Jacobson | 66,600 | Sweden | 111 |
| Amazon | 409 | 4 | Shannon Shorr | 64,100 | United States | 107 |
| Amazon | 409 | 5 | Tim Burt | 65,100 | United States | 109 |
| Amazon | 409 | 6 | Matthew Wantman | 65,500 | United States | 109 |
| Amazon | 409 | 7 | Cole Jackson | 65,800 | United States | 110 |
| Amazon | 409 | 8 | Zachary Smiley | 71,700 | United States | 120 |
| Amazon | 409 | 9 | Justin Liberto | 65,800 | United States | 110 |
| Amazon | 409 | 10 | Ryan Messick | 66,200 | United States | 110 |
| | | | | | | |
| Amazon | 410 | 1 | James Worth | 66,500 | Canada | 111 |
| Amazon | 410 | 2 | Dana Buck | 66,300 | United States | 111 |
| Amazon | 410 | 3 | Phil Hellmuth | 65,400 | United States | 109 |
| Amazon | 410 | 4 | Jack Shea | 65,600 | United States | 109 |
| Amazon | 410 | 5 | Thomas Taylor | 66,400 | United States | 111 |
| Amazon | 410 | 6 | Nikolai Sears | 66,500 | United States | 111 |
| Amazon | 410 | 7 | Alexander Lakhov | 65,600 | Russia | 109 |
| Amazon | 410 | 8 | Gavin O'Rourke | 66,600 | Ireland | 111 |
| Amazon | 410 | 9 | Rep Porter | 64,900 | United States | 108 |
| Amazon | 410 | 10 | Jerry Kleinsasser | 65,000 | United States | 108 |
| | | | | | | |
| Amazon | 411 | 1 | Curtis Rystadt | 65,700 | United States | 110 |
| Amazon | 411 | 2 | Russell Thomas | 66,100 | United States | 110 |
| Amazon | 411 | 3 | Thomas Boivin | 64,400 | Belgium | 107 |
| Amazon | 411 | 4 | Ajay Chabra | 66,400 | United States | 111 |
| Amazon | 411 | 5 | Connor Drinan | 66,300 | United States | 111 |
| Amazon | 411 | 6 | Kiryl Radzivonau | 66,300 | Belarus | 111 |
| Amazon | 411 | 7 | Alexandru Masek | 72,900 | United States | 122 |
| Amazon | 411 | 8 | Richard Alati | 72,100 | United States | 120 |
| Amazon | 411 | 9 | Anthony Burch-Castro | 65,700 | United States | 110 |
| Amazon | 411 | 10 | Endrit Geci | 57,600 | United Kingdom | 96 |
| | | | | | | |
| Amazon | 417 | 1 | Anthony Reategui | 66,600 | United States | 111 |
| Amazon | 417 | 2 | Nick Schwarmann | 64,500 | United States | 108 |
| Amazon | 417 | 3 | Marco Iodice | 65,700 | United States | 110 |
| Amazon | 417 | 4 | Andrew Sandomire | 66,000 | United States | 110 |
| Amazon | 417 | 5 | James Sileo | 66,100 | United States | 110 |
| Amazon | 417 | 6 | James Stahl | 70,700 | United States | 118 |
| Amazon | 417 | 7 | Vlad Darie | 73,200 | Romania | 122 |
| Amazon | 417 | 8 | Wayne Harmon | 65,600 | United States | 109 |
| Amazon | 417 | 9 | Martin Zamani | 66,400 | United States | 111 |
| Amazon | 417 | 10 | Aaron Henderson | 65,500 | United States | 109 |
| | | | | | | |
| Amazon | 418 | 1 | Vladimir Burstein | 66,500 | Czech Republic | 111 |
| Amazon | 418 | 2 | Ryan Milisits | 66,200 | United States | 110 |
| Amazon | 418 | 3 | Alexandre Reard | 71,700 | France | 120 |
| Amazon | 418 | 4 | Dylan Linde | 65,400 | United States | 109 |
| Amazon | 418 | 5 | Jacobo Fernandez | 65,900 | United States | 110 |
| Amazon | 418 | 6 | Alfonso Mora | 66,300 | Spain | 111 |
| Amazon | 418 | 7 | Phong Nguyen | 66,700 | United States | 111 |
| Amazon | 418 | 8 | Martin Stoyanov | 65,100 | Bulgaria | 109 |
| Amazon | 418 | 9 | Dave Banerjee | 65,900 | United States | 110 |
| Amazon | 418 | 10 | Timothy McReynolds | 66,600 | United States | 111 |
| | | | | | | |
| Amazon | 419 | 1 | Gregory Muzzilo | 66,500 | United States | 111 |
| Amazon | 419 | 2 | Shane Buchwald | 65,700 | United States | 110 |
| Amazon | 419 | 3 | Nick Rampone | 65,600 | United States | 109 |
| Amazon | 419 | 4 | Arkadiy Tsinis | 65,900 | United States | 110 |
| Amazon | 419 | 5 | Yudhishter Jaswal | 66,500 | United Kingdom | 111 |
| Amazon | 419 | 6 | Thomas Lutz | 66,300 | United States | 111 |
| Amazon | 419 | 7 | Corey Dodd | 71,300 | United States | 119 |
| Amazon | 419 | 8 | Matthias Eibinger | 64,300 | Austria | 107 |
| Amazon | 419 | 9 | Naor Slobodskoy | 65,900 | Israel | 110 |
| Amazon | 419 | 10 | Edward Yam | 66,700 | Hong Kong | 111 |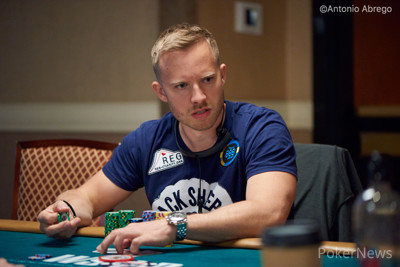 Event #39: $1,500 No-Limit Hold'em Shootout resumes at 12 noon today, with 100 players returning to 10 tables. Each of those 100 was the last person standing on his or her respective table yesterday, and it will be the aim of all of them to repeat that feat again today. At the end of today, there will be 10 winners, one from each table, who will go through to the final table tomorrow.
Day 1 attracted 908 runners who took seats across 100 tables. A $1,225,800 prize pool was generated and first place will collect $236,498. Everyone starting Day 2 has already secured at least $5,227, but that prize money will increase again for the 10 left standing at the end of play. There will be at least $15,180 in the bag for all those who make it through to Day 3.
There are several well-known names still in contention. These include reigning WSOP Main Event Champion Scott Blumstein who will be sharing table space with two-time bracelet winner Steven Wolansky and one-time bracelet winner Artur Rudziankov. Last year's runner-up in this event, Thomas Boivin, has Russell Thomas, Conor Drinan, and Alexandru Masek keeping him company at his table.
Multiple-bracelet winner Phil Hellmuth will be trying to beat the other players on his table like Thomas Taylor, Alexander Lakhov, and Rep Porter. Meanwhile 888Poker Ambassador and 2014 Main Event Champion Martin Jacobson will have bracelet winners Philip Tom and Justin Liberto, Shannon Shorr, and Tim Burt to contend with at his table.
Make sure to follow all of the updates as the PokerNews live reporting team will be on the floor to bring you all the winners of each table and the action that comes with it.
Nível: 15
Blinds: 300/600
Ante: 100

Nível 15 : 300/600, 100 ante
The whole tournament has been moved from the Amazon room to the Brasilia room as one of the tables is scheduled to be played on the stage later for a broadcast on Twitch. The exact details are still unknown right now but will be published as soon as they have been announced.
The tournament director has welcomed the 100 remaining players to Day 2 for Round 2. Blinds will be 300/600 with a running ante of 100.
The dealers have now been instructed to shuffle up and deal.

Nível 15 : 300/600, 100 ante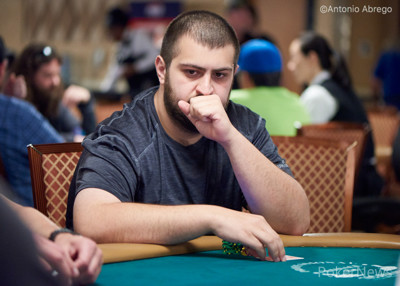 Table #401: Scott Blumstein raised to 1,500 from the cutoff and Royce Matheson was up next to act on the button. Matheson three-bet to 4,600. The blinds folded and Blumstein called.
The flop came
, Blumstein check-called the 4,000 bet of Matheson.
They both checked through the
on the turn to the
on the river. Blumstein decided to bet 12,000. Matheson went through all the options in his head, confirmed the bet amount and cut out calling chips. He looked at the board again and then called.
Blumstein defeatedly showed
for a failed bluff and mucked. Matheson showed
for the rivered two pair of queens and fours and took the pot.
Nível 15 : 300/600, 100 ante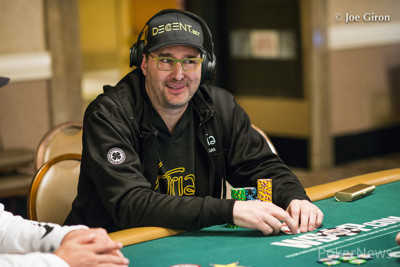 Phil Hellmuth has gotten off to a good start for Day 2 on Table #410. He just won a pot versus James Worth and it now puts him ahead in chips on his table.
With the board showing
and over 20,000 in the middle already, Worth had checked and Hellmuth made a bet of 8,000. It priced Worth out and Hellmuth took it down.
Nível 15 : 300/600, 100 ante
All the community cards were out and the board read
, over on Table #411.
Richard Alati was first to act and he checked. Anthony Burch-Castro made it 12,000 to see his cards and after a minute or so in the tank, Alati made a hesitant call.
Burch-Castro turned over
for two pair and it was good, with Alati sending his cards into the muck.

Nível 15 : 300/600, 100 ante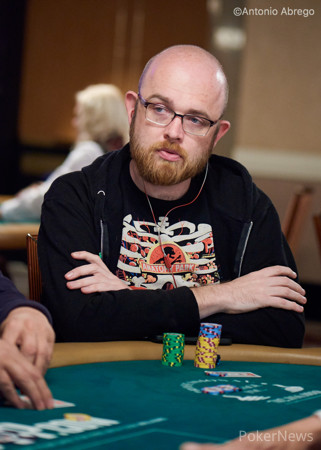 On Table #418, Dylan Linde raised to 1,500 from mid-position and was called by Jacobo Fernandez in the hijack, Martin Stoyanov on the button, and Timothy McReynolds in the big blind.
The flop came
, and both McReynolds and Linde checked. Fernandez bet 2,200 and Stoyanov called. McReynolds folded and Linde raised to 8,500. Fernandez folded and Stoyanov checked how much the second call would cost him. The dealer confirmed the amount and Stoyanov called.
The turn brought them the
, Linde calmly continued with another bet, now for 17,500. Stoyanov once again asked for a confirmation. He considered it for a few minutes but then folded.
Nível: 16
Blinds: 400/800
Ante: 100