Event #39: $1,500 No-Limit Hold'em Shootout
Dias: 1
Event #39: $1,500 No-Limit Hold'em Shootout
Dia 1 Iniciado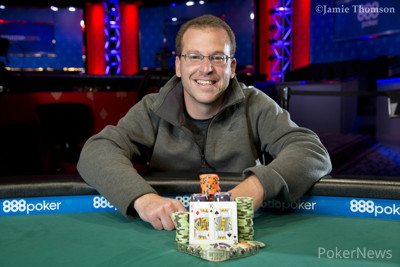 At 11 a.m. local time, Event #39: $1,500 No-Limit Hold'em Shootout will begin with the first of three rounds that will take place over the course of the next three days. Last year's champion Ben Maya from Israel won his first bracelet by beating Belgian hopeful Thomas Boivin heads-up. The tournament had 1,025 entries that created a total prize pool of $1,383,750. Maya walked away with the coveted gold WSOP bracelet and the first-place prize of $257,764.
Other notable players on the final table last year were Tim West, Alex Rocha, Steve Foutty, Paul Michaelis and Jonathan Little. They all have been spotted in the Rio All-Suite Hotel and Casino already and are expected to show up to try and improve on their previous finishes. In 2017, Day 1 started with 120 tables with each winner locking in a cash and advancing to the second round on Day 2.
Players will start with 7,500 in chips. Stacks will be in play from the start and blinded off into the well for players that register late. The late registration period will be open until approximately 1:15 p.m. A 15-minute break will take place after every three levels. Levels last 40-minutes each and play will continue until each table has one winner bagging their chips for Day 2.
The PokerNews live reporting team will be there from the start until the final card has been dealt so make sure to follow the Shootout updates right here!
Nível: 1
Blinds: 25/50
Ante: 0

Nível 1 : 25/50, 0 ante
The tournament director has explained the rules to the players and instructed the dealers to shuffle up and deal.
As this is a shootout, stacks are in play from the start and will be blinded off into the well. So players who register late might find a bit less than the starting stack when they sit down, depending on how late the register and the seat they're in.
At the moment, there are 100 tables set up.

Nível 1 : 25/50, 0 ante
The following players have been spotted at their tables in the Blue section of the Brasilia room during the first minutes of the first level, which include Alex Foxen and Yehuda Cohen on Table #8 and Jonathan Tamayo and Boris Kolev on Table #11:
Jogador
Fichas
Oscilação

Brandon Ageloff

7,500

7,500

Yehuda Cohen

7,500

7,500

Daniel Strelitz

7,500

7,500

Gianluca Speranza

7,500

7,500

Pim de Goede

7,500

7,500

Jonathan Tamayo

7,500

7,500

Boris Kolev

7,500

7,500
Last year's runner-up in this event Thomas Boivin is having another go this year. Will he be able to improve on his second-place finish?
Jogador
Fichas
Oscilação

Thomas Boivin

7,500

7,500

Heidi May

7,500

7,500

Muskan Sethi

7,500

7,500

Jon Kyte

7,500

7,500

Yuliyan Kolev

7,500

7,500

Sam Cohen

7,500

7,500
Picking up action on the river, the board read
. Jon Kyte had checked and his opponent bet 1,500 in position.
"I don't think you're bluffing, but I don't see how I can fold this hand," said the Norwegian. He kept to his word and threw the chips in, turning over
.
The other player turned over
and said "I was trying to get you to fold that." "It was close," conceded Kyte.
Jogador
Fichas
Oscilação

Jon Kyte

9,700

2,200

Nível 1 : 25/50, 0 ante
In the Bronze section, two Main Event Champions have been spotted:
Joe McKeehen is sitting on Table #46 with Aristeidis Moschonas on his left. Meanwhile Scott Blumstein has been allocated a seat at Table #53 where he has been joined by Brian Yoon. Blumstein already claimed to be the chip leader their after winning an early hand with
on the
board.
Another table to take note of is Table #55 where both Jesse Sylvia and eight-time bracelet winner Erik Seidel are seated.
Jogador
Fichas
Oscilação

Scott Blumstein

8,100

8,100

Joe McKeehen

7,500

7,500

Aristeidis Moschonas

7,500

7,500

Brian Yoon

7,500

7,500

Ihar Soika

7,500

7,500

Natasha Mercier

7,500

7,500

Andy Spears

7,500

7,500

Ryan Olisar

7,500

7,500

Barny Boatman

7,500

7,500

Erwann Pecheux

7,500

7,500

Ioannis Angelou-Konstas

7,500

7,500

Terry Schumacher

7,500

7,500

Jesse Sylvia

7,500

7,500

Erik Seidel

7,500

7,500

Kenny Hallaert

6,500

6,500

Nível 1 : 25/50, 0 ante
On Table #77, the player in the under-the-gun position raised to 150. Sylvain Loosli called in mid-position. The player in the hijack three-bet to 450. Pedro Oliveira folded to Tobias Peters in the small blind who four-bet to 1,600. The initial raiser and Loosli quickly folded. The hijack called.
The flop came
. Peters continued with a bet of 1,700 and his opponent called.
The turn brought the
. Peters shoved all in and got a snap-call by the other player who held
for a full house. Peters tabled
for just two pair and was already standing up from the table. The river was a brick and Peters walked out of the tournament area without cashing in his first tournament of the summer here in Las Vegas.
Meanwhile on Table #78, JJ Liu bet 400 into a pot of around 1,200 on the
board and her opponent in the hijack called.
The
on the river completed the board and Liu continued with a bet of 500. Again, her opponent called. Liu tabled
for two pair, kings and jacks, to win the pot as the hijack mucked his hand.
Jogador
Fichas
Oscilação

JJ Liu

9,200

9,200

Ilkin Amirov

7,500

7,500

David Peters

7,500

7,500

Humberto Brenes

7,500

7,500

Sylvain Loosli

7,500

7,500

Pedro Oliveira

7,500

7,500

Tobias Peters

Eliminado
Nível: 2
Blinds: 50/100
Ante: 0