€1,100 Main Event
Dias: 1a
€1,100 Main Event
Dia 1a Concluído
Nível 10 : 1,000-1,500, 1,500 ante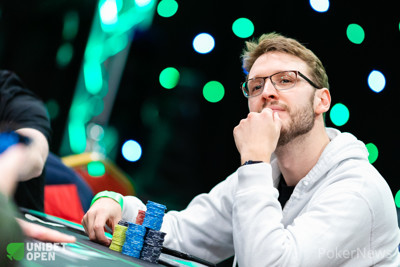 After 10 full levels of play, 24 of the original 83 entries still had chips in front of them. The player with the biggest stack at the end of the night was local Irish player Mark Muldoon who bagged up a massive stack of 246,000. The other person to bag more than 200k was the United Kingdom's Max Silver, who ended the day with 213,000.
Action kicked off at noon on Thursday for the first chance at Unibet Open glory, and entries were brisk right from the start. By the time the first break rolled around after two levels of play, there were already more than 60 entries on the board, including the poker monk himself, Andy Black. Black was in action from the start of the day, and managed to finish the day with a top 10 stack of 143,000.
Black and Silver weren't the only "big names" in action on Day 1a. Viktor Blom is a special guest to this series, and kicked his weekend off well with a win in the opening Battle Royale. He wasn't quite as lucky in Day 1a however, ending his run early. No doubt he'll be back to take a second crack at the prizes in the Day 1c turbo heat late on Friday.
By the time registration closed, a total of 83 players had taken their shot, but fewer than 50 were still playing a stack. Mark Muldoon, who finished the day top in chips, got there through a late day surge. He was in action from the start of the day, and flirted with the top 10 stacks for much of the day post-dinner, but it wasn't till the final couple of levels that he made his move to the top of the list.
Silver took a similar route, though he spent much of the first few levels across the room on the High Roller final table. He finished fourth in that event, and immediately jumped into the Main during level 5. He slowly build his stack through the day and wasn't even in the top ten when the final break began, but over the next two levels built his stack to second place.
Andy Black was in action right from the start of the day as well, and spent most of the day in the top 10 for chips. He was typically active and vocal throughout the day, joking with table mates while he amassed the seventh place stack of 143,000. Among the other notables to make it through the first Day 1 were Dex de Jong (160,500), John Gough (122,500), and Unibet Ambassador Espen Jorstad (77,500). Among the notables who couldn't make it through the day were Alexandre Reard, who was the last player to bust on Day 1a, as well as Mateusz Moolhuizen, Aurelie Reard and online qualifier Henrik Tellving.
The second chance to get into Day 2 of the 2020 Unibet Open Dublin runs starting at noon Friday. Its only open to new entries as players who tried and failed in Day 1a will have to wait for Day 1c to take a second shot at the prizes. Expected in Friday's action will be Unibet Ambassadors David Lappin, Dara O'Kearney, and Monica Waka. Tune in to PokerNews for action from the floor all day long.
Nível 10 : 1,000-1,500, 1,500 ante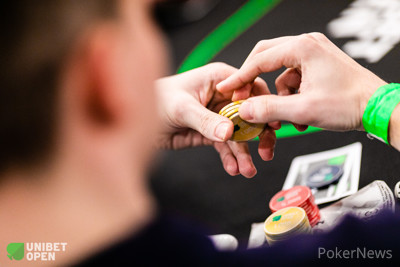 A total of 24 players advanced from Day 1a, out of the original 83 entries. The final 24 chip stacks from the first starting flight are below.
Those 24 players have now bagged up their chips for Saturday's Day 2, but there are still two more chances to bag a stack to Day 2. New players can register for Day 1b, which starts at noon on Friday, and anyone who busted Day 1a or busts Day 1b tomorrow is welcome to re-enter the turbo Day 1c flight starting at 9PM. That turbo flight is also open to new players of course, but its the last chance for players who bust one of the other Day 1s to try a second time.
PokerNews will be on the ground to bring you the action from both Day 1b and Day 1c, so stay tuned for more action from the 2020 Unibet Open Dublin.
Jogador
Fichas
Oscilação

Mark Muldoon

246,000

121,000

Max Silver

213,000

33,000

Alex Hendriks

182,000

72,000

Dex de Jong

160,500

30,500

Wim Anne Wesselink

160,000

107,000

Aku Oskari Uotila

144,000

44,000

Andy Black

143,000

22,000

Tomas Geleziunas

135,000

90,000

John Gough

122,500

12,500

Pasi Kakkonen

109,000

-1,000

Aage Reerslev

87,500

3,500

Oliver White

86,500

21,500

Ronnie Espensen

79,500

20,500

Espen Uhlen Jorstad

77,500

-22,500

Nicholas Newport

67,500

-7,500

Tiago Santos

64,500

-9,500

Antti Salmela

53,000

-14,000

Michael Muldoon

46,500

-63,500

Tim Farrelly

46,500

-1,500

Toni Englund

34,500

-16,500

Tom Veenhuysen

34,000

-8,000

Domantas Klimciauskas

25,000

-95,000

Edward Swales

12,500

-57,500
Nível 10 : 1,000-1,500, 1,500 ante
There are less than 20 minutes left in the final level of Day 1a. Currently 25 players remain out of the original 83 entries. Below are the most recent casualties from Day 1a.
Jogador
Fichas
Oscilação

Ashley Timms

Eliminado

Cristian Dina

Eliminado

Matthew Eardley

Eliminado

Kajetan Orecki

Eliminado
Nível 10 : 1,000-1,500, 1,500 ante
The board of
was already on the felt, and Max Silver was facing a bet of 11,000 from Dex de Jong. He went into the tank for quite awhile, muttering to himself before he finally made the call.
de Jong showed down
for the turned flush, and Silver mucked his hand.
Jogador
Fichas
Oscilação

Max Silver

180,000

109,000

Dex de Jong

130,000
Nível 10 : 1,000-1,500, 1,500 ante
Ashley Timms kicked things off with a raise to 3,100, and only Mark Muldoon called from the small blind. The flop came
and Muldoon check-raised to 9,300 after Timms bet 3,300.
Timms got out of the way, and Muldoon tabled
as he raked in the pot.
Nível 10 : 1,000-1,500, 1,500 ante
The tournament clock has just clicked over into Level 10, which will be the final level of the night. After about 60 more minutes of play, the remaining players will bag up their chips to wait for Saturday's Day 2.
Players who didn't make the cut on Day 1a still have two more chances, both on Friday. Day 1b plays with the same structure as Day 1a at noon on Friday, while Day 1c plays as a turbo with 20 minute blinds starting at 9PM. Day 1c is the only chance to re-enter this event ... players can't reenter on either Day 1a or b, but anyone who busted one of those days can take a second shot in Day 1c. Of course, Day 1c is also open to new entries for players who either couldn't make one of the first two Day 1s, or who simply prefer a turbo structure on Day 1.
Nível: 10
Blinds: 1,000/1,500
Ante: 1,500
Nível 9 : 600-1,200, 1,200 ante
The flop was already down, reading
and Ashley Timms checked the big blind, then called when Dex de Jong bet 4,000. Timms led out for 8,500 on the
turn, and de Jong mucked his hand. Timms flashed the
as he mucked his hand.
Jogador
Fichas
Oscilação

Ashley Timms

130,000

41,000

Dex de Jong

130,000

60,000
Nível 9 : 600-1,200, 1,200 ante
Event # 8 is finished and Filip Holmqvist ended up with all the chips. Unibet Ambassador David Lappin noted a mincash and finished seventh for €420. All the payouts for the side event are listed below.
| Place | Player | Prize |
| --- | --- | --- |
| 1 | Filip Holmqvest | €2,790 |
| 2 | Jamie Nixon | €1,740 |
| 3 | Eugene Hanratty | €1,200 |
| 4 | James Walsh | €890 |
| 5 | Marco Herman | €680 |
| 6 | Kai Limper | €530 |
| 7 | David Lappin | €420 |