HKD $250,000 6-Max Event
Dias: 1
HKD $250,000 6-Max Event
Dia 1 Iniciado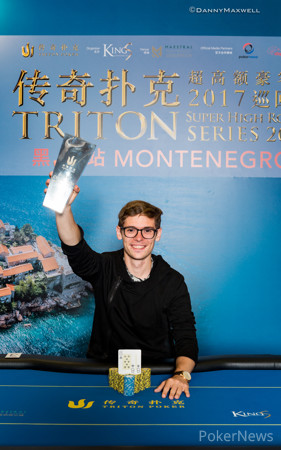 The Triton Super High Roller Series once again forays out of Asia and into Europe for it's second stint at the stunning Maestral Resort & Casino in Budva, Montenegro, from May 12th to 18th, 2018. There are four events in total taking place in the seaside resort in Sveti Stefan, two each of regular No Limit Hold'em and the exciting Short Deck Ante Only format.
Founded in 2015 by Malaysian businessman Richard Yong, Triton Poker delivers exclusive high stakes tournaments in the most luxurious locations world wide in the name of charity and the list of previous winners of Triton Poker events includes such big names as Daniel 'Jungleman' Cates, Koray Aldemir, Stefan Schillhabel, and Dan Colman. Other superstars such as Erik Seidel, Fedor Holz and Phil Ivey also featured in the tournaments while the defending champion of the Main Event in Montenegro is Manig Loeser, who defeated Triton founder Yong to claim his first major victory.
The second of the four events is the two-day 6-Max Side Event that comes with a buy-in of HKD250,000 (approximately $31,850 / €26,600). All players receive 50,000 in chips and multiple re-entries are allowed in the registration period until the end of level 11. Day 1 will feature a total of nine levels of 40 minutes each and some of the biggest names of the high stakes scene are expected to join the action.
Day 1 Level Structure
| Level | Small Blind | Big Blind | Ante |
| --- | --- | --- | --- |
| 1 | 100 | 200 | 0 |
| 2 | 100 | 200 | 25 |
| 3 | 150 | 300 | 25 |
| 4 | 200 | 400 | 50 |
| 5 | 250 | 500 | 50 |
| 6 | 300 | 600 | 75 |
| 7 | 400 | 800 | 100 |
| 8 | 500 | 1000 | 100 |
| 9 | 600 | 1200 | 200 |
Follow along as the PokerNews live reporting team will bring you all the action when play kicks off at 4pm local time, and there will also be a live stream broadcast in multiple languages available for the first time as well.
Nível: 1
Blinds: 100/200
Ante: 0
Nível 1 : 100/200, 0 ante
After a short delay, the cards are not in motion and there are four early birds in their seats and fighting it out at the felt with Steve O'Dwyer, Orpen Kisacikoglu, Isaac Haxton and Stephen Chidwick the men in question.
Jogador
Fichas
Oscilação

Steve O'Dwyer

50,000

Orpen Kisacikoglu

50,000

Isaac Haxton

50,000

Stephen Chidwick

50,000
Nível 1 : 100/200, 0 ante
While it is, of course, far too early to tell how the tournament will develop Steve O'Dwyer has taken an early lead after we caught the US pro involved in an early limped pot against the UK's Stephen Chidwick.
It was a battle of the blinds between the pair and Chidwick (small blind) had checked the action over to O'Dwyer when we arrived, with the flop spread
.
O'Dwyer took a stab for 200 and action was back on Chidwick, who after some deliberation, check-raised to 750, which O'Dwyer called.
The
turn brought a 2,000 bet from Chidwick and an eventual call from O'Dwyer, after an awful lot of silent staring took place.
Chidwick checked the
river over to O'Dwyer, who fired for 2,700 and that was enough to get the UK player to give it up.
Nível: 2
Blinds: 100/200
Ante: 25
Nível 2 : 100/200, 25 ante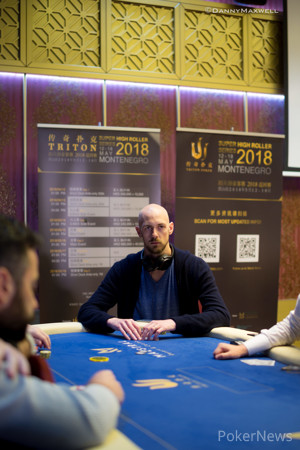 Some chips have changed hands, but the action still remains four-handed. We picked up Stephen Chidwick (small blind) and Steve O'Dwyer (big blind) battling in a pot the orbit after the last one in the blinds once more with the community cards spread
and 2,650 already in the pot, just as Chidwick led out for 1,700 and O'Dwyer called.
The
river completed the hand, but not the betting, with Chidwick firing for 2,000, which was enough to get it done.
Haxton and O'Dwyer tangled in the next hand, with the latter the man driving the initial action with a raise to 500 from the button, with Haxton making the call from the big blind.
Both checked the
flop, with Haxton checking the
turn over to O'Dwyer, who took a stab for 400, which Haxton called.
The
river saw the action go check, check and Haxton rolled over
to take the pot and pad out his stack a little.
Jogador
Fichas
Oscilação

Isaac Haxton

55,100

5,100

Stephen Chidwick

48,175

2,675

Steve O'Dwyer

47,500

-7,000

Orpen Kisacikoglu

47,500

-2,500
Nível 2 : 100/200, 25 ante
With 1,200 in the pot and the community cards spread
Stephen Chidwick (small blind) led out for a full pot bet, and Haxton made the call, but could only muck when the Brit turned over
for the rivered nut straight.
Orpen Kisacikoglu won the next hand against O'Dwyer in an uneventful limped pot, a bet of 200 enough to take it down on the flop and the blinds went up to 100/200 with the 25 ante coming into play. That's the only thing that has though, with no new arrivals as yet so the tournament remains four-handed.
Nível 2 : 100/200, 25 ante
Mikita Badziakouski came into the poker room, checked out the tournament area and walked back out, so may well be a future arrival at some point.
Play still remains four-handed and we witnessed both Isaac Haxton and Stephen Chidwick getting back-to-back walks, then both Chidwick and Orpen Kisacikoglu took it in turns to re-raise from the blinds to win the next two hands, before a hand played out all the way down to the river.
It was a limped blind on blind battle between Kisacikoglu and Haxton with the flop coming down
, with Kisacikoglu check-calling a 200 Haxton flop bet.
The
turn saw the action go check, check, and the
river saw Kisacikoglu check once more. Haxton decided to take a stab for 725, rolling over
when Kisacikoglu called, meaning the latter's
was good for the pot.
Nível 2 : 100/200, 25 ante
The field has grown by one, with Mikita Badziakouski joining the action and putting on his scarf as he took his seat. The Belarusian already sits atop his country's All Time Money List with over US$6.7 million in live tournament winnings and three High Roller titles on his poker resume and will be looking to add to that haul here in Montenegro.
Badziakouski arrived in time to see a small pot play out between Orpen Kisacikoglu and Isaac Haxton, with the two playing a limped blind on blind hand.
Three of the five players in action are sporting scarves, with O'Dwyer, Badziakouski and Kisacikoglu all rocking one. Kisacikoglu pulled his up like a bandit in a Western before checking the action over to Haxton on the
flop, who checked it right back.
This pattern repeated on the
turn before Kisacikoglu took a stab for 1,400 on the
river, which was enough to get Haxton to give it up.
Jogador
Fichas
Oscilação

Mikita Badziakouski

50,000

50,000

Isaac Haxton

48,400

-6,600

Orpen Kisacikoglu

47,000

10,000