Pahuja Discusses Poker in Florida, Going Deep, and More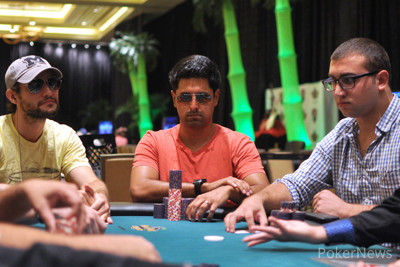 Mukul Pahuja is a professional poker player who grew up in New York and then moved to Florida. At the time this was published he was the chip leader of the Seminole Hard Rock Poker Open $10 Million Guarantee Championship Event, and he discusses poker in Florida, going deep, his brother Vinny, and more.
PokerNews: You grew up in New York then moved to Florida, correct?
Mukul Pahuja: Yes, I've been down here for two and a half years now. I moved down with my now wife and dog into the Fort Lauderdale area. I've just been grinding in this area.
What's it like to have a tournament this big tournament in your home state?
It's amazing to be able to drive home. I live 15-20 minutes away, and I get to sleep in my own bed. This tournament is amazing. You have all of the big names, you have people from all over, making this prize pool amazing. Kudos to Hard Rock, [Matt] Savage, and everyone involved. Twenty-three hundred players is incredible.
When you heard about the guarantee for the first time, did you even think it was possible?
It seemed a little crazy at first, but once I got out to Las Vegas for the World Series [of Poker], and I saw how many people were actually talking about this tournament, I thought it was going to hit it. When Savage came on board and all of the pieces started falling together, I knew it was going to be really big.
Being a new resident you don't necessarily have a home court advantage, but two of your biggest scores have come in Florida. How does this state differ from others when it comes to poker?
It's probably catching up at a rapid pace. People are underestimating how many good players are flooding into the market down here. Even the recreational players are getting a little bit better, but what everyone is referring to when they talk about Florida poker is the law change. Everything was backwards here. Maybe not backwards, but a little delayed.
When I first moved down here a couple of years ago, it felt like 2005 poker, where people were still learning. People were just folding to three-bets with ace-queen and stuff. It was a little crazy how much you could manipulate people who weren't that experienced. More and more good players are coming down here, but at the same time more and more amazing tournaments are popping up each month. Every month there's a great $2,000 and $3,000 main events with $500,000 guarantees. It's nice for someone like me, it's why I came down here. Now I don't have to travel everywhere, I can just stay right near home and go to the big stuff.
Your brother Vinny also plays. Talk about how important it is to have someone close to you who understands the ups and downs and you can talk strategy with.
Oh my god, it's huge. It's everything in this game, because without any kind of a network to bounce ideas off of and talk about tough hands that you've played and strategy, you can't get better. You can just play a lot, but if you're not watching videos or pulling hand histories or anything you're not really putting in the hands to get better. So to have a network — and it's not just my brother, even though he's an amazing player and the reason I got into tournament poker specifically. He had a huge year the first year he started playing tournaments and we both caught the bug. I met so many people through him that made me 10 times better within a year of playing, because I had so many people to go and bounce ideas off of. It's a huge asset, I can't overstate how huge it is.
Talk about Day 3 thus far. You've chipped up, and you won a big flip off of Ryan Welch.
It's been an amazing day. I've played a bunch of medium-sized pots and won like 95 percent of them so far. That flip was kind of crazy. It was the first time I three-bet him. He's been very active — I mean, it's Ryan Welch — and he cut out a four-bet after I three-bet him. And I guess he realized that he didn't want to four-bet call with two fours, so he just kind of rammed it in there. It was a pretty big jam, but I had ace-king, and fortunately I flopped an ace.
Now, my table is breaking, which is great because I had Bryn [Kenney] two to my left, [Justin] Bonomo, who's a terror, Griffin Benger, who just doubled, but there's world-class players at every table. You knew this was going to happen with this kind of structure. With hour-and-a-half levels here on out, you're going to have a lot of play with a lot of world-class players and you just have to bring your A-game and make fantastic decisions throughout. Otherwise, you're not going to win this thing.
We'll just go from there. One hand at a time.
Get all the latest PokerNews updates on your social media outlets. Follow us on Twitter and find us on both Facebook and Google+!