$10,000,000 Guarantee Championship
Dias: 2
$10,000,000 Guarantee Championship
Dia 2 Concluído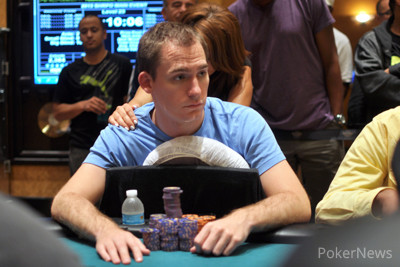 On Sunday, the Seminole Hard Rock Poker Open $10 Million Guarantee Championship Event continued with Day 2 action in Hollywood, Florida. Leading the remaining 100 players is professional Justin Bonomo, who bagged 2.722 million chips. Bonomo busted two players in succession during the last level of the evening to vault over the two million-chip threshold.
During play, Bonomo tweeted that he will need to take 63rd place or higher to profit (he fired five bullets), but we're certain he has is eyes set on the more than $1.7 million top prize. If he were to win, or take second, it would be the second seven-figure score of his career.
Amir Lehavot, the only World Series of Poker November Niner still remaining in this event, also bagged a seven-figure stack. During the latter stages of the evening he eliminated fellow pro Matthew Waxman to move over one million chips. Waxman flopped top pair and got it all in when he turned top-two, but Lehavot had flopped bottom set. The November Niner held, and is off to Day 3.
Jesse Chinni, who started the day as the chip leader, also survived with 868,000 chips, which is more than the average stack.
| Rank | Player | Chips |
| --- | --- | --- |
| 1 | Justin Bonomo | 2,722,000 |
| 2 | Derrick Cutler | 1,669,000 |
| 3 | Ravi Raghavan | 1,652,000 |
| 4 | Neri Sanchez | 1,449,000 |
| 5 | Derrick Simon | 1,300,000 |
| 6 | Matt Giannetti | 1,264,000 |
| 7 | Darlene Lee | 1,235,000 |
| 8 | Bryan Morton | 1,222,000 |
| 9 | William Sharkey | 1,193,000 |
| 10 | Amir Lehavot | 1,171,000 |
Also making it through to Day 3 were a plethora of notables, including Mike Matusow, Bryn Kenney, Allen Bari, Griffin Benger, Jarod Ludemann, Michael Gagliano, Matt Stout, David "Doc" Sands, Victor Ramdin, Ryan Welch, Adam Levy, Ravi Raghavan, Cherish Andrews, Jared Hamby, Joe Serock, Philipp Gruissem, Will Failla, and Matt Glantz.
Glantz entered the final level of the evening with just 11 big blinds, but chipped up considerably. In one particular hand, he three-bet preflop with two aces, and actor/DJ Danny Masterson, the original raiser, called. The flop came queen-high with no hearts, and Masterson moved all in with
. Glantz called with
, and held as the turn and river both produced bricks.
Masterson was eliminated a few hands later in 112th, earning $14,544, while Glantz bagged 940,000 chips.
The bubble came and went very quickly on Day 2, and Jacob Naquin was the unfortunate bubble boy. Naquin lost a race with ace-king against Chino Rheem's pocket nines, and left empty-handed. Also exiting without earning a dime were Chris Klodnicki, Ronnie Bardah, Todd Terry, Darryll Fish, Kyle Julius, Dan Kelly, Jeff Gross, David Benyamine, and Matt Salsberg.
After busting, Salsberg opted to sit in a coffee shop for several hours and live tweet as players took their respective walks of shame. We suggest you check his Twitter feed to see how many ways he sent players off into the #showers.
While the aforementioned Rheem busted Naquin on the bubble, he too would soon hit the rail. In a hand after the dinner break, Rheem moved all in for twice the pot against Danny Hannawa on a board of
. Hannawa tank-called with
, which was good, and Rheem was left with 410,000 chips at 3,000/6,000/500.
A few hands later, Rheem doubled up Sands, and then a few hands after that he was eliminated by Leo Wolpert.
Also exiting in the money were notables Shannon Shorr, Shannon Elizabeth, Nick Schulman, David Benefield, Andy Seth, Hiren "Sunny" Patel, Joseph Cheong, and one-time-chip leader Gjergj Sinishtaj.
The 100 survivors will return on Monday at noon for Day 3 action. The plan is to play five 90-minute levels with no dinner break, so the day should conclude around 8:30 p.m. EDT.
PokerNews will be on hand for coverage of this massive Championship Event. Players will once again be able to update their status immediately using the PokerNews MyStack App, and you can expect more features and interviews as well.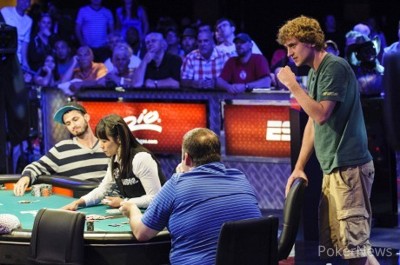 Ryan Riess is a 23-year old professional poker player from East Lansing, Michigan. He also happens to be fifth in chips heading into the World Series of Poker Main Event final table, which is set to resume on Nov. 4 in the Penn & Teller Theater at the Rio Hotel All-Suit & Casino. The youngest of the November Nine was kind enough to sit down with us at the Seminole Hard Rock Poker Open $10 Million Guarantee Championship Event to talk about life after making the final table, prepping for the big day, and more.
PokerNews: What have the last few weeks been like after becoming a member of the November Nine?
Ryan Riess: I'm just been relaxing a lot, and I'm getting into the swing of playing now. I hung with family and friends. Did a lot of interviews [laughs].
How have you coped with the media? Are you embracing the exposure?
It's not really hard, but it takes a lot of time. Bernard Lee is waiting on an hour-long interview that he wanted to do today, but I didn't have time. It takes a lot of time, but I embrace it. I enjoy it.
Do you like the concept of the November Nine, or would you have liked to finish it the next day?
Personally, I would've rather played right after we finished because I'm not going to do as much studying as others people are going to do. So I would rather them not have the chance to study considering I'm not going to do it that much. So I would've rather played it out at the time, but I also like it because it gives family and friends a chance to come out that would've never been able to see it otherwise. There's (sic) pros and cons.
Both professionals and amateurs alike have had coaching during the break. It doesn't sound like you are going to seek any?
Well, I have a couple of coaches. We haven't done anything yet, but I think I'm going to run a couple of simulations with Loni [Harwood], [Bryan] Campanello, Jarod Ludemann, Jon Taylor, Phil [Hui], and Danny Illingsworth. We're going to run a couple of simulations with a couple of other people, but I'm not going to do it as much as others because I'm traveling so much. I think it's really big if I can run deep right now, it would be huge before the November Nine.
Yeah, it's much better to be in the chair and deal with real ICM situations, right?
Exactly. I know [Mark] Newhouse is doing a full simulation with a whole bunch of people. Jay Farber has Ben Lamb and Chance Kornuth and a whole bunch of other people that he's having coach him. I know that Jay Farber is going to be coached a lot. We'll see, I guess.
At what point in the Main Event did you look around and come to the realization that you could win?
It probably wasn't until Day 5 — five or six. I won a huge pot to take the chip lead with 58 left, and that's when it really hit me. Before that I was obviously playing the tournament to win, but once I took the chip lead with 58 left, that's when it kinda hit me. I don't remember what day it was, but the cameras missed the pot. It was a big one [laughs].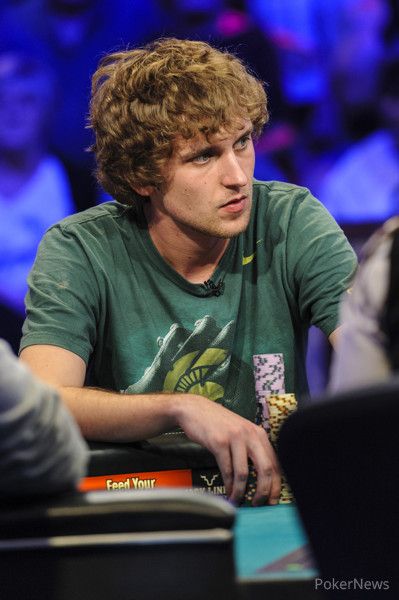 When you guys redrew to the unofficial final table of 10, what was your reaction to your placement at the table?
I actually liked the table draw. I still do. A lot of media and other people have said that I don't have a really good spot considering the big stacks are to my left, but I personally like it. Most of the hands I'm going to play, I'm going to be in position, because if I raise in late position the big stacks will have to play from out of position. Then Newhouse is to my right, which I don't mind because he's short stacked and if someone opens, he's going to be three-bet ripping and I have a chance to wake up. So I really like my table draw.
Who is the toughest player among the remaining nine?
Marc McLaughlin. Hands down. The Canadian. He played really good and he had my number in a couple hands with three tables left. He got me in a couple big ones, but he played really well. He was really active and played really solid.
Did those hands go to showdown or are you waiting for the broadcast?
No, they both went to showdown and I lost them both. He four-flushed me twice [laughs]. The first time, he turned the flush and the fourth spade in the river was meaningless. I like how I played against him, but it was kind of unfortunate.
How much would the title of Main Event champion mean to you, or is the money more important?
The title means everything. The money's great, but being a professional poker player money comes and goes. You can go on $100,000 downswings or upswings every month if you're playing big enough.
The title is everything. I would not be happy with second place.
What are you plans for after Florida?
I'm going to the Legends of Poker for the WPT, then I'm going to Puerto Rico for a couple of days to party, and then to Borgata for the WPT, and then to Europe for all of October.
Is there anything else you would like to add?
I'm gunna win it. That's about it.
Get all the latest PokerNews updates on your social media outlets. Follow us on Twitter and find us on both Facebook and Google+!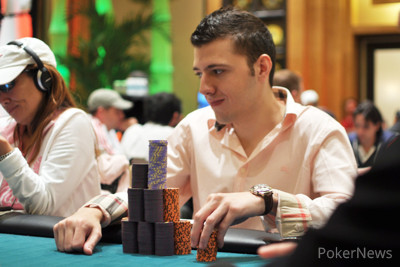 Gjergj Sinishtaj entered Day 2 of the Seminole Hard Rock Poker Open $10 Million Guarantee Championship Event with 376,000 chips, second to Jesse Chinni by less than a big blind, and after two levels of play he's rocketed into the chip lead by a wide margin. At the time of this interview, he had well over 800,000 chips.
At just 21 years old, the pot-limit Omaha specialist already has a big score on his live tournament résumé. Back at the World Series of Poker, he finished sixth in the $10,000 Pot-Limit Omaha Championship Event, earning $153,372. After Sinishtaj was eliminated, fellow PLO specialist Jared Bleznick made a bold statement about the young grinder.
"He's got a bright future," Bleznick said. "He's going to win the Main Event before he's 25. I'll bet it."
Sinishtaj was kind enough to talk with us during the first break of the day, and told us how he got his chips, how he felt after finishing sixth over the summer, and what makes a hold'em tournament intriguing.
PokerNews: You've already doubled your stack today. How have the first two levels been?
Sinishtaj: Actually really crazy. First, some guy absolutely punted to me. I opened preflop and I had jack-queen. The flop came
, I continued, some guy called, another guy folded. The turn was an
, so now I have a gut-shot [straight draw], and it went check-check. The river was a
. I made a bet, he raised, I re-raised, and he went all in.
It was a 100-yard punt. He's going to make the all-star team for that one. He flopped a set and slow-played it.
For some amateurs, when they get a big stack they might get nervous or they feel like they have to play table captain. As a pro, how are you feeling? Do you feel the need to chip up even further?
No, I don't think I have to increase my stack, because right now I'm so far ahead in the chip lead. I can just play my game and play solid. I don't have to rush anything.
You have Tony Gregg and Joe Serock at your table. All of the tables are pretty tough in this event, but how is yours in particular?
I just got moved to my table, and fortunately I picked up aces and ended up stacking Nelly, so I knocked him out. I have some tough players at my table, but we're breaking soon, which is a good thing.
You're 21 years old. You played in your first World Series this year and went deep in the $10,000 PLO event. Were you happy with that result?
The $10,000 PLO was bittersweet. If you told me before the tournament started that I was going to get sixth place, I would've said, "Oh, sweet!" Sixth place is cool.
But when you go that far — no matter what tournament you're playing — if you get that deep you want first. So it was a little disappointing. It would've been nice to go there my first series and win a bracelet, but what do you do?
PLO is the game you enjoy playing the most, right?
Yeah, I started playing poker when I was 11 or 12 years old, and I started playing hold'em. But around 16 or 17 years old, I transitioned into PLO and I found out that that's the game of the future. So since then, I've been playing straight PLO — both online and live — and it's been going good.
At the WSOP, did you skip a lot of the no-limit events to play PLO cash?
Unfortunately, I did play PLO cash [laughs]. I didn't do so well, but that's the game. There's a lot of variance.
So being a PLO cash game player, what made you come to Florida for this event, a no-limit hold'em tournament?
There were two things. The tournament's guarantee, of course, and then there's a good cash game here that we play. The private game.
Have you played in the private game here before?
I come down here a few times a year to play when there's (sic) tournaments. I'll play the main event and then play cash games the rest of the days.
What are the most important things for a tournament to attract cash game players?
The big guarantees. I won't go grind the circuit or any $1,500 buy-in events.
So the "trophy mentality" doesn't attract you that much?
Yeah, but the trophy in a big event like the [WSOP] Main Event or this $5,000 buy-in event would be big. That attracts me.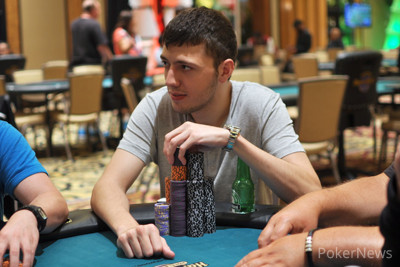 Day 2 of the Seminole Hard Rock Poker Open $10 Million Guarantee Champions Event is set to begin at noon today, and leading the remaining 768 players is Jesse Chinni. Chinni bagged 377,500 chips after Day 1c, edging Day 1a leader Gjergj Sinishtaj by just 1,500. Also in the top 10 are Chino Rheem, Benjamin Berg, Justin Bonomo, and Raj Vohra.
The top 338 players will receive a minimum of $7,500, and we anticipate that the bubble will burst near the dinner break on Day 2. For a look at the entire prize pool, simply click on the Payouts tab above.
While PokerNews is not offering live updates from this event, the participating players will be able to utilize the MyStack App. You can download the app for iPhone or Android now to get started. Then, create a new PokerNews account or update your current one to start updating your status immediately. Your followers can see all the live action that you're involved in.
Along with the player updates, PokerNews will be providing you with feature pieces and interviews straight from the tournament floor.
The cards will be in the air shortly, so be sure to come back and check the Player Updates page powered by the MyStack App.
$10,000,000 Guarantee Championship
Dia 2 Iniciado