$10,000,000 Guarantee Championship
Dias: 1c
$10,000,000 Guarantee Championship
Dia 1c Concluído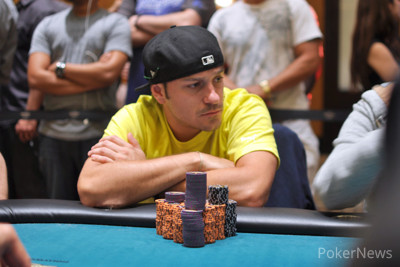 Day 1c, the third and final starting day of the Seminole Hard Rock Poker Open $10 Million Guarantee Championship Event, is in the books, and leading Saturday's flight is Jesse Chinni with 377,500 chips. Chinni only has two cashes in 2013, including one in a $1,500 pot-limit Omaha event at the 2013 World Series of Poker.
Ben Berg ended Day 1c second with 331,100 chips. Berg has eight career live scores, with his largest ($14,710) coming in December of 2012. The Pennsylvania native took down a $235 buy-in event during the 2012 Christmas Classic at the Palm Beach Kennel Club. Right behind them is pro Justin Bonomo, who bagged up 326,900 on his fifth bullet.
There were 1,060 entries on Day 1c, bringing the total number of entrants to 2,384 for the tournament. The prize pool closed at $11,920,000, which is nearly 20 percent more than the massive guarantee promised by the venue. The top 338 players will earn a minimum of $7,500, each member of the nine-handed final table will take home at least $174,525, and the winner will bank a whopping $1,745,245.
Top 10 Entering Day 2
| Rank | Name | Chips |
| --- | --- | --- |
| 1 | Jesse Chinni | 377,500 |
| 2 | Gjergj Sinishtaj | 376,000 |
| 3 | Benjamin Berg | 331,100 |
| 4 | Justin Bonomo | 326,900 |
| 5 | Aaron Schaaf | 326,600 |
| 6 | Raj Vohra | 322,000 |
| 7 | Alan Le | 309,800 |
| 8 | Robert Kleinfeld | 293,400 |
| 9 | Chino Rheem | 284,800 |
| 10 | Jacob Naquin | 276,500 |
For more information, simply click the Payouts tab in the live reporting blog.
Among the notables still in contention for that huge first-place prize are Jeremy Ausmus, Phil Laak, Danny Masterson, Chino Rheem, Shaun Deeb, Lee Childs, Jim Collopy, Jake Cody, and Dwyte Pilgrim.
Laak shipped a huge double up in the last level of the evening when he was all in with a flopped full house against an opponent holding trip aces. The Unabomber faded the case ace and three jacks to double to over 200,000 chips, and will be looking for his second six-figure score of 2013.
Pilgrim made a big bluff towards the end of the day, winning a much-needed pot. On a board of
he moved all in for 32,000 over a bet of 15,000. His opponent tank-folded a six for trip sixes, and Pilgrim triumphantly showed ace-high.
"That's why I'm a living legend!" Pilgrim shouted after the hand.
While players like Bonomo and Ausmus survived after firing multiple bullets, others fell. Cliff "Johnny Bax" Josephy, Jason Koon, Russell Thomas, Matt Affleck, and Lauren Kling will all miss Day 2, but we can bet that some of them will stick around to play in the World Poker Tour Alpha-8 Super High Roller.
Affleck was eliminated when his pocket kings couldn't hold up against an opponent's ace-king, and Josephy hit the rail when he three-bet shoved with pocket tens. An opponent called him with ace-queen, hit a queen on the river, and Josephy's tournament was over.
2013 November Niner JC Tran finally showed up on Saturday to fire only one bullet, and he did so unsuccessfully. Tran says that he skipped Days 1a and 1b because he wasn't feeling well, but will most likely play in the Alpha-8.
Well it was fun. Swingy session after dinner break and ended up a victim of the rail. Just bummed I wasn't feeling well enough to play 1a-1b
Follow @jctran23
Definitely a great tournament. Good luck to the rest still in this tourney. Next up, most likely the Highrollers. #SHRPO
Follow @jctran23
The 768 survivors from all three starting flights will return at noon on Sunday, where Chinni will start the day with a slight chip lead over Gjergj Sinishtaj (376,000). PokerNews will be on hand for coverage of this massive Championship Event. Players will once again be able to update their status immediately using the PokerNews MyStack App, and you can expect more features and interviews as well.
Get all the latest PokerNews updates on your social media outlets. Follow us on Twitter and find us on both Facebook and Google+!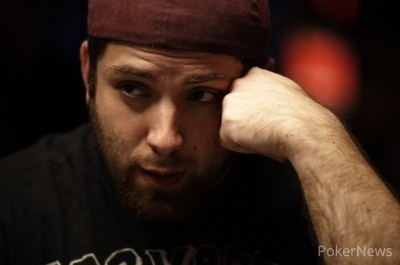 Jason Young won a World Series of Poker gold bracelet back in 2008, but has since stepped away from the game to open a restaurant named The Turn in New Jersey. He is also now a father of one with his girlfriend. Young opted to head down to Florida for the Seminole Hard Rock Poker Open $10 Million Championship Event, and was kind enough to talk with us.
PokerNews: With the new baby, your girlfriend, and the restaurant you don't get to play much anymore. Why did you decided to come down to this event?
Jason Young: It's a big combination of things, really. For a ten million dollar guarantee, anybody that has any idea of how to play poker – or maybe don't even know how to play poker – you see a ten million dollar guarantee and you're going to try and figure out a way to make it work. Also I just had a baby and my girlfriend's parents live down here. It's Florida, it's not some sh***y city where you wouldn't want to go, so we decided to make a little vacation out of it.
How often do you get to play poker?
[Laughs]. Twice a year? It's really difficult. The restaurant opened in June of 2012, and I just played the [WSOP] Main Event last year. I'm trying to start to get out and play a little more, because I miss it honestly. I miss seeing my friends. It's different not being able to hang out with the likes of Lee Childs and Jared Jaffee, and what not. This year I played a couple of tournaments at the Borgata, I plan on trying to go back in September and make a few more stops. You know, baby steps, just getting out for a few days and seeing how things are. Its just time is, I don't know, I don't have time to play at all.
But this is a great thing for me to be able to play. I love it even more now than I ever did when I was playing all the time.
Yeah, does the time off help you enjoy the game more when you do play?
I mean, it's still the same kind of obnoxious torture from obnoxious people that don't have a clue how to deal with other human beings. People are still people, and people overall suck. There's (sic) some good people, but most people suck in one way or another. It's fun to be here and I definitely love playing, but you remember quickly when you take a sick beat for a huge pot, it brings back those nightmarish flashbacks. You quickly remember what it's like being on the grind.
I miss playing. I love playing. These huge guarantees, these are great for the game. This venue is beautiful, the chips are beautiful, and the tournament seems to be super well run. They had the balls to take a shot and everybody came. Literally. I've never been to the PCA [PokerStars Caribbean Adventure] – I've heard what the PCA is like – this is like a mini-Vegas stop. Everyone is here. This tournament's huge.
Speaking of beats, you took a really horrendous one yesterday. Can you talk about it?
I was playing really well. It's weird, when you haven't played you're so happy to be back and you see things so much clearer. Even when I'm not playing, I'm reading hand histories from friends and on PokerNews, I'm watching it on TV, and you see how people are playing. People are still generally bad, for the most part, so when I'm relaxed and I'm not drained from the grind then I can be patient. I've chipped up a lot in the last few tournaments I've played, and this was no exception. I went straight up to 60-70,000 and took that up to 115,000. With about an hour and a half left in the day I flopped a set of nines, got it in for a 230,000-chip pot against two kings, and he turned a king.
I was never at risk all day long, and suddenly I was out. So that was a little stunning. You forget what it feels like. I was sitting there thinking I was going to be one of the chip leaders, win this huge, monster pot, have a shot at this tournament, a nice day off, and instead you're back here trying to figure out how to buy in the next day because you see how bad everyone is and you realize you can't miss it.
How is the Turn treating you?
The Turn is great. I underestimated how much work it was going to be to be honest. It's seven days a week, 120 hours a week, it's so much work. It's really rewarding when you see your place full and everything is going well, and people are really responding well to it. A lot of poker guys come to visit. Lee has been there, Jarred has been there, Chris Lindh – who finished 16th in the Main Event – has been there. He was working as a bartender for me at the one-year anniversary on June first. There's been a bunch of guys come visit, which is cool, but it's so time consuming that if I want the place to run well, and run the right way, I need to be there all of the time. I don't think going in that I was prepared for a seven-day a week grind. This poker grind, people talk about that, but this is a whole nother (sic) kind of grinding, and it takes some getting used to. I'm fortunate enough to have some good friends that I have in my personal life and my poker life that I can bounce things off of, and it's going really well.
Before we let you go, what's your opinion on Alex Rodriguez?
Ohhhhhhh, A-Rod. Man. What a tough…this sucks. What kind of a question was that? I guess he really didn't do anything that everyone else wasn't doing. Ahhhhh. [Sighs]. God.
Get all the latest PokerNews updates on your social media outlets. Follow us on Twitter and find us on both Facebook and Google+!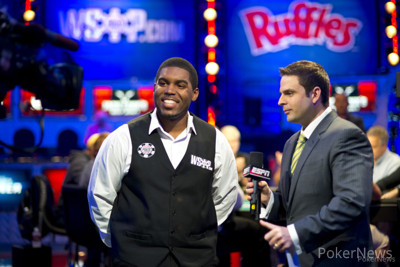 According to Facts-RandomHistory.com, between 10-12 percent of the people on the earth are left-handed. The word left is actually derived the Anglo-Saxon word lyft, which means weak or broken. In Latin, the word for left is sinister.
In Corrado Giaquinto's Satan Before the Lord, Satan is depicted as left-handed.
Let's move to some more positive things, shall we?
In the 57-year history of the Super Bowl, only two left-handed starting quarterbacks have hoisted the Lombardi Trophy: Kenny Stabler and Steve Young (2). Both players also have MVP awards.
In baseball, a sport that is very populated with left-handed an switch-hitting players, 34 lefties have won the coveted Cy Young award, honoring the best pitcher in each league. The first southpaw to win the award was Warren Spahn, who went 21-11 with an ERA of 2.69 and 111 strikeouts for the Milwaukee Braves in 1957.
For poker players, the hand you use doesn't really matter. Some players riffle chips with one hand and look at their cards with the other, while others will interchange, using both their dominant and non-dominant hands. The only problem that can arise from using your non-dominant hand is accidentally exposing your cards, which can lead to a penalty in some cases.
Where handedness comes into play with poker is during dealing, especially when it's time for the dealer to spread the three community cards we call the flop.
The next time you watch televised poker, focus on the dealer's hands when the broadcast cuts to the ever-so-popular flop camera. Nine times out of 10, the community cards will fan from left to right because the dealer is right-handed.
Why?
According to Harry Hepner, author of Advertising – Creative Communication with Consumers, our eyes are trained to moved from left to right.
"Laboratory studies of eye movements show that successive movement of the eyes following the initial fixation is toward the left and upward," Hepner writes.
If Hepner's point seems obvious, it's because it is. You are reading this article from left to right because that's how we've been trained to consume the world of letters, numbers, symbols, and other visuals.
A perfect example of poker television's choice to use right-handed dealers is the Poker PROductions' graphic for the World Series of Poker. That wasn't an accident or a coincidence. They chose a right-handed dealer on purpose.
On Day 7 of the WSOP Main Event this past July, we noticed that there was a left-handed dealer in the box at the feature table. Upon further review, we understood why: Belvy Dalton was the 2013 WSOP Dealer of the Year.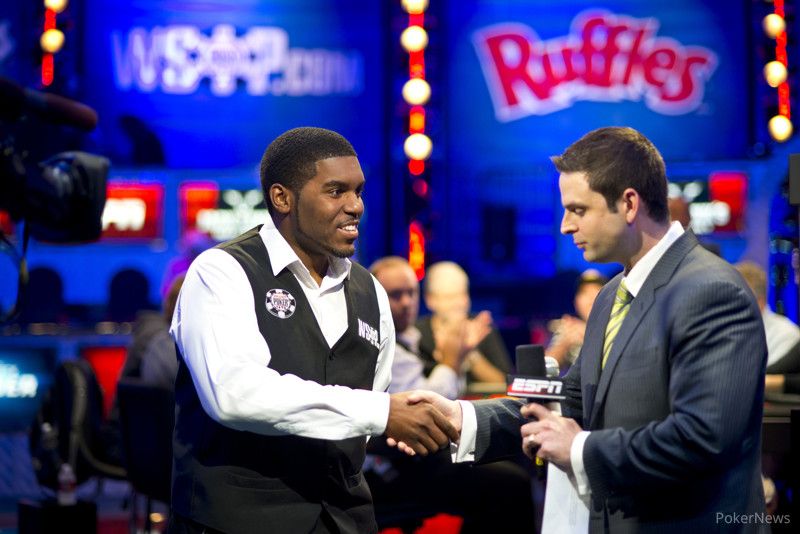 Dalton is here in Florida for the Seminole Hard Rock Poker Open $10 Million Championship Event, and told us that he'll be returning to Las Vegas in November to deal the final table of the Main Event.
"It wasn't that difficult of a process," Dalton said, referring to Poker PROduction's choice to put him, a southpaw, in the box. "I spoke to the producers and they accept the fact that I bring my flop out from right to left. It's the same flop whether it goes left to right or right to left [laughs], so nobody seems to mind anymore."
Dalton even says that there is a small advantage to dealing lefty.
"When it comes down to pitching, a lot of people say that there's an advantage to reach to two seat," he said. "Other than that we deal exactly the same way."
During the Main Event, Dalton was brought onto the main stage to be honored for his accomplishments and to deliver the "shuffle up and deal" in front of the entire room. When asked whether he was more nervous or excited about delivering the famous words, he smiled.
"It was more exciting than anything else," he said. "I had a lot of people to thank and a lot of people to give appreciation to, especially my fellow staff and supervisors."
Dalton then dropped a bomb.
"Actually, I am right-handed," he chuckled. "I just happen to deal with my left hand."
Well, at least he's not weak or broken then.
Dalton is very excited to deal the November Nine, and you'll be able to catch his right-to-left flops on upcoming Tuesday nights on ESPN. You can then judge for yourself whether or not Dalton and other southpaw dealers are acceptable for television, or if Poker PROductions needs to make a call to the bullpen for a right-handed reliever.
Get all the latest PokerNews updates on your social media outlets. Follow us on Twitter and find us on both Facebook and Google+!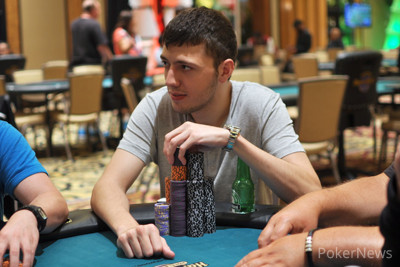 Hello, and welcome back to sunny South Florida for the third and final starting flight of the Seminole Hard Rock Poker Open $10 Million Guarantee Championship Event. Days 1a and 1b attracted a total of 1,324 entrants, and with the board already reading 540 for Day 1c, the guarantee will certainly be achieved.
Leading the surviving players from both 1a and 1b is 21-year old Gjergj Sinishtaj. Sinishtaj bagged 376,000 chips after the second starting flight, while the Day 1a chip leader, Aaron Schaff, ended with 326,600.
While PokerNews is not offering live updates from this event, the participating players will be able to utilize the MyStack App. You can download the app for iPhone or Android now to get started. Then, create a new PokerNews account or update your current one to start updating your status immediately. Your followers can see all the live action that you're involved in.
Along with the player updates, PokerNews will be providing you with feature pieces and interviews straight from the tournament floor.
Players who survived either Day 1a or 1b can still play on 1c, and if they finisher with a bigger stack than on the previous two days, they can forfeit those chips.
The cards will be in the air shortly, so be sure to come back and check the Player Updates page powered by the MyStack App.
$10,000,000 Guarantee Championship
Dia 1c Iniciado