$10,000,000 Guarantee Championship
Dias: 1a
$10,000,000 Guarantee Championship
Dia 1a Concluído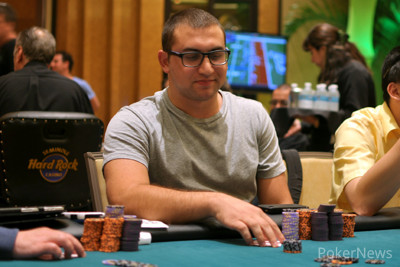 The highly-anticipated Hard Rock Seminole Poker Open $10 Million Guarantee Championship kicked off on Thursday with Day 1a, and with 634 entrants, the tournament is on pace to make the guarantee. Leading the approximately 200 survivors is Aaron Schaff, who bagged 326,600 chips. Schaff is a New Jersey native with just over $170,000 in career tournament earnings. His largest career score came here at the Seminole Hard Rock in 2010, when he finished sixth in the Fall Open Poker Championship for $56,577.
Joining Schaff atop the leader board are Tony Sinishtaj (267,700), legendary music producer Irving "Irv Gotti" Lorenzo (238,700), and Giuseppe Pantaleo (223,000). Lorenzo plans to enjoy his two days off in Puerto Rico.
Irv Gotti wasn't the only star in the field today. Fellow hip hop legend Cornell "Nelly" Haynes Jr. and actress Shannon Elizabeth also played, but only Elizabeth was able to bag chips.
Top 10 Counts
| Rank | Name | Chips |
| --- | --- | --- |
| 1 | Aaron Schaaf | 326,600 |
| 2 | Robert Kleinfeld | 293,400 |
| 3 | Jacob Naquin | 276,500 |
| 4 | Tony Sinishtaj | 267,700 |
| 5 | Joe DeGeorge | 261,900 |
| 6 | Jarod Ludemann | 247,000 |
| 7 | Irving Lorenzo | 238,700 |
| 8 | Blake Bohn | 235,000 |
| 9 | Jorge Gomez | 227,600 |
| 10 | Dan Dyke | 226,000 |
Another notables who survived the day include Matthew Waxman, Faraz Jaka, Chino Rheem, Nick Schulman, John Hennigan, Carlos Mortensen, Erik Seidel, Philipp Gruissem, Adam Levy, Paul Volpe, Bryn Kenney, Isaac Haxton, and Noah Schwartz. During the second-to-last level of the evening, Schwartz busted an unknown player with jacks against tens. The South Florida native's hand held up, and he pushed his stack up to 155,000 chips.
Waxman also eliminated a player during the latter stages of the day, calling an all-in bet on the turn of a
board. The all-in player showed
, but it was no good against Waxman's
, and a meaningless
completed the board.
Also in the field today were November Niners Amir Lehavot, Ryan Riess, and David Benefield. Lehavot finished with over six figures after eliminating Kyle Julius in the penultimate level of the day. Julius five-bet shoved with two queens, only to be called by Lehavot, the three-bettor, who had kings. The kings held, and all three November Niners will return on Sunday for Day 2.
Joining Julius among the casualties on Day 1a were Dan Shak, Lauren Kling, Jake Cody, Dan Buzgon, Justin Young, and 2012 November Niner Russell Thomas. Thomas was eliminated after rivering quad queens against an opponent who turned a straight flush.
Just busted the 5k with top quads. No BBJ.
Follow @RunGoodRussell
The surviving players will return on Sunday at noon EDT, unless they bagged less than a starting stack and want to forfeit their chips, then they may return tomorrow or Saturday. Day 1b will begin on Friday at noon EDT, and is sure to attract another large field. Be sure to check PokerNews during the day for player updates, features, and interviews from Hollywood, Florida.
Get all the latest PokerNews updates on your social media outlets. Follow us on Twitter and find us on both Facebook and Google+!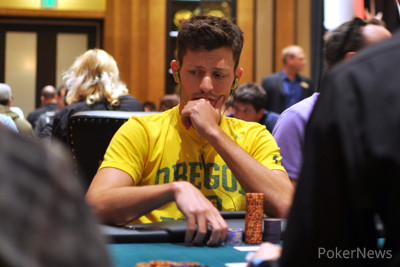 At the 2013 World Series of Poker, Matthew Waxman added to his already impressive résumé, winning Event #7: $1,000 No-Limit Hold'em. The Florida native earned $305,952 for the win, pushing him over $2.5 million in career live tournament earnings, and his first taste of WSOP gold, giving him two legs of the Triple Crown (he won the World Poker Tour Grand Prix de Paris in 2011).
Waxman was kind enough to talk with PokerNews during the dinner break on Day 1a of the SHRPO Championship Event, and among the topics he discusses were poker in Florida, winning the bracelet, and the $25K Fantasy League.
PokerNews: What's it like to have a tournament of this size in your backyard?
Waxman: No, I don't have that big of a backyard [laughs]. It's like a 40-minute drive from my parents' house, where I am staying for at least a little bit, you know, times are tough.
It's awesome. This is the second-biggest poker tournament of the year — second to none other than the [WSOP] Main Event — in the States. Five thousand bucks and you have 2,000 people. I didn't even know 2,000 people knew how to play poker in the world, so obviously this is going to be a great tournament. I have been very fortunate to start this thing — hopefully I can make a run — I have like 130,000 from 30,000, so I'm feeling great.
Are there any tough players at your table?
My table was rather easy, in fact I had people texting me "nice table draw, man" and stuff like that. Then after two people busted from the table, the seats were filled by Isaac Haxton and Erik Seidel. So we probably could've got a little bit better of a draw there, but I'm kind of happy because I already have some chips, and I got some good players at my table to keep me in line from being an idiot and trying to be Superman.
When they first announced that there was going to be a $10 million guarantee, did you think they were going to make it?
No shot. No shot they're making it, you know? But the good news is they hyped it up a lot and they did it really, really early. So other poker tournaments weren't even trying to compete with them. They pretty much jumped on the moon, stuck a flag in there, and said, "Come August 22nd, we're running the show. If you play poker, and you want money, come to Florida."
And sure enough, it worked out. We already have 633 entrants on the first flight, so if we just got the same amount each day, we'd have 1,900. And you got to assume there's going to be tons of extra people playing on the weekend. I set the line at 2,195, that's my guess, but it's looking a lot better and it's really impressive.
What are your thoughts about the venue?
They don't get cash games because of private games, so that's not run the best, but you got to really take your hat off and be happy about this. It's really great for poker. We're getting this big tournament and they're throwing out a $10 million guarantee — not many people are doing that. Sure enough, they're getting rewarded. It worked, they're hosting it, it's a great venue, and we're playing in the ballroom — which you never get to play in — with nice tables. Earlier events, even for a $125 buy-in, they were playing nine-handed. How cool is that? When do you get to play nine-handed in a $125 tournament with 5,000 people in it?
They already said that next time they're going to try and get some bigger mixed-game events, which could bring in a nice crowd, and I suggested that they do a smaller high roller and a bigger one, like a $20,000 high roller, too. They're not very stubborn here, they're willing to adapt and change, and that speaks well of the Hard Rock. They're probably going to do well for the tournaments because of it.
Speaking of the high roller, have you heard any estimates for the first ever World Poker Tour Alpha8 event?
I think [Matt] Savage said 50? I was going to take the under on 80, but it is televised.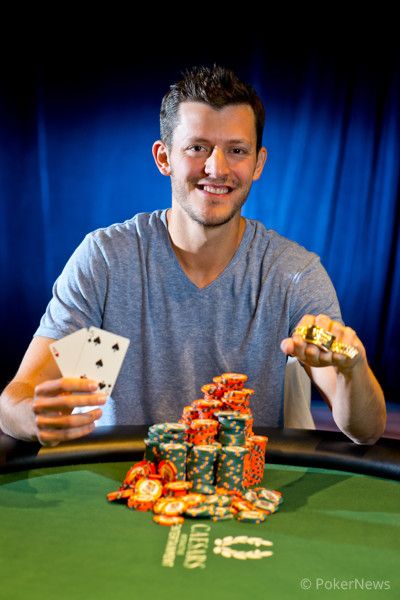 We're a few months removed from your bracelet win and you've had some time to reflect upon it. How does it feel now?
For any poker player, it's a huge accomplishment. Since I was 21, I went to Vegas with $2,000 in my pocket and bought into a $1,000 event. I've been so confident for all these years — seven, eight years — of going to Vegas, grinding satellites sometimes when I had to do it for the bankroll, and I had success. I made a few final tables, but I still had never, ever captured that. I thought, "s*** man, I've been to three final tables, my fourth one has got to be — like I'm due. Eventually if I keep getting there, I'm going to win one."
Sure enough, on the fourth one — it was the hardest table I've ever faced — I got it. And it's a huge relief. Now anything else is just a bonus.
It was an intense heads-up battle that night, are things cool now between you and Eric Baldwin? Any beef?
[Laughs] We we're never beefing. When I lost at Festa al Lago, to some guy who I wasn't a fan of, he was kind of a douche, so I was tilted. It's always tilting to get second, but if people asked me and even before the tournament ended I was thinking, "well s***, if I lose to Eric, whatever." He's just a really nice guy, and I don't think anybody dislikes him. He's very well thought of in the poker community.
I wouldn't have been pissed to lose to him, I would've been happy to be free rolling the summer. I probably wouldn't have bought into that stupid ass One Drop either.
Along with the bracelet, you also won the $25K Fantasy League. Congratulations.
I wish I could say I won it, but unfortunately it was a team effort. Tom Marchese was huge. I told him the basic strategy because luckily I got to do sort of an intership when I had a piece of [Jason] Mercier's team last year, and we won. We looked some people up on WSOPdb.com to see who's playing what, we called around, and Tom basically helped me. We also had Josh Arieh helping us draft as well. He was like "we got to get Erick Lindgren, we got to get Erick Lindgren," and that helped because Erick had a great summer. We also sold another few percentages to other people. I had like 20 percent.
Looking back, which draft pick are you most proud of?
No brainer, it's David [Bakes] Baker, man. We were willing to bet 80 points on him and got him for like 72. Everyone on our team did great. We had points from everybody. I think David Baker alone outscored the bottom three teams. It was a complete domination. The only problem is I wish I made a little worse of a team, because I was trying to cross book and everyone thought our team was too good.
What are your plans after this? Headed to Barcelona?
I really wanted to go to Barca and try to get the Triple Crown, but I'm going to fly out to L.A. and play in the Legends of Poker after this. So that should be fun.
Get all the latest PokerNews updates on your social media outlets. Follow us on Twitter and find us on both Facebook and Google+!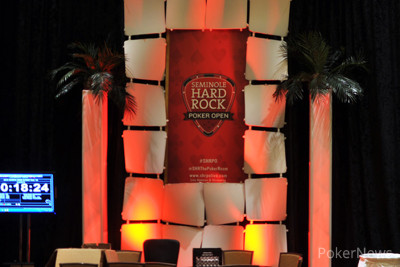 Ten million dollars.
If you type "ten million dollars" into Google, you will receive pictures of money. Lots and lots of money. Mountains upon mountains of money. There's also a picture from South Park of a half-naked Eric Cartman sitting in a pile of bills, but we can simply ignore that for now.
Let's just focus on the money.
The Seminole Hard Rock took a big risk when they announced that this tournament, the Seminole Hard Rock Poker Open Championship Event, will have a $10 million guarantee. Only three tournaments in 2013 generated prize pools of $10 million or more, including the GuangDong Ltd Asia Millions, World Series of Poker $100,000 One Drop, and WSOP Main Event. Two of those events were six-figure buy-ins, inflating the prize pool considerably, and the other one was the most important $10,000 buy-in event on the calendar.
The winner of the SHRPO Championship Event will walk home with a minimum of $1.5 million, which is good for at least 29th on the 2013 money list. If the field is larger than 2,000 players (the board currently says just over 600), which it appears it will be, then that first-place prize will be even bigger.
Unlike UKIPT Galway and WPT Cyprus, which both missed $1 million guarantees this month, the SHRPO Championship Event has three very important things working for them: location, timing, and sizzle.
"Florida's poker scene has been building for a few years now," Brian Hastings, a new resident to the Sunshine State told PokerNews. "And it's a nice place to be generally — although this is the rainy season."
Scattered showers or not, Florida is still one of the biggest tourist destinations in the world with over 89 million people visiting in 2012 alone. Additionally, after you're done having fun in the sun and grinding poker, you can catch a direct flight from Miami to Spain for the next major poker tournament series, European Poker Tour Barcelona. Neither California, Las Vegas, or Atlantic City are as accessible and enjoyable as South Florida.
The timing is crucial for two reasons. First, as stated above, EPT Barcelona is right after this event. Sneaking the SHRPO in right before the EPT season begins not only prevents unnecessary overlapping, which would negatively affect both festivals, but it also separates it from the WSOP for a longer period of time. After grinding 50 or more tournaments in Las Vegas, the last thing players want to do is travel to another festival right after. Everybody needs a vacation, even grinders.
"Everything seems to be good for this one," Mike Leah said. "There's nothing else going on."
Timing is also important because the Seminole Hard Rock is the first property to offer a guarantee of this size. Instead of entering an oversaturated market of six-to-seven-figure guarantees, they decided to swing for the fences and create their own market. It worked.
"A million [dollars] just isn't enough anymore," says WSOP bracelet winner Jon Aguiar, who came out of "retirement" to play in this event. "Throw out a ten million dollar guarantee, you have to go, everyone has to go. These are cannibalizing million dollar guarantees."
The success of this event could be dangerous, however. If other tours or properties try to mimic the Seminole Hard Rock's success and start plastering eight-figure guarantees all over the place, then another oversaturated marker will be created.
"If you tried to do something like this every month, there's no chance," Hastings says. "Once or twice a year, depending on where it is, how well the event is run, how many satellite winners there are, and how much value is there. It's possible."
The man in charge of making sure the tournament runs smoothly is Hard Rock's director of poker, Bill Mason.
"With the Hard Rock, you're looking at a venue that's complete," Mason told PokerNews. "We've got activities, we're in South Florida so the lifestyle is unlike anywhere else — it's fast paced, and people want to come to Florida."
When asked if this is just a one-off event or if there could be more big guarantees in the future, Mason smiled.
"I definitely believe that there's going to be more opportunities like this to come. We've made a commitment, and once this is over we're going to take a look and see what we can do even bigger and better," he said.
For now, the march to 2,000 entrants is on here in the Sunshine State.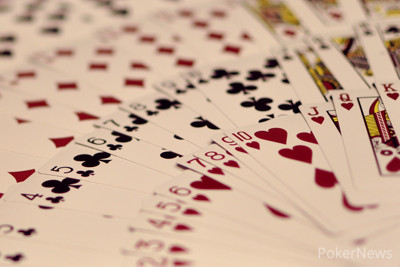 Good afternoon, and welcome to the Sunshine State of Florida for Day 1a of the Seminole Hard Rock Poker Open $10 Million Guarantee Championship Event. Hundreds of the game's biggest names have migrated down south for this highly anticipated $5,300 buy-in tournament, and with unlimited re-entries allowed for all three of the starting flights this week, we're ready to see some fireworks.
While PokerNews is not offering live updates from this event, the participating players will be able to utilize the MyStack App. You can download the app for iPhone or Android now to get started. Then, create a new PokerNews account or update your current one to start updating your status immediately. Your followers can see all the live action that you're involved in.
Along with the MyStack updates, we will be providing you with feature pieces and interviews along the way. If there are any players on site that you would like to see interviewed, or if you just want to show us some love, don't be afraid to fire a tweet to @PokerNews. We'll be on the lookout.
The cards will be in the air around noon EDT, so be sure to come back to check out the Player Updates tab and more. For now, check out the preliminary results this far during the SHRPO:
| Event | Guarantee | Entries | Winner | 1st Prize |
| --- | --- | --- | --- | --- |
| Event #1: $350 No-Limit Hold'em Deep Stack | $500,000 | 3,391 | Derek Buonano | $90,000 |
| Event #2: $1,100 No-Limit Hold'em | $75,000 | 98 | Benjamin Stark | $27,000 |
| Event #3: $240 No-Limit Hold'em Deep Stack Turbo | $25,000 | 249 | Steven Cardarelli | $4,928 |
| Event #4: $240 $240 Seven-Card Stud | $5,000 | 41 | Kevin Painter | $2,287 |
| Event #5: $240 No-Limit Hold'em Black Chip Bounty | $20,000 | 252 | Christopher Carey | $7,053 |
| Event #6: $125 No-Limit Hold'em Deep Stack | $150,000 | 3,617 | Brett Bader | $49,627 |
| Event #7: $560 No-Limit Hold'em Deep Stack | $1,000,000 | 3,389 | Ray Piccin | $291,087 |
| Event #8: $240 Omaha Eight-or-Better | $15,000 | 105 | Cory Blum | $5,458 |
| Event #9: $150 No-Limit Hold'em Double Green Chip Bounty | n/a | 159 | James Sutherland | $1,968 |
| Event #10: $240 H.O.R.S.E. | $10,000 | 102 | Jason Like | $4,999 |
| Event #11: $2,200 No-Limit Hold'em | $150,000 | 85 | Jacob Schindler | $59,500 |
| Event #12: $240 Pot-Limit Omaha Eight-or-Better | $10,000 | 156 | John Holley III | $5,919 |
| Event #13: $240 Hold'em Escalator | $10,000 | 75 | Jorie Polokoff | $2,016 |
| Event #14: $150 No-Limit Hold'em | $20,000 | 428 | Bennie Sims | $8,000 |
| Event #15: $240 Seniors' No-Limit Hold'em | $10,000 | 192 | John Holley III | $9,207 |
| Event #16: $350 6-Max No-Limit Hold'em | $20,000 | 185 | Matthew Kirby | $11,233 |
| Event #17: $300 No-Limit Hold'em | $25,000 | 233 | Luis Vazquez | $12,002 |
| Event #18: $240 Double Stack Pot-Limit Omaha | $10,000 | 202 | Seth Weinberg | $9,030 |
| Event #19: $150 No-Limit Hold'em | $20,000 | 347 | Oneil McCalla | $6,265 |
| Event #20: $150 No-Limit Hold'em | $20,000 | --TBD-- | --TBD-- | --TBD-- |
$10,000,000 Guarantee Championship
Dia 1a Iniciado