At the 2013 World Series of Poker, Matthew Waxman added to his already impressive résumé, winning Event #7: $1,000 No-Limit Hold'em. The Florida native earned $305,952 for the win, pushing him over $2.5 million in career live tournament earnings, and his first taste of WSOP gold, giving him two legs of the Triple Crown (he won the World Poker Tour Grand Prix de Paris in 2011).
Waxman was kind enough to talk with PokerNews during the dinner break on Day 1a of the SHRPO Championship Event, and among the topics he discusses were poker in Florida, winning the bracelet, and the $25K Fantasy League.
PokerNews: What's it like to have a tournament of this size in your backyard?
Waxman: No, I don't have that big of a backyard [laughs]. It's like a 40-minute drive from my parents' house, where I am staying for at least a little bit, you know, times are tough.
It's awesome. This is the second-biggest poker tournament of the year — second to none other than the [WSOP] Main Event — in the States. Five thousand bucks and you have 2,000 people. I didn't even know 2,000 people knew how to play poker in the world, so obviously this is going to be a great tournament. I have been very fortunate to start this thing — hopefully I can make a run — I have like 130,000 from 30,000, so I'm feeling great.
Are there any tough players at your table?
My table was rather easy, in fact I had people texting me "nice table draw, man" and stuff like that. Then after two people busted from the table, the seats were filled by Isaac Haxton and Erik Seidel. So we probably could've got a little bit better of a draw there, but I'm kind of happy because I already have some chips, and I got some good players at my table to keep me in line from being an idiot and trying to be Superman.
When they first announced that there was going to be a $10 million guarantee, did you think they were going to make it?
No shot. No shot they're making it, you know? But the good news is they hyped it up a lot and they did it really, really early. So other poker tournaments weren't even trying to compete with them. They pretty much jumped on the moon, stuck a flag in there, and said, "Come August 22nd, we're running the show. If you play poker, and you want money, come to Florida."
And sure enough, it worked out. We already have 633 entrants on the first flight, so if we just got the same amount each day, we'd have 1,900. And you got to assume there's going to be tons of extra people playing on the weekend. I set the line at 2,195, that's my guess, but it's looking a lot better and it's really impressive.
What are your thoughts about the venue?
They don't get cash games because of private games, so that's not run the best, but you got to really take your hat off and be happy about this. It's really great for poker. We're getting this big tournament and they're throwing out a $10 million guarantee — not many people are doing that. Sure enough, they're getting rewarded. It worked, they're hosting it, it's a great venue, and we're playing in the ballroom — which you never get to play in — with nice tables. Earlier events, even for a $125 buy-in, they were playing nine-handed. How cool is that? When do you get to play nine-handed in a $125 tournament with 5,000 people in it?
They already said that next time they're going to try and get some bigger mixed-game events, which could bring in a nice crowd, and I suggested that they do a smaller high roller and a bigger one, like a $20,000 high roller, too. They're not very stubborn here, they're willing to adapt and change, and that speaks well of the Hard Rock. They're probably going to do well for the tournaments because of it.
Speaking of the high roller, have you heard any estimates for the first ever World Poker Tour Alpha8 event?
I think [Matt] Savage said 50? I was going to take the under on 80, but it is televised.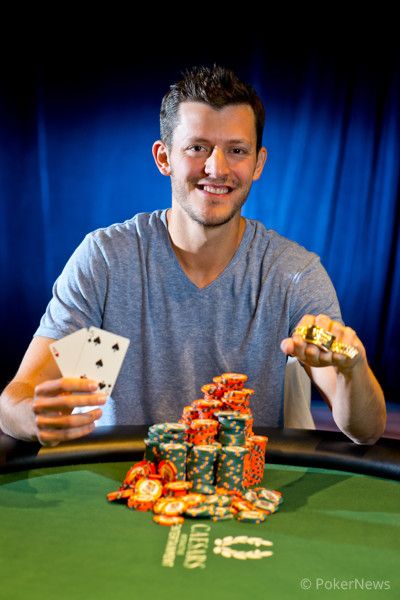 We're a few months removed from your bracelet win and you've had some time to reflect upon it. How does it feel now?
For any poker player, it's a huge accomplishment. Since I was 21, I went to Vegas with $2,000 in my pocket and bought into a $1,000 event. I've been so confident for all these years — seven, eight years — of going to Vegas, grinding satellites sometimes when I had to do it for the bankroll, and I had success. I made a few final tables, but I still had never, ever captured that. I thought, "s*** man, I've been to three final tables, my fourth one has got to be — like I'm due. Eventually if I keep getting there, I'm going to win one."
Sure enough, on the fourth one — it was the hardest table I've ever faced — I got it. And it's a huge relief. Now anything else is just a bonus.
It was an intense heads-up battle that night, are things cool now between you and Eric Baldwin? Any beef?
[Laughs] We we're never beefing. When I lost at Festa al Lago, to some guy who I wasn't a fan of, he was kind of a douche, so I was tilted. It's always tilting to get second, but if people asked me and even before the tournament ended I was thinking, "well s***, if I lose to Eric, whatever." He's just a really nice guy, and I don't think anybody dislikes him. He's very well thought of in the poker community.
I wouldn't have been pissed to lose to him, I would've been happy to be free rolling the summer. I probably wouldn't have bought into that stupid ass One Drop either.
Along with the bracelet, you also won the $25K Fantasy League. Congratulations.
I wish I could say I won it, but unfortunately it was a team effort. Tom Marchese was huge. I told him the basic strategy because luckily I got to do sort of an intership when I had a piece of [Jason] Mercier's team last year, and we won. We looked some people up on WSOPdb.com to see who's playing what, we called around, and Tom basically helped me. We also had Josh Arieh helping us draft as well. He was like "we got to get Erick Lindgren, we got to get Erick Lindgren," and that helped because Erick had a great summer. We also sold another few percentages to other people. I had like 20 percent.
Looking back, which draft pick are you most proud of?
No brainer, it's David [Bakes] Baker, man. We were willing to bet 80 points on him and got him for like 72. Everyone on our team did great. We had points from everybody. I think David Baker alone outscored the bottom three teams. It was a complete domination. The only problem is I wish I made a little worse of a team, because I was trying to cross book and everyone thought our team was too good.
What are your plans after this? Headed to Barcelona?
I really wanted to go to Barca and try to get the Triple Crown, but I'm going to fly out to L.A. and play in the Legends of Poker after this. So that should be fun.
Get all the latest PokerNews updates on your social media outlets. Follow us on Twitter and find us on both Facebook and Google+!