A Look at the First Ever $100,000 Alpha-8 Event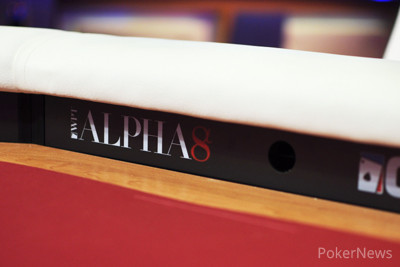 Hard Rock Live is a 5,500-seat arena on the Seminole Hard Rock property in Hollywood, Fla. In 2013, the following artists have or are scheduled to perform there: Kid Rock, Wllie Nelson, Eric Clapton, The Beach Boys, Matchbox Twenty, Kenny G, Hall & Oates, Alabama, Kiss, Lionel Richie, Barenaked Ladies, and Alice Cooper.
The venue has also hosted comedians Bill Cosby, Cedric The Entertainer, and Al Pacino this year.
Today, the eight-year old arena is playing host to the first ever World Poker Tour Alpha-8 event. Through the entrance, past the box office, and into the seating area there is a massive stage enclosed by tall white sheets. From the outside, you can see the stage and floor lights shining neon colors off of the sheets, but once you pull open the entrance the carnival of color hits you right in the face.
For a brief moment, it feels like you're in swanky club in the heart of Miami – sans the absence of a live Latin jazz band, of course.
Beyond the neon lights, which really morph the white sheets surrounding the area into an interesting and visually appealing backdrop, the main stage is gorgeous. Sitting atop white tiles is a large table with white railing, and the eight seats around the table are white as well. The only thing it's missing is Tony Montana in an all-white suit.
"Who put this thing together? Me, that's who! Who do I trust? Me!
Behind the feature table are two red leather seats for the wonderful Lynn Gilmartin to conduct interviews or two people to hang out. There's also a table set up for Ali Nejad and Olivier Busquet to call the action. Perhaps they will serve drinks from there as well – there are several cocktail waitresses available.
The only problem with this beautiful, pristine set is that it's fairly empty.
"The set's pretty cool," Jason Mercier, who was one of the 12 players seated at the time, told us on a break. "I just wish there were more players here. But it's set up great for a normal $100,000 event – which should have 30 or 40 entries."
Among the dozen players seated were the aforementioned Mercier, Jeff Gross Isaac Haxton, Jason Koon, Daniel Alaei, Erik Seidel, Brandon Steven, Steven Silverman, Daniel Perper, Andrew Lichtenberger, Tom Hall, and November Niner JC Tran.
Despite the low turnout thus far, Koon is still optimistic about this event and future ones as well.
"The set's beautiful, and the staff is one of my favorite poker staffs," Koon told us. "I think that once people get that it's going to be on a major network, it will grow. Right now it's smaller than we expected, but it will grow. I mean, it is a $100,000 buy in."
Koon thinks that 25 entries would be a successful number for this event, and believes that they will hit that number.
"I saw a couple guys that were just getting out of bed," Koon said. "Noon's a pretty early start [laughs]. Maybe that's something they could've changed, because they don't have to worry about clearing out 500 to 600 players in a day."
"I think that there's four or five guys still in the Main that were wanting to play, so it might be ideal for them to put the $100,000 buy-in – or whatever the big event is – on Day 4 of the Main," Mercier added.
For Lichtenberger and Silverman, a beautiful set is nice, but location and timing are paramount.
"I like how this [Alpha-8] coincided with the other big tournament," Silverman said. "So if they schedule it with other good stops I'd certainly look to play."
"[Playing] is dependent upon where I'm at," Lichtenberger added.
With the impressive set, the bright lights, and the studio cameras all around, the ambiance at the two poker tables is a bit different from most super high rollers. There was very little talking going on when I arrived, and the silence was finally broken when Tran took his seat. Mercier offered a joke, followed by his signature laugh, and the rest of the table chuckled as well.
The atmosphere is sure to be more entertaining soon, however, as Bill Perkins and Dan Shak both took their seats while this article was being published.
Perkins would've arrived earlier, but his flight was delayed due to an electrical issue.
Of course my United flight has electrical problems and flight is delayed.....glad they caught it pre-takeoff!! #betterlatethandead
Follow @bp22
Regardless of the final field size, Koon believes in the brand and will continue to attend Alpha-8 events.
"I'll be at every one if there's any value whatsoever," he said.
Mercier, who estimates that he's played in 15 to 20 tournaments with a $50,000 buy-in or higher, isn't as loyal to the brand per se, but if there's a high rolling scheduled, he'll be there.
"I'm going to play every $50,000-plus buy-in poker tournament there is around the world for the next couple of years," Mercier said.
The WPT Alpha-8 has the major American network, an incredible set, and a handful of committed, willing players. All they have to do is lure a few more grinders on a consistent basis, and they will become a player in the global super high roller market. Until then, there is work to do.
Only time will tell.
Get all the latest PokerNews updates on your social media outlets. Follow us on Twitter and find us on both Facebook and Google+!