Event #5: €550 NLH COLOSSUS
Dias: 1d
Event #5: €550 NLH COLOSSUS
Dia 1d Concluído
Nível 18 : 3,000/6,000, 6,000 ante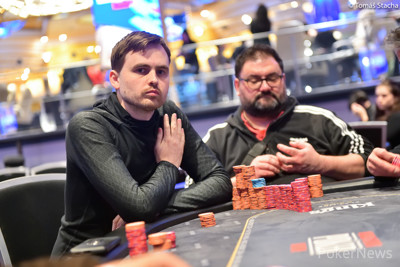 It was a wild end to Day 1d in Event #5: €550 No-Limit Hold'em COLOSSUS where 77 players will be advancing to Day 2 of the 688 total entries. In the last few hands of the night, Martin Kabrhel scooped the largest pot of the tournament thus far to bag a whopping 980,000 chips.
Kabrhel already has two World Series of Poker gold bracelets that he has won right here at King's Casino. Kabrhel entered the tournament for the second time just before late registration closed. He managed to run up a stack to over 400,000 before the bubble came along, and in one of the last hands of the night, he collided with Charles Motamedi in a monster pot.
Kabrhel managed to scoop the pot with just a pair of jacks and eliminated Motamedi in the process. Kabrhel currently holds the overall chip lead by quite some margin with his nearest competitor being Nawroz Gaff. In the latter stages of the day, Gaff vaulted to the top of the leaderboard as well and finished the day with 658,000 chips. Cenk Oguz rounds out the top three counts for Day 1d as he finished with a healthy stack of 600,000.
This was the third of four starting flights for this event and it was the largest one thus far. A total of 688 entries were recorded with the player-cap being increased to 1,000 and only one flight running each day. Some notables that fell short of reaching the end of the day include Michal Mrakes, Max Pescatori, Zhong Chen, and Floor ten Zijthof.
Once again, the bubble was reached just after the last break of the day. It only took a couple of hands in the -hand-for-hand process until Zhao Feng got all of his chips in the middle with pocket jacks. Unfortunately for him, Henning Wendlandt woke up with pocket queens and Feng was unable to improve. The remaining 104 players were all guaranteed at least €895 for a min-cash.
Event #5: €550 NLH COLOSSUS Schedule
| DATE | DAY | START TIME (CET) | PLAY CONCLUDES | Total Entries | Advancing |
| --- | --- | --- | --- | --- | --- |
| Thursday, November 25 | Day 1b | 12 p.m. | After Level 18 | 427 | 43 |
| Thursday, November 25 | Day 1c | 6 p.m. | After Level 18 | 363 | 38 |
| Friday, November 26 | Day 1d | 10 a.m. | After Level 18 | 688 | 77 |
| Saturday, November 27 | Day 1f | 10 a.m. | After Level 18 | - | - |
| Sunday, November 28 | Day 2 | 2 p.m. | 9 Players Remain | - | - |
| Monday, November 29 | Day 3 | 1 p.m. | End of Event | | |
The action will resume tomorrow with the last starting flight for this event. The cards are scheduled to be in the air at 10 a.m. with another 18 levels on tap for Day 1f. Any players that have not yet bagged chips for Day 2 are eligible to register and take another shot at advancing.
The PokerNews live reporting team will be on the tournament floor to bring you all of the live updates throughout the event.
Nível 18 : 3,000/6,000, 6,000 ante
Jogador
Fichas
Oscilação

Martin Kabrhel

980,000

120,000

Nawroz Gaff

658,000

548,000

Cenk Oguz

600,000

600,000

Randee Clybouw

525,000

525,000

Friedrich Schiller

497,000

497,000

Bleron Maliqi

467,000

467,000

Olav Genemans

466,000

466,000

Yehuda Cohen

143,000

32,500

Jonathan Abdellatif

142,000

142,000

Tobias Peters

120,000

-25,000

Pete Chen

86,000

17,200
Nível 18 : 3,000/6,000, 6,000 ante
Martin Kabrhel raised to 15,000 in middle position and Charles Motamedi called from the small blind. The flop came
and Motamedi check-called a bet of 30,000 from Kabrhel.
The turn brought the
and Motamedi checked again. Kabrhel counted out a bet of 60,000 and Motamedi check-raised to 135,000. Kabrhel called and the
completed the board.
Motamedi checked for the third time and Kabrhel shoved all in for around 280,000. Motamedi counted his own stack which was about 260,000 and went into the tank. After a couple of minutes, he finally called and saw the bad news. Kabrhel tabled
and Motamedi could only muster
.
Nível 18 : 3,000/6,000, 6,000 ante
The tournament clock has been paused with 10 minutes remaining in level 18. Each table will play five more hands before the bagging process begins.
Nível 18 : 3,000/6,000, 6,000 ante
Gudmundur Sigurjonsson raised it up in early position and Roberto Manfredi shoved all in for 32,000 on his left. The action folded back to Sigurjonsson who quickly called.
Manfredi showed
and was up against the
of Sigurjonsson. The board ran out
and Manfredi made a flush to score a small double up.
On the next hand, Sigurjonsson and Alexander Huss got all of the chips in the middle with Huss at risk for 113,000. Huss held
and was dominating Sigurjonsson's
. The board ran out
and Huss took his turn for a double up.
Nível: 18
Blinds: 3,000/6,000
Ante: 6,000
Nível 17 : 3,000/5,000, 5,000 ante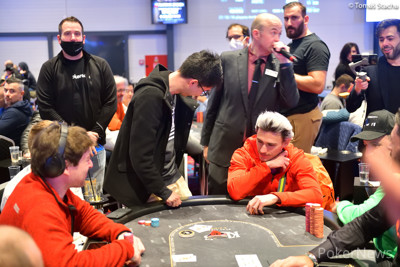 Henning Wendlandt and Zhao Fang got all of their chips in the middle with Fang being the player at risk for around 100,000. Once all of the action was complete at the other tables, the two hands were turned face up.
Zhao Feng:

Henning Wendlandt:
The flop came
and Wendlandt held the lead with his pocket queens. The
on the turn left Feng drawing to just two outs and the
on the river was not one of them.
Nível 17 : 3,000/5,000, 5,000 ante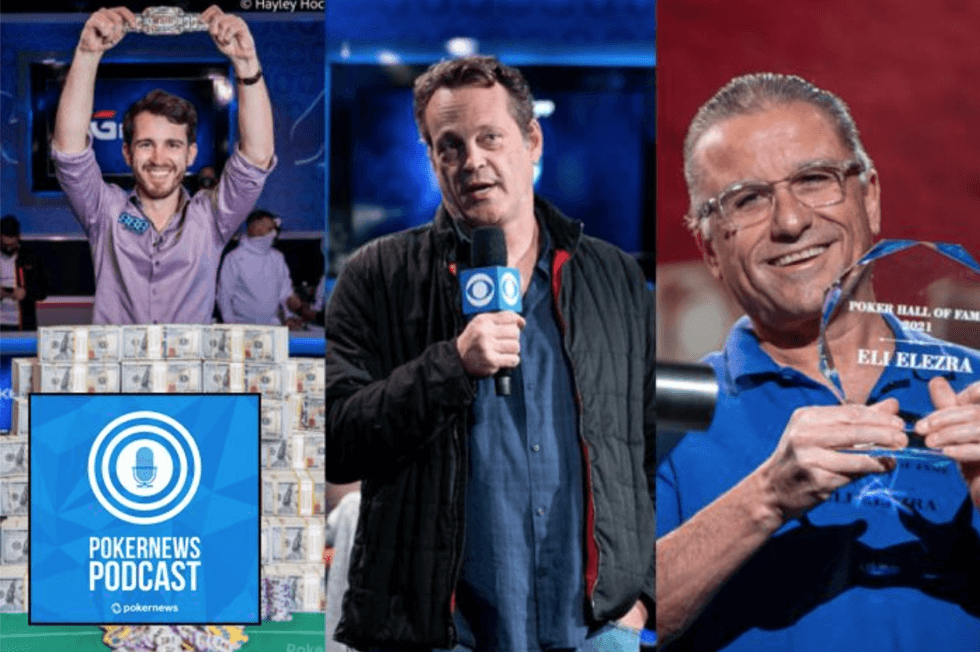 On the latest episode of the PokerNews Podcast, Sarah Herring, Jeff Platt and Chad Holloway come to you from the 2021 World Series of Poker (WSOP)!
They recap the 2021 WSOP $10,000 Main Event, which was won by Koray Aldemir, and highlight other recent bracelet winners including Brian Hastings, Chad Himmelspach, and David Moses.
They also offer an interview with actor and new WSOP Master of Ceremonies Vince Vaughn, as well as one with new Poker Hall of Fame inductee Eli Elezra. Also, hear the crew discuss rumors concerning the WSOP's upcoming move to the Las Vegas Strip and what the future may hold for the aforementioned Poker Hall of Fame.
Nível 17 : 3,000/5,000, 5,000 ante
A loud bang on the table came from Table 110 as the field was just two players away from the money. Medet Kilinc and Sebastian Kovaci got all of their chips in the middle preflop with Kovaci being the player at risk for around 75,000.
Kilinc held
against the
of Kovaci. The board ran out
and Kilinc found a straight on the river to eliminate Kovaci. The tournament will now proceed hand-for-hand on the money bubble.
Jogador
Fichas
Oscilação

Medet Kilinc

225,000

225,000

Sebastian Kovaci

Eliminado