Event #10: €25,500 Mixed Games Championship
Dias: 2
Event #10: €25,500 Mixed Games Championship
Dia 2 Concluído
Nível 18 : 40,000/80,000, 120,000 ante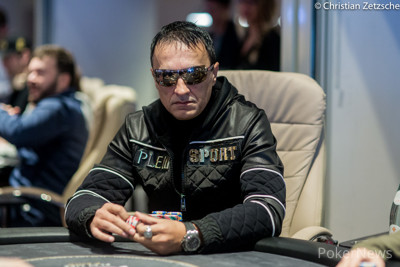 After nearly another 10 levels of all variants of poker, only seven players remain in the quest for a World Series of Poker gold bracelet in Event #10: €25,500 Mixed Games Championship. The day mostly belonged to Besim Hot who dominated throughout to bag up an impressive chip lead with 15,795,000 chips.
The Swiss poker player has been missing in action over the past few years but has been making a big impact at the 2019 WSOP Europe thus far. Just a couple of days ago, Hot had a fifth-place finish in the €25,500 High Roller where he pocketed over €166,000. Now he has his second cash of the series but will be looking to better that performance and maybe lay claim to his first-ever bracelet.
Hot's first major clash of the day came against Benny Glaser (2,750,000) and the two continued to battle, trading the chip lead in the early going. However, Hot got the best of Glaser in a pot-limit omaha hand where Hot got a full double up. He then went on to eliminate Anatoly Filatov, Ivo Donev, and Anthony Zinno en route to the final table.
While Hot will hold over a third of the chips in play, it won't be an easy path to victory with plenty of experience among the other six players. Dzmitry Urbanovich is still a distant second after a last-hand knockout that vaulted him to 7,425,000 chips. Urbanovich will also be in search of his WSOP title. While the two leaders have zero bracelets to their name, there are 25 total bracelets among four others.
Most notably, two of poker's biggest names in Phil Hellmuth (5,495,000) and Daniel Negreanu (5,315,000) will be in the hunt and looking to add to their poker resume. Negreanu has already locked up his sixth cash in 10 events at the WSOP Europe in his hopes to claim another Player of the Year title while Hellmuth will be looking to win a record-breaking 16th bracelet.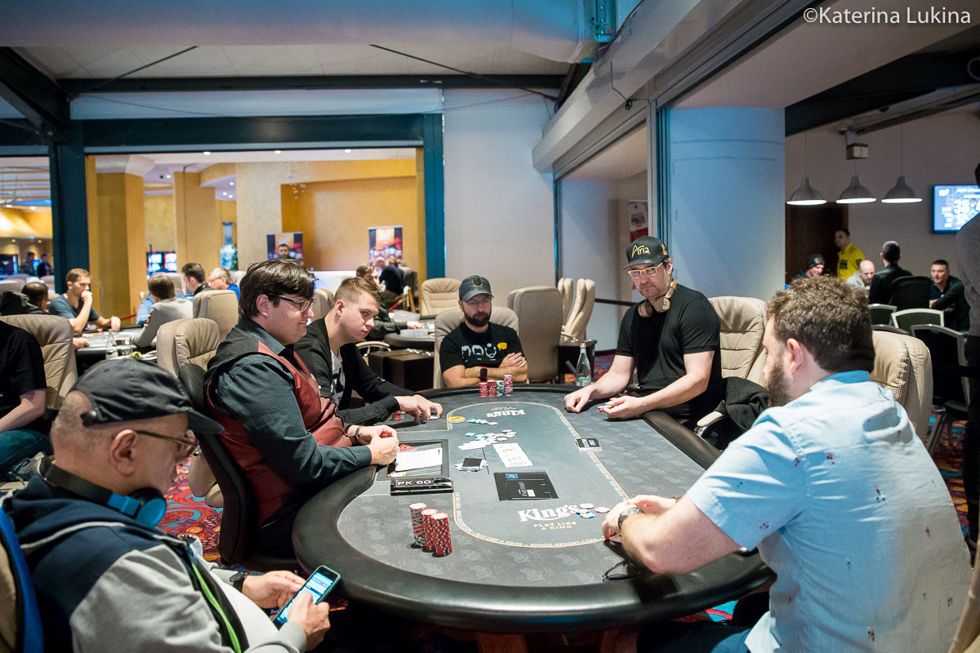 Another name that some may find familiar is that of Alex Livingston (4,005,000) who's back at King's Resort in Rozvadov this year. The Canadian poker pro is coming off a third-place finish in the WSOP Main Event in Las Vegas where he scored a career-best $4,000,000. Livingston appeared to take a break since his deep run but he's back looking for his first-ever WSOP title.
Final Table Seating Assignments
| Seat | Player | Country | Chip Count |
| --- | --- | --- | --- |
| 1 | Dzmitry Urbanovich | Poland | 7,425,000 |
| 2 | Julien Martini | France | 4,475,000 |
| 3 | Besim Hot | Switzerland | 15,795,000 |
| 4 | Phil Hellmuth | United States | 5,495,000 |
| 5 | Benny Glaser | United Kingdom | 2,750,000 |
| 6 | Alex Livingston | United States | 4,005,000 |
| 7 | Daniel Negreanu | United States | 5,315,000 |
The action got underway at 3 p.m. local time earlier today with just 21 players returning to their seats from Day 1. That number quickly grew in the first couple of levels with late registration still open. Phil Ivey entered for the third time while many mixed-game rookies took a seat with an overlay looming on the €1,000,000 guaranteed prizepool. Ryan Riess, Alex Foxen, and James Chen joined a few Russians in Marek Blasko, Maksim Pisarenko, and Filatov to compete against some of the greats.
A total of 45 entries were recorded for the event and it took a while after the registration period closed for the eliminations to occur. There were still 30 players remaining after the second break of the day but that number quickly dwindled as the short stacks bowed out. Shaun Deeb, Chris Ferguson, David "ODB" Baker, Robert Campbell, and Zinno all saw their POY hopes take a hit as they were eliminated before the money.
It was a dramatic ending to the day when both Johannes Becker and Roland Israelashvili were eliminated within seconds of each other with nine players remaining. Only seven places were paid and there was no hand-for-hand process required to get into the money. With just seven players remaining, the players and tournament staff decided to call it quits on the night with 21:43 remaining in level 18.
Final Table Payouts
| Place | Prize (in EUR) | Prize (in USD) |
| --- | --- | --- |
| 1 | € 385,911 | $428,361 |
| 2 | € 238,509 | $264,745 |
| 3 | € 162,463 | $180,334 |
| 4 | € 111,689 | $123,975 |
| 5 | € 77,502 | $86,027 |
| 6 | € 54,287 | $60,259 |
| 7 | € 38,389 | $42,612 |
The final table will restart at 3 p.m. local time tomorrow and each player has €38,380 locked up. However, they will each have their sights set on the first-place prize of €385,9111 and it is still anyone's game. They will finish out the 18th level and the remaining levels will be 60-minutes in length until a winner is crowned.
The PokerNews live reporting team will be back on the tournament floor tomorrow to bring you all of the live updates throughout the final day. Stay tuned to find out who will be the first eliminated and who will be crowned a new world champion.

Nível 18 : 40,000/80,000, 120,000 ante
The remaining seven players were asked whether or not they wish to continue playing until the end of the level or bag right away, and it was agreed to bag and come back at 3 p.m. local time to play down to a champion. There will be 21:43 minutes left in level 18.
A recap of today's action is to follow.
Jogador
Fichas
Oscilação

Besim Hot

15,795,000

1,845,000

Dzmitry Urbanovich

7,425,000

Phil Hellmuth

5,495,000

-215,000

Daniel Negreanu

5,315,000

-60,000

Julien Martini

4,475,000

3,215,000

Alex Livingston

4,005,000

-295,000

Benny Glaser

2,750,000

-100,000

Nível 18 : 40,000/80,000, 120,000 ante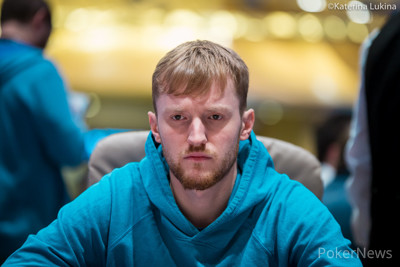 Pot-Limit Omaha
All of a sudden, there were two all-in and call in the first hand of Pot-Limit Omaha and that could essentially burst the money bubble without going hand-for-hand.
Johannes Becker raised the pot and Dzmitry Urbanovich three-bet the pot out of the big blind. Becker piled it in for 1,575,000 with the words "let's gamble" and Urbanovich snap-called.
Johannes Becker:

Dzmitry Urbanovich:
Becker pushed his ace-nine of hearts towards the board and Benny Glaser immediately said "don't do that."
The
flop gave Becker trips deuces while the
turn saw Urbanovich with a flush draw. The
river instead improved Urbanovich to trips jacks and Becker was left empty-handed.
"At least I didn't bubble this one," he said while at the same time there was also a showdown at the other table.
Daniel Negreanu had raised to 160,000 and Roland Israelashvili called from the big blind, they got it in after the
flop.
Roland Israelashvili:

Daniel Negreanu:
The
turn and
river failed to improve Israelashvili to let the bubble burst.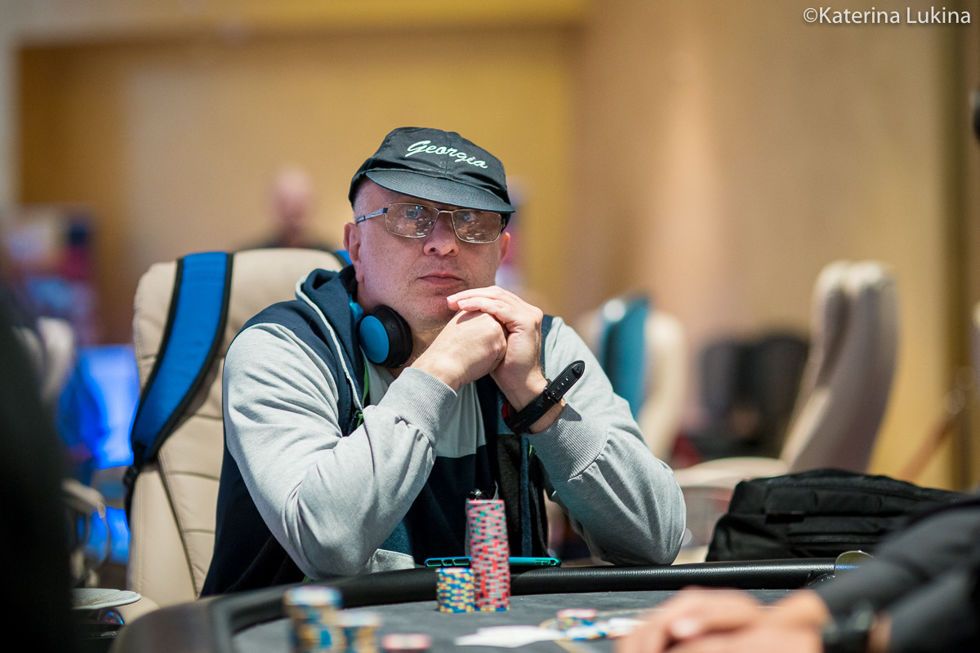 Jogador
Fichas
Oscilação

Dzmitry Urbanovich

7,425,000

1,625,000

Daniel Negreanu

5,375,000

75,000

Johannes Becker

Eliminado

Roland Israelashvili

Eliminado

Nível 18 : 40,000/80,000, 120,000 ante
Razz
Johannes Becker:
/

Alex Livingston:
/
fold
Johannes Becker bet fourth and Alex Livingston called. They checked fifth and a bet by Becker on sixth won the pot.
Dzmitry Urbanovich:
/
fold
Alex Livingston:
/
Dzmitry Urbanovich checked fourth and called a bet by Livingston, who said "variance, maybe I have a big lead." Urbanovich just shook his head with a big grin. On fifth, Livingston bet and Urbanovich folded.
Jogador
Fichas
Oscilação

Dzmitry Urbanovich

5,800,000

75,000

Alex Livingston

4,300,000

-1,100,000

Johannes Becker

1,575,000

750,000
Nível 18 : 40,000/80,000, 120,000 ante
Razz
Phil Hellmuth:
/
/

Benny Glaser:
/
/
Phil Hellmuth completed with a deuce and Benny Glaser called with a three. Hellmuth continued on fourth and Glaser called. Glaser took the betting lead on fifth and sixth with Hellmuth calling both times.
On seventh, Glaser opted to check and Hellmuth tossed in a bet. Glaser wasted little time before mucking his cards and Hellmuth scooped another pot. On multiple occasions today, Hellmuth has proclaimed to be the "World Razz Champion" and as of right now he is backing it up.
Jogador
Fichas
Oscilação

Phil Hellmuth

5,710,000

1,760,000

Benny Glaser

2,850,000

-1,325,000

Nível 18 : 40,000/80,000, 120,000 ante
Seven Card Stud
Roland Israelashvili:
/
/

Daniel Negreanu:
/
/
Daniel Negreanu bet fourth and fifth against Roland Israelashvili, who paired his seven and bet sixth, Negreanu called. Israelashvili also bet seventh and Negreanu immediately uttered "I knew it" followed by some swear words. He sunk back into his chair and eventually made the call.
Israelashvili tabled
for a missed straight draw and a pair, which Negreanu had beat with
for a pair of kings.
Nível: 18
Limit Flop / Draw 75,000-150,000
Stud Games 50,000-150,000 Ante 30,000
No-Limit & Pot-Limit 40,000-80,000 Ante 120,000
Nível 17 : 30,000/60,000, 90,000 ante
No-Limit Hold'em
Dzmitry Urbanovich opened to 150,000 from under the gun and Johannes Becker three-bet to 390,000 on the button. The blinds folded and Urbanovich called to see a flop of
. Urbanovich checked to Becker who continued for 220,000 and Urbanovich called.
The turn brought the
and both players checked to the
on the river. Urbanovich led out with a bet of 350,000 and Becker wanted to see. Urbanovich showed
for a flush and Becker was forced to muck his cards.
Nível 17 : 30,000/60,000, 90,000 ante
2-7 Lowball Triple Draw
In a four-bet pot, Phil Hellmuth was up against Alex Livingston and Johannes Becker. Hellmuth drew one card from the small blind, Livingston took two from the cutoff, and Becker drew one on the button. All three players checked and Hellmuth stood pat and tossed in a bet on second street.
Livingston and Becker both drew a card but only Livingston called. On third street, Hellmuth stood pat again and Livingston flashed a
that he was discarding. Hellmuth checked this time and Livingston checked it back. Hellmuth showed a perfect eight and Livingston conceded the pot.
Jogador
Fichas
Oscilação

Alex Livingston

5,400,000

-2,400,000

Phil Hellmuth

3,950,000

840,000

Johannes Becker

1,400,000

-210,000