888poker Qualifier Morrone Leads WSOP Main Event; 354 Advance to Day 5

Nível 20 : 10,000/20,000, 20,000 ante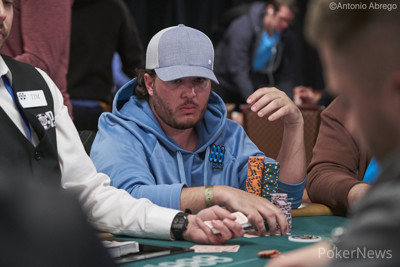 The atmosphere late on Day 4 of the World Series of Poker Main Event couldn't be any more different than just 24 hours earlier.
Gone was the excitement and camaraderie among the 1,286 who secured themselves a $15,000 payday. Instead, the tournament was underlined by an excited tension that came with players realizing that their Main Event journeys will stretch into a fifth day. Not all players will say it, but every remaining hopeful will be thinking that they could win the WSOP Main Event.
Each and every one of the 354 players through to Day 5 know that they have a long way ahead of them to win the Main Event and will be looking up the leaderboard when play resumes on July 10th at noon.
That leaderboard includes some big names with big stacks, such as Day 3 chip leader Preben Stokkan (2,900,000), former American footballer and three-time Superbowl winner Richard Seymour (2,750,000), former WSOP bracelet winners Antonio Esfandiari (2,583,000) and Craig McCorkell (2,580,000), Romain Lewis (2,368,000), Dario Sammartino (2,302,000), Todd Brunson (1,151,000), Mike Matusow (726,000) and 2013 WSOP Main Event runner-up Jay Farber (436,000).
O Canada! Morrone Leads the Way
As well as a long list of notables still in with a shot of taking home the $10,000,00 first prize, Dean Morrone looks like the current chip leader after winning his way into the Main Event through 888poker. The Canadian with only just over $10,000 in lifetime earnings has more than tripled that already, with every player remaining in the Main Event guaranteed $34,845.
Morrone started with just 365,000 chips but bagged 4,980,000 at the end of the night, which will be good enough for 208 big blinds when play resumes.
After finding out he had the chip lead, Morrone had the following to say: "It feels like an absolute simulation, I can't believe this is real life. I've watched this tournament on TV over the years, always just manifested me playing it, it's all coming into effect.
"I've got the most unreal support group of family at home. They have been sending me all the energy in the world. To be able to play with the big boys, it's really exciting.
"I qualified through 888poker in for $100 online, so even a min-cash is really huge to me. Anything past that is going to be extra, so I can't wait for tomorrow!"
There were several key hands for Morrone right off the bat, as he flopped a few sets that all held.
"Later on the day, an older gentleman gifted me about 120 big blinds, drawing dead on the flop. That was an absolutely huge pot for me; it catapulted me over three million and I haven't looked back since."
And his plan now he's bagged the chip lead? "Try to go to bed [and] store as much energy as possible, it's going to be a long day."
12th Time's a Charm for Manole
Fellow 888poker qualifier Mihai Manole also bagged a healthy stack with 3,781,000. Manole won his seat online back in February.
"I went from the $100 step to the $1,000 Sunday step. The second time I played it this year I made it. It felt good to have it locked up."
One of the reasons he was happy to get it out of the way early stemmed from having dug deep in the past without success.
"Last year I didn't qualify, but two years ago I invested like $12,000 in satellites and I won the seat in the final satellite for a $12,500 package," he explained. "So, it was nice to have it right away this year."
Yesterday he told PokerNews that he had played the Main Event 11 times and cashed only once.
"I finished in 122nd place for $52,718 in 2012," he explained. "I never had chips in 11 times. This is the first time I've had chips so it's becoming interesting."
Now he has chips at the end of Day 4, it's perhaps even more interesting.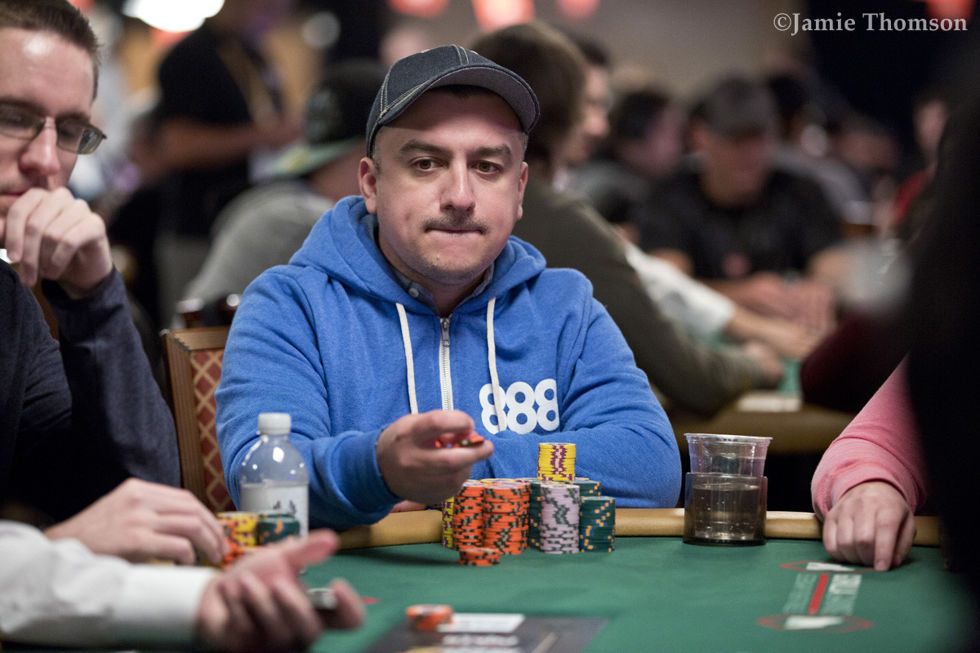 Fourteen Years On, A Hachem Deep in the Main
Although no former Main Event champions made it through to Day 5 - more on that later - there will be a Main Event-winning surname in the chip counts after Daniel Hachem, son of 2005 champion Joe Hachem, bagged for Day 5.
After his father ran ace-king into aces yesterday, Hachem not only secured his third WSOP cash - and second of the summer - but saw out the day with a stack of 2,450,000.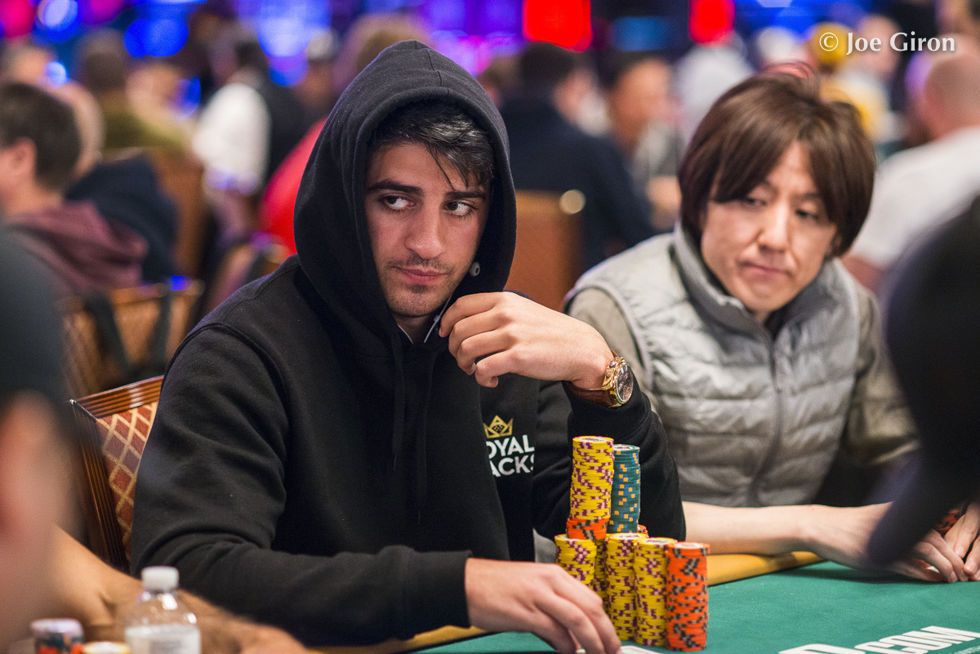 Eliminations on Day 4
Once play resumed at midday, the eliminations came thick and fast as short stacks got their chips in with the hope of scoring an early double to continue on their Main Event journeys.
Notable players bagging themselves a $15,000 min-cash included eight-time bracelet winner Jeff Lisandro (1,271st), three-time bracelet winner Michael Gathy (1,248th), 2014 WSOP APAC Main Event champion Scott Davies (1,191st), John 'The Razor' Phan (1,139th), Ben Zamani (1,135th) and 2015 Main Event fourth-place finisher Max Steinberg (1,116th).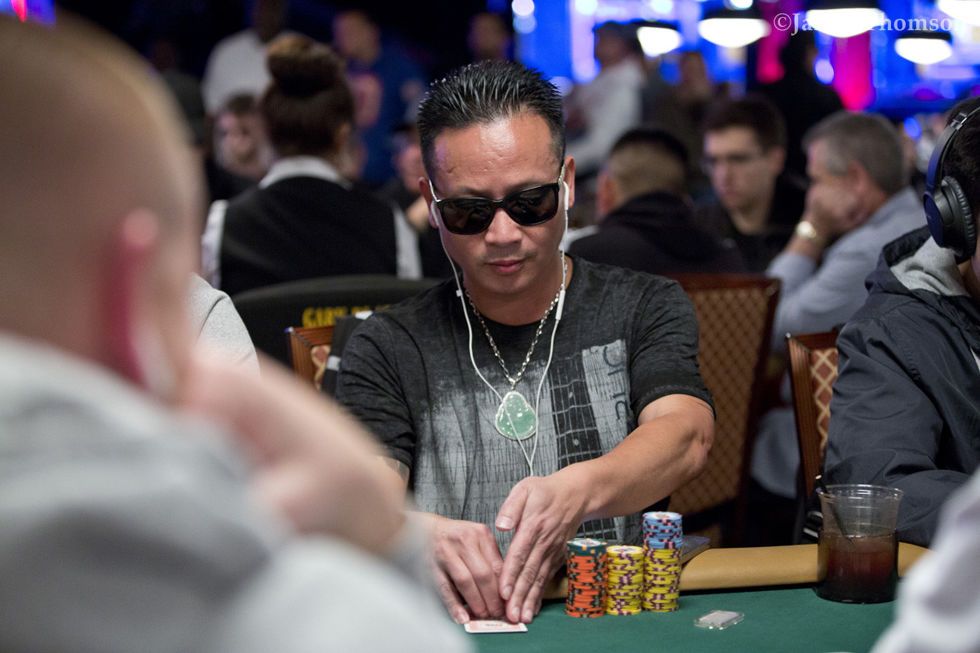 Other players to cash on Day 4 included 2015 Main Event third-place finisher Neil Blumenfield (953rd - $17,135), Big 50 champion Femi Fashakin (917th - $17,135), 2019 bracelet winner David "ODB" Baker (873rd - $17,135) and 2016 Main Event third-place finisher Cliff Josephy (759th - $20,200) all added Main Event cashes to their poker resume.
Another 2019 bracelet winner Anatolii Zyrin cashed in his first WSOP Main Event less than a fortnight after winning his first bracelet in the $1,500 Omaha Eight-or-Better event. Zyrin finished 719th for $20,200.
Barny Boatman (466th - $30,780), Bertrand Grospellier (425th - $30,780) and Jean-Robert Bellande (415th - $30,780) were all late eliminations, Bellande falling with pocket aces against the pocket queens of Dario Marinelli after calling the latter's hand (a set of queens on the flop) before making the call on the river anyway.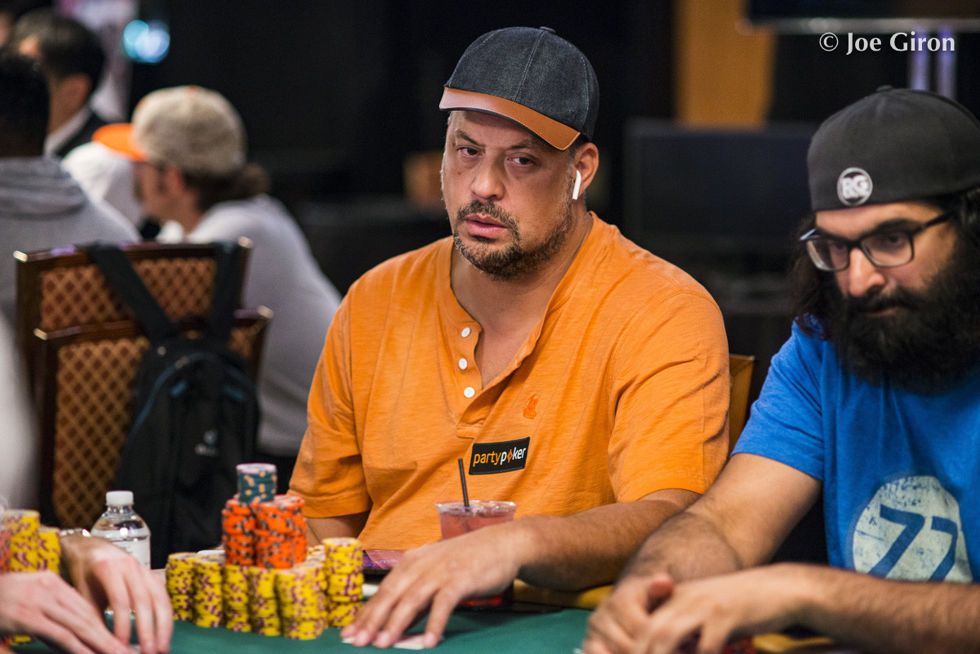 888poker Qualifiers Cash in the Main Event
888poker qualifiers Kyriakos Papadopouluos, David Hu, William White, Florin Pandilica and Timothy Cavallin secured a min-cash for their efforts in this year's Main Event. Other qualifiers to secure cashes on Day 4 were Thomas Muehloecker (771st - $18,535), Jason James (755th - $20,200), Diego Ventura (740th - $20,200), Mikhail Sokolovskiy (600th - $24,560) and Andres Korn (577th - $24,560).
Three Former Champions Depart
At the start of the day, three former champions were left, but sadly all three would bust before the day was out.
Chris Moneymaker got his last 20 big blinds in with an open-ended straight draw against the set of Ron West that held to send the 2003 champion to the rail in 687th place for $20,200.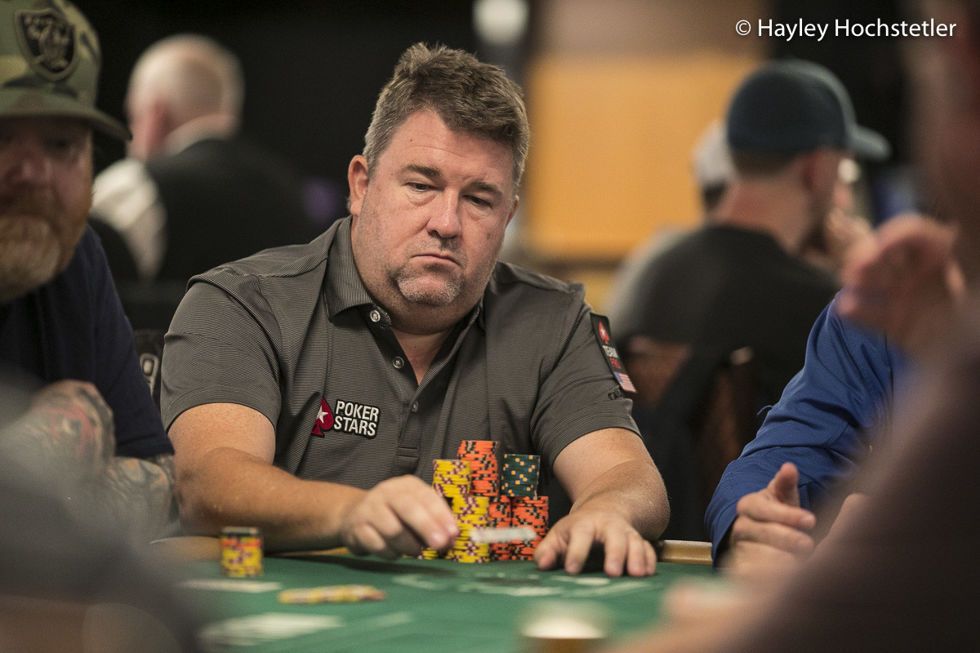 Then came two-time Main Event champion Johnny Chan. He held a pair of eights on a six-three-deuce board and got it in against Eric Froehlich. Froehlich held a flush draw and a fifth heart came on the turn to send the winner of ten WSOP bracelets to the rail.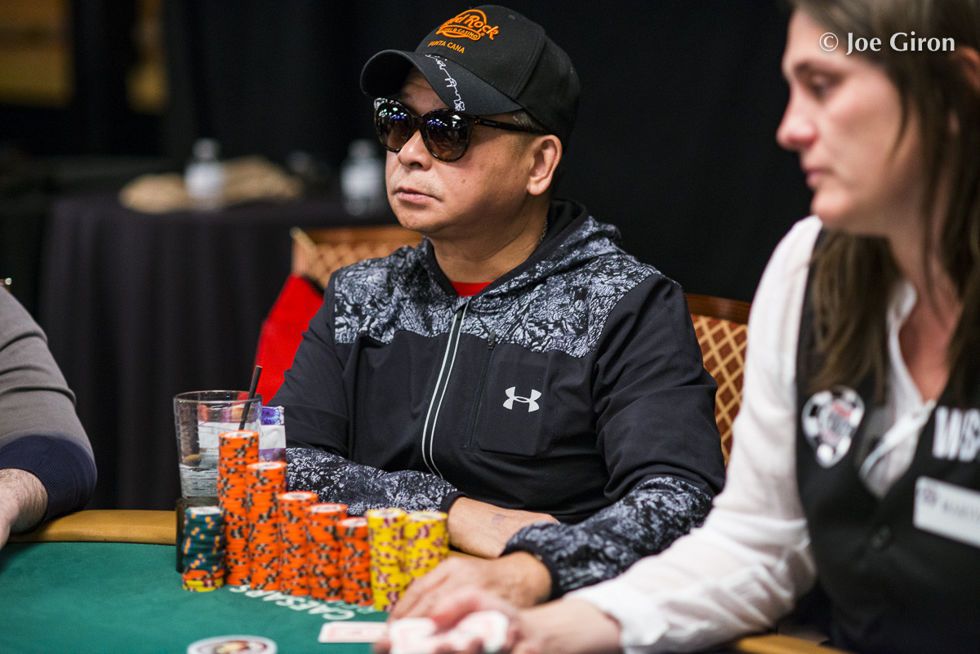 That left Qui Nguyen as the last reigning champion left in the field. He seemed to be cruising until his kings were cracked by the set of Sean Mills. He doubled up soon thereafter but eventually was sent to the rail by start-of-day chip leader Preben Stokkan.
Nguyen held pocket fives but Stokkan's sixes held to send the 2016 champion to the rail, ensuring that there will be a first-time winner of the Main Event this year.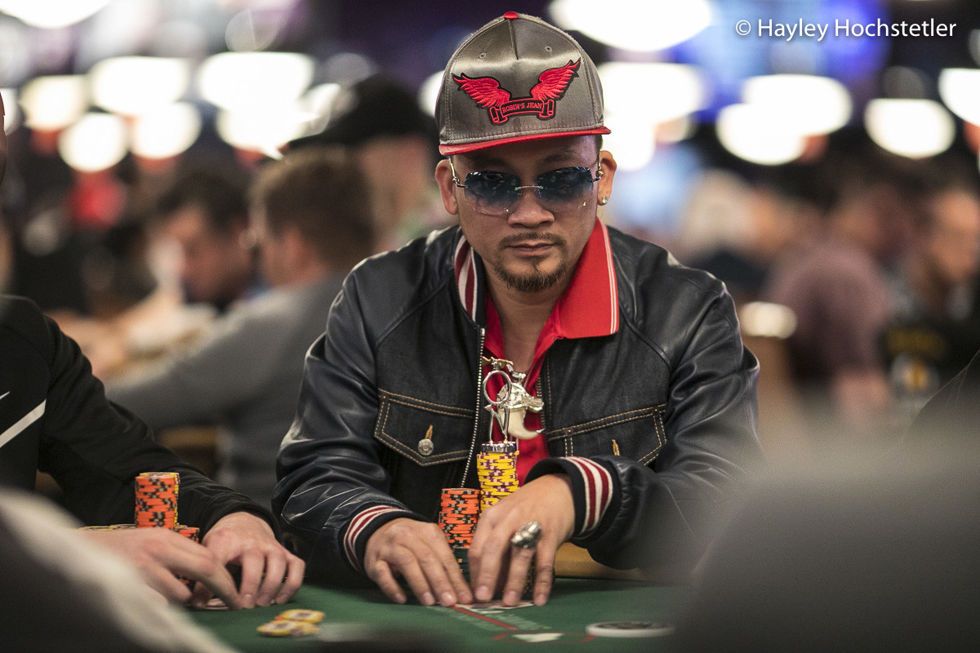 Attention Turns to the Top
Throughout the day, the chip leader was not a clearcut one, with players scrabbling for position in the post-bubble Main Event. A dozen or so names rose and fell in a rollercoaster of a day where no player seized the opportunity to grab control of the Main Event but several players have shown that they have what it takes to go on a run and build the momentum required to reach the top, and not just the big names that remain in the field.
Christopher Wynkoop, Sean Mills and 888poker qualifier Mihai Manole - who made a full house to eliminate a player who had rivered a flush - have all shown the ability to win big pots when the opportunity arises.
Play resumes on July 10th at noon with the plan for the day to play five more levels. PokerNews will bring you continued live coverage courtesy of our reporting team on the tournament floor.