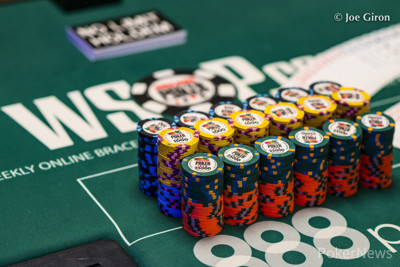 After a Day 1a attracted 463 runners yesterday, today sees the second flight of the Closer get underway, with the claxon sounding at 11 a.m. Unlimited re-entries means unlimited opportunities to join Main Event Champion Joe Cada in the record books as the latest winner of The Closer. After toppling 3,119 entrants in 2018, Cada took home the fourth bracelet of his career, netting an impressive $612,886 for his efforts.
The tournament is an exact replica of its Day 1a counterpart, with 25,000 starting chips and 30-minute levels on the clock, play will wrap up after 20 levels have been completed. Breaks will follow the same format too, with a 20-minute recess after every four levels except for the 75-minute dinner break, which takes place at the end of Level 12 (around 5:40 p.m.). The end of the dinner break will also signal the close of late registration (around 6:55 p.m.).
Those who manage to find a bag at the end of today will join the 30 who survived yesterday. Day 2 returns on Monday 15th July at noon, which is the final day of the event and play will continue until the winner is crowned.
PokerNews has activated the MyStack App for this event, allowing you to directly adjust your chip counts in our live reporting blog using your iPhone or Android phone.
You can download the app for iPhone or Android now to get started. Then, create a new PokerNews account or update your current one to start updating your status immediately. Your followers can see all the live action that you're involved in.
Click here to download the My Stack app for iPhone, or click here to download the My Stack app for Android.
With a $1,000,000 guaranteed prize pool and payouts starting on Day 1, it is guaranteed to be an exciting day at the tables and as always, the Pokernews team will be on hand to bring you all the news from the moment the cards are pitched until the last chip has been bagged.