Event #84: The Closer - $1,500 No-Limit Hold'em
Dia 1c Concluído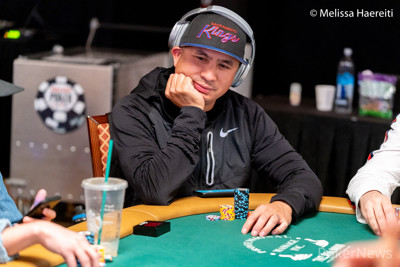 Day 1c, the last of three starting flights in Event 84: $1,500 The Closer No-Limit Hold'em, has come to an end and 121 of the original field 1,613 players have moved on to Day 2. Thanks to winning a massive pot on the last hand of the day Tam Nguyen bagged 1,284,000 and looks to be the chipleader at the end of Day 1c. Others who bagged impressive chipstacks included Steve Yea (924,000), Wai Kiat Lee (826,000), Kevin Killeen (760,000) and Fabrizio Gonzalez (754,000).
The day started off with 356 players registered by the time the cards went in the air, but with the combination of the unlimited re-entry format and the fact that this event offered players the opportunity to grab one of the final gold bracelets of the 2019 WSOP, that number grew to 1,613 by the time registration closed. That final number created a Day 1c prize pool of $2,177,550. After the bubble burst early in level 18, just 242 players had made the money with a min-cash worth $2,254.
Numerous players, including notables such as Daniel Negreanu, Greg Raymer, Pierre Neuville and James Calderaro, took full advantage of the unlimited re-entries option and fired several bullets, while others such as Barbara Enright, Mike Shariati, actor and comedian Brad Garrett, gold medal-winning boxer Audley Harrison and three-time Superbowl Champion Richard Seymour gave it one shot, but all fell short of cashing. However, numerous notables, including Loni Harwood, Athanasios Polychronopoulos, Kelly Minkin, Martin Zamani and Stan Jablonski, did find their way to the payout desk, while Erik Cajelais (599,000), Justin Young (466,000), Pat Lyons (411,000), Bertrand "Elky" Grospellier (388,000), JC Tran (281,000) and a short-stacked Phil Hellmuth (142,000) are just a few of the familiar names that bagged to return on Day 2.
The 121 survivors from Day 1c will join the 75 players that moved on from the first two starting flights, making a total of 196 players that will continue their quest for the gold WSOP bracelet on Monday, July 15th at noon local time. They are scheduled to play down to a winner, and although it's not clear at this time exactly what the Day 2 min-cash will be, the one thing that is certain is that they are chasing the WSOP gold bracelet and six-figure score.
The PokerNews team will be on the floor to cover all the action from when the first is dealt until the last card hits the felt and the newest WSOP champion is crowned.
Tam Nguyen

1,284,000

Steve Yea

924,000
924,000

Anton Wigg

850,000
850,000

Wai Kiat Lee

826,000
826,000

Kevin Killeen

760,000
604,000

Fabrizio Gonzalez

754,000
563,000

Lawrence Kiang

748,000
748,000

Jason Reels

740,000
740,000

Ian Simpson

888poker Ambassador

698,000
698,000

Sohale Khalili

683,000
392,000

Martin Carnero

626,000
626,000

Philippe Rousseaux

610,000
610,000

Erik Cajelais

599,000
574,800

Fahredin Mustafov

580,000
580,000

Natalie Teh

563,000
563,000

Frank Koopmann

561,000

Aleksandr Gofman

543,000
543,000

Sergio Aguilar

535,000
535,000

Kenny Smaron

512,000
512,000

Kalyan Cheekuri

493,000
493,000

Jon Lactaoen

483,000
483,000

Laurynas Levinskas

469,000
469,000

Mohammad Mufti

467,000
467,000

Justin Young

466,000
441,000

Pete Males

466,000
466,000
Play has officially ended on Day 1c. End-of-day chip counts and a full recap will follow shortly.
Daniel Rezaei and Tam Nguyen were just involved in a huge hand that resulted in the latter nabbing the top spot in the counts. The chips were being counted out as PokerNews arrived on the scene but the players at the table ran through what had unfolded.
It began with a 28,000 open and two flats, including one from Rezaei in the cutoff, before Nguyen three-bet to 100,000. Only Razaei called and they saw a flop of
. It went check-check, taking them to the
turn. At this point, Rezaei took the betting lead, making it 105,000 to go and Nguyen put in the chips.
The river card was the
and Razaei set Nguyen all in. It was a call from Nguyen who turned over
and Rezaei couldn't beat it, with
in the hole. That monster pot puts Nguyen in the top spot, ready to return tomorrow.
| | | | | | |
| --- | --- | --- | --- | --- | --- |
| Tam Nguyen | | | | 1,284,000 | 916,000 |
The clock has been stopped and the dealers have been instructed to deal three more hands. The remaining players will then bag and tag for the day.
Benjamin Moon moved all in. A player made the call and Moon was flipping for his tournament life.
Benjamin Moon:

Opponent:
The
board was just the runout Moon needed to stay alive late on Day 1c.
| | | | | | |
| --- | --- | --- | --- | --- | --- |
| Benjamin Moon | | | | 272,000 | 125,000 |
Nível:

20
Blinds:

6,000/12,000
Ante:

12,000
A player raised to 20,000 from middle position. With action on Manig Loeser he three-bet shoved from his small blind, which was met with a four-bet shove from the big-blind player and a call from the original raiser.
Manig Loeser:

Original Raiser:

Big-Blind Player:
The big-blind player was unable to hit a ten on the
runout and was eliminated. Loeser and the original raiser chopped both the main and small side pot that had been created as a result of the big-blind player having a slightly bigger chipstack than the original raiser.
| | | | | | |
| --- | --- | --- | --- | --- | --- |
| Manig Loeser | | | | 465,000 | 55,000 |
| | | | | | |
| --- | --- | --- | --- | --- | --- |
| JC Tran | | | | 630,000 | 450,000 |
| Jason Wheeler | | | | 252,000 | 98,000 |
| Bertrand Grospellier | | | | 210,000 | -40,000 |
| Ray Qartomy | | | | 200,000 | 55,000 |
| Robert Vernarec | | | | 162,000 | -18,000 |
| Benjamin Moon | | | | 147,000 | -83,000 |
| Martin Zamani | | | | 99,000 | -111,000 |