James Anderson Wins the 2019 WSOP Little One for One Drop ($690,686)

Nível 44 : 1,500,000-3,000,000, 3,000,000 ante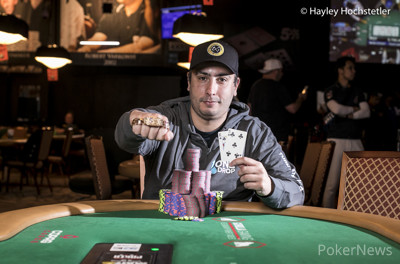 Pittsburgh, Pennsylvania's James Anderson, 33, has become the winner of the 2019 World Series of Poker Event #75: $1,000+111 Little One for One Drop No-Limit Hold'em by outlasting a record-setting field of 6,246 to claim his first WSOP gold bracelet and a first-place prize of $690,686. Anderson defeated Brazil's Fernando Karam heads-up during an unscheduled extra day, denying the successful Brazilians their third WSOP bracelet of the summer.
Anderson is no stranger to success himself, surpassing $2 million in lifetime winnings on The Hendon Mob with the biggest score of his career. His poker resumé already boasts three earlier six-figure scores, but a sizable four-year cashless drought sticks out.
"I just started playing again a couple of months ago so this one definitely feels good," he said. "I wanted to get away from the game for a little bit. I was grinding really hard and wanted to take a little break from it. I feel good now. My mind is a lot fresher now, I have a different perspective, and hopefully, it continues. It's a good start."
Ever since its inception in 2013, The Little One for One Drop has been one of the most popular events on the WSOP calendar, attracting a wide range of poker enthusiasts to build bumper fields of over 4,000 runners year on year. This year, the Rio All-Suite Hotel and Casino was packed to the brim with 6,246 entrants, dwarfing the previous record of 4,756 players that showed up during the event's inaugural year in 2013 won by Brian Yoon.
Regardless of skill, overcoming such a monstrous field full with mine traps along the way is a challenge alone, and a dose of good fortune along the way is essential to reach the pinnacle of poker glory.
"It was a long grind and I just ran super hot at the final table, nothing much I can say about that," a modest Anderson admitted to PokerNews shortly after his victory. "I'm not really realizing right now but it's going to hit me later for sure."
Final Table Results
| Place | Player | Country | Prize |
| --- | --- | --- | --- |
| 1 | James Anderson | United States | $690,686 |
| 2 | Fernando Karam | Brazil | $426,543 |
| 3 | Marco Guibert | Argentina | $316,233 |
| 4 | Liran Betito | Israel | $236,151 |
| 5 | Shalom Elharar | United States | $177,639 |
| 6 | Nils Tolpingrud | United States | $134,608 |
| 7 | Mark Strodl | United States | $102,757 |
| 8 | Ying Fu | China | $79,029 |
| 9 | Robert Mather | United States | $61,238 |
Parlaying his initial investment of $1,000 — plus the additional $111 going straight to the One Drop Foundation — into a massive score $690,686 must be cause for celebration. However, there's no Sin City night of debauchery in store for the Pennsylvanian, who admitted that despite his eventual victory, the summer has been making him a bit weary.
"I have a flight tonight actually, I'm from Pittsburgh. I'm really ready to go home. I've been in Vegas for too long already so I'm going to celebrate back home," he said, before explaining how taking time away from the felt keeps him fresh.
"It's just good to come in with a fresh mind. You really lose perspective when you're just playing tournaments all the time, every day. You can lose confidence very easily. I can go and play the next tournament and lose and I'll think I'm the worst player in the world even after I win this."
"You just have to really keep that in mind, you're going to gain and lose confidence every time you play."
Weariness or not, Anderson came prepared for the biggest final table of his career. He came, saw, and conquered on an extra, unscheduled fifth day that saw five players returning at noon local time. At the start of the day, it was a pair of animated Israeli's hogging the spotlight with their antics. Shalom Elharar in particular, an Israeli native who lives in Miami, Florida, stood out as the most invested of the bunch, sweating his fellow Israeli Liran Betito's all-ins vicariously as if they were his own, and seemingly giving up a piece of his soul every time he had to surrender a hand.
However, it wasn't going to be the year of Israel, as both Elharar and Benito ended up becoming the first two players to hit the rail. Elharar lost a race with pocket tens against Marco Guibert's ace-king, while Benito never recovered from a big all-in where Anderson spiked a wheel on the turn that left Benito on fumes.
Three-handed action between Anderson, Karam, and Guibert lasted for several hours, with each of the three trading the chip lead back and forth. Ultimately, it was Guibert who became the first to bow out from the trio. Getting it in with pocket jacks preflop, Guibert's outlook against Anderson's ace-six was great on the onset, but once again, the American ended up with a straight to send the Argentinian to the rail in third.
Heads-up, one fortuitous hand turned the tables on Karam, who had been leading throughout most of the final table. Holding ace-six of spades, Anderson four-bet shoved all-in preflop and Karam beat him to the pot with the ace-queen. A nine-high rainbow flop with one spade brought grim prospects for the American, but two more spades fell on turn and river to double up.
Much to the dismay of the Brazilian rail, the river came the queen of spades, pairing Karam's queen but handing Anderson the backdoor flush to scoop. For several seconds, however, their raucous celebrations echoed loudly throughout the Amazon room, all under the impressing that their country brought home their third piece of hardware for the summer. Instead, reality sunk in like a brick when the dealer casually pointed out Anderson had a flush, and the two tango'd on.
Sporting a 2:1 lead after the runner-runner, Anderson never looked back and meticulously worked his opponent down to scraps before finishing him off with king-five against queen-four to win it all.
In the aftermath, Anderson had nothing but kind words to say about his final challenger.
"I wasn't really confident, he was playing really good actually at the start and I got really lucky on him. But that's all it takes, one hand to get the momentum."
Little One for One Drop History
| Year | Winner | Country | First prize | Entries |
| --- | --- | --- | --- | --- |
| 2013 | Brian Yoon | United States | $663,727 | 4,756 entries |
| 2014 | Igor Dubinsky | Ukraine | $637,539 | 4,496 entries |
| 2015 | Paul Hoefer | Germany | $645,969 | 4,555 entries |
| 2016 | Michael Tureniec | Sweden | $525,520 | 4,360 entries |
| 2017 | Adrian Moreno | United States | $528,316 | 4,391 entries |
| 2018 | Guoliang Wei | China | $559,332 | 4,732 entries |
| 2019 | James Anderson | United States | $690,686 | 6,246 entries |
The near $700k first-place prize was the biggest one to be awarded in the event's seven-year history. The One Drop Foundation is one of many charity initiatives that have been established around the globe have been adopted by the gaming industry.
One Drop has been proudly supported by the World Series of Poker through this decade, including three Big One for One Drop events with a million-dollar buy-in during the WSOP in Las Vegas. Over the years, the WSOP has raised $23,860,280 for the charitable foundation, with $693,306 coming from this event alone. It's another step towards providing access to safe water, sanitation, and hygiene in, currently, thirteen countries across the globe.
While the Little One for One Drop has concluded, there's plenty more coming from the 2019 World Series of Poker. Click here for live updates from the 2019 WSOP Main Event, or click here for an overview of all events that are currently going on in the Rio All-Suite Hotel and Casino.