Event #25: $1,500 Seven Card Stud Hi-Lo 8 or Better
Dias: 3
Event #25: $1,500 Seven Card Stud Hi-Lo 8 or Better
Dia 3 Concluído

Nível 30 : 80,000/160,000, 20,000 ante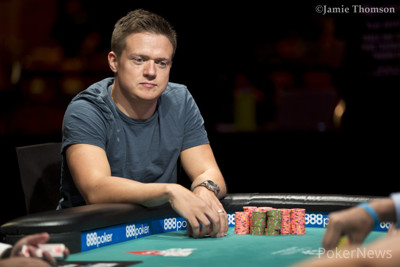 Three days and 30 hours of split-pot poker couldn't reveal the name of the champion of Event #25: $1,500 Seven Card Stud Hi-Lo 8 or Better. There are still three contenders eyeing the $173,528 winner's cheque and the WSOP bracelet that awaits the victor of the 25th bracelet event of the 2018 World Series of Poker.
Benjamin Dobson, Tim Finne and Jesse Martin will come back for an unscheduled Day 4 to continue their quest for the title. Dobson is sporting the biggest stack, holding nearly 60-percent of all chips in play. It's a shallow affair: just 24 big bets are left in play when the final three return on Thursday, June 14 at 2 p.m. to close things out.
| Seat | Player | Country | Chip Count |
| --- | --- | --- | --- |
| 2 | Benjamin Dobson | United Kingdom | 2,615,000 |
| 3 | Jesse Martin | United States | 675,000 |
| 5 | Tim Finne | United States | 1,185,000 |
Final table results and remaining payouts:
| Position | Player | Country | Prize |
| --- | --- | --- | --- |
| 1 | | | $173,528 |
| 2 | | | $107,243 |
| 3 | | | $74,324 |
| 4 | Richard Monroe | United States | $52,359 |
| 5 | Tom McCormick | United States | $37,504 |
| 6 | James Nelson | United States | $27,321 |
| 7 | Georgios Sotiropoulos | Greece | $20,248 |
| 8 | Peter Brownstein | United States | $15,271 |
One or two scoops can significantly shift the momentum and chip advantage either way. Despite being significantly shorter than Dobson, Finne and Martin improved their stacks on the very last hand of today's play, chopping Dobson's chips in a three-way four-bet pot that saw Martin at risk on fourth street.
All rivals had a different path to make it to their current situations. Dobson started the day as a chipleader and kept the commanding position for the vast majority of the day, including at the final table. Towards the end, he surpassed the 3 million mark but eventually settled for 2,615,000 after giving up some bets in the aforementioned hand.
Finne was the opposite. He was mostly grinding a short stack and while he climbed up every now and then, he showed patience when the tournament got down to four players and then three. Finne, however, always found a way to stay afloat. And while he's already improved on his last year's fourth-place finish, he's eager to complete his come back and win the gold. Finne ended with 1,185,000 to put him in second place for the night.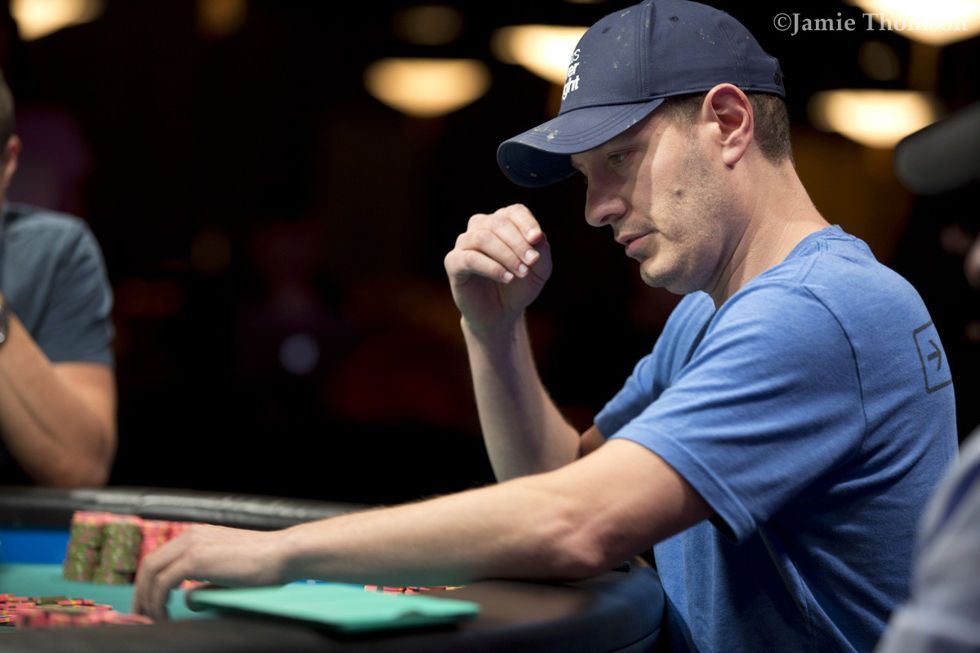 Martin knows what it's like to sport gold as the American already has two bracelets in his showcase. He's been pushing hard to add his third and no player on the final table experienced bigger swings than him. Martin's stack kept oscillating within a range of anything between 300,000 and 1.8 million. The two-time bracelet winner seemed to have great runouts most of the time as his board often displayed four different low cards. Yet, his chips came and went and he wasn't able to hold onto a big stack for a significant amount of time and eventually finished the day as the shortest stack with 675,000.
Day 3 saw 20 players hit the rail, including three-time WSOP champs Barry Greenstein (18th for $4,899) and Eli Elezra (12th for $9,165), as well as Hollywood star James Woods who fell in 17th place, picking up the same reward as Greenstein.
Tom McCormick made his 15th final table on the WSOP or WSOP Circuit stage but will have to come back another time if he's to claim his first bracelet. McCormick walked away in fifth place and Richard Monroe followed him as the last man who busted before play was suspended.
The final showdown between Dobson, Finne and Martin will be again monitored by PokerNews live reporters so make sure to come back at 2 p.m. PST to follow the live coverage.

Nível 30 : 80,000/160,000, 20,000 ante
Jesse Martin:
/

Tim Finne:
/

Benjamin Dobson:
/
Tim Finne completed with a five out and a sequence of raises followed. Dobson made it two bets, Jesse Martin paused for over a minute before three-betting and Finne four-bet over the top. Dobson and Martin completed.
Dobson hit an ace on fourth street and led out. Martin moved all in for 110,000 and both Finne and Dobson called. They checked the remaining streets and all three players revealed their holdings.
Dobson had a pair of queens but Finne beat him for the high with three sixes in the hole. Martin rolled over seven-low and both short stacks chopped the pot.
As the ten levels scheduled for the day expired, the play was halted with three players remaining. They will come back tomorrow at 2 p.m. local time for an unscheduled Day 4 to play it out for the bracelet.
Nível 30 : 80,000/160,000, 20,000 ante
Benjamin Dobson and Tim Finne saw fourth for the minimum and Dobson picked up a dream board the rest of the way.
Dobson:
/

Finne:
/
Facing four to a wheel, Finne gave up his hand with a shrug.

Nível 30 : 80,000/160,000, 20,000 ante
In a completed pot, Benjamin Dobson and Jesse Martin went all the way to the showdown with one bet made on every street including the river. Dobson was the aggressor. He spiked aces on sixth and Martin made open tens at the same time. Dobson finished with aces up and a seven-low and scooped Martin.
Ben Dobson:
/

Jesse Martin:
/
On the next hand, Dobson completed and called when Martin raised. Dobson then led out on fourth and fifth and Martin couldn't call the latter barrel.
Nível 30 : 80,000/160,000, 20,000 ante
Benjamin Dobson completed with the
and Tim Finne raised with
from the bring-in. Finne bet fourth despite catching paint and Dobson fired out when Finne got more of it on fifth. Finne, though, took the lead again on sixth and then moved all in on seventh for 140,000.
Dobson:
/
/

Finne:
/
/
Finne's final bet induced a fold. His friends on the rail encouraged him to show a bluff and he flicked in the
.

Nível 30 : 80,000/160,000, 20,000 ante
Tim Finne was the bring-in and called after Ben Dobson completed. Finne bet on fourth and Dobson stuck around to spike a pair on fifth. They put the chips into the middle and Dobson saw that he wasn't in the lead with his kings as Finne had aces in the hole.
Tim Finne:
/
/

Benjamin Dobson:
/
/
Finne made trips on sixth street but Dobson wasn't drawing dead just yet as he had a club draw. He peeled a red card on the river, however, and Finne doubled up.
Nível 30 : 80,000/160,000, 20,000 ante
Jesse Martin check-raised on fourth street showing
against the
of Tim Finne. He bet fifth and sixth as well but checked back seventh.
Martin:
/

Finne:
/
/
Martin's aces up were a winner.
Nível: 30
Bring In 20,000 - Completion 80,000

Nível 29 : 60,000/120,000, 15,000 ante
Jesse Martin:
/
/

Benjamin Dobson:
/
/
Ben Dobson completed and Jesse Martin raised. Dobson called and called again on fourth. Martin barreled on fifth and Dobson paused. Then he raised and Martin called for 100,000 more.
When the cards were turned up, Dobson found the bad news. Martin had aces in the hole and improved to trips on fourth street.
"Nine-ten?" Dobson desperately asked. But the
on sixth left him drawing dead and Martin secured his double.