Event #6: $1,500 "Millionaire Maker" No-Limit Hold'em
Dias: 3
Event #6: $1,500 "Millionaire Maker" No-Limit Hold'em
Dia 3 Iniciado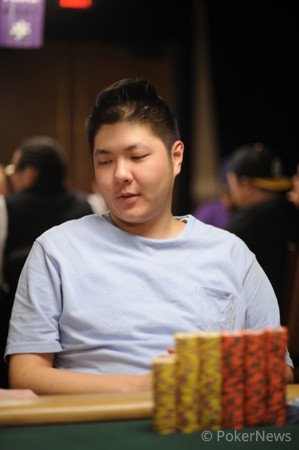 During past iterations of the World Series of Poker, the $1,500 buy-in No-Limit Hold'em tournament had become a symbol of the poker's explosive growth, with these amateur friendly events affording everybody a chance to compete for a gold bracelet. Today, the WSOP celebrates yet another sign that poker's pulse remains strong, as the inaugural $1,500 "Millionaire Maker" No-Limit Hold'em tournament enters its third day of play after attracting an astounding 6,343 runners during the two Day 1 flights.
With a guaranteed $1,000,000 first prize, professionals and recreational players alike applied all of their focus and energy to build their chipstacks, and the atmosphere in the room on Day 2 resembled a big buy-in event in terms of pressure and excitement. Andy Hwang, who you may remember as the recent winner of the WPT's Borgata Winter Open championship, used his experience to accumulate chips at a rapid rate, eventually ending the day with a massive stack of 912,000 and wide gap between himself and the average stack. Among the other notable names to bag and tag at the end of Day 2 were two-time WSOP bracelet winner Scott Clements (294,000), who topped the chip counts after Day 1b, decorated Australian pro Brendon Rubie (487,000), 2010 WSOP Triple-Stack bracelet winner Ryan Welch (346,000), and circuit grinder Mike Carroll (78,000).
The plan today is to play 10 one-hour levels, with tournament staff hoping to pare the field of 133 to a prestigious final table. For the nine players who preserve their stacks until the "Mothership" is reached, a six-figure payday is guaranteed, and below you can review the huge paydays awaiting our "Millionaire Maker" final table members.
| Place | Prize |
| --- | --- |
| 1st | $1,198,780 |
| 2nd | $741,903 |
| 3rd | $534,506 |
| 4th | $400,408 |
| 5th | $302,104 |
| 6th | $229,575 |
| 7th | $175,714 |
| 8th | $135,467 |
| 9th | $105,154 |
We will be bringing you continued coverage of today's Day 3 from the PokerNews' live reporting desk, so stay tuned for updates on all of the action.
Nível: 19
Blinds: 4,000/8,000
Ante: 1,000
Nível 19 : 4,000/8,000, 1,000 ante
After waiting all day for his chance to play for a million dollar prize, Jeremiah Vinsant was unfortunate enough to pick up
on the first deal of the day. It was unfortunate because Travis Johnson woke up with
, and with both players sitting under the 200,000 chip mark, the pocket pairs promptly pushed their stacks into the middle.
A flop of
was a swing and miss for Vinsant, but the
on the turn provided a glimmer of hope, and he halfheartedly called for a deuce to hit the board for a chopped pot.
The
arrived on the river, however, and Vinsant's 142,000 chips were absorbed into Johnson's stack
Nível 19 : 4,000/8,000, 1,000 ante
The pace to begin the day is fast and furious. Here are most of the eliminations thus far.
Nível 19 : 4,000/8,000, 1,000 ante
When we heard the familiar announcement of all-in on Table # 360, it was followed by the less likely sight of two more players shipping their stacks over the top. As the three players revealed their holdings, it as clear another cooler situation had occurred.
Showdown:
Nicholas Decktor-Korn:

Nick Decker:

Ronald Bell:
Pocket pairs all around, and with his cowboys Decktor-Korn was in a beautiful position to score a triple-up, while knocking out his doppleganger to boot.
Drama took a backseat when the flop fell
, as Decktor-Korn secured a virtual lock on the hand with top set, and the
on the turn for quads was just for show.
Decktor-Korn now sits with an above average stack, and is primed to make a push here on Day 3 of the "Millionaire Maker" tournament.
Nível 19 : 4,000/8,000, 1,000 ante
After Budwey Salhab bumped it up to 18,000 from under the gun, Kane Kalas three-bet to 41,000 from the cutoff. Vinh Pham came along from late position, and Salhab elected to retreat by mucking his hand.
The flop fell
and Vinh Pham knuckled the table and checked to Kalas, who obliged with a 42,000 continuation bet. When Pham sprung his trap with a check-raise shove, moving his 121,000 into the middle, Kalas was priced in and made the call.
Showdown:
Pham:

Kalas:
Pham had flopped his set and played the hand perfectly to leave Kalas virtually drawing dead. The
sealed the deal on the turn, and Pham improved his standing to a respectable 349,000, while Kane fell to 233,000.
Nível 19 : 4,000/8,000, 1,000 ante
John Monnette was sent to the rail just a few moments ago.
Nível 19 : 4,000/8,000, 1,000 ante
With the eliminations coming fast and furious early on Day 3, we caught the tail end of Andrew Greenblatt's bustout hand.
He held the
against Gary Friedlander's
, and with the flop reading
, Greenblatt was in bad shape. When the turn brought a
to the board, Greenblatt was given a short lifeline, and he called out for another queen to materialize.
River:
Paint came on fifth street, but Friedlander's trip nines retained their lead, sending Greenblatt to the cashier's cage along with the dozens of other players who have busted already.
Nível 19 : 4,000/8,000, 1,000 ante
Dan Kelly raised to 16,000 from the button, and when Travis Johnson three-bet to 27,000, Kelly came along.
The flop brought the
to the table and Johnson continued for 33,000, a wager which Kelly elected to match. After the
dropped on the turn, both players tapped the table and we were off to fifth street.
River:
Johnson continued his aggressive line with a bet of 52,000, and Kelly went into the tank for a bit, before ultimately sliding a stack of calling chips forward and tabling the
for a rivered pair. Johnson did not look amused by the development, as Kelly's busted draw managed to makes something of itself, and his hand was soon sent unceremoniously to the muck.