Event #6: $1,500 "Millionaire Maker" No-Limit Hold'em
Dias: 2
Event #6: $1,500 "Millionaire Maker" No-Limit Hold'em
Dia 2 Iniciado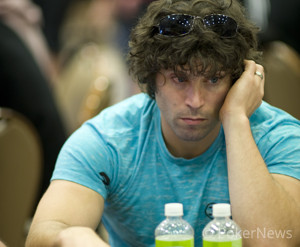 The second day of Event # 6 at the 2013 World Series of Poker, the $1,500 "Millionaire Maker" No-Limit Hold'em event, is set to begin shortly, and we welcome you back to PokerNews' continued coverage of this record-breaking tournament. After playing two separate flights yesterday (Day 1a and 1b), eight levels of grueling play whittled the field from 6,343 runners, an unprecedented number in terms of low buy-in WSOP tourneys, to 1,481 players.
After a hectic first day of play, in which the Rio and WSOP staff worked wonders to accommodate the massive field, the remaining players have moved to the Amazon Room, with the "Mothership" final table stage looming large in the background. Along with the thousands of amateurs who came for the chance at a million dollar payday, several notable pros weaved their way through the landmines to bag and tag a stack for moving day.
The first flight yesterday ended with Ryan Welch near the top of the leaderboard, and the former WSOP bracelet winner will hold 68,450 chips when play resumes today. Among the other professionals to advance from flight 1a were John Monnette, Tristan Wade, Timothy Adams and Jake Cody. Micah Raskin, Kenny Nguyen, Dennis Phillips, Dani Stern and Rupert Elder.
The second flight of Day 1 saw a two-time bracelet winner climb to the top of the chip counts, as Scott Clements used his patented aggressive style to mow down amateurs and fellow pros alike. Clements will begin play today with a stack of 66,225 chips, good enough to be considered one of the unofficial chip leaders. The WSOP legend T.J. Cloutier will also take a seat today, as will Phil Hellmuth, Maria Ho, Darryll Fish, Danny "Miami Boss" Suied, Yevgeniy Timoshenko, McLean Karr, 2010 Main Event runner-up John Racener, and a number of other notable names.
Stay tuned to PokerNews throughout the day for continuous live coverage of Day 2, as the remaining players try to navigate the minefield to make the "Millionaire Maker" final table.
Nível: 9
Blinds: 300/600
Ante: 75
Nível 9 : 300/600, 75 ante
Cards are in the air for Day 2 of WSOP Event #6: $1,500 "Millionaire Maker" No-Limit Hold'em.
Nível 9 : 300/600, 75 ante
Standing in anticipation with his tournament life on the line, J.J. Neville found his
crushed by the
of his opponent.
The flop of
brought no help to Neville, and he was down to two outs with two cards to come.
Turn:
Just like that, Neville's miracle card arrived and he celebrated by telling his tablemates "It's starting!"
The river was the harmless
, and with a spiked set on the turn, Neville crept up to just over 9,000 chips, extending his chance to be made a millionaire.
Nível 9 : 300/600, 75 ante
Danny "Miami Boss" Suied returned to play on Day 2 with just over one big blind. On the first hand of the day, he moved all in from middle position for 625. Michael Gilmore called from the small blind and Henry So called from the big blind.
The flop came down
, and the Gilmore checked. So bet 1,000, and the Gilmore called. Gilmore and So then checked the
turn and
river.
Gilmore tabled the
for a full house, but So's
made a better full house. Suied flashed the
, then mucked his hand before heading to the rail.
Nível 9 : 300/600, 75 ante
Most of today's combined field is in the Amazon room, but 490 players were scheduled to begin in the Pavilion room today. There are several notable names in the room. There's been a shark-sighting in front of Humberto Brenes. Bryn Kenney is making his presence known, as is Cliff Josphy. And Phil Hellmuth is here as he continues his quest for a record-extending 14th WSOP bracelet.
Tournament staff are breaking tables starting in the Pavilion room today and consolidating the field in Amazon. It looks like over half a dozen tables have already broken up, so before long the Pavilion room will no longer be used for this event. In the meantime, stay tuned for developments from the players in this part of the field.
Nível 9 : 300/600, 75 ante
After opening for 1,400 in late position, Michael Goetsch watched his opponent three-bet ship the rest of his 15,000 or so chips. Holding
and enough chips to cover the bet, Goetsch called and found himself ahead of the
tabled by his opponent.
The flop came
and Goetsch's ladies held, and when the
arrived on the turn, he had his opponent drawing dead. Goetsch now sits with just over 40,000 chips.
Nível 9 : 300/600, 75 ante
Action folded over to a player in late position, and he raised all in. The player in the next seat called the shove, and then Mike Dentale moved all in from the big blind. The caller called again, and all three hands were tabled.
Dentale:

Opponent 1:

Opponent 2:
The player who had open-shoved held the pocket threes. Dentale was dominating both hands, but the player with big slick had the most chips. The flop, turn and river ran out
and the player with ace-king made a flush to win the hand. Dentale's kings were cracked to eliminate him, and the player with pocket threes was also eliminated.
Nível 9 : 300/600, 75 ante
A player in early position raised to 1,500, and action folded around to Humberto Brenes, who pushed forward three yellow chips for a reraise to 3,000. The original raiser, who had Brenes covered by quite a bit, immediately raised all-in. Brenes motioned to push his stack forward, but then pulled it back, much to the disappointment of railbirds who wanted to his Brenes use his trademark shark card-protector as he cried "All-in!" He tanked for about a minute, but then surrendered his cards and the pot.