Event #58: $1,111 Little One for One Drop No-Limit Hold'em
Dias: 1a
Nível: 8
Blinds: 200/400
Ante: 50
Nível 7 : 150/300, 25 ante
David Williams was cruising along when we last checked on him, but something must have gone wrong in the meantime because we witnessed him getting a short stack into the middle of the felt.
Williams held
to his opponent's
and was set for a much needed double to 6,500. The
flop improved both players to a pair of aces, but Williams' was the better of the two hands thanks to his king-kicker. The
turn improved Williams to two pair and the
river caused some initial confusion because Williams' opponent thought he had won the pot with a flush. However, Williams had improved to an ace-high flush and scooped the pot.
Nível 7 : 150/300, 25 ante
We caught up with a friendly gentleman by the name of Richie Sklar, and he proudly informed us that his stack had eclipsed the 40,000 plateau.
While these requests are par for the course when it comes to covering a WSOP tournament, Sklar let us know why he ws so excited to have ammunition at his disposal.
"I've played 10 tournaments this summer," Sklar explained. "And I haven't won a single chip!"
While that degree of run bad may have been a bit of an exaggeration, Sklar has certainly won his share of pots here today, having run his stack up to more than 40,000 near the end of Day 1A, or more than three times the current average.
Sklar also let us know that he is golfing buddies with none other than Phil Ivey and Mike Sexton, so it stands to reason that a little of their aptitude on the felt has rubbed off on Sklar during long sessions on the other green.
With two previous cashes at the WSOP to his credit, both of which represented top-10 finishes, Sklar is hoping his drives remain pure and his putting stays true here today.
Longtime readers of PokerNews may also remember Sklar from the 2009 WSOP, when he famously offered to buy President Obama into the Main Event.
Jogador
Fichas
Oscilação

Richie Sklar

43,500

43,500
Nível 7 : 150/300, 25 ante
Here are more chips than you can shake a stick at!
Jogador
Fichas
Oscilação

Jamie Rosen

35,800

Vojtech Ruzicka

23,800

6,500

Matt Salsberg

23,000

19,000

Ramzi Jelassi

20,700

4,900

Heinz Kamutzki

19,900

1,100

Barny Boatman

19,700

10,400

Marvin Rettenmaier

19,400

-9,600

Tristan Wade

14,200

7,000

Niall Farrell

12,500

7,000

Ryan Laplante

12,100

600

Simon Deadman

9,875

3,850

Will Failla

9,300

-400

Jennifer Tilly

9,200

-3,600

Byron Kaverman

8,600

600

Erica Lindgren

8,500

2,500

Mclean Karr

8,400

Josh Brikis

8,400

500

Ognjen Sekularec

8,300

5,575

Scott Montgomery

7,800

4,875

Roberto Romanello

7,400

3,400

Russell Crane

7,000

Gabriel Nassif

6,600

3,375

Team Online

Joe Ebanks

5,500

-100

Sam Holden

5,250

1,050

Tony Dunst

4,200

-1,800
Nível 7 : 150/300, 25 ante
With just two levels of play left in the evening, the surviving short stacks are getting their chips into the middle at a rapid fire clip, and John Tech did the same after the flop fell
.
Tech held the
, and his opponent snap-called while tabling the
for an open-ended straight draw.
Turn:

River:
With that, the dealer mucked Tech's pair of jacks and prepared to push the pot to the player who made the straight. Which would have been fine, of course, except for the fact that four-card straights simply don't count here at the World Series of Poker.
Tech, for his part, did not react when his cards were mucked, and his opponent sat still as a stone, waiting to see if he could possibly win the pot with eight-high. Finally, just as the pile of chips was being pushed in the wrong direction, another player at the table spoke up to correct the error.
"He wins, right?," said the player, pointing toward Tech.
"Straight," answered the dealer confidently, arranging the
alongside the flop to show the winning hand that never was. Eventually, the mistake was sorted out, and Tech's jacks were retrieved from the muck so that the pot could be awarded to its rightful owner.
"That would've been a tough beat there," said another player at the table, while Tech simply smiled and counted his new chips.
Nível 7 : 150/300, 25 ante
The cards are back in the air for the final two levels of play.
Nível: 7
Blinds: 150/300
Ante: 25
Nível 6 : 100/200, 25 ante
The players have departed the Brasilia Room for their final 20-minute break of the day.
Nível 6 : 100/200, 25 ante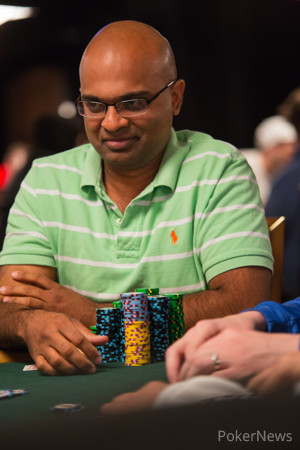 When we last saw Nithin Eapen, the native of Kerala, India was playing the "Millionaire Maker" event, alongside his countryman Jay Nair. The two had been randomly seated next to one another, and after a bit of small talk, Eapen and Nair discovered that they were from the same area of their homeland, spoke the same regional dialect, and knew the same people back home.
Today, Eapen was kind enough to stop us to offer a quick thank you for capturing his improbable meeting in print, and soon thereafter he rewarded us with the following gem of a hand.
The action was caught on the flop, with the board reading
and Eapen having checked the action to recent bracelet winner Jason Duval.
Duval responded to the sign of weakness with a standard feeler bet, putting 800 into the pot, and Eapen flatted to see the turn come
.
After another tap of the table by Eapen, Duval splashed out a bet of 1,725, and that's when the fireworks began a day early. Eapen appeared to be cowed by the aggression, looking back at his stack seemingly in fear, before staring over at Duval across the table.
"I have a piece of that, don't think you can just push me off," he said, still peering down apprehensively at his stack.
"So if you only have a piece, that means I can three-barrel the river and you fold, right?" answered Duval, his demeanor exuding confidence. "If you just have a small piece, why mess around?"
After appearing ready to release his hand a few times, Eapen suddenly announced himself all in, and Duval wasted no time in making the call with his
. Having turned a set, Duval had no doubt that his hand was good against Eapen's "piece" of the board, but he was shocked when he saw the
hit the table for the nut straight.
Before Duval could even process the bad news, or pray for the board to pair up, the dealer dropped the
on the river to give Eapen a superfluous flush. The gracious amateur offered Duval a handshake while the pot was pushed his way, but the Canadian pro was simply too shocked to notice, walking away from the scene of the wreckage to commiserate with his friends on the rail.
Nível 6 : 100/200, 25 ante
Steve Watts instantly bet 600 into the 1,600 pot from the big blind when the
fell on the river of a board reading
board. His opponent, seated on the button, called as quickly.
Watts showed
and won the pot.
Watts is a former professional footballer — that's soccer player to readers from the U.S.A — who turned to poker once his sporting career ended. Watts' poker career has started well and he has won over $410,000 so far, his largest cashes coming in 2012, which topped the scales at $102,759 and $51,063 respectively.