Event #52: $25,000 No-Limit Hold'em (Six Handed)
Dias: 1
Nível 7 : 500-1,000, 100 ante
Players are now back for the last two levels of the night.
Nível: 7
Blinds: 500/1,000
Ante: 100
Nível 6 : 400-800, 100 ante
The remaining players in today's field, are on their last 15-minute break of the evening.
Nível 6 : 400-800, 100 ante
Dear Readers,
This post is to inform you that after a recent breaking of tables, Phil Laak and Jennifer Tilly are now seated at the same table.
But wait, there's more, Laak and Tilly were seated right next to each other and have scooted their chairs in to be closer together while perusing something on Laak's iPad.
Unfortunately for Miss Tilly, her boyfriend Phil Laak has position on her.
We'll be sure to inform you of anymore updates on the story.
Regards,
The PokerNews Team.
Nível 6 : 400-800, 100 ante
Niklas Heinecker opened the pot with a bet of 1,900, before Tim Adams bumped it up to 4,700 from the cut-off. The bet was called, as both players saw the flop come
. Both players opted to check, before Heinecker bet out 4,200, when the
fell on the turn. Adams casually made the call, as the
completed the board. Heinecker checked, as Adams threw in a bet of 14,000, which was enough to take down the pot.
Jogador
Fichas
Oscilação

Niklas Heinecker

145,000

5,000

Tim Adams

105,000

10,000
Nível 6 : 400-800, 100 ante
From under the gun David Baker opened to 2,000. He was called by Alex Uskov on the button before Phil Galfond reraised to 7,200 from the small blind. Then in the big blind, Fabian Quoss woke up with a four bet to 17,000. Everyone folded around to Galfond who called.
The flop came down
and Galfond checked. Quoss put out a bet of 15,000 which Galfond called.
The turn came the
and Galfond checked again to Quoss who moved all in for roughly 80,000 chips. Galfond went into the tank and was there for nearly three minutes before he finally gave his hand up.
Quoss quietly collected his chips after the hand.
Nível 6 : 400-800, 100 ante
The hand started with Sam Trickett opening to 1,600 from under the gun, before Mike Telker raised it up to 4,500. The action folded back around to Trickett, who counted out his stack, before opting to move all, before being snap called.
Trickett:

Telker:
Trickett had run into pocket kings, and would find no help on the
board, as he was eliminated from the tournament.
Nível 6 : 400-800, 100 ante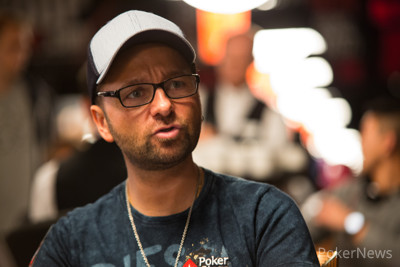 Earlier, we let you know about a few spats that have gone on today in this event. Well, there was just another confrontation.
Because of Daniel Negreanu's comments and name calling towards Luke Vrabel of "catfish" — which have continued some since the last incident — Vrabel decided to go over to Negreanu's table and stand up for himself. He began yelling at Negreanu about what he had said. At one point he yelled out, "You don't know me!" and "Don't say that s*** about me!"
Vrabel was standing behind the dealer while he was yelling, and Negreanu stayed seated in Seat 4 across the table from the dealer. Negreanu responded to Vrabel's yelling by saying, "I can say whatever I want. It's my right. This is a free country!"
Eventually, a security guard came storming over and escorted Vrabel back to his table. While this happened, Negreanu began laughing extremely loud almost to make sure Vrabel could hear him the entire time. Vrabel wasn't getting any happier, but security made sure he went back to his seat. Negreanu kept laughing for the next couple of minutes before things eventually calmed down. "See, I can say whatever I want now because security has him," joked Negreanu.
Shortly thereafter, Erick Lindgren busted from Vrabel's table.
Vrabel and Negreanu are still seated at diagonally adjacent tables, so we'll be sure to keep an eye on this situation if anything else comes up. The security guard is well aware of the issue and has been hovering closely nearby since the recent spat.
Nível 6 : 400-800, 100 ante
Matt Giannetti opened the pot to 1,200, before David "The Dragon" Pham, raised it up to 3,600. The bet was called, as both players saw the flop come down
. Giannetti checked his option, before Pham threw out a continuation bet of 3,500, which was called. The
fell on the turn, as both players opted to check, before the
completed the board.
Giannetti bet out 4,200, but was met with a quick raise to 10,700 from Pham. He thought for a moment, and made the call, before mucking his hand, when Pham tabled his
for two-pair.
Jogador
Fichas
Oscilação

Matt Giannetti

120,000

10,000

David "The Dragon" Pham

110,000

35,000
Nível 5 : 300-600, 100 ante
Jennifer Tilly was sitting on a pretty large stack up until recently where she lost some chips to Alex Uskov.
Action began with Tilly who opened with a raise to 1,600. In the next seat over, Sergii Baranov reraised to 4,200. Action folded all the way over to Alex Uskov who was in the big blind. He just called, as did Tilly.
The flop came down
and Uskov led out with a bet of 7,500. Next to act Jennifer Tilly reraised to 20,000. Baranov went into the tank, but eventually decided to fold his hand. Uskov called.
The turn was the
and Uskov checked to Tilly who made a bet of 60,000. Uskov moved all in for just a little bit more and Tilly made the call.
Uskov:

Tilly:
The river was a
, giving no help to Tilly and she was forced to cut out some of her stack to send over to Uskov.
"Easy come, easy go," Tilly said after the hand.
Even after that big hit, Tilly is still well above average stack for this point in the tournament.
Jogador
Fichas
Oscilação

Alex Uskov

170,000

Jennifer Tilly

155,000

-15,400