Event #46: $3,000 Pot-Limit Omaha Hi-low 8-or-Better
Dias: 1
Event #46: $3,000 Pot-Limit Omaha Hi-low 8-or-Better
Dia 1 Iniciado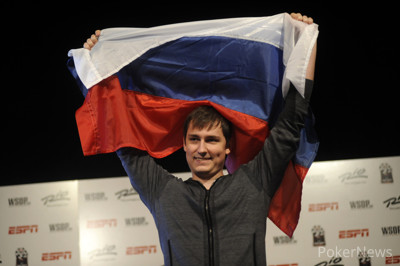 Welcome to PokerNews' coverage of Event #46 of the 2013 World Series of Poker, the $3,000 buy-in Pot Limit Omaha Hi-low 8-or-Better tournament.
If you thought that Pot Limit Omaha was an intense, action-driven game then wait until you see how this amazing game plays out in a split-pot format; it is going to be a spectacle to behold.
As is the case in Omaha tournament at the WSOP, the players will start with 9,000, but 6,000 of those will be in the form of lammers, each lammer being worth 3,000 chips each. Players can cash these in at any time they wish, with some players preferring to cash them in at the start, others like to hold onto them for as long as they can.
Last week, our very own Pamela Maldonado spoke to a number of top professional poker player and asked for their thoughts on the lammers concept. Some really like the idea, while others are not so keep on them. You can read that article here.
Last year's event saw 526 players turn out in force including the likes of Matt Vengrin, Dario Alioto, Erick Lindgren, Bryan Devonshire, Antoine Saout, Scotty Nguyen and David "ODB" Baker. The eventual champion was Russia's Viacheslav Zhukov who defeated Roch Cousineau heads-up to claim his first WSOP bracelet and the $330,227 first place prize.
Play in this year's event commences at 5pm local time and will continue until eight 60-minute levels are completed. There will be a 15-minute break after Level 2 and 6 with a 30-minute dinner break after Level 4. This means the players should be bagging and tagging by around 2am.
Keep your browsers locked to PokerNews so you do not miss any of the action from what should be a spectacular event. Until then, why not check out Lynn Gilmartin's June 25 update video?
Nível: 1
Blinds: 25/50
Ante: 0
Nível 1 : 25/50, 0 ante
Cards are now in the air.
Nível 1 : 25/50, 0 ante
Jogador
Fichas
Oscilação

Manuel Bevand

9,000

9,000

John Monnette

9,000

9,000

Allen Kessler

9,000

9,000

Leif Force

9,000

9,000

John Racener

9,000

9,000

Ryan Laplante

9,000

9,000

Allan Le

9,000

9,000

Ben Yu

9,000

9,000

Naoya Kihara

9,000

9,000

Kathy Liebert

9,000

9,000

Huck Seed

9,000

9,000

David Bach

9,000

9,000

David "ODB" Baker

9,000

9,000

Randy Ohel

9,000

9,000

Owais Ahmed

9,000

9,000

Sumanth Reddy

9,000

9,000
Nível 1 : 25/50, 0 ante
On a flop of
we caught up with David "ODB" Baker and one opponent. The two men got it all in on the flop and their hands were turned face up.
Baker:

Opponent:
.
Baker was in the lead with a flopped set, but his opponent had a huge straight draw and a pair of queens to go with it.
The turn was the
improving Baker to a full house, but changing his opponents outs to full house outs. The river came the
filling his opponent up, and awarding him the pot. Baker was only left with 250 chips after the hand, but two of his pink lammers behind, each worth 3,000 chips.
Nível 1 : 25/50, 0 ante
Nível 1 : 25/50, 0 ante
There are many people in the poker world who consider Mike Matusow to be the best Omaha Hi/Low players in the world, Mike himself among them.
Matusow has sat down at the far end of the Orange area and is ready to do battle in this $3,000 buy-in event. Matusow won a $5,000 buy-in PLO8 event in 2002 to claim his second bracelet. Matusow is looking for his fifth cash of the 2013 WSOP, two of those cashes coming in Omaha 8 events; a 40th place finish in the $1,500 Pot Limit Omaha 8 and the other in a $5,000 Fixed Limit Omaha 8.
Nível 1 : 25/50, 0 ante
After a raise and two calls preflop, we caught up with Huck Seed and two opponents on a flop of
.
All three players checked to the
on the turn. The first to act player put out a bet of 600, only to see Seed pop it to 2,000. The last player mucked, putting action back on the original raiser.
The original raiser just laughed, muttered something about hating to play with Seed, then mucked his cards.
Seed is up to 9,500 chips, but has none of his pink lammers behind.
Jogador
Fichas
Oscilação

Huck Seed

9,500

500
Nível 1 : 25/50, 0 ante
Eli Elezra has entered the tournament, but isn't getting off to a fast start. In fact, he's already down a few chips.
We caught up to Elezra in a raised pot on a board of
. One player checked to Elezra who made a bet of 625. After thinking about it for a bit, the player called.
The river was a blank card, not completing any draws, and both players decided to check.
"Aces," the player said to Elezra, showing his
.
"Good, good," Elezra said. He motioned his cards to the muck, but took at least 15 seconds to study the board before finally letting them go.
Elezra has 2,000 chips in front of him still and two pink lammers worth 3,000 chips each behind.
Jogador
Fichas
Oscilação

Eli Elezra

8,000