Event #46: $3,000 Pot-Limit Omaha Hi-low 8-or-Better
Dias: 1
Event #46: $3,000 Pot-Limit Omaha Hi-low 8-or-Better
Dia 1 Concluído
Nível 8 : 300/600, 0 ante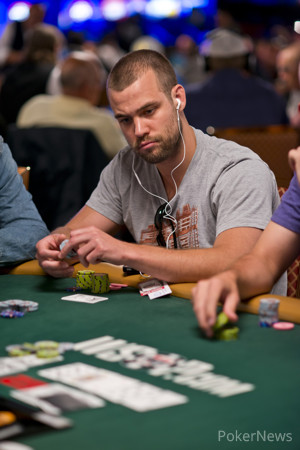 Today marked the start of the $3,000 buy-in Pot Limit Omaha Hi-low 8-or Better tournament at the 2013 Word Series of Poker and what a day of poker it was. Pot Limit Omaha creates some crazy action, but through in the split-pot format and the action goes off the chart!
Matt Woodward is the tournament's overnight chip lead, having bagged up an impressive 98,700 chips when play ended for the night. Woodward is something if a Limit Hold'em expert if his past tournament results are anything to go by, but he has some fantastic results in other formats too, including a runner-up finish in the 2009 EPT Grand Final and a 217th place finish in the 2012 WSOP Main Event. Now Woodward has given himself the best chance of reaching the money places and beyond in this tournament.
Hot on Woodward's heels are Zhen Cai (95,300), Michael Sanders (79,500) and Paul Tedeschi (70,800), the latter peaking at almost 90,000 chips before losing some ground as the day ground to a halt. Most of Tedeschi's stack used to belong to Owais Ahmed, but the two created a huge pot that resulted in Ahmed's exit. Ahmed will not be too upset, though because he won a seat to the One Drop tournament in the WSOP.com draw worth a cool $111,111.
Other notables to progress to Wednesday's Day 2 include Gavin Smith (60,500), Ireland's John O'Shea (50,500), Leif Force (43,300), Stephen Chidwick (29,900), Eric Baldwin (28,900), Antoine Saout (27,300), Joe Hachem (25,600), Mike Matusow (22,000) and Jeff Madsen (17,200). Full chip counts will appear on the event's dedicated chip count page, where you will also find an extensive list of big names who busted during Day 1.
Play resumes at 2pm local time on Wednesday and will see another 10 levels played here at the Rio. Make sure you join us then so you do not miss any of the action as Event #46 plays down to the money and beyond.
Nível 8 : 300/600, 0 ante
Jogador
Fichas
Oscilação

Matt Woodward

98,700

98,700

Zhen Cai

95,300

Richard Sklar

87,700

Michael Sanders

79,500

79,500

Joe Silverman

78,300

Rodrigo Caprioli

72,600

Paul Francoi Tedeschi (Paul Tedeschi)

70,800

Ari Engel

64,200

9,200

Nicholas Verkaik

62,300

62,300

Thomas Keller

60,600

Gavin Smith

60,500

29,500

Matthew Schulte

59,300

Paul Sokoloff

58,200

Raymond Davis

55,700

Ali Eslami

55,600

Romik Vartzar

55,400

Ze Chen

55,400

Craig Hartman

52,700

Sonu Sharma

51,900

Jose Severino

51,400

Travis Pearson

50,600

John O'Shea

50,500

Michel Abecassis

50,400

29,800

Brian Nadell

50,200

Amnon Filippi

47,000

47,000
Nível 8 : 300/600, 0 ante
The tournament clock has been paused with 10 minutes remaining and the dealers have been instructed to play five more hands before Day 1 is completed.
Nível 8 : 300/600, 0 ante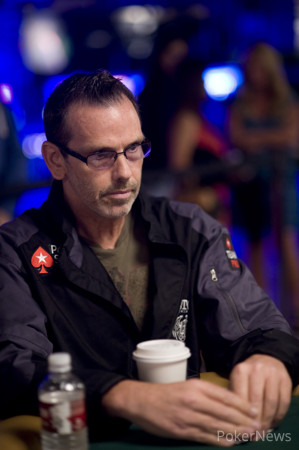 We didn't catch the bust out hand, but Chad Brown is no longer a fixture in this tournament. Here's what he said on Twitter:
Busted in plo8. Aces cracked twice. 10 game on thurs is next.
Follow @Downtownchad
Nível 8 : 300/600, 0 ante
We caught Ben Yu moving all in on a board of
. He was called by one other player and the two went off to showdown.
Yu:

Opponent:
The two players were holding almost exactly the same hand, but the other player had a flush draw and the edge in the hand because of it.
Fortunately for Yu the board rolled off
and
giving both players a straight to the king and chopping up the pot.
Jogador
Fichas
Oscilação

Ben Yu

12,025

-5,625
Nível 8 : 300/600, 0 ante
We joined the action on a
board where David Baker was all in against Damon Singer. Eventually, after around 60 seconds of thinking, Singer called to put Baker at risk.
Baker:

Singer:
.
The river was the
and both players chopped the pot.
Nível 8 : 300/600, 0 ante
With only 171 players remaining and tables breaking all the time, a number of very tough tables have formed. They include:
1st Table: Ismael Bojang, Alex Kravchenko, Scott Fischmann
2nd Table: Kyle Bowker, Michel Abecassis, Eoghan O'Dea, Gavin Smith, Pete Linton.
3rd Table: Eric Baldwin, David "ODB" Baker, Mel Judah, Damon Singer.
4th Table: Jeff Madsen, Antoine Saout, Leif Force.
Which table would you least like to be on?
Nível 8 : 300/600, 0 ante
We didn't see the action of the hand, but at the end of it, Paul Tedeschi was scooping up a 20,000 chip pot after rivering the nut flush with
.
"So that's how you do it?" someone at the table asked Tedeschi who remained silent.
"The kids been running over us all day," Raymond Davis, who was also sitting at the table, said. Apparently when Tedeschi came to the table he had about 30,000 chips before running it down to about 10,000 then back up to what it is now. After knocking out Owais Ahmed and this new player, Tedeschi definitely holds the title of chip leader in the room, by a margin of at least 20,000.
"I'm willing to be he can walk on water," Davis said about Tedeschi.
Tedeschi just stayed quiet and stacked his newly found chips.
Nível: 8
Blinds: 300/600
Ante: 0