Philippe Guillou Wins Winamax Poker Open Dublin Main Event for €70,000

Nível 46 : 300,000/600,000, 600,000 ante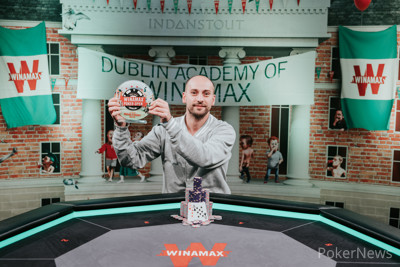 You get the feeling that Philippe Guillou had a point to prove after a third-place finish in the High Roller here at the Winamax Poker Open, and prove it he did after a dominant final day performance saw him take down the record-breaking 1,389-player Main Event for €70,000 after a four-way deal.
Coming into the day as the chip leader, Guillou was responsible for just three of the day's eleven eliminations, and despite relinquishing the chip lead to eventual runner-up Kevin Goillot during four-handed play, you always felt like he was in control of proceedings; pulling the strings like a poker-playing puppeteer.
Final Table Results
| Place | Player | Country | Prize (EUR) | Prize (USD) |
| --- | --- | --- | --- | --- |
| 1 | Philippe Guillou | France | € 70,000 | $76,577 |
| 2 | Kevin Goillot | France | € 57,000 | $62,355 |
| 3 | Alexandre Blanc | France | € 45,635 | $49,922 |
| 4 | Sacha Thery | France | € 51,305 | $56,125 |
| 5 | Ibrahim Senoussi | France | € 23,500 | $25,708 |
| 6 | Raul Patron | Spain | € 17,500 | $19,144 |
| 7 | Fraser Macintyre | Scotland | € 13,000 | $14,221 |
"There are mixed feelings right now," Guillou told PokerNews through a translator. "There's euphoria, tiredness...I want to go to bed but I also want to party. I don't really know but it's very mixed."
Guillou said he had a "terrific run" on his way to winning the title. "When I had the chips it was easier to put the pressure on players by three-betting, but of course post-flop also. That's something I did well, but obviously a very good run also."
Having experienced the lights and the cameras on the feature table in the High Roller, Guillou said the Main Event final table was a totally different experience.
"The levels in the High Roller were super high so I didn't have so much of an edge on that final table. Here there were two or three people I felt that I had an edge on them, so I wanted to play little pots with them and to control the tougher opponents by three-betting more and bet big to try and make them fold. Winning with continuation bets and making them fold, those sort of things."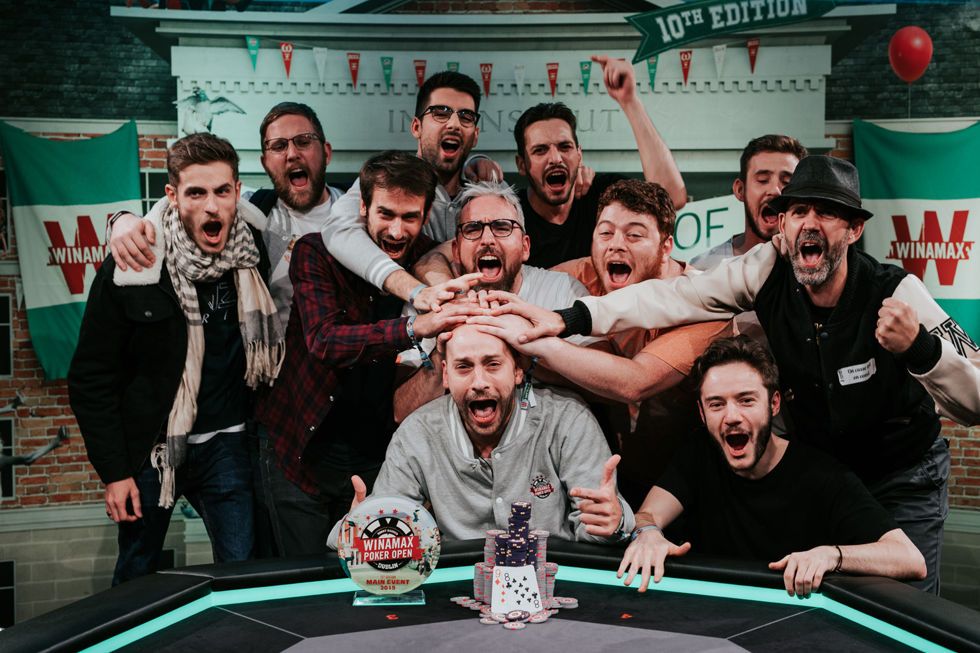 Final Day Recap
Sven McDermott finished fifth in this event in 2016 and was looking for another deep run here in 2019. He was the first to spy a crack in the start-of-day chip leader, getting ace-king against the queens of Guillou. A king on the turn looked to clip Guillou's wings before he'd even start to fully take flight, but a queen on the river saw him move further ahead.
Nicolas Merceron (11th - €6,650), Vincent Descamps (10th - €6,650) and Simon Thomas (9th - €10,000) were all eliminated before the first break with Guillou now held 23 million chips - a third of the chips in play - with chip leader on the outer table Alexander Blanc sitting with a paltry eight million.
After the break, Nicolas Plantin (8th - €10,000) exited to bring the tournament to a final table of seven with Guillou, unsurprisingly, still leading.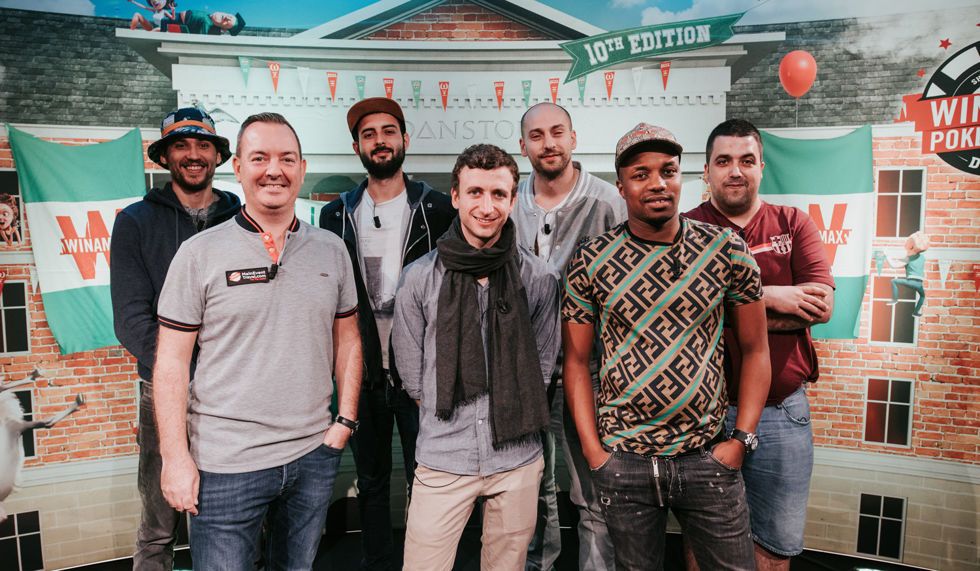 Behind him came Sacha Thery and Fraser Macintyre who was responsible for the elimination of Plantin. Goillot began the final table in the middle of the pack, but a quick double through Macintyre saw him leapfrog Thery into second place.
This early setback would prove fatal for Macintyre who, despite doubling shortly afterwards, was the first elimination at the feature table with Guillou increasing his lead by rivering a three-outer to send the Scot to the rail in seventh (€13,000).
Raul Patron (6th - €17,500) and Ibrahim Senoussi (5th - €23,500) before the final four players headed on break. On their return, it transpired the three had agreed a deal with the following amounts confirmed with €10,000 left for the eventual winner.
| Player | Chip Count | Payout (EUR) | Payout (USD) |
| --- | --- | --- | --- |
| Philippe Guillou | 26,475,000 | € 60,000 | $65,637 |
| Kevin Goillot | 20,875,000 | € 57,000 | $62,355 |
| Sacha Thery | 12,525,000 | € 51,305 | $56,125 |
| Alexandre Blanc | 9,625,000 | € 45,635 | $49,922 |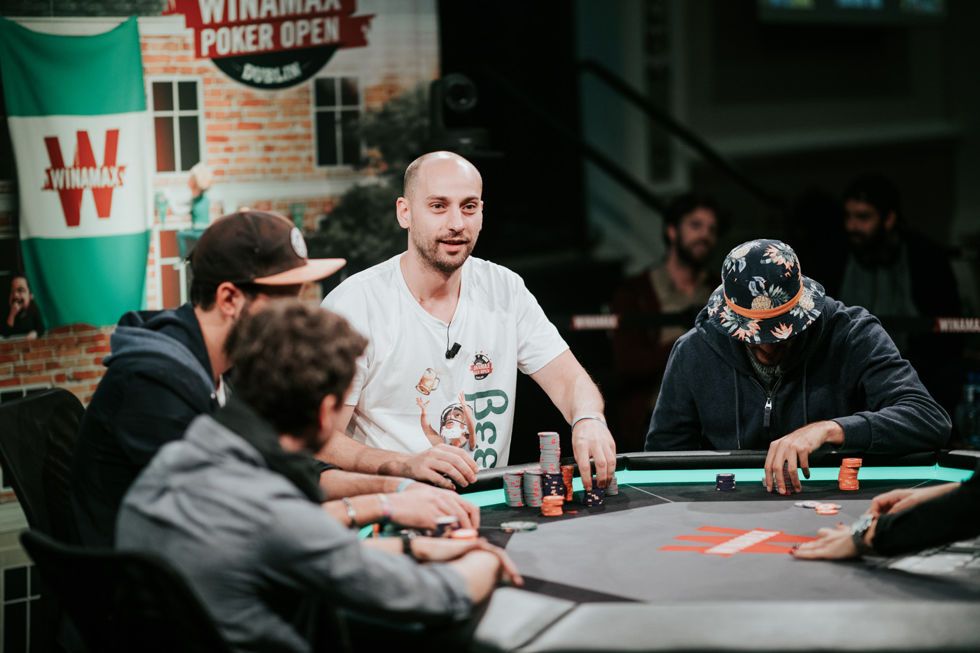 Deal assured that the four headed to dinner after which Guillou returned as dominant as before, winning back-to-back flops where he flopped a flush with ten-four and then cracked kings with seven-four.
Now up to 35 million, Guillou looked like he would canter to the title. However, it only took a couple of large pre-flop confrontations for him to relinquish his chip lead to Goillot.
"I tried to have the good ranges to three-bet," said Guillou. "There were some three bets where I got four-bet, but I always try to catch the good ranges. Even though I dropped a little bit I was still deep."
A double from Alexander Blanc through Goillot saw Guillou briefly regain his chip lead, but the back-to-back eliminations of Sacha Thery (4th - €51,305*) and Blanc (3rd - €45,635*) meant it was Goillot the unlikely chip leader heading into heads-up play.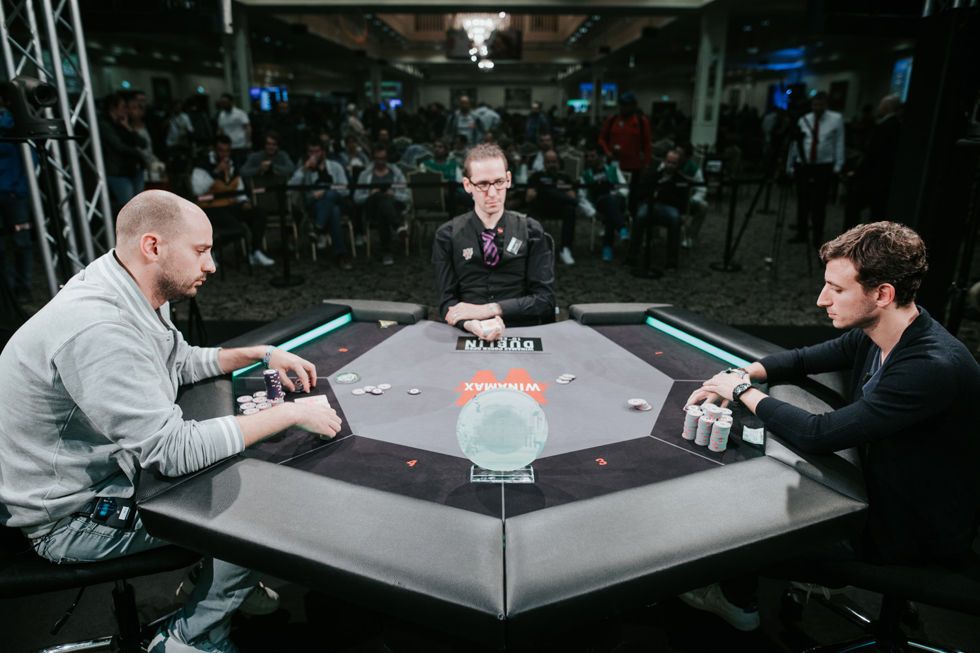 You felt that having lost the chip lead, and heading into heads-up in second place, the chances of victory might slip from Guillou's grasp having almost had one hand on the trophy only a few hours earlier. However, he wasted no time in clawing back the deficit, three-betting top pair on a flop to force out his opponent.
And when Goillot's triple-barrel-bluff failed to bring the desired fold from Guillou, his tournament was over and Guillou's victory was assured.
"Even if there was no poker I'd still come to Winamax events," Guillou told us. However, with over €90,000 from both his High Roller and Main Event final tables, you feel like he'll be back for more next time the Winamax festival rolls into town.
This concludes our coverage of the Winamax Poker Open Dublin, thanks for reading. Join us next time for more coverage of one of the the biggest and best six-max festivals in the world!