Main Event
Dia 1a Concluído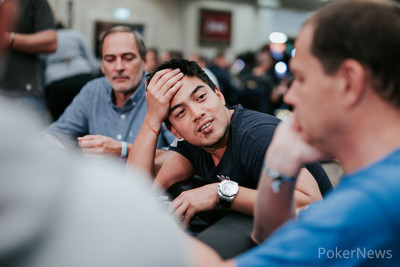 It was a tough day for the Winamax Team Pros in the Winamax Poker Open Main Event here in Dublin, with Pierre Calamusa the only player already guaranteed of a place in Day 2.
A total of 360 players entered on Day 1a, with just 65 of them bagging. Calamusa said he was happy to be one of them.
"I'm very happy," said Calamusa. "Because I don't have to come back tomorrow! I can have a day off and really enjoy Dublin. I can visit the town, it is really important to me that I get to discover new cities and cultures. I'm happy to have 24 hours free."
This isn't his first time in Dublin, but Calamusa explained that he hadn't always had the free time to be able to explore.
"Well one year I won and the other few years I couldn't get past Day 1, so I was playing every day so I didn't have much time to discover Dublin. So tomorrow I will do some sightseeing and that will be great.
"It's important to travel for poker but also important that you get to discover new things!"
With Ivan Deyra, Adrien Delmas and Aladin Reskallah all in High Roller action, the latter of which making it to the final table, it was up to Davidi Kitai, Adrian Mateos and Calamusa to put in good performances here on Day 1a.
However, the Frenchman was the last man standing at the end of the night, with the Belgian Triple Crown winner and Spanish three-time bracelet winner left in his wake.
With less than a level left in the day, it looked like Erik Oelschlegel would be the Day 1a chip leader with well over 700,000. He bagged 739,000 but was behind Irishman George Stoddart (750,000) who is the Day 1a chip leader.
Christian Gruet (652,000), Mehdi Saidi (547,000), Sebastian Giangrasso (507,000) and Peter Loock (504,000) are the only other players over the 500,000 chip mark.
There were plenty of familiar faces who failed to make it through to Day 2 including 2018 WSOP Main Event runner-up Tony Miles, Dara O'Kearney, Nicholas Newport, Peter Jaksland, Jonathan Therme, Teunis Kooij, and Erwann Pecheux.
These players will have to make it through tomorrow's Day 1b or Turbo Day 1c which take place at 12:00 and 20:00 local time.
Stay tuned to PokerNews as we bring you all the live coverage from here in Dublin.

Jogador
Fichas
Oscilação

George Stoddart

750,000

Erik Oelschlegel

739,000

Christian Gruet

652,000

Saidi Mehdi

547,000

Sebastien Giangrasso

507,000

Peter Loock

504,000

Raphael Blouet

493,000

Sacha Thery

485,000

Arkan Akin

481,000

Jerome Hurstel

470,000

Mathieu Pinson

444,000

Pierre Calamusa

436,000

Toby Joyce

401,000

Thomas Simsen

397,000

Mahmood Rasheed

352,000

Adrien Schnarrenberger

351,000

Antoine Stackowiak

341,000

Benjamin Bonnardot

328,000

Jean Charles Jourdain

328,000

Matthew Gilmartin

324,000

Richard Oneill

317,000

Ivan Tononi

300,000

Carlos Neves

290,000

Sebastien Chevillet

285,000

Vincent Ralambomiadana

279,000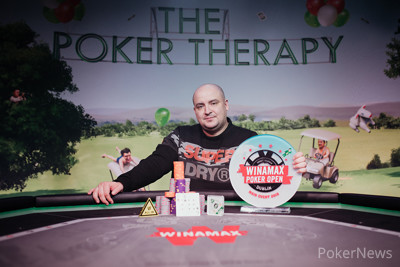 Welcome to the PokerNews coverage of the 2019 Winamax Poker Open Main Event. Last year a record field of 1,191, with Karol Wojciechowski emerging triumphant and taking home €89,716.
Day 1a gets underway later today at 12:00 local time, and as usual, a large crowd is expected to look to become the eleventh winner of the Winamax Poker Open here in Dublin.
The tournament costs just €500 to enter, and is played in a six-max format throughout, a format these days that is not only highly desirable but well-received among the poker players who compete in the festival.
For Day 1a, PokerNews will be focusing on the conclusion of the €1,000 High Roller which resumes at 12:30 p.m. but don't worry, we'll bring you a round-up of the day's play with who is advancing at the of play in the Main Event.
Former Winners
| Year | Field | Winner | First Prize |
| --- | --- | --- | --- |
| 2010 | 313 | Alan Trueick | €40,142 |
| 2011 | 656 | Steven King | €63,000 |
| 2012 | 818 | Cyril Delaire | €65,000 |
| 2013 | 1,086 | Jerome Guermeur | €75,000 |
| 2014 | 994 | Tom Kitt | €75,000 |
| 2015 | 959 | Pierre Calamusa | €70,000 |
| 2016 | 978 | Antonin Teisseire | €72,000 |
| 2017 | 1,096 | Otto Richard | €92,000 |
| 2018 | 1,191 | Karol Wojciechowski | €89716 |
Players will receive 50,000 in chips and play twenty 30-minute levels. On day 2 there will be eighteen 35-minute levels and on Day 3, the levels will increase to 40 minutes and play to a winner.
Late registration is open for 16 levels on all Day 1s, with players allowed a single re-entry. Players may also opt to forfeit their stack at the end of a Day 1 in order to take part in a different Day 1.
With a raft of off-the-felt activities, PokerNews will be on hand to make sure you get the very best taste of the atmosphere here at the Citywest hotel. From beer pong to the Irish Party, we'll be there every step of the way!
Main Event
Dia 1a Iniciado