€10,300 High Roller
Dias: 1
€10,300 High Roller
Dia 1 Concluído
Nível 10 : 800/1,600, 200 ante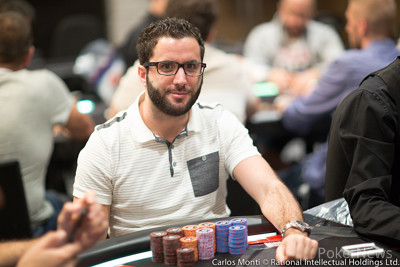 The €10,300 High Roller in Barcelona has historically had one of the strongest turnouts at PokerStars events in Barcelona, and the one here for the PokerStars Championship Barcelona was no different as 542 entries have been logged so far after the first day of action.
Spanish players turned in a strong effort on their home turf, finishing with three of the top five chip counts by day's end.
Leading the way is David Lopez Llacer, who turned his 50,000 starting stack into 362,100 after 10 one-hour levels. Lopez Llacer, who finished runner-up at WSOPE Main Event in 2015 to Kevin MacPhee, is best known for his outstanding online exploits as "davaman." He was reportedly the fastest Spanish player to reach Supernova Elite status, thanks to grinding hyperturbo sit-n-gos.
Sitting in third place is perhaps Spain's current crown jewel, Adrian Mateos. The budding tournament superstar has racked up millions in winnings before even hitting the age of 25. He finished the day with 299,800, while fellow Spaniard Raul Martinez ended with 281,500, good for fifth place.
Others in the top five were Austria's Markus Durnegger (315,000) and Canada's Christopher Kruk, who just the previous night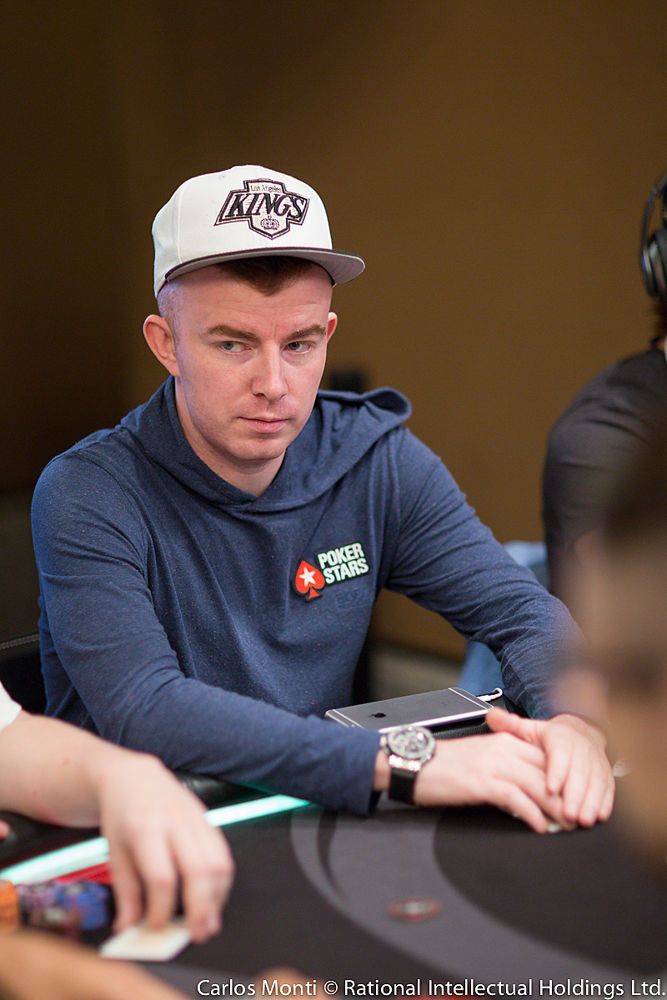 won the €5,000 turbo here for a cool €80,000.
And while PokerStars Team Pro Andre Akkari is representing the company with aplomb in the Main Event, where he bagged the chip lead heading into the final two tables, his teammates Jake Cody is doing his best to keep up. The British pro bagged 204,500. Bertrand "ElkY" Grospellier also continued his recent hot streak by bagging 125,000.
Overall 251 players made it through, and they'll be joined on Saturday's Day 2 by any player who wishes to enter or use the one allotted reentry to return to the tournament. Players can register up until the 12:30 p.m. start of play, and there will surely be more who wish to take a crack at this burgeoning prize pool.
Come back to PokerNews then for more coverage of the huge €10,300 High Roller here in Barcelona.
Nível 10 : 800/1,600, 200 ante
Jogador
Fichas
Oscilação

David Lopez Llacer

362,100

192,100

Markus Durnegger

315,500

315,500

Adrian Mateos

299,800

159,800

Christopher Kruk

292,900

92,900

Raul Martinez

281,500

281,500

Linus Loeliger

274,200

5,200

Stefan Schillhabel

252,000

136,500

Georgios Vrakas

240,000

145,000

Timur Margolin

231,100

231,100

Jasper Meijer van Putten

230,100

10,100

Fabrice Maltez

228,700

Emil Patel

227,200

82,200

Parker Talbot

223,200

23,200

Ambassador

Samu Riihela

214,000

Quan Zhou

213,100

-20,900

Alexander Roumeliotis

213,000

Ognjen Sekularac

211,100

Andrey Kotelnikov

210,000

Marcelo Bonanata

207,600

Leo Nordin

205,800

40,800

Jake Cody

204,500

76,500

Kacper Pyzara

200,000

Oleksandr Leonovych

199,500

140,500

Rafael Moraes

196,800

196,800

Kitty Kuo

195,000

35,000

Nível 10 : 800/1,600, 200 ante
Five more hands will be played until chips are bagged and tagged for the night.

Nível 10 : 800/1,600, 200 ante
With already around 50,000 in the pot, Julian Stuer and Dario Sammartino arrived on the turn with the board reading
. Stuer checked from the blinds and Sammartino checked behind.
On the
river, Stuer used a time bank chip before shoving all in for 59,100. Sammartino went deep in the tank, used up two of his own time bank chips in the process, then smashed in a call.
Stuer showed
for aces up and Sammartino flung his hand into the muck. Stuer, who won the €25,750 High Roller in Monte-Carlo for €1,015,000 earlier this year, launched himself up the leaderboard as the day draws to a close.
Nível 10 : 800/1,600, 200 ante
Troy Quenneville opened under the gun and called a three-bet to 10,500 from Koray Aldemir. They took in a
flop and Quenneville bet out 12,400. Aldemir shoved all in for about 30,000, and Quenneville called right away.
Quenneville:

Aldemir:
Quenneville had a hammerlock on it, causing Aldemir to smile wryly at the trap he'd stepped into. The
turn and
river were bricks.
Nível 10 : 800/1,600, 200 ante
Paul Hoefer was in the small blind and made a sizable bet of 14,000 just a little under the size of the pot, with
on the felt. Hoefer's lone opponent was big blind Andrei Konopelko, and he called, seeing the
hit. Hoefer shoved the rest in, putting Konopelko at risk for about 30,000. Konopelko thought briefly and called it off.
Hoefer opened the
for the stone nut low. Konopelko had
for eights.
Nível 10 : 800/1,600, 200 ante
After an open from Scott Margereson in middle position, the player in the cutoff three-bet to 18,000. Joao Vieira shoved all in from the button for just over 43,000, and the three-bettor called with
. Vieira had
and held on the
board.
Jogador
Fichas
Oscilação

Joao Vieira

99,000

-66,000

Team Pro

Nível 10 : 800/1,600, 200 ante
The final level of the night has begun; players will be playing 60 more minutes until Day 1 is done. Currently, 535 entries have been made, with 277 players still in contention.
Jogador
Fichas
Oscilação

Alex Papazian

184,000

59,000

David Lopez Llacer

170,000

-60,000

Leo Nordin

165,000

Kitty Kuo

160,000

110,000

Adrian Mateos

140,000

18,200

Christoph Vogelsang

130,000

49,000

Julian Stuer

78,000

25,000

Bernardo Dias

70,000

Jeffrey Hakim

45,000

Sylvain Loosli

35,000

-50,000

Josip Simunic

22,000

-70,400

Marc MacDonnell

11,000

-25,500

Paul Newey

Eliminado
Nível: 10
Blinds: 800/1,600
Ante: 200