$25,750 High Roller
Dias: 1
$25,750 High Roller
Dia 1 Concluído
$25,750 High Roller
Dia 1 Iniciado
Nível 10 : 800/1,600, 200 ante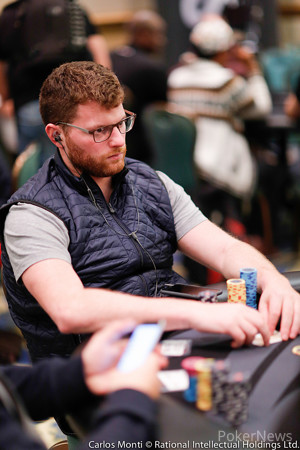 The 2017 PokerStars Championship Bahamas $25,750 High Roller started off slow with just two tables, but with a single re-entry options and late registration open all day, that number swelled. After 10 one-hour levels of play, the field had grown to 115 unique entrants who accounted for 36 re-entries to bring the total field up to 151 entries. It could go up even more as registration will remain open up until the start of Day 2.
At the end of the night, Nick Petrangelo bagged the biggest stack among the approximately 75 survivors with 290,600, though several other players were hot on his heels including Sam Greenwood (276,800), Byron Kaverman (272,000), Oleksii Khoroshenin (264,000), and Sergio Aido (250,700).
Petrangelo is a regular on the high roller circuit and has total live earnings of nearly $6 million. That includes $1,015,335 for finishing second in the 2015 WPT Alpha8 Bellagio High Roller, taking third in the EPT12 Barcelona €10,000 High Roller for $669,12, and winning the EPT13 Barcelona €10,000 High Roller for $464,154. Petrangelo also finished sixth in this very event two years ago, good for $301,500.
Others who advanced are former NFL player Richard Seymour (165,000), Daniel Colman (100,400), Bryn Kenney (66,8000), Phil "The Unabomber" Laak (54,900), and Bernard Lee (27,200). They will be joined by Team PokerStars Pros Bertrand "ElkY" Grospellier (140,300), Daniel Negreanu (104,600), Liv Boeree (43,000), Andre Akkari (40,600), and Jake Cody (32,800).
On the flip side, not everyone was as fortunate. Among those to fall twice on Day 1, meaning they don't have a re-entry option to use tomorrow, were 2015 World Series of Poker Main Event champ Joe McKeehen, the UK wunderkind Charlie Carrel, 2016 Aussie Millions champ Chance Kornuth, and last year's runner-up Sean Winter.
Shortly after re-entering the tournament, Winter found himself on the bad end of a cooler. He had flopped trip queens with a king kicker, but Khoroshenin had flopped threes full of queens. The chips went in, and Winter failed to get there. As for Carrel, he busted after getting his short stack in with ace-four and falling to the pocket eights of Greenwood.
Day 2 will kick off at Noon local time on Friday. Once again PokerNews will bring you updates straight from the tournament floor, so be sure to check back then. While you wait, check out this video of Seymour talking about joining Twitter, making a bet with Negreanu, and more.
Nível 10 : 800/1,600, 200 ante
Jogador
Fichas
Oscilação

Nick Petrangelo

290,600

180,600

Sam Greenwood

276,800

36,800

Byron Kaverman

272,800

177,800

Rocco Palumbo

267,700

124,700

Oleksii Khoroshenin

265,000

5,000

Sergio Aido

250,700

35,700

Davidi Kitai

189,000

-21,000

Team Pro

Fabrizio Gonzalez

170,200

98,700

Iago Leonelli

168,100

168,100

Richard Seymour

165,000

-4,000

Sergi Reixach

159,200

59,200

Mark Radoja

151,700

1,700

Bertrand "ElkY" Grospellier

140,300

140,300

Lucas Greenwood

140,300

140,300

Justin Bonomo

139,700

-300

Vojtech Ruzicka

137,200

47,200

Salman Behbehani

135,900

-4,100

Timothy Adams

134,000

-41,000

Andjelko Andrejevic

127,500

12,500

Jonathan Jaffe

125,400

8,400

Jason Koon

115,200

-49,800

Michael Rocco

113,100

113,100

Daniel Negreanu

104,600

-25,400

Kenneth Smaron

103,700

103,700

Andrew Chen

102,000

70,000
Nível 10 : 800/1,600, 200 ante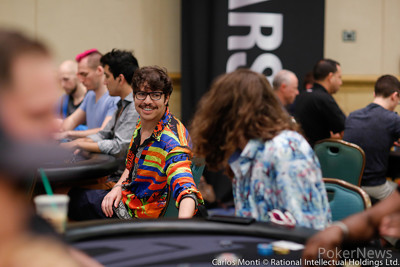 Igor Kurganov had been eliminated, that was the headline. All-in with
against Tim Adams'
and no luck on the board. Goodnight, Igor. Except for Kurganov, whose girlfriend Liv Boeree claimed "hasn't stopped talking for six days!", a few more words were called for. Words such as 'Where can I buy back in?'.
Kurganov's second entry came with the clock paused just seconds later, and six more hands announced. On the fourth of those hands, poker pandemonium broke out.
Kurganov was sat to the direct right of good friend Mustapha Kanit, who had plenty of chips, around 70,000 and easily enough to bust his pal. When Kurganov moved all-in with
and Kanit called with
, the pair of them were up and down like a pair of puppets. They were racing not just for a 97,000 pot, but bragging rights too.
The flop of
saw Kurganov on his feet, with an 'Eh!' to his friend Kanit. However, the
on the turn sent Kanit into raptures.
"Eh!" he cried jubilantly. Kurganov covered his friends eyes from the river card.....of the
!
"Ehhhh!" yelled Kurganov, as his hand improved to a full house. He flipped Kanit's cap from his friends head and wore it triumphantly like a crown.
"I deserve to wear this now. You are a loser. Mathematically, you've only had one buy-in yes? - OK - Mathematically, you should shove any two next hand."
As it happened, Kanit did so, piling his remaining 17,500 into the middle and being snap-called by Anthony Zinno. Zinno had
, but Kanit was racing again, holding the almost-identical-to-his-last-hand
.
The flop of
offered little hope. The turn of
didn't improve the actual odds dramatically. But the
on the river gave Kanit a runner-runner straight and he jumped back up, took back his hat and cried 'Who's the boss? Who's the boss?!"
To be fair to Kurganov and Kanit, and with deference to the everlasting good humour of Zinno, all of it happened with riotous sense of good humour and the trio were all happy to progress to the next day. Kurganov, Kanit, Zinno and of course Boeree and other friends by now on the rail who were watching the drama unfold all burst into peals of laughter at the conclusion the two hilarious hands of poker.
Nível 10 : 800/1,600, 200 ante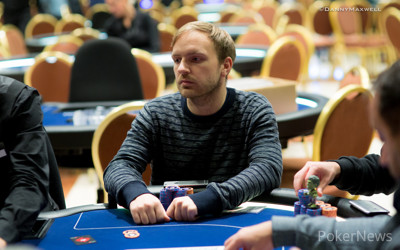 With a board reading
, 2016 PCA champ Mike Watson got his last 14,800 all in and was at risk against Bernard Lee.
Watson:

Lee:
Watson was ahead with a pair of kings, but Lee was drawing to both an ace and hearts. The dealer burned one last time and put out the
. Lee missed and Watson doubled through.
Nível 10 : 800/1,600, 200 ante
Jogador
Fichas
Oscilação

Sergio Aido

215,000

165,000

Davidi Kitai

210,000

135,000

Team Pro

Mark Radoja

150,000

7,000

Luc Greenwood

150,000

100,000

Justin Bonomo

140,000

79,100

Salman Behbehani

140,000

Daniel Colman

120,000

10,000

Noah Schwartz

75,000

75,000

Ivan Luca

Eliminado

Pablo Fernandez

Eliminado

Andrey Zaichenko

Eliminado
Nível: 10
Blinds: 800/1,600
Ante: 200
Nível 9 : 600/1,200, 200 ante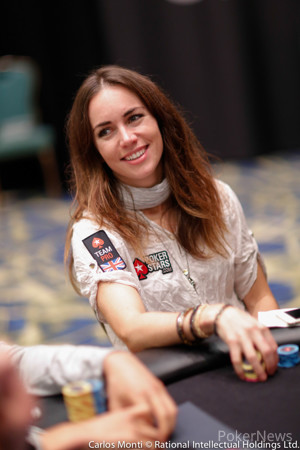 Both PokerStars Team Pros Jake Cody and Liv Boeree have struggled at points during this $25,000 High Roller, with the run of the cards more than anything. But there's building momentum behind each British superstar and with one level to go anything could happen.
Jake Cody doubled up when he had pocket queens in the blinds and doubled up, holding against
to bounce from ten big blinds to just over 20 big blinds.
Liv Boeree wasn't all-in, but won an interesting hand against Justin Bonomo. Boeree raised under the gun pre-flop to 2,600 and only Bonomo called from the big blind. The flop of
saw Boeree continue for 2,200, but she was raised to 7,000 by Bonomo. Boeree called, and both players checked the
turn. The river of
saw Bonomo check to Boeree who made it 8,000 and Bonomo folded, meaning Boeree won without a showdown - valuable currency in mystery to add to the chips at this stage of the night.
Nível 9 : 600/1,200, 200 ante
Bryn Kenney and Pierre Neuville each put in 6,600 preflop and saw a flop of
, which they both checked. After the dealer burned and turned the
, Neuville check-called a bet of 10,200 and then checked for a third time on the
river.
Kenney bet 20,000, leaving himself just 29,000 behind, and Neuville snap-raised all in for right around 50,000. Kenney seemed frustrated, shook his head, and folded his cards.