$25,750 High Roller
Dias: 3
$25,750 High Roller
Dia 3 Iniciado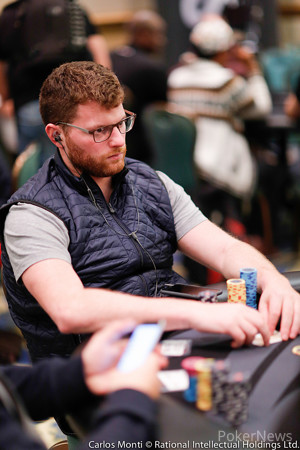 With nine players remaining in the $25,750 PokerStars Championship Bahamas High Roller, Nick Petrangelo leads the way as the final table will play down to a winner with a huge 1,960,000 chips.
Yesterday's second day of the $25,750 High Roller saw big names bust out and others set a path to the final, with double High Roller winner here in the Bahamas already, Bryn Kenney, going for what would be an amazing third victory in a week. Kenney has it all to do, however, coming into play as the shortest stack with just 186,000 chips.
Kenney is not the only High Roller without the chips to play power poker at the start of the action. PokerStars Team Pro Daniel Negreanu negotiated a day where he lost a beloved family pet to reach the final nine, but he'll be hoping to gain early ground, coming into play with just 382,000. Stephen Chidwick (488,000) and Nacho Barbero (411,000) each have work to do to force themselves back into contention for the top prize in excess of $900,000.
While Petrangelo has a solid lead, he'll be taking nothing for granted, with Byron Kaverman (1,233,000), Luc Greenwood (1,170,000) and Michale Rocco (1,533,000) hot on his heels. Kaverman's run is perhaps most impressive given he has already finished third in the $100,000 Super High Roller and also enjoyed a deep run in the $5,300 Main Event. It would be fair to say he's earned some beach time he can't have seen this week.
Play resumes at 12 noon local time (6pm CET) and we'll bring you all the action and every elimination right here on PokerNews.com as we watch for who will become the latest High Roller and big winner at the PokerStars Championship Bahamas!
Table Draw and Chipcounts:
| Seat | Player | Stack |
| --- | --- | --- |
| 1 | Nick Petrangelo | 1,960,000 |
| 2 | Byron Kaverman | 1,233,000 |
| 3 | Stephen Chidwick | 488,000 |
| 4 | Daniel Negreanu | 382,000 |
| 5 | Michael Rocco | 1,533,000 |
| 6 | Nacho Barbero | 411,000 |
| 7 | Mark Radoja | 651,000 |
| 8 | Luc Greenwood | 1,170,000 |
| 9 | Bryn Kenney | 186,000 |
Nível: 20
Blinds: 8,000/16,000
Ante: 2,000
Nível 20 : 8,000/16,000, 2,000 ante
In the first hand of the tournament, Nacho Barbero raised to 35,000 from middle position and Nick Petrangelo three-bet to 100,000 from the button. Both blinds folded and so did Barbero.
In the second hand, Petrangelo raised to 40,000 from the cutoff and Byron Kaverman called from the button. Both players proceeded to check it down on the
runout and Petrangelo showed the
for a pair of nines. Kaverman mucked.
In the third hand, Stephen Chidwick raised to 32,000 from the button and took down the blinds and antes.
Nível 20 : 8,000/16,000, 2,000 ante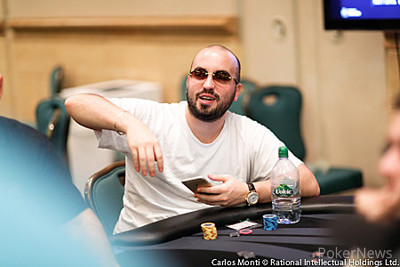 They're underway in the $25,750 High Roller, with Nick Petrangelo looking to go wire-to-wire and end all three days out in front. He'll have to outlast a tough final group, including Team PokerStars Pro Daniel Negreanu. And while Bryn Kenney has a short stack to start, he also already has two High Roller titles this series. The PokerStars Blog provides details.
Nível: 21
Blinds: 10,000/20,000
Ante: 3,000
Nível 20 : 8,000/16,000, 2,000 ante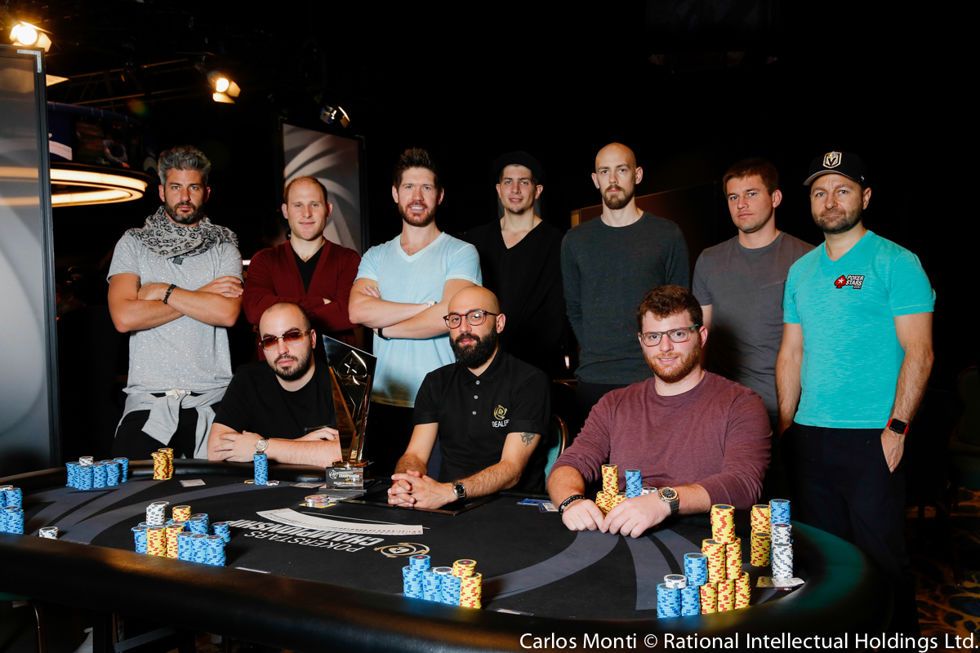 Nível 21 : 10,000/20,000, 3,000 ante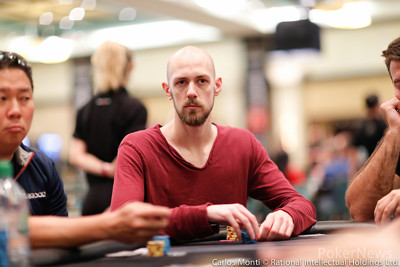 A discussion about posture broke out at the $25,750 High Roller final table, with PokerStars Team Pro Daniel Negreanu complimenting Stephen Chidwick (pictured earlier in this tournament) on his posture. It's impressive to be fair, a straight back and firm pose that as Chidwick explained, didn't come naturally and actually took him a lot of work, but aids his focus.
All of that focus was needed in a brooding hand with Byron Kaverman, who is also at his second High Roller final table this week. Preflop, Chidwick made it 37,000 from under the gun and Kaverman called in the big blind was play was folded round to him.
The flop of
saw Chidwick bet 30,000 and Kaverman check-call. The turn of
, however, prompted a change of betting direction. Kaverman led out for 90,000 and Chidwick made the call. On the
river, Kaverman checked and so too did Chidwick.
Kaverman held
but Chidwick turned over
and he scooped a very important pot, stack-wise.
Nível 21 : 10,000/20,000, 3,000 ante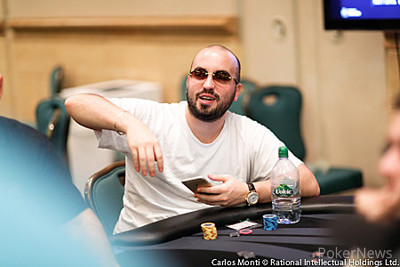 A short-stacked Bryn Kenney moved all in for 141,000 from the cutoff and Nick Petrangelo called from the button. Both blinds folded and the cards were turned up.
Kenney:

Petrangelo:
"Fair fight," Kenney said upon discovering he was drawing live. Unfortunately for him, the board ran out an unhelpful
.
"There's a $300 Flip Out in 20 minutes," Daniel Negreanu joked before Kenney took his leave from the table.
The latest cash tops a great week for Kenney. It started when he placed seventh in the $100,000 Super High Roller for $275,060, and three days later won the $50,000 High Roller for $969,075. The next day he took fourth in the $2,000 Hyper Turbo Win the Button for $6,020, and a day after that won the $25,000 Shot Clock High Roller for $392,876.
Nível 21 : 10,000/20,000, 3,000 ante
Michael Rocco raised the button to 45,000 and Mark Radoja defended the big blind to see a
flop. Radoja check-called a bet of 40,000 and then check-called one of 125,000 on the
turn.
When the
completed the board on the river, Radoja checked for a third time and then tank-folded when Rocco moved all in.