€5,300 Main Event
Dias: 6

Nível 27 : 25,000/50,000, 5,000 ante
Timo Pfutzenreuter raised to 100,000 from the button and Oleksii Khoroshenin called from the small blind with
.
The flop brought
in this heads-up pot and Khoroshenin checked to the German who put out a continuation bet of 140,000. Khoroshenin made the call and on the turn, the
, both players quickly checked.
The river brought the
and Khoroshenin lead out 175,000 on the river with his pair of tens. Pfutzenreuter, who had only shown the
to the hole card camera, folded his cards and the Ukrainian player won.

Nível 27 : 25,000/50,000, 5,000 ante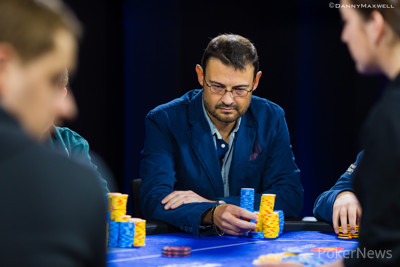 Oleksii Khoroshenin opened under the gun with
and Rumen Nanev on the button holding
was the sole caller.
Khoroshenin made a 125,000 continuation bet, but that wouldn't be the end of it. Rumen Nanev raised it up to 300,000 and Khoroshenin made the call.
The
on the turn and
on the river were checked by both players and Khoroshenin took it down.
The problem with this hand was, according to the commentators including Team PokerStars Pro Theo Jørgensen, was that it took a couple of minutes too long. On every street there was some heavy thinking by the players involved but it didn't result in too big a pot.
Nível 27 : 25,000/50,000, 5,000 ante
Jogador
Fichas
Oscilação

Anthony Ghamrawi

5,245,000

95,000

Timo Pfutzenreuter

4,830,000

130,000

Simeon Naydenov

3,545,000

-5,000

Frei Dilling

3,355,000

-155,000

Pablo Gordillo

3,250,000

50,000

Rumen Nanev

2,625,000

-140,000

Marko Neumann

2,280,000

-120,000

Oleksii Khoroshenin

2,115,000

-125,000
Nível 27 : 25,000/50,000, 5,000 ante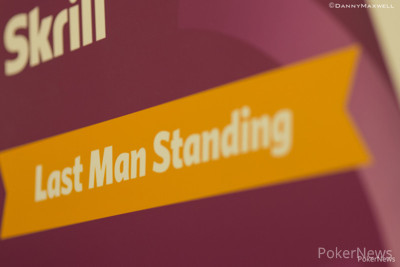 The Skrill Last Loner has not come to an end yet as there are still three players competing for their buy-in back — Anthony Ghamrawi Timo Pfutzenreuter and Pablo Gordillo.
On Day 1a, 62 players signed up for the Skrill Last Longer competition, and on Day 1b 98 more joined them. That brought the total number of participants up to 160 players. Now, just three remain.
The Skrill Last Longer competition is being held at each stop on this season's EPT, of which they're an official sponsor. The promotion is simple – players sign up for the promotion either online (preregistration is available) or at the Skrill booth (which will be present at each stop); don a Skrill patch; and then aim to be the last man or woman standing. The last player remaining will then receive their buy-in back via their Skrill account.
While Skrill is upping the ante for Season 10 with a bigger branding initiative, this isn't their first appearance on the EPT; as a matter of fact, they were a sponsor of Season 8 and have held previous "Last Longer" promotions.
The company's website provides a bit more information on Skrill, which rebranded from Moneybookers back in 2010:
"Skrill has been moving money digitally since 2001. We offer online payment solutions for businesses and consumers, allowing them to pay and get paid globally. Over 36 million account holders already trust Skrill. Our customers can send and receive money worldwide in 200 countries and 40 currencies, securely and at low cost, without revealing their personal financial details. Your business will benefit from our worldwide payment network with over 100 payment options. Whether through a simple one-step integration or a fully-tailored payment solution. Whoever you are, however you like to pay or get paid, trust Skrill to make your online payments simpler, faster and safer."
Headquartered in London, Skrill is looking to make their presence known in the poker world with a commitment to customer satisfaction through innovation and service. Not only that, they're looking to be more than just a company by becoming a trusted and respected member of the poker community.
For more information on Skrill, click here.
Nível 27 : 25,000/50,000, 5,000 ante
Timo Pfutzenreuter, this time in the cutoff, decided to raise it up to 100,000 holding
getting everyone to fold quickly, except for Marko Neumann. Neumann called from the big blind holding
.
The flop brought out
and Neumann checked to Pfutzenreuter who bet 105,000. Neumann folded and this one went to Pfutzenreuter.
Nível 27 : 25,000/50,000, 5,000 ante
Timo Pfutzenreuter raised to 100,000 from the button holding
and Oleksii Khoroshenin looked down at
in the small blind.
Khoroshenin ultimately three-bet to 250,000 and the chip leader in the big blind quickly gave up his cards. Pfutzenreuter gave it some thought but ultimately he let go of his hand giving this pot to the Ukrainian.
Nível 27 : 25,000/50,000, 5,000 ante
Frei Dilling raised to 80,000 from the hijack holding
and the action folded to Oleksii Khoroshenin who made the call from the big blind with
.
The flop brought out
and Khoroshenin checked quickly to Dilling who bet 95,000. Khoroshenin went into the tank for a bit before ultimately letting his hand go.
Nível: 27
Blinds: 25,000/50,000
Ante: 5,000

Nível 26 : 20,000/40,000, 5,000 ante
It's the second hand of the day, and again Frei Dilling is involved.
Dilling opened the cutoff for 80,000 and got calls from Pablo Gordillon in the small blind and Timo Pfutzenreuter in the big blind.
The three of them were off to see a flop:
. Both blinds checked to Dilling who checked behind with his
.
We would see more action on the turn where the
appeared. Gordillo, wha had
bet out 105,000 and got a raise from Pfutzenreuter who turned a straight holding
. Pfutzenreuter made it 265,000 to go and Dilling folded. Gordillo made the call and they were of to the river.
The
hit the river and Gordillo checked to Pfutzenreuter. Pfutzenreuter bet out a hefty 505,000 and the decision was back on Gordillo. The Spaniard thought about if for quite some time, but called eventually.
Pfutzenreuter showed the straight, Gordillo mucked.