Nível 32 : 80,000/160,000, 20,000 ante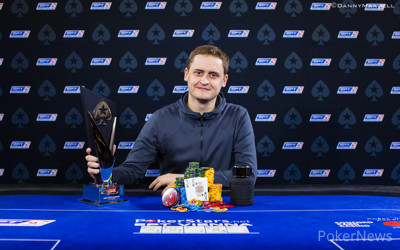 After a six-day battle in the stunning Hofburg Palace in downtown Vienna, it was Oleksii Khoroshenin who was crowned the PokerStars.net European Poker Tour Vienna champion!
Khoroshenin was the Day 1a chip leader and he managed to carry his success all the way through to the end of the tournament. With this win, Khoroshenin became the first-ever Ukrainian EPT winner, but more importantly he walked away €578,392 richer after beating Austrian Anthony Ghamrawi heads up. Going forward, Khoroshenin may also show off the beautiful trophy and a stunning watch worth more than €5,000 from luxury Swiss brand SLYDE, the official watch sponsor for EPT Season 10 main events.
The final table kicked off with tons of fireworks as Marko Neumann won a big pot right off the bat. Danish high-stakes online pro Frei Dilling fired into Neumann on two streets with an inferior hand and that ended up costing him right away. On the very next hand, another clash played out as Pablo Gordillo called down Timo Pfutzenreuter, who had made a straight on the turn. So after just two hands, it was clear that nobody was just going to run over this stacked final table.
About 30 minutes later, it was Pfutzenreuter who tried a big bluff on his fellow countryman. Pfutzenreuter fired three barrels into Neumann, but on the river Neumann check-raised all in with a full house and Pfutzenreuter snap-folded himself down to being one of the shorter stacks. A few hands later, Neumann grabbed the lead and that gave him enough chips to constantly pressure his opponents.
The lead wasn't in Neumann's hands long, though, as Ghamrawi picked off a pot from Gordillo and right after that took another huge one from Simeon Naydenov. It wasn't the World Series of Poker bracelet winner's day, and the big bluff that failed was detrimental to his fortune at the final table. Naydenov was called down by Ghamrawi's king-high, and after this hand he had little to no room left to get creative.
Despite the high-paced play, it still took over three and a half hours before the first player was knocked out. Bulgarian player Rumen Nanev was first to go as he ran ace-king into Khoroshenin's pocket queens. The board proved to be no help to the ever-smiling Nanev, who exited €77,000 richer than at the start of this week.
The next player to go was quite a surprise to all players at the final table, as Dilling ran a huge bluff which cost him his tournament life. Dilling three-bet preflop holding king-seven of clubs and Neumann called out of position with ace-four of clubs. Both players flopped a pair with their highest card, but Dilling decided to turn his pair of kings into a bluff by firing all three streets. Neumann reluctantly called Dilling's shove on the river after he had made two pair on the turn, and that spelled the end for the aggressive Dane. Dilling walked away with €108,100.
After Dilling was knocked out, play slowed down again and both Khoroshenin and Neumann kept picking up more chips. In sixth place, it was ultimately Naydenov who got knocked out as he lost a vital coin flip with ace-jack of spades versus Ghamrawi's pocket tens. The Bulgarian pro walked away with a nice €151,000 payday, but it was quite obvious that he wasn't too happy.
After Naydenov hit the rail, it was Khoroshenin who managed to chip up into the chip lead, as he managed to win a few pots off Neumann. Meanwhile, Pfutzenreuter awaited his chance to move all in, and when he finally did his pocket sixes were no match for Ghamrawi's sevens. Pfutzenreuter took home €203,900 for his stellar performance, as the book was closed on his final table run in fifth place.
The final four did not stay together for too long, as the man eying the first-ever Spanish EPT victory hit the rail about 20 minutes later. Gordillo played an 80-big blind coin flip with ace-king versus Neumann's tens, and that did not go his way. Neumann regained the chip lead due to this hand, and Gordillo went on to collect €262,150 for his efforts.
During three-handed, play chips went back and forth a little bit before the dinner break started. After the dinner break finished, a deal was discussed and the final three players agreed to the following numbers with €50,000 left to play for.
| Name | Chip Count | Deal Amount | Original Amount |
| --- | --- | --- | --- |
| Marko Neumann | 13,920,000 | €638,127 | 1st — €816,000 |
| Oleksii Khoroshenin | 8,635,000 | €528,392 | 2nd — €497,900 |
| Anthony Ghamrawi | 4,690,000 | €446,481 | 3rd — €349,100 |
Three-handed play was furious, but there were no victims for several hours. Eventually, it was the long-time chip leader Neumann who got crushed by Khoroshenin in consecutive hands. In a full-house-over-full-house situation, it was Khoroshenin who grabbed the lead, and on the very next hand it was all over for Neumann. The German pro was the favorite for most of the final table and he ultimately walked away with the biggest payday during this event due to the three-handed deal. Neumann collected €638,127 and Khoroshenin started the heads-up battle with a huge chip lead.
Khoroshenin started heads-up play with 20.7 million to Ghamrawi's 6.5 million, but it would take some time to finish the deal. After a 45-minute battle, it was Khoroshenin who managed to cash in on his chip lead and he knocked out Ghamrawi. Ghamrawi walked away €446,481 richer while Khoroshenin was crowned champion, which meant a €578,392 payday, the trophy, and the SLYDE watch.
| Place | Name | Country | Prize |
| --- | --- | --- | --- |
| 1 | Oleksii Khoroshenin | Ukraine | €578,392 |
| 2 | Anthony Ghamrawi | Austria | €446,481 |
| 3 | Marko Neumann | Germany | €638,127 |
| 4 | Pablo Gordillo | Spain | €262,150 |
| 5 | Timo Pfutzenreuter | Germany | 203,900 |
| 6 | Simeon Naydenov | Bulgaria | €151,000 |
| 7 | Frei Dilling | Denmark | €108,100 |
| 8 | Rumen Nanev | Bulgaria | €77,000 |
From everyone here at PokerNews.com, we would like to thank you for following our coverage, and we would like to welcome you to the epic conclusion of 10th EPT Season in Sanremo and Monte Carlo where we'll be providing the live updates from start to finish again. See you again in April!