€5,300 Main Event
Dias: 2
€5,300 Main Event
Dia 2 Concluído
€5,300 Main Event
Dia 2 Concluído
Nível 14 : 1,200-2,400, 300 ante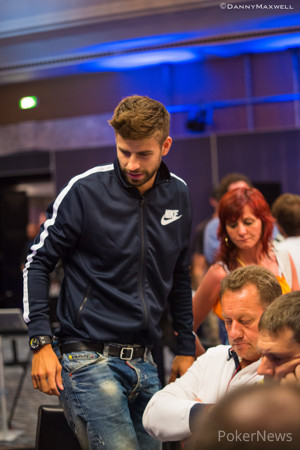 The European Poker Tour Barcelona continued on Tuesday as the surviving 697 players from the two starting flights combined under one roof for Day 2 action. Joining them were a few latecomers, who had the option of registering right up to the start of play. After six 75-minute levels of play, 235 players remained with Pablo Alexander Tavitian, who won the 2013 PokerStars Latin American Poker Tour Chile National Poker Championship Main Event earlier this year, and his stack of 465,000 leading the way.
After registration closed, the numbers were tallied and a staggering 1,234 players – the largest in EPT Barcelona history (second largest on European soil) – had turned out for the first stop of Season 10. That created a prize pool of €5,984,900 to be distributed to the top 183 players with €1,067,000 reserved for the eventual winner.
One of the most talked about stories on Day 2 was that of famed footballer Gerard Piqué, who began with 23,100 and began to run it up. Unfortunately, Piqué was stopped in his tracks in Level 10 (500/1,000/100) by PokerStars qualifier Carlos Mora Alvarez. The duo had taken a flop of
, and it appeared as if there were some big bets before Piqué got the last of his chips in on the
turn.
The
ended up completing the board on the river and Piqué turned over the
, revealing that he got the majority of his chips in on middle pair and a gutshot straight draw. Alvarez then tabled the
, showing he was willing to get chips in with top pair and a flush draw. Alvarez hit the flush on the turn to seal the deal, and Piqué wished the table luck before taking his leave.
Others who hit the rail throughout the day were Marc-Andre Ladouceur, Kai Herold, Dan Smith, Ignat "0Human0" Liviu, Mark Newhouse, Stephen Chidwick, James Dempsey, Daniel Alaei, Scott Seiver, Jens Kyllonen, Fabian Quoss, Jonathan Little and Vitaly Lunkin.
A couple of days ago, Lunkin topped a field of 51 entries in the EPT10 Barcelona €50,000 Super High Roller to win €771,300. Lunkin was well on his way to a cash here in the Main Event, but an unsuccessful bluff in Level 13 (1,000/2,000/300) greatly diminished his chances.
It happened when Bulgaria's Aleksandar Denishev raised from the cutoff only to have Lunkin three-bet to 10,200 from the button. The blinds folded, Denishev four-bet to 22,000 and Lunkin ended up making the call. When the flop fell
, Denishev fired out 14,100 and Lunkin made a relatively quick call. After the dealer burned and turned the
, Denishev slid out a bet of 31,000 and Lunkin snap-shoved for roughly 125,000.
Denishev, clearly distraught, shot back his chair and put his hands on his head. He then removed his sunglasses and stared down Lunkin for well over three minutes before calling off for 117,300 total. Lunkin sheepishly turned over the
for a bluff, and he seemed none too pleased when Denishev tabled the
. Lunkin, who speaks limited English, expressed his displeasure and asked what took Denishev so long to call. Whether or not it was a slow roll was a moot point as Denishev was shipped the double after the meaningless
completed the board on the river. Lunkin was eliminated a short time later.
Likewise, Team PokerStars Pros were reduced as Jason Mercier, Eugene Katchalov, Fatima Moreira De Melo, Jonathan Duhamel, Liv Boeree, Jake Cody, Rino Mathis, Maxim Lykov, Marcel Luske, Vanessa Selbst, Jan Heitmann, Luca Pagano, Nacho Barbero and Theo Jorgensen all fell on Day 2.
Even so, some still remain including Victor Ramdin (156,600) and Angel Guillen (62,500), just to name a couple. Other notables who will return on Day 3 are defending champ Mikalai Pobal (71,200), Marvin Rettenmaier (90,800), Erik Freiberg (114,500), Byron Kaverman (122,600), Shannon Shorr (123,100), Grayson Ramage (158,700), Kitty Kuo (177,000), Andrew Moreno (202,300), Yann Dion (293,000) and Niall Farrell (444,000).
Day 3 will kick off on Wednesday at 12 p.m. CET at the Casino Barcelona. Be sure to stay tuned to PokerNews' live coverage as we bring you all the action and eliminations from the tournament floor.
Nível 14 : 1,200-2,400, 300 ante
Jogador
Fichas
Oscilação

Pablo Tavitian

465,000

305,000

Niall Farrell

444,000

4,000

Grudi Hristov Grudev

437,800

57,800

Albert Daher

420,500

65,500

Alejandro Perez

417,500

162,500

Niclas Adolfsson

417,100

269,700

Denis Pisarev

403,700

381,900

Dmitry Yurasov

377,800

317,000

Christopher Andler

376,000

-29,000

Kent Lundmark

362,100

50,100

Michael Skender

353,300

263,300

Markus Kivipuro

353,000

91,000

Nicolau Villa-Lobos

352,300

277,300

Jamila Von Perger

352,000

34,000

Nils Jarefjall

351,300

221,400

Florian-Dimitrie Duta

341,200

95,200

Simon Mattsson

336,100

225,100

Toni Judet

336,000

Team Pro

Alejandro Belluccia

328,400

214,300

Gaetano Dell`Aera

323,500

195,500

Tom Middleton

305,700

213,000

Javier Etayo

305,000

234,300

Lukas Berglund

302,400

237,800

Parker Talbot

301,000

280,900

Ambassador

Yann Dion

293,000

171,000
Nível 14 : 1,200-2,400, 300 ante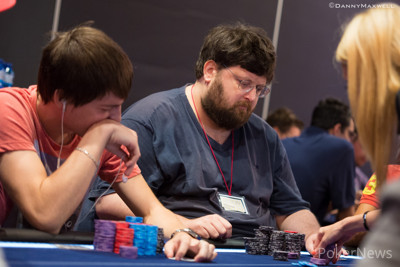 Italian player Mario Adinolfi is becoming a familiar face on the European Poker Tour, having already done the same on the Italian political scene. The PokerStars Blog caught up with him earlier today, covering all the bases - poker, politics and even the Pope.
Nível 14 : 1,200-2,400, 300 ante
Tournament staff has announced seven more hands before bagging and tagging for the end of the night. We're headed out to get a list of counts. Stay tuned for those and a full recap of the Day 2 action.
Nível 14 : 1,200-2,400, 300 ante
We arrived at the table just in time to see Daniel Erlandsson all in for his tournament life before the flop against Antonio Buonanno. Erlandsson showed
and needed to catch up against Buonanno's
.
Erlandsson did not find any ways to improve, however, as the board came down
, and he was sent packing late here in the final level of the day. Buonanno dragged in the pot and now sits on about 235,000.
Nível 14 : 1,200-2,400, 300 ante
It's always nice to get dealt aces, but twenty minutes before the end of Day 2 at an EPT at Barcelona, all in pre, must be pretty hard to beat. Kimmo Kurko had them against Pascal Hartmann's
. The cards held no surprises; in fact
gave Kurko the nut flush. No whooping and hollering though. He just stacked his doubled up stack of 175,000 and waited for the next hand.
Nível 14 : 1,200-2,400, 300 ante
Team PokerStars Pro Christophe de Meulder has been chipping up throughout Day 2, although he's being judicious when it comes to publicizing exactly how he's been doing it. Read more in the PokerStars Blog.
Nível 14 : 1,200-2,400, 300 ante
Action folded to Radif Sharifullin on the button, and he raised to 5,000. Andrew Moreno called from the big blind, and the flop came down
. Moreno checked, Sharifullin bet 5,500, and Moreno called.
The turn was the
, and Moreno check-called a bet of 9,800 from Sharifullin. Then, the
landed on the river. Moreno checked, Sharifullin fired 23,500, and Moreno called.
Sharifullin showed the
for top set of aces, and Moreno mucked his hand.
Jogador
Fichas
Oscilação

Andrew Moreno

195,000

5,000

Radif Sharifullin

186,000

146,100