€5,300 Main Event
Dias: 3
€5,300 Main Event
Dia 3 Iniciado

| Table | Seat | Name | Country | Chips |
| --- | --- | --- | --- | --- |
| 1 | 1 | Ludovic Lacay | France | 242.800 |
| 1 | 2 | Benjamin Pollak | France | 152.500 |
| 1 | 3 | Yury Gulyy | Russia | 170.600 |
| 1 | 4 | Bela Toth | Hungary  | 70.000 |
| 1 | 5 | Ilan Suloman | Israel | 363.000 |
| 1 | 6 | Darie Vlad | Romania | 232.100 |
| 1 | 7 | Jonathan Roy | Canada | 86.900 |
| 1 | 8 | Andre Goldbaum Lichtenshtein | Brazil | 88.000 |
| | | | | |
| 2 | 1 | Valentino Yasenov Konakchiev | Bulgaria  | 283.600 |
| 2 | 2 | Thomas Mercier | Belgium | 41.500 |
| 2 | 3 | Simon Deadman | UK  | 190.200 |
| 2 | 4 | Aliaksandr Posled | Russia | 124.600 |
| 2 | 5 | Liutauras Armanavicius | Lithuania  | 141.200 |
| 2 | 6 | Jesper Winzerling | Sweden | 236.200 |
| 2 | 7 | Simon Harig | Australia  | 69.600 |
| 2 | 8 | Gaik Karabakhtcian | Russia | 99.500 |
| | | | | |
| 3 | 1 | Paolo Compagno | Switzerland  | 87.400 |
| 3 | 2 | Piotr Robert Pietrzak | Poland | 138.200 |
| 3 | 3 | Adrian Veghinas | Romania | 33.200 |
| 3 | 4 | Marc Macdonnell | Ireland | 194.200 |
| 3 | 5 | Vitaly Lunkin | Russia | 96.400 |
| 3 | 6 | Roman Korenev | Russia | 134.800 |
| 3 | 7 | Antonio Lafosse | Peru | 79.000 |
| 3 | 8 | Andrea Benelli | Italy | 363.500 |
| | | | | |
| 4 | 1 | Simon Cuq | French | 106.100 |
| 4 | 2 | Radek Stockner | Czech Republic | 143.900 |
| 4 | 3 | Igor Izmaylov | Russia | 31.200 |
| 4 | 4 | Viatcheslav Ortynskiy | Russia | 62.800 |
| 4 | 5 | Dany Parlafes | Romania | 132.100 |
| 4 | 6 | Thomas Muhlocker | Germany | 50.600 |
| 4 | 7 | Romain Chauvassagne | France | 149.400 |
| 4 | 8 | Apostolos Bechrakis | Greece | 121.800 |
| | | | | |
| 5 | 1 | Apostolos Chatzopoulos | Germany | 68.000 |
| 5 | 2 | Robert Schulz | Germany | 95.400 |
| 5 | 3 | Thor Drexel | Denmark | 44.800 |
| 5 | 5 | Lasell King | Germany | 196.600 |
| 5 | 6 | Ivan Soshnikov | Russia | 106.200 |
| 5 | 7 | Erwann Pecheux | France | 269.000 |
| 5 | 8 | Marinko Skoric | Bosnia and Herzegovina | 86.200 |
| | | | | |
| 6 | 1 | Robert Auer | Germany  | 62.700 |
| 6 | 2 | Amir Lehavot | USA | 427.000 |
| 6 | 3 | Ivan Tikhov | Russia | 88.200 |
| 6 | 4 | Tiberu-Florian Georgescu | Romania | 274.000 |
| 6 | 5 | Darren Elias | USA | 224.100 |
| 6 | 6 | Gwendal Montiton | France | 74.900 |
| 6 | 7 | Szabolcs Mayer | Hungary | 428.200 |
| 6 | 8 | Jan-Eric Schwippert | Germany | 124.600 |
| | | | | |
| 7 | 1 | Tobias Garp | Sweden | 212.900 |
| 7 | 2 | Ciaran Burke | Ireland  | 147.000 |
| 7 | 3 | Sam Chartier | Canada | 131.000 |
| 7 | 4 | Rudi Johnsen | Norway | 193.200 |
| 7 | 5 | Mikhail Shevchuk | Russia | 118.000 |
| 7 | 6 | Dermot Blain | Ireland | 84.100 |
| 7 | 7 | Simon Mattsson | Sweden | 163.000 |
| 7 | 8 | Alex Bilokur | Russia | 139.000 |
| | | | | |
| 8 | 1 | Sebastian Saffari | UK  | 428.000 |
| 8 | 2 | Bejjani Kamal | Lebanon | 114.500 |
| 8 | 3 | Ana Marquez | Spain | 319.400 |
| 8 | 4 | Timothy Ulmer | Canada  | 68.000 |
| 8 | 5 | Radu Catoiu | Romania | 116.200 |
| 8 | 6 | Vit Blachut | Czech Republic | 45.600 |
| 8 | 7 | Niclas Svensson | Sweden  | 45.900 |
| 8 | 8 | Joe Laming | UK  | 99.900 |
| | | | | |
| 9 | 2 | Peter Siemund | Germany | 145.100 |
| 9 | 3 | Tapio Vihakas | Finland  | 322.000 |
| 9 | 4 | Mikhail Marchenko | Russia | 104.700 |
| 9 | 5 | Marcin Wydrowski | Poland | 119.300 |
| 9 | 6 | Lars Anders Dahlin | Sweden | 58.900 |
| 9 | 7 | Andrey Grenko | Russia | 136.400 |
| 9 | 8 | Hugo Felix | Portugal | 200.900 |
| | | | | |
| 10 | 1 | Tomasz Kowalski | Poland | 147.700 |
| 10 | 2 | Denis Pisarev | Russia | 162.100 |
| 10 | 3 | Dmitry Vitkind | Russia | 160.000 |
| 10 | 4 | Dimitri Holdeew | Germany | 201.600 |
| 10 | 5 | Boutros Naim | Lebanon | 48.700 |
| 10 | 6 | Oleh Okhotskyi | Ukraine | 220.300 |
| 10 | 7 | Dominik Nitsche | Germany | 68.100 |
| 10 | 8 | Pasquale Braco | Italy | 59.500 |
| | | | | |
| 11 | 1 | Kevin Iacofano | UK  | 380.600 |
| 11 | 2 | Przemyslaw Misztela | Poland  | 87.500 |
| 11 | 3 | Zdravko Duvnjak | Netherlands | 226.900 |
| 11 | 4 | Paul Volpe | USA | 61.300 |
| 11 | 5 | Adrian Mateos Diaz | Spain | 320.800 |
| 11 | 7 | Ari Engel | USA | 240.300 |
| 11 | 8 | Cezar Oprea | Romania | 102.100 |
| | | | | |
| 12 | 1 | Jannick Wrang | Denmark  | 110.200 |
| 12 | 2 | Thomas Hall | UK | 88.100 |
| 12 | 3 | Sergey Baburin | Russia | 413.000 |
| 12 | 4 | Marc-Andre Ladouceur | Canada  | 68.200 |
| 12 | 5 | Kitty Kuo | China | 209.200 |
| 12 | 6 | Martin Wiklund | Sweden | 134.000 |
| 12 | 7 | Ben Martin | UK  | 66.100 |
| 12 | 8 | Alexander Lakhov | Russia | 156.600 |
| | | | | |
| 13 | 1 | Taylor Von Kriegenbergh | USA | 136.000 |
| 13 | 2 | Christian Golob | Austria | 337.000 |
| 13 | 3 | Karel Kratochvil | Czech Republic | 92.400 |
| 13 | 4 | Aleksey Ponakov | Latvia  | 108.700 |
| 13 | 5 | Christian Grundtvig | Denmark | 121.100 |
| 13 | 6 | Dimitrios Kalaroutis | Greece | 117.500 |
| 13 | 7 | Georgios Sotiropoulos | Greece  | 201.600 |
| 13 | 8 | Bernard Lattouf | Lebanon | 46.500 |
| | | | | |
| 14 | 1 | Ole Schemion | Germany | 112.600 |
| 14 | 2 | Walid Bou Habib | Lebanon  | 509.000 |
| 14 | 3 | Bolivar Palacios | Panama | 122.000 |
| 14 | 4 | Artem Metalidi | Ukraine  | 184.100 |
| 14 | 5 | Jan Ramik | Czech Republic | 55.900 |
| 14 | 6 | Frei Dilling | Denmark | 127.200 |
| 14 | 7 | Max Silver | UK  | 259.500 |
| 14 | 8 | Henrique Pinho | Portugal | 151.500 |
| | | | | |
| 15 | 1 | Siarhei Sharkota | Belarus | 43.100 |
| 15 | 2 | Marcello Miniucchi | Italy | 156.800 |
| 15 | 3 | Dmytko Samoilenko | Ukraine | 280.000 |
| 15 | 4 | Eugene Katchalov | Ukraine | 104.900 |
| 15 | 5 | Eetu Parpala | Finland  | 206.000 |
| 15 | 6 | Jose Carlos Garcia | Poland | 51.500 |
| 15 | 7 | Bertilsson Per Anton | Sweden | 212.000 |
| 15 | 8 | Micha Hoedemaker | Netherlands | 39.500 |
| | | | | |
| 16 | 1 | Bertrand "Elky" Grospellier | France | 230.200 |
| 16 | 2 | Lucas Reeves | UK  | 307.400 |
| 16 | 3 | Sebastian Langrock | Germany | 134.300 |
| 16 | 4 | Denys Drobyna | Ukraine  | 123.400 |
| 16 | 5 | Marius Heiene | Sweden | 243.900 |
| 16 | 6 | Georgii Bandura | Russia | 61.100 |
| 16 | 7 | Mariusz Klosinski | Poland | 126.200 |
| 16 | 8 | Murad Akhundov | Azerbaijan | 93.000 |
| | | | | |
| 17 | 1 | Thomas Pedersen | Denmark | 168.400 |
| 17 | 2 | Sigurd Andreas Eskeland | Norway  | 303.200 |
| 17 | 3 | Andrew Chen | Canada | 120.600 |
| 17 | 4 | David Williams | USA | 89.200 |
| 17 | 5 | Andrey Volkov | Russia | 204.000 |
| 17 | 6 | Andrii Nadieliaiev | Ukraine | 109.700 |
| 17 | 7 | Joao Simao | Brazil | 112.200 |
| 17 | 8 | Michel Dattani | Portugal | 51.500 |
| | | | | |
| 18 | 1 | Stefan Vagner | Slovakia | 120.000 |
| 18 | 2 | Sven Krieger | Germany | 84.100 |
| 18 | 3 | Filippo Lazzaretto | Italy | 68.500 |
| 18 | 4 | Stefan Ivanov | Bulgaria  | 111.700 |
| 18 | 5 | Jorma Nuutinen | Finland  | 170.000 |
| 18 | 6 | Victor Podofedenko | Russia | 31.200 |
| 18 | 7 | Victor Sheerman | Russia | 145.700 |
| 18 | 8 | Igor Yaroshevskyy | Ukraine | 118.300 |
| | | | | |
| 19 | 1 | Hugh Drummond | Canada  | 86.300 |
| 19 | 2 | Adrian Piasecki | Poland  | 306.100 |
| 19 | 3 | Julien Jean-Paul Brulet | Belgium | 151.500 |
| 19 | 4 | Nikita Nikolaev | Russia | 247.300 |
| 19 | 5 | Grigory Pakhomov | Russia | 42.700 |
| 19 | 6 | Anders Rasmussen | Denmark | 163.000 |
| 19 | 7 | Scott Margereson | UK  | 229.600 |
| 19 | 8 | Ihar Koshal | Belarus  | 417.000 |
| | | | | |
| 20 | 1 | Nicolai Kramer | Germany | 304.700 |
| 20 | 2 | Dario Sammartino | Italy | 278.100 |
| 20 | 3 | Jonathan Little | USA | 471.000 |
| 20 | 4 | Kirill Shugai | Russia | 217.600 |
| 20 | 5 | Erik Scheidt | Germany  | 27.800 |
| 20 | 6 | Jonathan Duhamel | Canada | 108.000 |
| 20 | 7 | Marco Leonzio | Italy | 124.700 |
| 20 | 8 | Mateusz Zbikowski | UK | 201.100 |
| | | | | |
| 21 | 1 | Emmanuel Francois Murcia | Belgium | 160.800 |
| 21 | 2 | Andreas Berggren | Sweden  | 51.100 |
| 21 | 3 | Charles Chaya | Canada | 56.900 |
| 21 | 4 | Stephen Chidwick | UK | 192.500 |
| 21 | 5 | Martin Balaz | Czech Republic | 149.200 |
| 21 | 6 | Ka Kwan Lau | Spain | 440.000 |
| 21 | 7 | Sylvain Loosli | France | 92.500 |
| 21 | 8 | Vadim Belov | Russia | 107.100 |
| | | | | |
| 22 | 1 | Matthew Haugen | USA | 75.100 |
| 22 | 2 | Sam Cohen | USA | 50.600 |
| 22 | 3 | Sotirios Koutoupas | Greece | 182.200 |
| 22 | 4 | Panicos Ellinas | UK  | 118.400 |
| 22 | 5 | Moshe Elazar | Israel | 138.400 |
| 22 | 6 | Rui Sousa | Portugal | 76.700 |
| 22 | 7 | Artem Romanov | Russia | 399.700 |
| 22 | 8 | Milan Joksic | Austria | 61.200 |
| | | | | |
| 23 | 1 | Tom Alner | UK  | 171.700 |
| 23 | 2 | Jan Sjavik | Norway  | 269.400 |
| 23 | 3 | Inigo Rodriguez | Spain | 82.500 |
| 23 | 4 | Franz-Josef Breuer | Germany  | 90.800 |
| 23 | 5 | Dmitry Ponomarev | Russia | 382.000 |
| 23 | 6 | Morten Klein | Norway | 245.400 |
| 23 | 7 | Ori Hasson | Israel  | 138.000 |
| 23 | 8 | Florian Krumpt | Germany | 172.400 |
| | | | | |
| 24 | 1 | Julian Track | Germany  | 428.000 |
| 24 | 2 | Dominguez Pardo | Spain | 31.000 |
| 24 | 3 | Nihat Karyagdi | Romania  | 385.300 |
| 24 | 4 | Stefan Kolossow | Germany | 112.400 |
| 24 | 5 | Ihar Soika | Belarus | 196.000 |
| 24 | 6 | Marcelo da Fonseca | Brazil  | 129.900 |
| 24 | 7 | Tamer Kamel | UK | 35.500 |
| 24 | 8 | Martin Staszko | Czech Republic | 36.100 |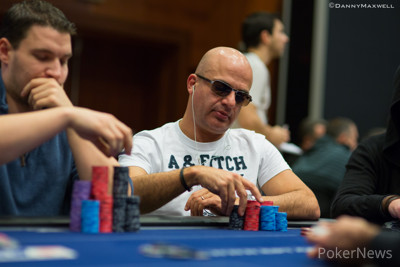 A record breaking 1,007 players entered the Season 10 European Poker Tour Prague Main Event at the Hilton Hotel in the Czech Republic, but now we are down to 189 who will return today to continue the battle for the prestigious title of 2013 EPT Prague Champion.
The huge number of entrants means the tournament has generated a massive prize pool of €4,883,950, with the winner set to receive €889,000. It also means that 151 players will finish in the money. In other words, 38 players will leave here today empty handed.
Walid Bou Habib from Lebanon leads the field with 509,000 chips, but some still competition isn't far behind. Jonathan Little from the USA has 471,000, PokerStars player Ka Kwan Lau from Spain has 440,000, and there are a number of other players with similar stacks snapping at their heels.
World Series of Poker November Niner Amir Lehavot from the USA, who was the chip leader at the start of Day 2, is still in contention with 427,000, and so are a number of Team PokerStars Pros including Bertrand "Elky" Grospellier (230,200), Jonathan Duhamel (108,000), Eugene Katchalov (104,900), and David Williams (89,200).
A few other notables who will play today include Full Tilt Poker Tour Ambassador Dermot Blain (84,200), Simon Deadman (190,200) Ana Marquez (319,400), and Max Silver (259,000).
The tournament will now switch to 90-minute levels with the blinds starting at 1,500/3,000 with a 400 ante. There are 24 tables left and play will be eight handed. The seat draw is just below this post.
There are a few short stacks, the shortest of which is Erik Scheidt (27,800), who will need a bit of luck to survive the early levels, but one double up will see him right back in contention.
Join the PokerNews reporting team as action kicks off in an hour for all the drama as we head towards the bubble and take another step towards crowning the final EPT Champion of 2013. Live streaming and commentary from James Hartigan and Joe Stapelton can be found at pokerstars.tv.
Nível: 15
Blinds: 1,500/3,000
Ante: 400
Nível 15 : 1,500/3,000, 400 ante
Jonathan Little has been on a tear here in the EPT10 Prague Main Event. Chad Holloway catches up with him prior to the start of play on Day 3.
Nível 15 : 1,500/3,000, 400 ante
Sarah recaps some of the action from the WCOOP awards party and dishes out a few awards of her own.
Nível 15 : 1,500/3,000, 400 ante
Not in the early exit sense, although Jose Carlos Garcia did move all in for 51,500 on the first hand from the small blind , but in the not here yet sense.
WPT Seminole Hard Rock Showdown champion Taylor von Kriegenbergh was not in his seat for the first hand, his stack of 136,000 is currently blinding off.
Nível 15 : 1,500/3,000, 400 ante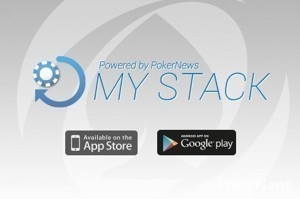 The PokerNews My Stack App is available for players here at the European Poker Tour Prague, allowing players to directly update their chip count on the PokerNews Live Reporting page for their friends and family to see.
You can download the app for iPhone or Android now to get started. Then, create a new PokerNews account or update your current one to start updating your status immediately. Your followers can see all the live action that you're involved in.
Be forewarned, however, any abuse of the app will result in account suspension or termination.

Nível 15 : 1,500/3,000, 400 ante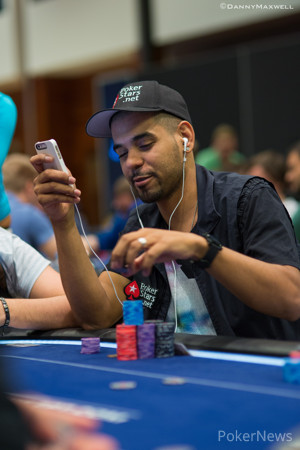 In one of the first hands of the day Portuguese pro Micel Dattani shoved all in under the gun for a little over 50,000. In the cutoff it was David Williams who was interested. After only taking a glance at his cards he knew what to do: reshove. He went all in for 35,000 more than Dattani's stack and the button and both blinds quickly folded.
Williams had by far the best hand with
as Dattani showed
. The flop would give Williams a headache probably though, as two clubs popped up:
. The
on the turn proved to be a blank but the
on the river wasn't. Williams calmly counted out the chips he owed and handed them over without any sign of despair.
The next hand there was a raise in front of Williams to 6,500 and he shoved his last big blinds in. The call that followed was quick and Williams would soon find out he needed to hit. His
was up against
. The
board proved no help and Williams got up from the table and left the tournament area.
Nível 15 : 1,500/3,000, 400 ante
Dario Sammartino opened for 6,000 and was called from the button by Kirill Shugai. Short stack Erik Scheidt folded the small blind and Jonathan Duhamel made the call. Three players saw the flop of
. Duhamel checked and the pre-fop raiser continued for 8,500. Shugai and Duhamel left them to it. Turn card
and now Sammartino checked it over to Shugai who bet 12,500 only to be faced by a check-raise to 38,000. He gave it some thought and made the call seeing the river card fall the
. Sammartino now led for a big bet of 116,000. Shugai got the dealer to clarify the bet, counted out the call from his stack and slid it forward to call. Sammartino turned over
for the flopped set and that was the winning hand as Shugai mucked his hand.