€5,300 Main Event
Dias: 1b
€5,300 Main Event
Dia 1b Iniciado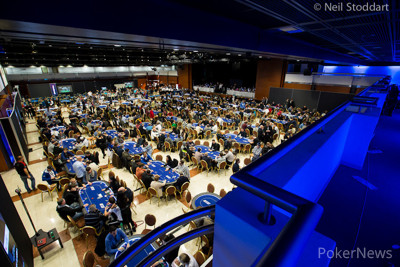 Things are about to get underway here on Day 1b of the EPT Prague Main Event, which is being held here at the Hilton Prague in the Czech Republic's largest city.
Team PokerStars Pros are out in force today and we will be seeing appearances from England's Liv Boeree, Luca Pagano and Dario Minieri from Italy, Dag Palovic from Slovakia, and Martin Hruby from right here in the Czech Republic.
Other notables who will be in action include Full Tilt Poker Tour Ambassador Dermot Blain, who has been hitting the circuit hard this year when not crushing online, and UK cash game pro Ryan Spittles, who is coming straight from cashing in the Eureka High Roller last night.
Early indications show 180 players are registered so far, but many more are expected to buy in before the close of registration; in fact; we'd be surprised if that number doesn't at least double. The record here at Prague was set last year with a final tally of 864 players, so with 389 Day 1a entrants there is adecent chance Season 10 will surpass that number.
Starting stacks are 30,000, with blinds starting at 50/100. We will play eight 75 minute levels today before the day finishes and we discover who makes it through to Day 2 of this prestigious event.
Throughout the day the PokerNews Live Reporting Team will be bringing you all the latest chip counts, notable hands, and action from the tables, as well as news from the wider Eureka Prague Poker Festival, player tweets, exclusive videos and more.
Read all about it right here, and follow the action live on the feature table at pokerstars.tv with commentary from James Hartigan, who will take up his new post as Senior Creative Producer on the PokerStars.com EPT production team, and his irrepressible co-host Joe "Stapes" Stapleton.
Action is set to get underway in less than an hour, so stay tuned!
Nível: 1
Blinds: 50/100
Ante:
It's shaping up to be a busy day! The tournament room is packed, and players are still filtering in. Cards are in the air here on Day 1b, and we're headed down to the tournament floor to see who all is here. Stay tuned!
We caught up with former October Niner Jake Balsiger prior to the start of play on Day 1b of the EPT10 Prague. Team PokerStars Pro Daniel Negreanu also stops by to give his two cents.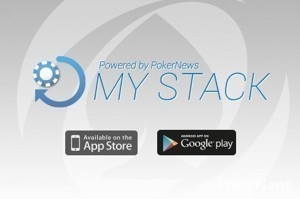 The PokerNews My Stack App is available for players here at the European Poker Tour Prague, allowing players to directly update their chip count on the PokerNews Live Reporting page for their friends and family to see.
You can download the app for iPhone or Android now to get started. Then, create a new PokerNews account or update your current one to start updating your status immediately. Your followers can see all the live action that you're involved in.
Be forewarned, however, any abuse of the app will result in account suspension or termination.

Nível 1 : 50/100, 0 ante
Jogador
Fichas
Oscilação

Jamila Von Perger

30,000

30,000

Ankush Mandavia

30,000

30,000

Isaac Haxton

30,000

30,000

Vitaly Lunkin

30,000

30,000

Martin Kabrhel

30,000

30,000

Dylan Linde

30,000

30,000

Toni Judet

30,000

30,000

Manig Loeser

30,000

30,000

Andras Nemeth

30,000

30,000

Dominik Nitsche

30,000

30,000

Jan Olav Sjavik

30,000

30,000

Konstantin Puchkov

30,000

30,000

Mikalai Pobal

30,000

30,000

Pratyush Buddiga

30,000

30,000

Paul Berende

30,000

30,000

Amir Lehavot

30,000

30,000

Daniel Negreanu

30,000

30,000

Eugene Katchalov

30,000

30,000

Jason Duval

30,000

30,000

Dermot Blain

30,000

30,000

Marc Etienne McLaughlin

30,000

30,000

David Vamplew

30,000

30,000

Dario Minieri

30,000

30,000

Todd Terry

30,000

30,000

Chris Moorman

30,000

30,000
Player of the year Daniel Negreanu is here for the first hand, seated and ready to play. With four players at his table it is folded to the small blind who raises Negreanu's big blind. "How much do you want?" Negreanu asked and threw in the required 225. "I have position, I get to see what you do first." He continued to goad his opponent. They saw a flop of
which saw Negreanu speculating that his opponent didn't have a six. Undaunted his opponent bet 400 which Negreanu called. Turn card
. "Oh you like that card." Said Negreanu but they both checked and saw a river card
. The small blind now bet 600. Negreanu counted out raising chips and made it 1,800 which seemed to confuse his opponent, but not enough for him to fold. He called and Negreanu quickly gave him the bad news. "Straight. I have a straight." He said turning over
. His opponent showed
.
"First hand lucky. I am Romanian." Said Negreanu's disappointed opponent. There followed what was received as some passable Romanian from the PokerStars Pro before the dealer interrupted to tell him to take his phone off the table. He switched back to English to begin a monologue on his favourite topic: EPT tournament rules.
Just sat down to play day 1b of #EPTPrague & Martin Kabrhel at my table so there should be some early action.
Follow @KevinMacPhee
@mickeydp: Won a satellite last night to boost morale, just sat down to play day 1 of #EPTPrague. The one and only @bebe_chien at my table!
Follow @mickeydp
#EPTPrague day 1B. Got a good feeling about this one
Follow @ikepoker