€5,300 Main Event
Dias: 2
€5,300 Main Event
Dia 2 Iniciado

| Table | Seat | Name | Country | Chips |
| --- | --- | --- | --- | --- |
| 1 | 1 | Jakub Michalak | Poland | 65,700 |
| 1 | 2 | Farid Chati | Turkey | 87,000 |
| 1 | 3 | Vlado Banicevic | Montenegro | 41,700 |
| 1 | 4 | Toby Lewis | UK | 44,900 |
| 1 | 5 | Anton Krishchenko | Russia | 10,700 |
| 1 | 6 | Ciaran Burke | Ireland  | 137,700 |
| 1 | 7 | Todd Terry | USA | 12,800 |
| 1 | 8 | Rui Sousa | Portugal | 106,400 |
| 1 | 9 | Sofia Lovgren | Sweden | 23,800 |
| | | | | |
| 2 | 1 | Massimo Di Cicco | Italy | 61,800 |
| 2 | 2 | Jan Ramik | Czech Republic | 100,700 |
| 2 | 3 | Gregoire Panetti | Switzerland | 14,100 |
| 2 | 4 | Tigran Yazychyan | Russia | 38,300 |
| 2 | 5 | Stephan Kjerstad | Norway | 43,100 |
| 2 | 6 | Niclas Svensson | Sweden  | 42,000 |
| 2 | 7 | Rudi Johnsen | Norway | 90,200 |
| 2 | 8 | Jose Carlos Garcia | Poland | 138,500 |
| 2 | 9 | Jaroslav Baria | Slovenia | 12,800 |
| | | | | |
| 3 | 1 | Maximilian Bassil | Norway | 12,000 |
| 3 | 2 | Andrei Lazarev | Russia | 39,600 |
| 3 | 3 | Hugo Felix | Portugal | 67,200 |
| 3 | 4 | Jan Sjavik | Norway  | 142,400 |
| 3 | 5 | Wojciech Lozowski | Poland | 56,100 |
| 3 | 6 | Elpidio Cepparulo | Italy | 26,700 |
| 3 | 7 | Waldemar Essig | Germany  | 26,000 |
| 3 | 8 | Sergey Baburin | Russia | 82,200 |
| 3 | 9 | Kent Lundmark | Sweden | 67,100 |
| | | | | |
| 4 | 1 | James Gilbert | USA | 90,500 |
| 4 | 2 | Vishal Pundjabi | Germany | 18,400 |
| 4 | 3 | Darren Elias | USA | 97,200 |
| 4 | 4 | Daniele Todeschini | Italy | 31,200 |
| 4 | 5 | David Boyaciyan | Netherlands | 40,500 |
| 4 | 6 | Krzysztof Stuchlik | Poland | 85,300 |
| 4 | 7 | Ka Kwan Lau | Spain | 73,000 |
| 4 | 8 | Alfio Battisti | Italy | 54,800 |
| 4 | 9 | Clemens Manzano | Austria | 98,000 |
| | | | | |
| 5 | 1 | Aivaras Bardauskas | Lithuania | 77,300 |
| 5 | 2 | Vinicius Barrel Teles | Brazil  | 121,500 |
| 5 | 3 | Saar Wilf | Israel | 15,300 |
| 5 | 4 | Sal Al Fakih | Lebanon | 48,700 |
| 5 | 5 | Max Greenwood | Canada | 23,000 |
| 5 | 6 | Florian Krumpt | Germany | 70,900 |
| 5 | 7 | Scott Clements | Canada | 12,400 |
| 5 | 8 | Oleh Okhotskyi | Ukraine | 82,400 |
| 5 | 9 | Peter Siemund | Germany | 87,200 |
| | | | | |
| 6 | 1 | Mario Re | Italy | 43,100 |
| 6 | 2 | Ondrej Kopecky | Czech Republic | 30,900 |
| 6 | 3 | Ana Marquez | Spain | 28,700 |
| 6 | 4 | Bryan James Paris | USA | 34,500 |
| 6 | 5 | Idan Raviv | Israel | 63,000 |
| 6 | 6 | Jonathan Roy | Canada | 149,100 |
| 6 | 7 | Michal Polchlopek | Poland | 18,000 |
| 6 | 8 | Kataev Katayev | Russia | 88,600 |
| 6 | 9 | Vyacheslav Stoyanov | Russia | 65,800 |
| | | | | |
| 7 | 1 | Miltiadis Kyriakides | Greece | 32,000 |
| 7 | 2 | Peter Barrable | Ireland | 28,000 |
| 7 | 3 | Dmitry Vitkind | Russia | 36,000 |
| 7 | 4 | Karel Kratochvil | Czech Republic | 116,900 |
| 7 | 5 | Jason Wheeler | USA | 60,500 |
| 7 | 6 | Darie Vlad | Romania | 129,400 |
| 7 | 7 | Alessandro Monticciolo | Italy | 30,400 |
| 7 | 8 | Andreas Wiese | Germany | 27,500 |
| 7 | 9 | Dietrich Fast | Germany | 40,500 |
| | | | | |
| 8 | 1 | Micah Raskin | USA | 19,300 |
| 8 | 2 | Thor Drexel | Denmark | 36,300 |
| 8 | 3 | Artem Romanov | Russia | 69,200 |
| 8 | 4 | Yann Del Rey | France | 51,500 |
| 8 | 5 | Davide Suriano | Italy | 42,300 |
| 8 | 6 | Thanh Hai Pham | Viet Nam | 25,800 |
| 8 | 7 | Marcus Theodorus Van Opzeeland | Spain | 31,200 |
| 8 | 8 | Martin Finger | Germany | 58,600 |
| 8 | 9 | Marcelo da Fonseca | Brazil  | 74,000 |
| | | | | |
| 9 | 1 | Anders Rasmussen | Denmark | 99,500 |
| 9 | 2 | Mickey Petersen | Denmark | 37,800 |
| 9 | 3 | Vit Blachut | Czech Republic | 55,700 |
| 9 | 4 | Sam Greenwood | Canada  | 90,200 |
| 9 | 5 | Kevin Iacofano | UK  | 21,000 |
| 9 | 6 | Adrian Veghinas | Romania | 46,300 |
| 9 | 7 | Dmitry Yurasov | Russia | 36,200 |
| 9 | 8 | Jonathan Barusta | UK  | 101,600 |
| | | | | |
| 10 | 1 | Bernard Lattouf | Lebanon | 156,800 |
| 10 | 2 | Jesper Winzerling | Sweden | 93,000 |
| 10 | 3 | Mateusz Zbikowski | UK | 76,900 |
| 10 | 4 | Cezar Oprea | Romania | 29,700 |
| 10 | 5 | Georgios Zisimopoulos | Greece  | 33,200 |
| 10 | 6 | Caicai Huang | UK  | 31,700 |
| 10 | 7 | Lucas Reeves | UK  | 140,800 |
| 10 | 8 | Peter Charalambous | UK  | 18,700 |
| 10 | 9 | Morten Klein | Norway | 110,100 |
| | | | | |
| 11 | 1 | Maximilian Senft | Germany | 56,200 |
| 11 | 2 | Andreas Berggren | Sweden  | 22,300 |
| 11 | 4 | Dmitry Ponomarev | Russia | 84,100 |
| 11 | 5 | Charles Chaya | Canada | 127,800 |
| 11 | 6 | Sebastian Saffari | UK  | 162,000 |
| 11 | 7 | Ermakov Roman | Russia | 34,600 |
| 11 | 8 | Michael Gross | Germany | 20,600 |
| 11 | 9 | Nicola Grieco | Italy | 28,600 |
| | | | | |
| 12 | 1 | Przemyslaw Misztela | Poland  | 73,400 |
| 12 | 2 | Marc-Etienne Mclaughlin | Canada  | 26,100 |
| 12 | 3 | Carlos Egea | Spain | 43,800 |
| 12 | 4 | Marc Macdonnell | Ireland | 98,200 |
| 12 | 6 | Ryan Franklin | USA | 23,100 |
| 12 | 7 | Shannon Shorr | USA | 40,400 |
| 12 | 8 | Craig Mccorkell | UK  | 37,500 |
| 12 | 9 | Nicolas Levi | France | 40,200 |
| | | | | |
| 13 | 1 | Vineet Pahuja | Canada | 12,800 |
| 13 | 2 | Dominik Panka | Poland  | 37,300 |
| 13 | 3 | Kuljinder Sidhu | UK  | 57,600 |
| 13 | 4 | Valentino Yasenov Konakchiev | Bulgaria  | 149,000 |
| 13 | 5 | Moshe Elazar | Israel | 20,800 |
| 13 | 6 | Denys Drobyna | Ukraine  | 98,200 |
| 13 | 7 | Nichlas Mattsson | Sweden | 19,900 |
| 13 | 8 | Paolo Compagno | Switzerland  | 111,800 |
| 13 | 9 | Douglas Souza | Brazil  | 35,200 |
| | | | | |
| 14 | 2 | David Biagi | Italy | 49,300 |
| 14 | 3 | Victor Wessman | Sweden | 35,700 |
| 14 | 4 | Aleksey Ponakov | Latvia  | 23,800 |
| 14 | 5 | Emmanuel Francois Murcia | Belgium | 58,600 |
| 14 | 6 | Ivan Tikhov | Russia | 89,900 |
| 14 | 7 | Kenneth Hicks | USA | 89,500 |
| 14 | 8 | Salman Behbehani | Kuwait | 28,500 |
| 14 | 9 | Bryan Leskowitz | USA | 19,100 |
| | | | | |
| 15 | 1 | Norbert Szecsi | Hungary | 11,800 |
| 15 | 2 | Giuseppe Zarbo | Italy | 27,400 |
| 15 | 3 | Christophe De Meulder | Belgium | 40,100 |
| 15 | 4 | Zsolt Pentek | Hungary | 63,800 |
| 15 | 5 | Tapio Vihakas | Finland  | 105,500 |
| 15 | 6 | Plamen Todorov | Bulgaria | 20,600 |
| 15 | 7 | Jonathan Little | USA | 104,200 |
| 15 | 8 | Simon Deadman | UK  | 117,800 |
| 15 | 9 | Ben Martin | UK  | 55,900 |
| | | | | |
| 16 | 1 | Bjorn Brost | Germany | 95,000 |
| 16 | 2 | Erik Olofsson | Sweden | 7,700 |
| 16 | 3 | Janous Vladimir | Czech Republic | 23,400 |
| 16 | 4 | Krzysztof Dulowski | Poland | 31,800 |
| 16 | 5 | Maxence Dupont | France  | 9,100 |
| 16 | 6 | Denis Pisarev | Russia | 69,400 |
| 16 | 7 | Artem Metalidi | Ukraine  | 28,700 |
| 16 | 8 | Marc-Andre Ladouceur | Canada  | 48,500 |
| | | | | |
| 17 | 1 | Desislav Velikov | Bulgaria | 34,500 |
| 17 | 3 | [Removed:244] | Austria | 63,200 |
| 17 | 4 | Liutauras Armanavicius | Lithuania  | 13,300 |
| 17 | 5 | Joao Simao | Brazil | 163,100 |
| 17 | 6 | Max Silver | UK  | 87,100 |
| 17 | 7 | Stefan Ivanov | Bulgaria  | 19,900 |
| 17 | 8 | Timothy Ulmer | Canada  | 55,000 |
| 17 | 9 | Joao Baumgarten | Brazil | 83,800 |
| | | | | |
| 18 | 1 | Marinko Skoric | Bosnia and Herzegovina | 43,200 |
| 18 | 2 | Shai Zurr | Israel | 49,100 |
| 18 | 3 | Myro Garcia | Brazil | 45,600 |
| 18 | 4 | Stanislavs Macugins | Russia | 12,200 |
| 18 | 5 | Boutros Naim | Lebanon | 39,800 |
| 18 | 6 | Kevin Macphee | USA | 25,500 |
| 18 | 8 | Carl Carlsson | Sweden | 15,500 |
| 18 | 9 | Vitaly Lunkin | Russia | 51,900 |
| | | | | |
| 19 | 1 | David Peters | USA | 76,000 |
| 19 | 2 | Timo Isotalo | Finland | 12,600 |
| 19 | 3 | Zdravko Duvnjak | Netherlands | 65,000 |
| 19 | 4 | Alexander Debus | Germany | 16,300 |
| 19 | 5 | Nikita Nikolaev | Russia | 19,600 |
| 19 | 7 | Martin Nikolov | Bulgaria | 58,400 |
| 19 | 8 | Ramin Hajiyev | Azerbaijan | 13,600 |
| 19 | 9 | Vasileios Korkas | Greece | 95,600 |
| | | | | |
| 20 | 1 | Sergey Lebedev | Russia | 26,000 |
| 20 | 2 | Sean Prendiville | Ireland | 83,000 |
| 20 | 3 | Stefan Vagner | Slovakia | 48,700 |
| 20 | 4 | Sunny Chattha | UK  | 48,000 |
| 20 | 5 | Adrian Mateos Diaz | Spain | 79,100 |
| 20 | 6 | Anton Kraus | Bulgaria | 58,300 |
| 20 | 7 | Marat Begenov | Kazakhstan | 38,500 |
| 20 | 8 | Alexander Lakhov | Russia | 76,800 |
| 20 | 9 | Giacomo Fundaro | Italy | 18,700 |
| | | | | |
| 21 | 1 | Nandor Solyom | Romania | 81,700 |
| 21 | 2 | Dimitry Chernikov | Russia | 83,900 |
| 21 | 3 | Marc Daubach | UK  | 24,400 |
| 21 | 4 | Marco Leonzio | Italy | 37,200 |
| 21 | 5 | Boris Scepanovic | Montenegro  | 40,000 |
| 21 | 6 | Rhys Jones | UK  | 42,600 |
| 21 | 7 | Gwendal Montiton | France | 36,400 |
| 21 | 8 | Siarhei Sharkota | Belarus | 32,500 |
| 21 | 9 | Konstantin Maslak | Russia | 37,800 |
| | | | | |
| 22 | 1 | Akin Tuna | Germany | 26,100 |
| 22 | 2 | Kemal Sevevi | Turkey | 48,200 |
| 22 | 3 | Aliaksandr Posled | Russia | 79,800 |
| 22 | 4 | Ivan Glushkov | Russia | 116,800 |
| 22 | 5 | Ihar Koshal | Belarus  | 70,000 |
| 22 | 6 | Manuel Andrees Sadornil | Spain | 22,000 |
| 22 | 7 | Robert Zipf | Germany | 28,100 |
| 22 | 8 | Matej Marinovic | Croatia | 15,900 |
| 22 | 9 | Lasse Frost | Denmark  | 24,500 |
| | | | | |
| 23 | 1 | Mikalai Pobal | Belarus | 15,900 |
| 23 | 2 | Chady El Ojeil | Lebanon | 86,800 |
| 23 | 3 | Vitalijs Zavorotnijs | Latvia  | 41,500 |
| 23 | 4 | Pasquale Braco | Italy | 51,500 |
| 23 | 6 | Jorma Nuutinen | Finland  | 84,400 |
| 23 | 7 | Hyung Jung | Korea | 88,000 |
| 23 | 8 | Panicos Ellinas | UK  | 100,800 |
| 23 | 9 | Apostolos Chatzopoulos | Germany | 50,300 |
| | | | | |
| 24 | 1 | Manfred Sierke | Germany | 36,700 |
| 24 | 2 | Karen Sarkisyan | Russia | 79,900 |
| 24 | 3 | Johannes Korsar | Sweden | 8,300 |
| 24 | 4 | Yury Gulyy | Russia | 38,600 |
| 24 | 5 | Mikhail Marchenko | Russia | 53,500 |
| 24 | 6 | Yaacoub Jihad | Lebanon | 18,600 |
| 24 | 7 | Aku Joentausta | Finland | 50,700 |
| 24 | 8 | Konstantin Tolokno | Russia | 43,200 |
| 24 | 9 | Filippo Lazzaretto | Italy | 55,000 |
| | | | | |
| 25 | 1 | Jonathan Duhamel | Canada | 16,100 |
| 25 | 2 | Andreas Agiostratitis | Greece  | 32,200 |
| 25 | 3 | Vladimir Malak | Czech Republic | 35,200 |
| 25 | 4 | Lenoir Eric | Belgium | 24,400 |
| 25 | 5 | Berthold Winz | Germany | 70,000 |
| 25 | 6 | Marek Tatar | Slovakia | 20,000 |
| 25 | 7 | Apostolos Bechrakis | Greece | 60,700 |
| 25 | 8 | Jeton Alimusaj | Sweden | 38,000 |
| 25 | 9 | Franz Ditz | Germany  | 105,200 |
| | | | | |
| 26 | 1 | Zoltan Purak | Austria  | 9,400 |
| 26 | 2 | Tom Alner | UK  | 40,600 |
| 26 | 3 | Paul Volpe | USA | 82,100 |
| 26 | 4 | Rytis Praninskas | Lithuania | 15,200 |
| 26 | 5 | Sergio Aido | Spain | 81,200 |
| 26 | 6 | Andrei Demidov | Russia | 41,000 |
| 26 | 7 | Gaelle Baumann | France | 33,800 |
| 26 | 8 | Mathew Frankland | UK  | 17,800 |
| 26 | 9 | Anaras Alekberovas | Lithuania | 115,600 |
| | | | | |
| 27 | 1 | Eoghan O'Dea | Ireland | 69,600 |
| 27 | 2 | Vojtech Ruzicka | Czech Republic  | 25,100 |
| 27 | 3 | Walter Blattler | Switzerland | 62,000 |
| 27 | 4 | Tomasz Kowalski | Poland | 63,500 |
| 27 | 5 | Gaetano Dell`Aera | Belgium | 47,300 |
| 27 | 6 | Reza Doomun | Switzerland | 33,600 |
| 27 | 7 | Simeon Naydenov | Bulgaria  | 46,100 |
| 27 | 8 | Florian-Dimitrie Duta | Romania | 45,600 |
| 27 | 9 | Erwann Pecheux | France | 50,700 |
| | | | | |
| 28 | 1 | Andrey Volkov | Russia | 100,000 |
| 28 | 2 | Ramil Boyazitov | Russia | 77,200 |
| 28 | 3 | Scott Augustine | Czech Republic | 81,600 |
| 28 | 4 | Viktor Makeev | Spain | 12,500 |
| 28 | 5 | Darko Stojanovic | France | 31,500 |
| 28 | 6 | Marius Heiene | Sweden | 141,900 |
| 28 | 7 | Guillaume Dupuy | France | 76,900 |
| 28 | 8 | Giovani Torre | Portugal | 55,100 |
| 28 | 9 | Ronan Monfort | France | 16,500 |
| | | | | |
| 29 | 1 | Tomas Fucik | Czech Republic | 22,100 |
| 29 | 2 | Daniel Tighe | UK  | 104,700 |
| 29 | 3 | Ilan Suloman | Israel | 61,500 |
| 29 | 4 | Kory Kilpatrick | USA | 20,400 |
| 29 | 5 | Andrey Bondar | Russia | 9,500 |
| 29 | 6 | Gustavo Lopez Garcia | Spain | 54,400 |
| 29 | 7 | Aleksandr Konstantinov | Russia | 53,100 |
| 29 | 8 | Sam Chartier | Canada | 32,200 |
| 29 | 9 | Amir Lehavot | USA | 239,300 |
| | | | | |
| 30 | 1 | Roman Korenev | Russia | 120,100 |
| 30 | 2 | Dmitrijs Meless | Latvia  | 17,800 |
| 30 | 3 | Mikhail Surin | Russia | 16,400 |
| 30 | 4 | Martin Stausholm | Denmark | 10,400 |
| 30 | 5 | Jannick Wrang | Denmark  | 97,700 |
| 30 | 6 | Paul-Francois Tedeschi | France | 75,300 |
| 30 | 7 | Bryn Kenney | USA | 31,000 |
| 30 | 8 | Jyri Merivirta | Finland | 16,100 |
| 30 | 9 | Andreas Vlachos | Greece | 61,500 |
| | | | | |
| 31 | 1 | Joe Laming | UK  | 49,600 |
| 31 | 2 | Viacheslav Goryachev | Russia | 59,600 |
| 31 | 3 | Simon Ravnsbaek | Denmark | 59,200 |
| 31 | 4 | Tobias Peters | Netherlands | 33,000 |
| 31 | 5 | Francis-Nicolas Bouchard | Canada  | 16,400 |
| 31 | 6 | Grzegorz Wyraz | Poland | 57,500 |
| 31 | 7 | Franz-Josef Breuer | Germany  | 17,600 |
| 31 | 8 | Simon Mattsson | Sweden | 161,400 |
| 31 | 9 | Lars Anders Dahlin | Sweden | 80,100 |
| | | | | |
| 32 | 1 | Martin Balaz | Czech Republic | 15,500 |
| 32 | 2 | Milad Oshabian | Netherlands | 71,900 |
| 32 | 3 | Philippe Barouk | France | 112,800 |
| 32 | 4 | David Williams | USA | 50,500 |
| 32 | 5 | Michael Friedrich | Switzerland | 84,400 |
| 32 | 6 | Carla Solinas | Italy | 16,700 |
| 32 | 7 | Georgii Bandura | Russia | 99,800 |
| 32 | 8 | David Vamplew | UK | 30,700 |
| 32 | 9 | Ioannis Fronimakis | Greece  | 73,800 |
| | | | | |
| 33 | 1 | Somar Al-Darwich | Germany | 13,300 |
| 33 | 2 | Victor Podofedenko | Russia | 40,300 |
| 33 | 3 | Dominik Nitsche | Germany | 34,700 |
| 33 | 4 | Oleksii Kovalchuk | Ukraine | 24,600 |
| 33 | 5 | Philippe Ktorza | France | 17,800 |
| 33 | 6 | Martin Prager | Denmark  | 44,000 |
| 33 | 7 | Ihar Soika | Belarus | 40,200 |
| 33 | 8 | Eugene Katchalov | Ukraine | 81,900 |
| 33 | 9 | Dylan Linde | USA | 36,400 |
| | | | | |
| 34 | 1 | Seredyuk Sergiy | Ukraine | 49,500 |
| 34 | 2 | Eduards Kudrjavcevs | Latvia  | 79,800 |
| 34 | 3 | Muhammad Fareed | Pakistan | 90,100 |
| 34 | 4 | Elfad Mammadov | Azerbaijan | 79,400 |
| 34 | 5 | Slobodan Ruzicic | Serbia | 6,400 |
| 34 | 6 | Miklos Zsuffa | Hungary  | 115,700 |
| 34 | 7 | Martin Kabrhel | Czech Republic | 17,300 |
| 34 | 8 | Bela Toth | Hungary  | 39,600 |
| 34 | 9 | Julian Thomas | Germany | 26,600 |
| | | | | |
| 35 | 1 | Marcin Wydrowski | Poland | 58,500 |
| 35 | 2 | Ioannis Apostolidis | Greece | 105,600 |
| 35 | 3 | Sylvain Loosli | France | 148,300 |
| 35 | 4 | Sotirios Koutoupas | Greece | 44,000 |
| 35 | 5 | Dominguez Pardo | Spain | 130,000 |
| 35 | 6 | Scott Margereson | UK  | 41,200 |
| 35 | 7 | Victor Sheerman | Russia | 94,600 |
| 35 | 9 | Davidi Kitai | Belgium | 99,100 |
| | | | | |
| 36 | 1 | Remi Castaignon | France | 16,100 |
| 36 | 3 | Jiachen Gong | Canada | 55,100 |
| 36 | 4 | Ryan Spittles | UK  | 12,100 |
| 36 | 5 | Stepan Lavrin | Russia | 34,200 |
| 36 | 6 | Michel Dattani | Portugal | 69,300 |
| 36 | 7 | [Removed:203] | Germany | 96,800 |
| 36 | 8 | Nihat Karyagdi | Romania  | 67,700 |
| 36 | 9 | Alexander Dovzhenko | Russia | 43,400 |
| | | | | |
| 37 | 1 | Bolivar Palacios | Panama | 25,500 |
| 37 | 2 | Marcello Miniucchi | Italy | 56,600 |
| 37 | 3 | Pflanzl Hannes | Germany | 130,000 |
| 37 | 4 | Gianluca Rullo | Italy | 80,400 |
| 37 | 5 | Robert Auer | Germany  | 86,200 |
| 37 | 6 | Dmytko Samoilenko | Ukraine | 65,300 |
| 37 | 7 | Ludovic Lacay | France | 97,800 |
| 37 | 8 | Abdessamade El Mzdadi | France | 77,500 |
| 37 | 9 | [Removed:172] | Germany | 7,400 |
| | | | | |
| 38 | 1 | Waldemar Peter | Germany | 55,400 |
| 38 | 2 | Matthew Haugen | USA | 59,700 |
| 38 | 3 | Bejjani Kamal | Lebanon | 87,900 |
| 38 | 4 | Vazha Kometiani | Georgia | 43,000 |
| 38 | 5 | Thomas Muhlocker | Germany | 95,900 |
| 38 | 6 | Petr Jelinek | Czech Republic | 51,400 |
| 38 | 8 | Dermot Blain | Ireland | 107,000 |
| 38 | 9 | Martin Wiklund | Sweden | 106,400 |
| | | | | |
| 39 | 1 | Armin Zoike | Germany | 64,200 |
| 39 | 2 | Stefan Kolossow | Germany | 35,000 |
| 39 | 3 | Andrew Chen | Canada | 45,300 |
| 39 | 4 | Andrey Grenko | Russia | 47,600 |
| 39 | 5 | Artem Pilkevich | Russia | 64,500 |
| 39 | 6 | Dany Parlafes | Romania | 92,700 |
| 39 | 7 | Tomas Samol | Slovakia | 40,600 |
| 39 | 8 | Steve O`Dwyer | Ireland | 60,200 |
| 39 | 9 | Michael Tureniec | Sweden | 70,300 |
| | | | | |
| 40 | 1 | Markus Masiak | Germany | 10,300 |
| 40 | 2 | Robbie Bull | UK  | 56,300 |
| 40 | 3 | Andrii Nadieliaiev | Ukraine | 53,400 |
| 40 | 4 | Christian Grundtvig | Denmark | 38,000 |
| 40 | 5 | Lukas Hnizdo | Czech Republic | 28,100 |
| 40 | 6 | Simon Harig | Australia  | 21,800 |
| 40 | 7 | Mohamed Almani | Libya | 32,700 |
| 40 | 8 | Emil Mattsson | Sweden | 46,800 |
| 40 | 9 | Juha Lauttamus | Finland | 49,400 |
| | | | | |
| 41 | 1 | Thomas Pettersson | Sweden  | 52,600 |
| 41 | 2 | Ugnius Simelionis | Lithuania | 22,400 |
| 41 | 3 | Vicente Delgado Zamorano | Spain | 72,000 |
| 41 | 4 | Henrique Pinho | Portugal | 73,000 |
| 41 | 5 | Adrian Piasecki | Poland  | 95,700 |
| 41 | 6 | Kirill Shugai | Russia | 169,100 |
| 41 | 7 | Mathias Puzich | Germany | 36,800 |
| 41 | 8 | Thomas Scholze | Austria  | 41,000 |
| 41 | 9 | Robert Haigh | Germany | 15,900 |
| | | | | |
| 42 | 1 | Jonas Lauck | Germany  | 42,700 |
| 42 | 2 | Martin Monrad Pedersen | Denmark | 14,400 |
| 42 | 4 | Stephane Benadiba | France | 63,100 |
| 42 | 5 | Patrick Serda | Canada  | 66,600 |
| 42 | 6 | Slaven Popov | Bulgaria | 25,600 |
| 42 | 7 | Milan Joksic | Austria | 56,300 |
| 42 | 8 | Dimitrios Kalaroutis | Greece | 37,100 |
| 42 | 9 | Anton Komarov | Russia | 24,800 |
| | | | | |
| 43 | 1 | Simon Cuq | French | 59,400 |
| 43 | 2 | Lauri Pesonen | Finland  | 30,600 |
| 43 | 3 | Albert Mykhaylyuta | Ukraine | 64,800 |
| 43 | 4 | Joseph El Khoury | Lebanon | 15,300 |
| 43 | 5 | Radek Stockner | Czech Republic | 90,000 |
| 43 | 7 | Marc Trijaud | France | 64,700 |
| 43 | 8 | Hannu Peltola | Finland | 54,200 |
| 43 | 9 | Micha Hoedemaker | Netherlands | 78,400 |
| | | | | |
| 44 | 1 | Vasily Andrienko | Russia | 29,400 |
| 44 | 2 | Kitty Kuo | China | 75,000 |
| 44 | 3 | Vlad Rosca | Australia  | 18,700 |
| 44 | 4 | Alex Kravchenko | Russia | 58,700 |
| 44 | 5 | Eli Bohbot | Israel  | 7,400 |
| 44 | 6 | Emin Aghayev | Monaco | 6,500 |
| 44 | 7 | Aleksandr Tulaev | Russia | 63,200 |
| 44 | 8 | Gunter Fortkord | Germany | 17,200 |
| 44 | 9 | Aleksandr Suvalov | Russia | 24,500 |
| | | | | |
| 45 | 1 | Richard Milne Snr, | UK  | 22,900 |
| 45 | 2 | Simon Fuller | UK | 59,800 |
| 45 | 3 | Julian Track | Germany  | 69,600 |
| 45 | 4 | Bassel Moussa | Lebanon | 18,400 |
| 45 | 6 | Tomasz Chmiel | Poland  | 20,800 |
| 45 | 7 | Josef Antos | Czech Republic  | 51,100 |
| 45 | 8 | Andrew Hulme | UK  | 63,000 |
| 45 | 9 | Tolik Shkoyan | Russia | 20,000 |
| | | | | |
| 46 | 1 | Jose Maria Galindo | Spain | 27,300 |
| 46 | 2 | Gintaras Simaitis | Lithuania | 18,300 |
| 46 | 3 | Florian Kossler | Germany | 25,000 |
| 46 | 4 | Thomas Mercier | Belgium | 55,000 |
| 46 | 5 | Amir Sonsino | Israel | 72,800 |
| 46 | 6 | Hall Ryan | Canada | 46,700 |
| 46 | 7 | Grigory Pakhomov | Russia | 29,300 |
| 46 | 8 | Zoltan Tibor Szabo | Hungary | 39,200 |
| 46 | 9 | Alexandros Dumitru Savin | Romania | 17,700 |
| | | | | |
| 47 | 1 | Piotr Robert Pietrzak | Poland | 54,300 |
| 47 | 2 | Dmitri Holdeew | Germany | 95,200 |
| 47 | 3 | Abou Saleh Elias | Lebanon | 16,700 |
| 47 | 4 | Martin Hanowski | Germany  | 67,000 |
| 47 | 5 | Peter Turmezey | Hungary  | 62,800 |
| 47 | 6 | Stefan Jedlicka | Austria | 36,800 |
| 47 | 7 | Hau Minh Nguyen | Australia | 71,400 |
| 47 | 8 | Marius Maciukas | Lithuania  | 63,100 |
| 47 | 9 | Gereon Sowa | Germany | 30,400 |
| | | | | |
| 48 | 1 | Alex Bilokur | Russia | 118,200 |
| 48 | 2 | Ole Schemion | Germany | 42,500 |
| 48 | 3 | Serge Matta | Lebanon | 46,300 |
| 48 | 4 | Romain Chauvassagne | France | 94,900 |
| 48 | 5 | Onur Guvan | UK  | 29,800 |
| 48 | 6 | Denis Kipnis | Russia | 39,500 |
| 48 | 7 | Daniel Negreanu | Canada  | 74,600 |
| 48 | 8 | Mantas Visockis | Lithuania  | 32,900 |
| 48 | 9 | Thomas Brader | Netherlands  | 66,600 |
| | | | | |
| 49 | 1 | Gaik Karabakhtcian | Russia | 41,300 |
| 49 | 2 | Jeff Sarwer | Finland | 42,800 |
| 49 | 3 | Thomas Hall | UK | 63,100 |
| 49 | 4 | Mikhail Shevchuk | Russia | 43,500 |
| 49 | 5 | Joe Mouawad | Lebanon | 24,900 |
| 49 | 6 | Sigurd Andreas Eskeland | Norway  | 184,600 |
| 49 | 7 | Dario Sammartino | Italy | 103,700 |
| 49 | 8 | Antonio Lafosse | Peru | 70,900 |
| 49 | 9 | Jordi Riba Corrons | Andorra | 14,600 |
| | | | | |
| 50 | 1 | Ronny Voth | Germany | 166,400 |
| 50 | 2 | Sebastian Langrock | Germany | 25,800 |
| 50 | 3 | Mariusz Klosinski | Poland | 15,300 |
| 50 | 5 | Manuel Bevand | France | 55,100 |
| 50 | 6 | Ivan Soshnikov | Russia | 38,100 |
| 50 | 7 | Gary Johnson | USA | 71,400 |
| 50 | 8 | Dimitar Danchev | Bulgaria | 40,500 |
| 50 | 9 | Aleksejs Meless | Latvia | 79,900 |
| | | | | |
| 51 | 1 | Sonny Marcel Jean Franco | France | 17,800 |
| 51 | 2 | Edouard Mignot | France | 34,000 |
| 51 | 3 | Igor Dubinskyy | Ukraine | 58,300 |
| 51 | 4 | Pete Linton | UK | 67,100 |
| 51 | 5 | Inigo Rodriguez | Spain | 84,500 |
| 51 | 6 | Petr Glasko | Russia | 47,400 |
| 51 | 7 | Andrey Shaporin | Russia | 47,400 |
| 51 | 8 | Benjamin Pollak | France | 70,300 |
| 51 | 9 | Claude Philippe Marbleu | France | 27,200 |
| | | | | |
| 52 | 1 | Julien Jean-Paul Brulet | Belgium | 32,100 |
| 52 | 2 | Robin Ylitalo | Sweden | 55,400 |
| 52 | 3 | Nicolai Kramer | Germany | 77,600 |
| 52 | 4 | Marius Pospiech | Germany  | 58,500 |
| 52 | 5 | Gergely Rona | Hungary | 32,900 |
| 52 | 6 | Antonis Poulengeris | UK | 43,400 |
| 52 | 7 | Cristinel Dumitru | Romania | 66,700 |
| 52 | 8 | James Hoeppner | USA | 44,200 |
| | | | | |
| 53 | 1 | Hugh Drummond | Canada  | 52,000 |
| 53 | 2 | Markus Kivipuro | Finland | 51,400 |
| 53 | 3 | Sam Cohen | USA | 16,900 |
| 53 | 4 | Aleksandr Gofman | Russia | 51,700 |
| 53 | 5 | Christian Golob | Austria | 55,100 |
| 53 | 6 | Marvin Rettenmaier | Germany | 44,700 |
| 53 | 7 | Friedrich Paul Raz | Switzerland | 32,400 |
| 53 | 8 | Jakob Karlsson | Sweden | 49,200 |
| | | | | |
| 53 | 9 | Juha Helppi | Finland | 34,400 |
| 54 | 1 | Pawel Brzeski | Poland  | 92,500 |
| 54 | 2 | Bogdan Ana | Romania | 42,100 |
| 54 | 3 | Olli Mikael Rundgren | Finland | 38,600 |
| 54 | 4 | Jan Susicky | Czech Republic | 28,300 |
| 54 | 5 | Aleksis Tsaousidis | Greece | 31,600 |
| 54 | 6 | Benjamin Juhasz | Hungary  | 61,400 |
| 54 | 7 | Manig Loeser | Germany | 38,400 |
| 54 | 8 | Rumen Nanev | Bulgaria | 87,400 |
| 54 | 9 | Jeremie Maxime Beneteau | France | 22,700 |
| | | | | |
| 55 | 1 | Tamer Kamel | UK | 47,400 |
| 55 | 2 | Alex Klimashin | Russia | 25,100 |
| 55 | 3 | Thomas Pedersen | Denmark | 74,900 |
| 55 | 4 | Anatoly Chen | Russia | 55,600 |
| 55 | 5 | Igor Izmaylov | Russia | 37,900 |
| 55 | 6 | Gerald Karlic | Germany | 82,800 |
| 55 | 7 | Ori Hasson | Israel  | 157,600 |
| 55 | 8 | [Removed:40] | Italy | 76,400 |
| 55 | 9 | Tiberu-Florian Georgescu | Romania | 191,100 |
| | | | | |
| 56 | 1 | Viatcheslav Ortynskiy | Russia | 18,400 |
| 56 | 2 | Stephen Chidwick | UK | 62,500 |
| 56 | 3 | Mario Adinolfi | Italy | 41,900 |
| 56 | 4 | Martin Staszko | Czech Republic | 65,800 |
| 56 | 5 | Erik Scheidt | Germany  | 30,300 |
| 56 | 6 | Pascal Vos | Netherlands | 11,300 |
| 56 | 7 | Kamran Aghamammadov | Azerbaijan | 6,000 |
| 56 | 8 | Bertrand "Elky" Grospellier | France | 79,700 |
| 56 | 9 | Kharis Kamaletdinov | Russia | 39,800 |
| | | | | |
| 57 | 1 | Danilo Velasevic | Serbia | 25,100 |
| 57 | 2 | Eetu Parpala | Finland  | 79,200 |
| 57 | 3 | Natalie Hof | Germany | 23,900 |
| 57 | 4 | Florian Lohnert | Germany | 21,600 |
| 57 | 5 | Alberto Fiorilla | Italy | 34,700 |
| 57 | 6 | Paul Varano | USA | 11,700 |
| 57 | 7 | Andrea Benelli | Italy | 140,400 |
| 57 | 8 | Robert Schulz | Germany | 17,100 |
| 57 | 9 | Andreas Chalkiadakis | Greece | 18,900 |
| | | | | |
| 58 | 1 | Joshua Hunt | UK | 72,900 |
| 58 | 2 | Jan-Eric Schwippert | Germany | 118,100 |
| 58 | 3 | Andre Goldbaum Lichtenshtein | Brazil | 55,800 |
| 58 | 4 | Matvey Linov | Russia | 60,000 |
| 58 | 6 | Olivier Busquet | USA | 72,000 |
| 58 | 7 | Toni Judet | Romania | 23,400 |
| 58 | 8 | Konstantin Streletskiy | Russia | 116,600 |
| 58 | 9 | Cengiz Can Ulusu | Turkey | 8,000 |
| | | | | |
| 59 | 1 | Luca Amoruso | Italy | 32,000 |
| 59 | 2 | Adam Markovits | Hungary  | 61,200 |
| 59 | 3 | Georgi Bekyarov | Bulgaria  | 27,000 |
| 59 | 4 | Hani EL Assaad | Lebanon  | 22,200 |
| 59 | 5 | Georgios Sotiropoulos | Greece  | 66,200 |
| 59 | 6 | Steven van Zadelhoff | Netherlands | 92,000 |
| 59 | 7 | Ari Engel | USA | 172,800 |
| 59 | 8 | Arman Nugmanov | Kazakhstan | 45,200 |
| 59 | 9 | Taylor Von Kriegenbergh | USA | 35,900 |
| | | | | |
| 60 | 1 | Niko Mykkanen | Finland | 39,300 |
| 60 | 2 | Johan van Til | Netherlands | 10,800 |
| 60 | 3 | Ozcan Tok | Switzerland | 61,400 |
| 60 | 4 | Leonid Lerner | USA | 41,000 |
| 60 | 5 | Radu Catoiu | Romania | 40,300 |
| 60 | 6 | Walid Bou Habib | Lebanon  | 91,300 |
| 60 | 7 | Szabolcs Mayer | Hungary | 44,700 |
| 60 | 8 | Andrey Baturin | Russia | 24,600 |
| 60 | 9 | Tobias Garp | Sweden | 92,800 |
| | | | | |
| 61 | 1 | Ramzi Jelassi | Sweden | 24,600 |
| 61 | 2 | Lasell King | Germany | 71,800 |
| 61 | 3 | Ismael Bojang | Germany | 26,100 |
| 61 | 4 | Nikov Dobromir Georgiev | Bulgaria | 32,200 |
| 61 | 5 | Mihai Manole | Romania | 12,600 |
| 61 | 6 | Vadim Belov | Russia | 85,000 |
| 61 | 7 | Matthias De Meulder | Belgium | 25,200 |
| 61 | 8 | Viktor Chiginev | Russia | 4,900 |
| 61 | 9 | Marian Kubis | Slovenia | 16,300 |
| | | | | |
| 62 | 1 | Michael Bech Lundsgaard | Denmark | 23,000 |
| 62 | 2 | Arsenii Karmatckii | Russia | 36,900 |
| 62 | 4 | Sven Krieger | Germany | 60,400 |
| 62 | 5 | Dag Palovic | Slovakia | 79,900 |
| 62 | 6 | Guillaume Rivet | Canada | 81,500 |
| 62 | 7 | Natan Lecht | Israel | 53,200 |
| 62 | 8 | Dmitry Grishin | Russia | 43,700 |
| 62 | 9 | Sina Alamzad | Romania | 90,200 |
| | | | | |
| 63 | 1 | Evgeny Kocherov | Russia | 12,200 |
| 63 | 2 | Luca Pagano | Italy  | 137,600 |
| 63 | 3 | Iaroslav Boiko | Ukraine | 37,000 |
| 63 | 4 | Igor Yaroshevskyy | Ukraine | 18,200 |
| 63 | 5 | Thomas Dolezal | Austria | 40,800 |
| 63 | 6 | Frei Dilling | Denmark | 77,300 |
| 63 | 7 | Bertilsson Per Anton | Sweden | 90,300 |
| 63 | 8 | Pavel Meshkov | Belarus | 26,500 |
| 63 | 9 | Vadzim Markushevski | Belarus | 86,700 |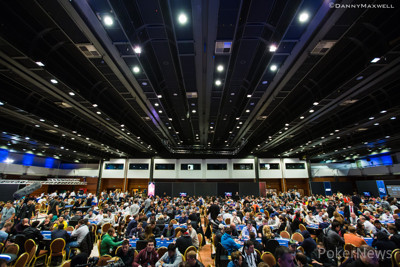 A record number of players for an EPT event in Prague was set yesterday with the total number of entrants standing at 998. With registration still open until noon today we could still break the magic four figures.
Amir Lehavot from the USA, who finished third in the WSOP Main Event in November this year, is the clear chip leader finishing at the top of the pack on Day 1b with 239,300. He is ahead of Day 1a leader Tiberu-Florian Georgescu who has 191,100, followed closely behind by Sigurd Eskeland (184,600) and Ari Engel (172,800).
Team PokerStars Pros have made a very strong showing so far in the Main Event and leading the way for them is Luca Pagano with 137,600 chips. Pagano really had to tough it out yesterday but came through strongly in the end to remain in contention. Other remaining Team PokerStars pros are Player of the Year Daniel Negreanu (74,600), Bertrand "Elky" Grospellier (79,700), Christophe De Meulder (40,100), Matthias De Meulder (25,200), Eugene Katchalov (81,900), Dag Palovic (79,900), and Jonathan Duhamel (16,100).
Some of the other well know players that we'll be keeping an eye on include former EPT Prague champion Martin Finger (58,600), Ireland's Steve O'Dwyer (60,200), Shannon Shorr (40,400), Juha Helppi (34,400), Max Silver (87,100), and rising star Sergio Aido (81,200).
We begin with 549 players who have made it through to Day 2 and they face six levels of play today. There will be no dinner break, so it will be a relatively early night. There's sure to be some interesting dynamics early on as the big stacks seek to exert some pressure, and the short stacks look to get an early double up to give themselves a chance of staying ahead of those ever increasing blinds.
Join your PokerNews reporting team right here for all the updates throughout the day as we bring you bust outs, drama, interviews and more. You can also follow live action from the feature table with commentary from the dynamic duo James Hartigan and Joe Stapleton at Pokerstars.tv.
Nível: 9
Blinds: 400/800
Ante: 100
Nível 9 : 400/800, 100 ante
We all know the start of Day 2 sees players bust out at a rate of knots but what about the 20 minutes or so before the start of a Day 2, is that positively serene in contrast?
Clock watch: 17 minutes until the start of Day 2
Daniel Negreanu is in a side room doing an interview with a member of the press whilst downstairs in the tournament room the number of dealers far outweigh the number of players. The 63 dealers in the Main Event are already seated, but only seven players are in their seats. Early arrivals include Aliaksandr Posled and Henrique Pinho.
Clock watch: 15 minutes until the start of Day 2
The pace picks up, Benny Spindler is the first EPT champion to arrive. Outside of the tournament room there are seven cash games on the go, late finishers and early risers alike. Elvis is in the building as he's called to a 100-200 (Czech Koruna) game.
Also outside in the foyer players huddle around an electronic board showing the Day 2 seat draw, their name spotted they wander off to find it. A players walks past me deep in conversation, "I have super little chips, I really can't miss anything. Hopefully I'm still in when you arrive."
Clock watch: 10 minutes until the start of Day 2
Tournament director Teresa Nousiainen takes to the microphone to give the players their 10 minute warning. The number of players now exceeds the number of dealers but table 29 is still empty. Chip leader Amir Lehavot arrives, he weaves his way to his seat and with eight minutes 40 seconds on the clock and takes a seat at table 29. He opens his bag but the dealer stops him as he needs to wait for another player to arrive before he can stack his chips.
Another player arrives at Lehavot's table and he can start stacking his chips, he won't finish stacking them until just five minutes and 36 seconds are left on the clock. Dermot Blain arrives, "I'm doing good today," he tells me. "I got some sleep, in Barcelona I was on two hours a night." The dealer then asks for ID and Blain hands him his passport. "I love this event," Blain continues. "It's great having so many tournaments in the same city at once. It's a great city too, this and Barcelona are my favourite stops.
Clock watch: Three minutes until the start of Day 2
At this point the players are streaming into the room so I head to the exit, Daniel Negreanu, interview over, is one of those who walks in.
Nível 9 : 400/800, 100 ante
Players are still scrambling to their seats, but cards are in the air here on Day 2! It's shaping up to be quite the day as throngs of players are bound to hit the rail. Plus, the field has eclipsed 1,000 players, making it the first four-figure EPT Prague Main Event ever!
Nível 9 : 400/800, 100 ante
Day2 of #EPTPrague ! Quite short (25k) with blinds now 400/800. Got work to do!
Follow @mattionfire
About to start day 2 @PokerStarsEPT Prague. Have 40k with average 55k. Eight nationalities are represented at my nine-handed table.
Follow @ShannonShorr
25.5k to start day 2 of #EPTPrague & I need a spin up... luckily I am sharing a table w/ Vitaly Lunkin #lunkinvibes
Follow @KevinMacPhee
Nível 9 : 400/800, 100 ante
Senior News Editor Chad Holloway caught up with Ari Engel, who finished Day 1a second in chips, before the start of Day 2. Engel reflects on his Day 1 and reveals his Day 2 preparation strategy.
Nível 9 : 400/800, 100 ante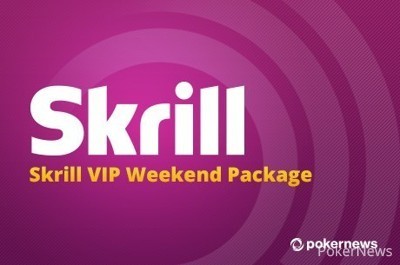 How does an all-expenses paid trip to watch the European Poker Tour Grand Final[ in Monte Carlo sound to you? Skrill has combined forces with PokerStars to offer just that for one lucky reader!
To get involved in the freeroll, all you need to do is make your next deposit of $10 or more on PokerStars using the bonus code "SKRILLEPT". Doing so will give you a ticket for the lucrative Skrill EPT Freeroll where you'll compete for a free VIP weekend package to Monte Carlo.
The package includes €1,000, two nights of accommodation at a luxury hotel, and a meet-and-greet with a PokerStars pro including private poker tuition. You will also be entered into a €10,000 guaranteed live poker event where you can walk away with more spending money for the holiday season. The freeroll runs on Dec. 15 and your deadline to receive a ticket is Dec. 14.
It is easy to get involved in this action-packed weekend trip and this could be your opportunity to see the wonders of Monte Carlo while also earning some free money.
If this is not enough, Skrill also wants to give you those of you that don't already have an account some extra spending money. Sign up for a free Skrill account via PokerNews, then make your first deposit of at least $20 and Skrill will add $20 into your Skrill account!
What's even better is that this promotion can be combined with the Skrill EPT Freeroll ticket promotion on PokerStars. So what are you waiting for? Head to Skrill for more details of the PokerNews-exclusive free $20 Skrill offer.

Nível 9 : 400/800, 100 ante
David Peters opened to 2,300 from the small blind and Dutch pokerstarsplayer Zdravko Duvnjak made the call from the big blind. Peters was ready for action and would soon proove that with a 2,700 bet on
. Duvnjak wasn't impressed yet though and made the call. The same scenario played out on the
turn; Peters bet (6,200) and Duvnjak called. The river brought the
on the table and with 23,100 in the middle, Peters bet out a mere 7,000. That didn't necessarily make the decision easier for Duvnjak of course, a small bet can be just as frightening as a bigger one in this game. After some consideration the Dutchman made the call though, forcing Peters to show his
. Ten high wasn't going to be enough this time, Duvnjak showed his poker craftsmanship with the ace-high call;
. Peters appears to still have 73,000 left, indicating that he won some before this hand played out.