€5,300 Main Event
Dias: 6
Nível: 26
Blinds: 20,000/40,000
Ante: 5,000
Nível 26 : 20,000/40,000, 5,000 ante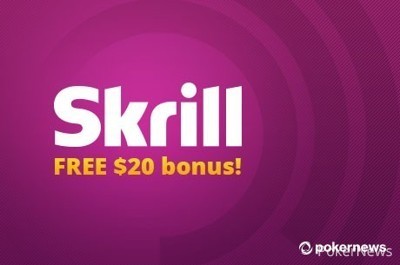 Everyone loves receiving something for free, especially when that something is cold, hard cash. Thanks to the special relationship that PokerNews and Skrill share, PokerNews customers can enjoy a free $20 when they use their Skrill account for the first time to fund an online poker site.
Skrill, formerly known as Moneybookers, is the premier online payment solution for millions of customers worldwide. Once you upload funds to your Skrill account, you can distribute them to anyone with a valid email address. In addition, Skrill is accepted as payment across most major online poker sites, meaning you can quickly and easily deposit and withdraw your funds without having to have gambling transactions littering your bank statements! What's more, Skrill offers its customers a Prepaid MasterCard that can be used in 100,000's of locations around the globe.
In July 2013, Skrill became the Official Payment Processor for the European Poker Tour, adding yet more credibility to this fantastic product. Now, Skrill is a strategic partner of PokerNews and our first choice when it comes to moving money instantly, safely and conveniently around poker sites.
To celebrate this special relationship, Skrill and PokerNews have teamed up to bring PokerNews customers a free $20 offer. Getting your hands on this free money is easy, claim yours by following these simple steps.
Upload funds to your new Skrill account or directly go to a poker room and choose Skrill to make your deposit.
Make a deposit of at least $20 onto an online poker room.
Skrill will add $20 to your Skrill account within one business day, which you can use to redeposit to a room right away.
As mentioned, scores of online poker rooms such as Full Tilt Poker, PKR, Titan Poker, bet365 and Betfair accept Skrill, so you can make your first deposit onto a major player in the online poker room.
Nível 26 : 20,000/40,000, 5,000 ante
The button was in seat one with Jorma Nuutinen, on the first hand of the final table the action started with Julian Track raising to 120,000 with
from under-the-gun+2, next to act Ka Kwan Lau three-bet to 335,000 with
and Track made the call.
On the
flop Lau bet 250,000 and Track check-called. The
hit the turn, Track checked again as did Lau. On the
river Track bet 225,000, "he's made a really small bet on the river," said Joe Stapleton. "It's a really confusing bet," he added. After Lau tanked for a while Stapleton said, "I don't think Lau has a diamond here as I think he has to call with any diamond. Maybe he's contemplating a hero call."
Eventually Lau laid his hand down and Track took the pot.

Nível 26 : 20,000/40,000, 5,000 ante
We've seen four hands today and in three of them a player had been dealt pocket kings. In the first hand they were laid down, incorrectly we might add. In the other hands they did win the pot but we didn't see a flop in any of them. Pretty good starting hands so far, no big clashes yet.

Nível 26 : 20,000/40,000, 5,000 ante
Georgios Sotiropoulos opened the hijack to 80,000 with
and was met with a call from Ka Kwan Lau on the button who held
. The small blind folded but Max Silver in the big blind wasn't. With
in hand he made it 265,000 to go.
Another big hand but yet again no big pot. Both players folded and they went on to hand number six of the day.
Nível 26 : 20,000/40,000, 5,000 ante
Georgios Sotiropoulos raised to 80,000 from under-the-gun+2 with
and start of table short stack Jorma Nuutinen called from the big blind with
. On the
flop Sotiropoulos continuation bet 70,000 and he took the pot.
Nível 26 : 20,000/40,000, 5,000 ante
From under-the-gun+2 Ka Kwan Lau made it 80,000 to go with
and Max Silver called from the cut-off with
.
On the
flop Lau bet 105,000, "I think Max is going to peel here very often," said Stapleton and indeed Silver made the call. The
hit the turn. Lau didn't slow down he fired 210,000 into the pot and once again Silver called.
The
fell on the river, "he can certainly turn his queen into a bluff, but he does have reasonable showdown value," said Stapleton. Lau came out firing though, betting 380,000. "Looks like he's done a pretty good job of putting Max to a decision here, give Lau credit for being able to bet this," said Stapleton.
Eventually Silver folded his hand and Lau took the pot.

Nível 26 : 20,000/40,000, 5,000 ante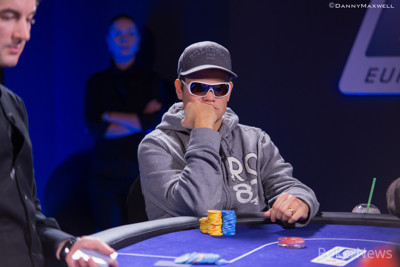 Max Silver oepned the hijack to 80,000 with
. Next door neighbor Jorma Nuutinen shoved all in from the cut off with
and all players quickly folded to let Silver have the decision again. He thought for a little bit before calling.
Nuutinen was in the lead, but not by much. The flop made things pretty scary for the Finnish player:
. Kings and jacks weren't direct outs anymore for Silver, but all the clubs in the deck would guarantee him the win in the hand and the first scalp of the day.
The
on the turn was a complete blank though and equity was shifting even more to Nuutinen. The black ten on the river might have scared him for a second but fortunately for him it was the
and not the
.
Nuutinen doubled to 1.7 million (42 big blinds), Silver still has 4,985,000 (125 big blinds) left.
Nível 26 : 20,000/40,000, 5,000 ante
Jogador
Fichas
Oscilação

Julian Track

7,990,000

15,000

Max Silver

4,985,000

Stephen Chidwick

4,860,000

-75,000

Georgios Sotiropoulos

4,145,000

-175,000

Ka Kwan Lau

2,630,000

30,000

Ole Schemion

2,605,000

205,000

Jorma Nuutinen

1,700,000

Zdravko Duvnjak

1,110,000

-115,000
Nível: 27
Blinds: 25,000/50,000
Ante: 5,000