Main Event
Dia 3 Concluído
Nível 20 : 6,000/12,000, 2,000 ante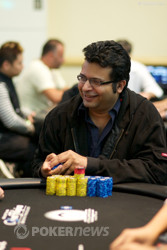 Well folks, an exciting end to an exciting day of poker sees Amit Varma head into the final table of the APPT Cebu Main Event as the chip leader.
Each and every one of the 28 returning players would be guaranteed cash today, but would, of course, be looking to make the final table. Unfortunately the likes of Kitty Kuo (23rd), Alvin Cheam (20th), Chris Edgar (19th), Sammy Huang (16th), Bobo Chen (14th) and Carter Gill (13th) would all fall short of making the final nine.
As we got closer and closer to the final table, the play slowed right down. But that wouldn't last for long as arguably the most exciting hand of the day played out between Jacky Wang and Antoine Amourette. Just a few moments after that hand and Sungsik Bae would be heading home as the final table bubble. Details of both of these hands can be read below.
While Amourette managed to survive with 50,000 after his rumble with Wang, he will now return tomorrow with only a few big blinds and as the table short stack.
Interestingly it is the two players from India that have the biggest stacks, with Sameer Rattonsey joining Varma at the top of the counts. Don't rule out any of the other players though as they have shown they have what it takes to play poker at a very high level.
2012 APPT Cebu Final Table Lineup

| | | | |
| --- | --- | --- | --- |
| Seat | Name | Country | Chips |
| 1 | Antoine Amourette | United Kingdom | 50,000 |
| 2 | Sameer Rattonsey | India | 908,000 |
| 3 | Alistair Duff | Australia | 486,000 |
| 4 | Nicholas Wong | Hong Kong | 142,000 |
| 5 | Jacky Wang | Australia | 402,000 |
| 6 | Hoang Anh Do | Vietnam | 810,000 |
| 7 | Michael Kanaan | Australia | 399,000 |
| 8 | Jae Kyung Sim | Korea | 205,000 |
| 9 | Amit Varma | India | 1,241,000 |
Make sure to join the PokerNews Live Reporting Team tomorrow from 12.10 pm as we return to the Waterfront Hotel and Casino for the final day of play. One of the above players will become an Asia Pacific Poker Tour champion, but who will it be?
Here is how they are looking heading into the final table. It is India's Amit Varma who is the chip leader, yet again.
Jogador
Fichas
Oscilação

Amit Varma

1,240,000

315,000

Sameer Rattonsey

908,000

288,000

Hoang Anh Do

810,000

55,000

Alistair Duff

486,000

-29,000

Jacky Wang

402,000

-48,000

Michael Kanaan

399,000

-1,000

Jae Kyung Sim

205,000

-115,000

Nicholas Wong

142,000

-348,000

Antoine Amourette

50,000
While all the commotion was unfolding on one table, there was an all in and call over on the other table with Sungsik Bae finding his tournament life on the line.
Bae shoved the button for around 140,000 with Alistair Duff making the call in the big blind.
Bae:

Duff:
Bae would need some help, especially after the flop landed
but he found himself drawing dead once the
rolled off on the turn. The river was a meaningless
as Bae becomes our final table bubble!
Stay tuned for a wrap of all the action, full chip counts and a final table seating draw.
Jacky Wang has been hovering around with the second largest stack in the room for much of the last level or so. He was waiting patiently for his spot and it came when Amourette opened it up to 25,000. Wang was in the big blind holding
and shoved all in for his remaining 193,000. Amourette immediately called and tabled his
, devestating Wang's chances in the tournament.
Flop:
"Eight!" came a cry from the rail as Wang had already packed up his iPod and was readying himself to leave.
Turn:
"Jack!" cried Amourette as Wang could now only catch a queen or a seven.
River:
The queen on the river was accompanied by a huge cheer from the rail as Wang almost couldn't believe he had taken down the hand. With that, Amourette now sits with around 50,000 in chips, while Wang is sitting pretty.
At this point Wang let out a huge "Wooooo" that could be heard around the room and maybe even out in the lobby.
Nível 20 : 6,000/12,000, 2,000 ante
By and large, Alistair Duff has been keeping his bets and raises small, like the other 9 players remaining in this tournament. But a curiously large river bet just won him a pot against Nick Wong. Wong opened for 24,000 pre-flop from the small blind, with Duffman calling in position from the big. Wong continued for 32,000 on a flop of
, and was called by Duff a second time. Both players checked the
turn. When Wong also checked the
river, Duff suddenly awoke with a large bet of 107,000. It was enough to take down the pot.
Nível: 20
Blinds: 6,000/12,000
Ante: 2,000
Hoang Anh Do is making a late surge at the chip lead, managing to pick up chip from every which direction. A recent hand saw him rumble with Michael Kanaan. It started when Do opened from middle position. Antoine Amourette then called in the small blind, before Kanaan three-bet an extra 30,000 from the big blind. Do made the call and Amourette got out of the way as the two players took to a flop.
Flop:
On the flop, Kanaan led for 45,000 and Do made the call as a
hit the turn. This time Kanaan would check and then fold when Do bet 100,000.
Nível 19 : 5,000/10,000, 1,000 ante
As we are on the final table bubble, it is seeming like things are slowing down a touch. This is the moment in the tournament to shine as nobody remembers who bubbled the final table. Stay tuned, as we are just one player away from a final table here at the 2012 APPT Cebu Main Event.
A big hand that has left another short stack in the tournament has just occured over on Table 1. It started when Sungsik Bae opened it up to 26,000 from the dealer button and Alistair Duff was in the big blind and made the call.
Both players check on a
flop and the
was revealed on the turn. This time Duff would lead for 31,000 and Bae would make the call as the
completed the board on the river.
This time Duff took his time and eventually bet 77,000. Bae looked like he just received the worst news he had ever heard. He eventually opted to call and then regretted it immediately as Duff turned over
for top-two pair.