Event #1: €350 NLH Opener
Dias: 3
Event #1: €350 NLH Opener
Dia 3 Concluído

Nível 40 : 500,000/1,000,000, 1,000,000 ante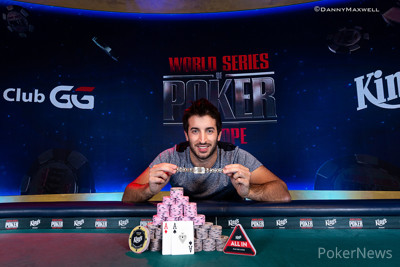 Antonello Ferraiuolo has won the first bracelet of the 2021 World Series of Poker Europe at King's Resort, after defeating a 1,789-player field in Event #1: €350 Opener.
He defeated Levent Efe heads-up to win €77,570 along with a €10,000 WSOPE Main Event Seat. Runner-up Efe along with third-place finisher Ion Tabacaru also received seats to go with their prize money.
2021 WSOPE Event #1: €350 Opener Final Table Payouts
| Place | Player | Country | Payout |
| --- | --- | --- | --- |
| 1 | Antonello Ferraiuolo | Italy | €77,570* |
| 2 | Levent Efe | Israel | €47,939* |
| 3 | Ion Tabacaru | Romania | €35,229* |
| 4 | Narcis Nedelcu | Romania | € 26,157 |
| 5 | Logi Laxdal | Iceland | € 19,623 |
| 6 | [Removed:344] | Switzerland | € 14,876 |
| 7 | Gal Aviv | Israel | € 11,397 |
| 8 | Marius Gicovanu | Romania | € 8,826 |
| 9 | Andy Schlegel | Germany | € 6,909 |
*denotes player also received €10,000 WSOPE Main Event Seat
Winner's Reaction
Ferraiuolo's victory was the first live Italian WSOP bracelet winner since Max Pescatori won two in 2015.
"I haven't been playing live for three years," Ferrariuolo told PokerNews. "At the final table I was all-in maybe for or five times and got lucky."
"I had a really good start [in the tournament], always high in the chip counts. But by the start of today with 20 left I was hovering around 20-25 big blinds and just trying to make a move.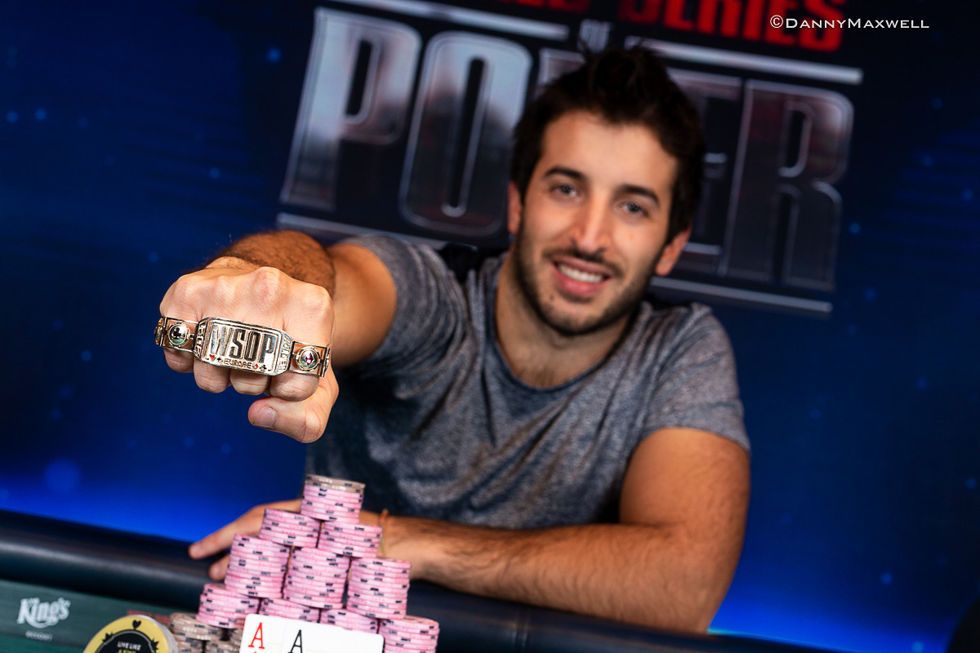 "But at the final table there was a lot of up and down. Maybe too much movement!"
He called it a "special moment for Italy" and said he will hold off celebrating until later in the month, when more of his friends arrive for the upcoming EPT Prague.
Having won a seat to the 2021 WSOPE Main Event as well as the €77,750 in prize money, does he think he can do the double?
"We'll start in the morning," he said with a smile. "We'll come back tomorrow and see how it goes. It's a completely different tournament!"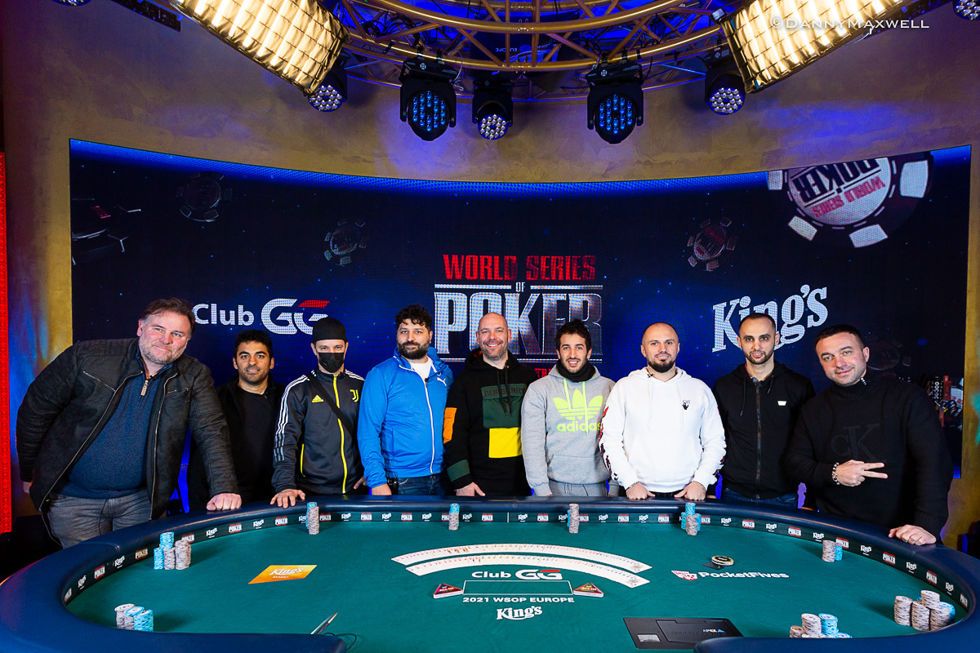 Final Day Recap
It took just three levels to get from 20 down to an unofficial table of 10, and only a short while later the final table was confirmed after start-of-day chip leader Volodymyr Legkyi was eliminated.
The final table was lead by Levent Efe, but it was Narcis Nedelcu who started aggressively and soon wrested control.
The early eliminations didn't slow down Nedelcu who held almost a 2:1 chip lead over his nearest opponent with six players remaining.
Ferrariuolo had started the final table in the middle of the pack, and worked hard to separate himself from the short stacks before a crucial double with nines against the eights of Nedelcu saw him move second in chips.
And the Italian moved into the chip lead with the double elimination of [Removed:344] and Logi Laxdal, the latter of whom had been trying to become the first Icelandic bracelet-winner in WSOP history.
Nedelcu did manage to regain the chip lead, but three doubles for Ferrariuolo — the latter of which came at the expense of Nedelcu — soon saw the Romanian eliminated.
Ion Tabacaru soon fell in third place, the first player receiving an additional prize of a 2021 WSOPE Main Event seat, and heads-up play was reached.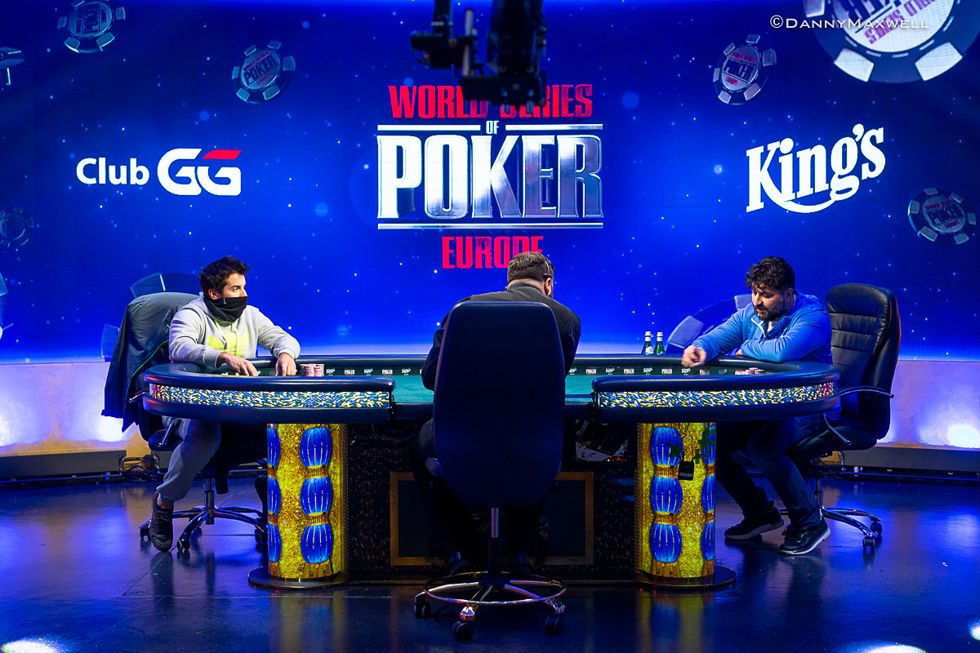 Heads-Up Play
The pair started the heads-up portion of play level in chips, and the chip lead swung back and forth over the opening exchanges. Efe did make the first big move, but a well-timed shove from Ferrariuolo saw him move into a commanding chip lead.
A limp with pocket aces was the key hand, and after Efe flopped middle pair he check-raised all in only to get snapped by the Italian. Efe picked up a whole bunch of outs on the turn, but it was all for nought as the river bricked and Ferrariuolo celebrated with his rail.

Nível 40 : 500,000/1,000,000, 1,000,000 ante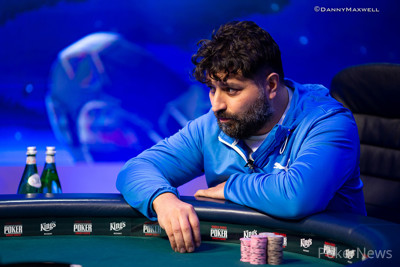 Antonello Ferraiuolo limped with
and Levent Efe
checked his big blind.
The flop came
and Efe checked. Ferraiuolo bet 1,500,000. Efe check-raised all in for 10,200,000 and Ferraiuolo snap-called.
The turn
gave Efe straight and flush draws to go with his middle pair. The river was the
and Efe was eliminated in second place.

Nível 40 : 500,000/1,000,000, 1,000,000 ante
Levent Efe made it 2,500,000 with
and Antonello Ferraiuolo
raised to 7,800,000.
Efe called and the flop came
and Ferraiuolo bet 2,600,000. Efe took his time before raising to 7,500,000. Ferraiuolo shoved and Efe flicked his cards into the muck.

Nível 40 : 500,000/1,000,000, 1,000,000 ante

Nível 40 : 500,000/1,000,000, 1,000,000 ante
Levent Efe raised to 2,500,000 with
and Antonello Ferraiuolo called. The flop was
and it checked to Efe who continued for 2,000,000.
Ferraiuolo called and the turn was the
. Ferraiuolo checked again and Efe bet 6,000,000.

Nível 40 : 500,000/1,000,000, 1,000,000 ante
In a limped pot, both players then checked the
flop. Antonello Ferraiuolo bet 1,200,000 on the
turn and Levent Efe raised to 3,600,000. Ferraiuolo folded.

Nível 40 : 500,000/1,000,000, 1,000,000 ante
Levent Efe raised with
to 2,500,000. Antonello Ferraiuolo defended his big blind with
and both players checked the
flop.
The turn was the
and Ferraiurolo bet 3,100,000. Efe called and the river was the
.
Both players checked and the Italian won with a rivered pair of fives.

Nível 40 : 500,000/1,000,000, 1,000,000 ante
Nível: 40
Blinds: 500,000/1,000,000
Ante: 1,000,000